Prediction of β-strand packing interactions using the signature product
Abstract
The prediction of β-sheet topology requires the consideration of long-range interactions between β-strands that are not necessarily consecutive in sequence. Since these interactions are difficult to simulate using ab initio methods, we propose a supplementary method able to assign β-sheet topology using only sequence information. We envision using the results of our method to reduce the three-dimensional search space of ab initio methods. Our method is based on the signature molecular descriptor, which has been used previously to predict protein–protein interactions successfully, and to develop quantitative structure–activity relationships for small organic drugs and peptide inhibitors. Here, we show how the signature descriptor can be used in a Support Vector Machine to predict whether or not two β-strands will pack adjacently within a protein. We then show how these predictions can be used to order β-strands within β-sheets. Using the entire PDB database with ten-fold cross-validation, we have achieved 74.0% accuracy in packing prediction and 75.6% accuracy in the prediction of edge strands. For the case of β-strand ordering, we are able to predict the correct ordering accurately for 51.3% of the β-sheets. Furthermore, using a simple confidence metric, we can determine those sheets for which accurate predictions can be obtained. For the top 25% highest confidence predictions, we are able to achieve 95.7% accuracy in β-strand ordering.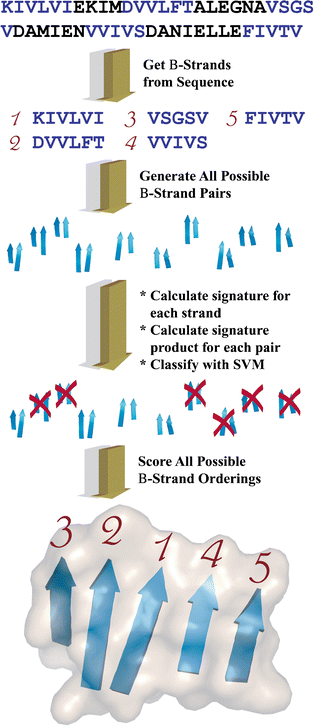 Keywords
β-sheets 
Secondary structure prediction 
Signature descriptor 
Support vector machine 
Notes
Acknowledgements
This work was funded by the U.S. Department of Energy's Genomics: GTL program (http://www.doegenomestolife.org) under project, "Carbon Sequestration in Synechococcus Sp.: From Molecular Machines to Hierarchical Modeling" (http://www.genomes-to-life.org). Sandia is a multiprogram laboratory operated by Sandia Corporation, a LockheedMartin Company, for the United States Department of Energy's National Nuclear Security Administration under contract DE-AC04-94AL85000.