Abstract
PVT1 is a long-noncoding RNA and is highly expressed in various cancers including prostate cancers with stabilizing MYC protein. To characterize the objective biological features of the different morphological components such as Gleason patterns (GP) in prostate cancer, biopsy specimens containing only single pure GP (GP3, GP4, GP5) are used to analyze the relationship between PVT1 expression and MYC protein expression. The expressions of PVT1 and MYC were analyzed by quantitative PCR and the labeling index (LI) of MYC protein by immunohistochemical staining. PVT1, MYC, and MYC protein were highly expressed in GP 4, and interestingly the expression between PVT1 and MYC LI significantly correlated only in GP 4. In vitro experiments, the expression of MYC protein was slightly reduced by small interfering RNA against PVT1, while strongly reduced against specifically circular PVT1, splicing variants derived from the PVT1. Taken together, the expression characteristics of PVT1, MYC, and MYC protein differed depending on the GP. In particular, circular PVT1 might be strongly involved in the stabilization of MYC protein in GP4 and suggest different biological features.
This is a preview of subscription content, log in to check access.
Access options
Buy single article
Instant unlimited access to the full article PDF.
US$ 39.95
Price includes VAT for USA
Subscribe to journal
Immediate online access to all issues from 2019. Subscription will auto renew annually.
US$ 99
This is the net price. Taxes to be calculated in checkout.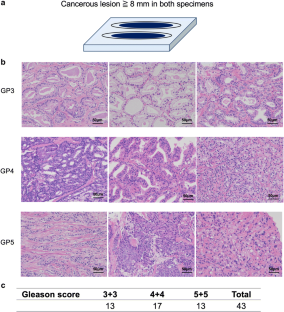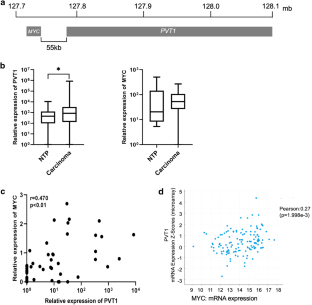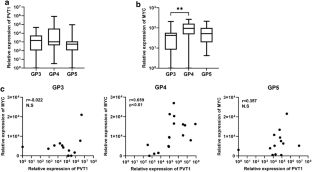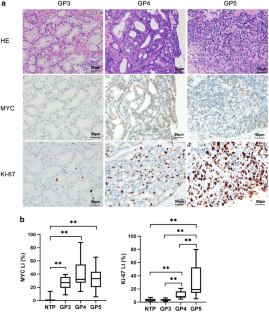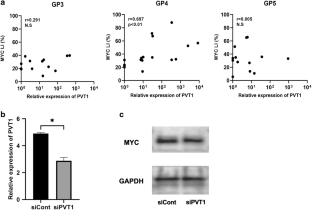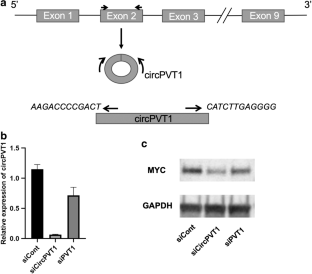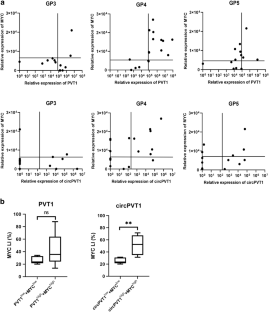 References
1.

Bilusic M, Heery C, Madan RA (2011) Immunotherapy in prostate cancer: emerging strategies against a formidable foe. Vaccine 29:6485–6497

2.

Roehl KA, Han M, Ramos CG, Antenor JA, Catalona WJ (2004) Cancer progression and survival rates following anatomical radical retropubic prostatectomy in 3478 consecutive patients: long-term results. J Urol 172:910–914

3.

Gleason DF (1966) Classification of prostatic carcinomas. Cancer Chemother Rep 50:125–128

4.

Gleason DF (1992) Histologic grading of prostate cancer: a perspective. Hum Pathol 23:273–279

5.

Amin MB, Lin DW, Gore JL, Srigley JR, Samaratunga H, Egevad L, Rubin M, Nacey J, Carter HB, Klotz L, Sandler H, Zietman AL, Holden S, Montironi R, Humphrey PA, Evans AJ, Epstein JI, Delahunt B, McKenney JK, Berney D, Wheeler TM, Chinnaiyan AM, True L, Knudsen B, Hammond ME (2014) The critical role of the pathologist in determining eligibility for active surveillance as a management option in patients with prostate cancer: consensus statement with recommendations supported by the College of American Pathologists, International Society of Urological Pathology, Association of Directors of Anatomic and Surgical Pathology, the New Zealand Society of Pathologists, and the Prostate Cancer Foundation. Arch Pathol Lab Med 138:1387–1405

6.

Bastian PJ, Gonzalgo ML, Aronson WJ, Terris MK, Kane CJ, Amling CL, Presti JC Jr, Mangold LA, Humphreys E, Epstein JI, Partin AW, Freedland SJ (2006) Clinical and pathologic outcome after radical prostatectomy for prostate cancer patients with a preoperative Gleason sum of 8–10. Cancer 107:1265–1272

7.

Bentley G, Dey J, Sakr WA, Wood DP, Pontes JE, Grignon DJ (2000) Significance of the Gleason scoring system after neoadjuvant hormonal therapy. Mol Urol 4:12 discussion 131

8.

Bostwick DG, Grignon DJ, Hammond ME, Amin MB, Cohen M, Crawford D, Gospadarowicz M, Kaplan RS, Miller DS, Montironi R, Pajak TF, Pollack A, Srigley JR, Yarbro JW (2000) Prognostic factors in prostate cancer. College of American Pathologists Consensus Statement 1999. Arch Pathol Lab Med 124:995–1000

9.

Shah RB (2009) Current perspectives on the Gleason grading of prostate cancer. Arch Pathol Lab Med 133:1810–1816

10.

Buttyan R, Sawczuk IS, Benson MC, Siegal JD, Olsson CA (1987) Enhanced expression of the c-myc protooncogene in high-grade human prostate cancers. Prostate 11:327–337

11.

Gurel B, Iwata T, Koh CM, Jenkins RB, Lan F, Van Dang C, Hicks JL, Morgan J, Cornish TC, Sutcliffe S, Isaacs WB, Luo J, De Marzo AM (2008) Nuclear MYC protein overexpression is an early alteration in human prostate carcinogenesis. Mod Pathol 21:1156–1167

12.

Graham M, Adams JM (1986) Chromosome 8 breakpoint far 3′ of the c-myc oncogene in a Burkitt's lymphoma 2; 8 variant translocation is equivalent to the murine pvt-1 locus. EMBO J 5:2845–2851

13.

Shtivelman E, Henglein B, Groitl P, Lipp M, Bishop JM (1989) Identification of a human transcription unit affected by the variant chromosomal translocations 2; 8 and 8; 22 of Burkitt lymphoma. Proc Natl Acad Sci U S A 86:3257–3260

14.

Zhang Z, Zhu Z, Zhang B, Li W, Li X, Wu X, Wang L, Fu L, Fu L, Dong JT (2014) Frequent mutation of rs13281615 and its association with PVT1 expression and cell proliferation in breast cancer. J Genet Genomics 41:187–195

15.

Yang YR, Zang SZ, Zhong CL, Li YX, Zhao SS, Feng XJ (2014) Increased expression of the lncRNA PVT1 promotes tumorigenesis in non-small cell lung cancer. Int J Clin Exp Pathol 7:6929–6935

16.

Ding C, Yang Z, Lv Z, Du C, Xiao H, Peng C, Cheng S, Xie H, Zhou L, Wu J, Zheng S (2015) Long non-coding RNA PVT1 is associated with tumor progression and predicts recurrence in hepatocellular carcinoma patients. Oncol Lett 9:955–963

17.

Takahashi Y, Sawada G, Kurashige J, Uchi R, Matsumura T, Ueo H, Takano Y, Eguchi H, Sudo T, Sugimachi K, Yamamoto H, Doki Y, Mori M, Mimori K (2014) Amplification of PVT-1 is involved in poor prognosis via apoptosis inhibition in colorectal cancers. Br J Cancer 110:164–171

18.

Tseng YY, Moriarity BS, Gong W, Akiyama R, Tiwari A, Kawakami H, Ronning P, Reuland B, Guenther K, Beadnell TC, Essig J, Otto GM, O'Sullivan MG, Largaespada DA, Schwertfeger KL, Marahrens Y, Kawakami Y, Bagchi A (2014) PVT1 dependence in cancer with MYC copy-number increase. Nature 512:82–86

19.

Yeh E, Cunningham M, Arnold H, Chasse D, Monteith T, Ivaldi G, Hahn WC, Stukenberg PT, Shenolikar S, Uchida T, Counter CM, Nevins JR, Means AR, Sears R (2004) A signalling pathway controlling c-Myc degradation that impacts oncogenic transformation of human cells. Nat Cell Biol 6:308–318

20.

Chen J, Li Y, Zheng Q, Bao C, He J, Chen B, Lyu D, Zheng B, Xu Y, Long Z, Zhou Y, Zhu H, Wang Y, He X, Shi Y, Huang S (2017) Circular RNA profile identifies circPVT1 as a proliferative factor and prognostic marker in gastric cancer. Cancer Lett 388:208–219

21.

Gao J, Aksoy BA, Dogrusoz U, Dresdner G, Gross B, Sumer SO, Sun Y, Jacobsen A, Sinha R, Larsson E, Cerami E, Sander C, Schultz N (2013) Integrative analysis of complex cancer genomics and clinical profiles using the cBioPortal. Sci Signal 6:pl1

22.

Cerami E, Gao J, Dogrusoz U, Gross BE, Sumer SO, Aksoy BA, Jacobsen A, Byrne CJ, Heuer ML, Larsson E, Antipin Y, Reva B, Goldberg AP, Sander C, Schultz N (2012) The cBio cancer genomics portal: an open platform for exploring multidimensional cancer genomics data. Cancer Discov 2:401–404

23.

Gandellini P, Casiraghi N, Rancati T, Benelli M, Doldi V, Romanel A, Colecchia M, Marenghi C, Valdagni R, Demichelis F, Zaffaroni N (2019) Core biopsies from prostate cancer patients in active surveillance protocols harbor PTEN and MYC alterations. Eur Urol Oncol 2:277–285

24.

Trock BJ, Fedor H, Gurel B, Jenkins RB, Knudsen BS, Fine SW, Said JW, Carter HB, Lotan TL, De Marzo AM (2016) PTEN loss and chromosome 8 alterations in Gleason grade 3 prostate cancer cores predicts the presence of un-sampled grade 4 tumor: implications for active surveillance. Mod Pathol 29:764–771

25.

Elfandy H, Armenia J, Pederzoli F, Pullman E, Pertega-Gomes N, Schultz N, Viswanathan K, Vosoughi A, Blattner M, Stopsack KH, Zadra G, Penney KL, Mosquera JM, Tyekucheva S, Mucci LA, Barbieri C, Loda M (2019) Genetic and epigenetic determinants of aggressiveness in cribriform carcinoma of the prostate. Mol Cancer Res 17:446–456

26.

Adhikary S, Eilers M (2005) Transcriptional regulation and transformation by Myc proteins. Nat Rev Mol Cell Biol 6:635–645

27.

Guan Y, Kuo WL, Stilwell JL, Takano H, Lapuk AV, Fridlyand J, Mao JH, Yu M, Miller MA, Santos JL, Kalloger SE, Carlson JW, Ginzinger DG, Celniker SE, Mills GB, Huntsman DG, Gray JW (2007) Amplification of PVT1 contributes to the pathophysiology of ovarian and breast cancer. Clin Cancer Res 13:5745–5755

28.

Bruinsma SM, Bangma CH, Carroll PR, Leapman MS, Rannikko A, Petrides N, Weerakoon M, Bokhorst LP, Roobol MJ (2016) Active surveillance for prostate cancer: a narrative review of clinical guidelines. Nat Rev Urol 13:151–167
Acknowledgements
The authors would like to thank all members of the Department of Comprehensive Pathology, Tokyo Medical and Dental University for their technical assistance and advice.
Ethics declarations
Conflict of interest
The authors state that there are no conflicts of interest to disclose.
Additional information
Publisher's Note
Springer Nature remains neutral with regard to jurisdictional claims in published maps and institutional affiliations.
Electronic supplementary material
Below is the link to the electronic supplementary material.
About this article
Cite this article
Umemori, M., Kurata, M., Yamamoto, A. et al. The expression of MYC is strongly dependent on the circular PVT1 expression in pure Gleason pattern 4 of prostatic cancer. Med Mol Morphol (2020) doi:10.1007/s00795-020-00243-9
Received:

Accepted:

Published:
Keywords
MYC

PVT1

Prostate cancer

Gleason pattern