Abstract
Adult psychosocial difficulties, including psychiatric disorders, are often preceded by childhood psychosocial vulnerabilities, presenting critical windows of opportunity for preventative intervention. The present study aimed to identify longitudinal patterns (representing transitions between profiles) of childhood socio-emotional and cognitive vulnerability in the general population from early to middle childhood, in relation to key risk factors (e.g. parental mental illness and offending). Data were drawn from the New South Wales Child Development Study, which combines intergenerational multi-agency administrative records with cross-sectional assessments using data linkage methods. We analysed data from childhood assessments of socio-emotional and cognitive functioning at two time points (ages 5–6 and 10–11 years) that were linked with administrative data from government departments of health, child protection, and education for 19,087 children and their parents. Latent profile analyses were used to identify socio-emotional and cognitive profiles at each time point, and latent transition analyses were used to determine the probability and potential moderators of transition between profiles at each age. Three developmental profiles were identified in early childhood, reflecting typically developing, emotionally vulnerable, and cognitively vulnerable children, respectively; two profiles were identified in middle childhood, reflecting typically developing and vulnerable children. Child's sex, child protection services contact, parental mental illness, and parental offending influenced children's transitions between different vulnerability profiles, with the strongest effects for parental mental illness and child protection contact. Early detection of vulnerable children and factors promoting resilience are important steps in directing future health and social policy, and service planning for vulnerable children.
This is a preview of subscription content, log in to check access.
Access options
Buy single article
Instant access to the full article PDF.
US$ 39.95
Price includes VAT for USA
Subscribe to journal
Immediate online access to all issues from 2019. Subscription will auto renew annually.
US$ 199
This is the net price. Taxes to be calculated in checkout.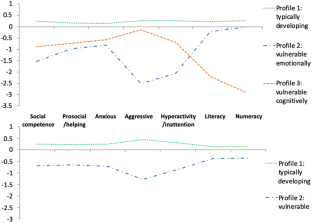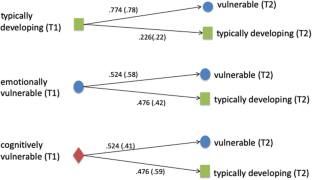 References
1.

Kim-Cohen J, Caspi A, Moffitt TE, Harrington H, Milne BJ, Poulton R (2003) Prior juvenile diagnoses in adults with mental disorder: developmental follow-back of a prospective-longitudinal cohort. Arch Gen Psychiatry 60(7):709–717

2.

Marin O (2016) Developmental timing and critical windows for the treatment of psychiatric disorders. Nat Med 22(11):1229–1238. https://doi.org/10.1038/nm.4225

3.

Bornstein MH, Hahn C-S, Haynes OM (2010) Social competence, externalizing, and internalizing behavioral adjustment from early childhood through early adolescence: developmental cascades. Dev Psychopathol 22(4):717–735

4.

Okado Y, Bierman KL (2015) Differential risk for late adolescent conduct problems and mood dysregulation among children with early externalizing behavior problems. J Abnorm Child Psychol 43(4):735–747

5.

Jones DE, Greenberg M, Crowley M (2015) Early social-emotional functioning and public health: the relationship between kindergarten social competence and future wellness. Am J Public Health 105(11):2283–2290

6.

Beitchman JH, Wilson B, Brownlie E, Walters H, Inglis A, Lancee W (1996) Long-term consistency in speech/language profiles: II. Behavioral, emotional, and social outcomes. J Am Acad Child Adolesc Psychiatry 35(6):815–825

7.

Snowling MJ, Bishop D, Stothard SE, Chipchase B, Kaplan C (2006) Psychosocial outcomes at 15 years of children with a preschool history of speech-language impairment. J Child Psychol Psychiatry 47(8):759–765

8.

Zhang X, Räsänen P, Koponen T, Aunola K, Lerkkanen MK, Nurmi JE (2020) Early cognitive precursors of children's mathematics learning disability and persistent low achievement: a 5-year longitudinal study. Child Develop 91(1):7–27

9.

Jordan NC, Kaplan D, Ramineni C, Locuniak MN (2009) Early math matters: Kindergarten number competence and later mathematics outcomes. Dev Psychol 45(3):850

10.

Laursen BP, Hoff E (2006) Person-centered and variable-centered approaches to longitudinal data. Merrill-Palmer Quart 52(3):377–389

11.

Thomson KC, Guhn M, Richardson CG, Ark TK, Shoveller J (2017) Profiles of children's social–emotional health at school entry and associated income, gender and language inequalities: a cross-sectional population-based study in British Columbia, Canada. BMJ Open 7(7):e015353

12.

Green MJ, Tzoumakis S, Laurens KR, Dean K, Kariuki M, Harris F, O'Reilly N, Chilvers M, Brinkman SA, Carr VJ (2017) Latent profiles of early developmental vulnerabilities in a New South Wales child population at age 5 years. Aust N Z J Psychiatry. https://doi.org/10.1177/0004867417740208

13.

Broidy LM, Nagin DS, Tremblay RE, Bates JE, Brame B, Dodge KA, Fergusson D, Horwood JL, Loeber R, Laird R, Lynam DR, Moffitt TE, Pettit GS, Vitaro F (2003) Developmental trajectories of childhood disruptive behaviors and adolescent delinquency: a six-site, cross-national study. Dev Psychol 39(2):222–245

14.

Luby JL, Gaffrey MS, Tillman R, April LM, Belden AC (2014) Trajectories of preschool disorders to full DSM depression at school age and early adolescence: continuity of preschool depression. Am J Psychiatry 171(7):768–776

15.

Althoff RR, Verhulst FC, Rettew DC, Hudziak JJ, van der Ende J (2010) Adult outcomes of childhood dysregulation: a 14-year follow-up study. J Am Acad Child Adolesc Psychiatry 49(11):1105–1116.e1101

16.

Kiernan KE, Mensah FK (2009) Poverty, maternal depression, family status and children's cognitive and behavioural development in early childhood: a longitudinal study. J Soc Policy 38(04):569–588

17.

Reiss F (2013) Socioeconomic inequalities and mental health problems in children and adolescents: a systematic review. Soc Sci Med 90:24–31

18.

Leinonen JA, Solantaus TS, Punamäki RL (2003) Parental mental health and children's adjustment: the quality of marital interaction and parenting as mediating factors. J Child Psychol Psychiatry 44(2):227–241

19.

Gilbert R, Widom CS, Browne K, Fergusson D, Webb E, Janson S (2009) Burden and consequences of child maltreatment in high-income countries. Lancet 373(9657):68–81

20.

Font SA, Berger LM (2015) Child maltreatment and children's developmental trajectories in early to middle childhood. Child Dev 86(2):536–556

21.

Green MJ, Tzoumakis S, McIntyre B, Kariuki M, Laurens KR, Dean K, Chilvers M, Harris F, Butler M, Brinkman SA (2018) Childhood maltreatment and early developmental vulnerabilities at age 5 years. Child Dev 89(5):1599–1612

22.

Hussey JM, Chang JJ, Kotch JB (2006) Child maltreatment in the United States: prevalence, risk factors, and adolescent health consequences. Pediatrics 118(3):933–942

23.

Norman RE, Byambaa M, De R, Butchart A, Scott J, Vos T (2012) The long-term health consequences of child physical abuse, emotional abuse, and neglect: a systematic review and meta-analysis. PLoS Med 9(11):e1001349

24.

Murray J, Farrington DP, Sekol I (2012) Children's antisocial behavior, mental health, drug use, and educational performance after parental incarceration: a systematic review and meta-analysis. Psychol Bull 138(2):175

25.

Laurens KR, Tzoumakis S, Kariuki M, Green MJ, Hamde M, Harris F, Carr VJ, Dean K (2017) Pervasive influence of maternal and paternal criminal offending on early childhood development: a population data linkage study. Psychol Med 47(5):889–901

26.

Carr VJ, Harris F, Raudino A, Luo L, Kariuki M, Liu E, Tzoumakis S, Smith M, Holbrook A, Bore M, Brinkman S, Lenroot R, Dix K, Dean K, Laurens KR, Green MJ (2016) New South Wales Child Development Study (NSW-CDS): an Australian multiagency, multigenerational, longitudinal record linkage study. BMJ Open. https://doi.org/10.1136/bmjopen-2015-009023

27.

Green MJ, Harris F, Laurens KR, Tzoumakis S, Dean K, Brinkman S, Chilvers M, Sprague T, Stevens R, Carr VJ (2018) Cohort profile: the New South Wales Child Development Study (NSW-CDS)—Wave 2 (child age 13 years). Int J Epidemiol 47(5):1396–1397k

28.

Janus M, Brinkman S, Duka EK (2011) Validity and psychometric properties of the Early Development Instrument in Canada, Australia, United States, and Jamaica. Social Indic Res 103:283–297

29.

Laurens KR, Tzoumakis S, Dean K, Brinkman SA, Bore M, Lenroot RK, Smith M, Holbrook A, Robinson KM, Stevens R, Harris F, Carr VJ, Green MJ (2017) The 2015 Middle Childhood Survey (MCS) of mental health and well-being at age 11 years in an Australian population cohort. BMJ Open 7(6):e016244. https://doi.org/10.1136/bmjopen-2017-016244

30.

Australian Curriculum, Assessment and Reporting Authority 2014, National Assessment Program—Literacy and Numeracy 2013: technical report, ACARA, Sydney. https://www.nap.edu.au/_resources/NAPLAN_2013_technical_report.pdf. Accessed 30 Oct 2019

31.

Pink B (2013) Socio-Economic Indexes for Areas (SEIFA) 2011: technical paper. Edn. Australian Bureau of Statistics Commonwealth of Australia, Canberra. Accessed 15 May 2015

32.

Muthén LK, Muthén BO (1998–2017) Mplus user's guide. 8th edn. Muthén & Muthén, Los Angeles

33.

Corp IBM (2017) IBM SPSS for Macintosh, Version 25.0. IBM Corp., New York

34.

Asparouhov T, Muthén B (2014) Auxiliary variables in mixture modeling: three-step approaches using M plus. Struct Eq Model Multidiscip J 21(3):329–341

35.

Berlin KS, Williams NA, Parra GR (2014) An introduction to latent variable mixture modeling (part 1): overview and cross-sectional latent class and latent profile analyses. J Pediatr Psychol 39(2):174–187

36.

Jung T, Wickrama AS (2008) An introduction to latent class growth analysis and growth mixture modeling. Soc Personal Psychol Compass 2(1):302–317

37.

Celeux G, Soromenho G (1996) An entropy criterion for assessing the number of clusters in a mixture model. J Classif 13(2):195–212

38.

Moffitt T (2003) Life-course-persistent and adolescence-limited antisocial behavior: a 10-year research review and a research agenda. In Lahey BB, Moffitt TE, Caspi A (eds) Causes of conduct disorder and juvenile delinquency. Guilford Press, New York, pp 49–75

39.

Rubio-Stipec M, Fitzmaurice G, Murphy J, Walker A (2003) The use of multiple informants in identifying the risk factors of depressive and disruptive disorders—are they interchangeable? Soc Psychiatry Psychiatr Epidemiol 38(2):51–58. https://doi.org/10.1007/s00127-003-0600-0

40.

Lederberg Stone S, Speltz ML, Collett B, Werler MM (2013) Socioeconomic factors in relation to discrepancy in parent versus teacher ratings of child behavior. J Psychopathol Behav Assess 35(3):314–320. https://doi.org/10.1007/s10862-013-9348-3

41.

Lahey BB, Schwab-Stone M, Goodman SH, Waldman ID, Canino G, Rathouz PJ, Miller TL, Dennis KD, Bird H, Jensen PS (2000) Age and gender differences in oppositional behavior and conduct problems: a cross-sectional household study of middle childhood and adolescence. J Abnorm Psychol 109(3):488–503. https://doi.org/10.1037//0021-843x.109.3.488

42.

Odgers CL, Moffitt TE, Broadbent JM, Dickson N, Hancox RJ, Harrington H, Poulton R, Sears MR, Thomson WM, Caspi A (2008) Female and male antisocial trajectories: from childhood origins to adult outcomes. Dev Psychopathol 20(2):673–716. https://doi.org/10.1017/s0954579408000333

43.

Whitten T, Laurens KR, Tzoumakis S, Kaggodaarachchi S, Green MJ, Harris F, Carr VJ, Dean K (2019) The Influence of parental offending on the continuity and discontinuity of children's internalizing and externalizing difficulties from early to middle childhood. Soc Psychiatry Psychiatr Epidemiol 54(8):965–975. https://doi.org/10.1007/s00127-019-01670-5

44.

Conti G, Heckman JJ, Pinto R (2016) The effects of two influential early childhood interventions on health and healthy behaviour. Econ J 126:F28–F65. https://doi.org/10.1111/ecoj.12420

45.

Garcia JL, Heckman JJ, Leaf DE, Prados MJ (2019) Quantifying the life-cycle benefits of an influential early childhood program. J Polit Econ. https://doi.org/10.1086/705718

46.

Rohacek M, Greenberg E, Massey M (2016) The State of the Science on Early Childhood Interventions: pay for success early childhood education toolkit report #1. Urban Institute, Washington
Acknowledgements
This research used population data owned by the NSW Education Standards Authority; NSW Department of Family and Community Services and Justice; NSW Ministry of Health; NSW Registry of Births, Deaths and Marriages; and, the NSW Bureau of Crime Statistics and Research. This paper uses data from the Australian Early Development Census (AEDC). The AEDC is funded by the Australian Government Department of Education and Training. The findings and views reported are those of the author and should not be attributed to these Departments or the NSW and Australian Government. The record linkage was conducted by the Centre for Health and Record Linkage.
Funding
This research was conducted by the University of New South Wales with financial support from the Australian Research Council Linkage Project (LP110100150, with the NSW Ministry of Health, NSW Department of Education, and the NSW Department of Family and Community Services representing the Linkage Project Partners) and Future Fellowship awarded to KRL (FT170100294); the National Health and Medical Research Council (NHMRC) Project Grants (APP1058652 and APP1048055) and Partnership Project (APP1133833), and; the Australian Rotary Health (Mental Health of Young Australians Research Grants 104090 and 162302).
Ethics declarations
Conflict of interest
On behalf of all authors, the corresponding author states that there is no conflict of interest.
Ethical standards
The research was conducted with ethical approval from the NSW Population and Health Services Research Ethics Committee (HREC/15/CIPHS/21), and data custodian approvals granted by the relevant government departments.
Electronic supplementary material
Below is the link to the electronic supplementary material.
About this article
Cite this article
Piotrowska, P.J., Whitten, T., Tzoumakis, S. et al. Transitions between socio-emotional and cognitive vulnerability profiles from early to middle childhood: a population study using multi-agency administrative records. Eur Child Adolesc Psychiatry (2020). https://doi.org/10.1007/s00787-020-01475-x
Received:

Accepted:

Published:
Keywords
Latent profile analysis

Psychopathology

Resilience

Developmental transition

Record linkage