Abstract
While slow processing speed (PS) is well documented in youth with ADHD, growing evidence suggests that this difficulty affects children with other neuropsychiatric conditions. Clarifying the relationship between slow PS and different forms of psychopathology is important clinically, given the potential impact of PS on academic functioning, and conceptually. In 751 youth, ages 6–21, consecutively referred for neuropsychiatric evaluation, we examined the association between slow PS (i.e., Wechsler PS Index < 85) and seven neuropsychiatric diagnostic groups. In 492 of these youth, we also related slow PS to eight psychopathology symptom dimensions. Finally, we modeled the relationship between PS, other cognitive functions and academic achievement. Data are from the Longitudinal Study of Genetic Influences on Cognition. Analyses included one-sample t tests, ANOVA, logistic regression, mixed modeling, and structural equation modeling (SEM), controlling for age, sex, and medication. Compared to normative data, all clinical groups showed PS decrements. Compared to referred youth without full diagnoses and accounting for other psychopathology, risk for slow PS was elevated in youth with autism spectrum disorder (OR = 1.8), psychotic disorders (OR = 3.4) and ADHD-inattentive type (OR = 1.6). Having multiple comorbidities also increased risk for slow PS. Among dimensions, inattention (OR = 1.5) associated with slow PS but did not fully explain the association with autism or psychosis. In SEM, PS had direct effects on academic achievement and indirect effects through working memory. Findings extend evidence that PS relates to multiple aspects of child psychopathology and associates with academic achievement in child psychiatric outpatients.
This is a preview of subscription content, log in to check access.
Access options
Buy single article
Instant access to the full article PDF.
US$ 39.95
Price includes VAT for USA
Subscribe to journal
Immediate online access to all issues from 2019. Subscription will auto renew annually.
US$ 199
This is the net price. Taxes to be calculated in checkout.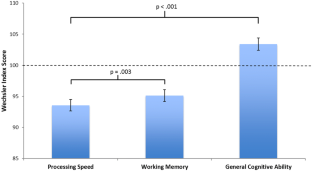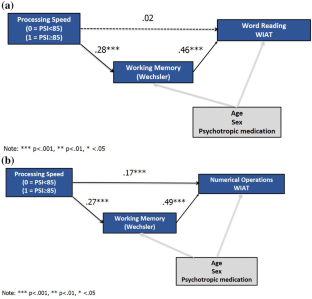 References
1.

Braaten EB, Willoughby BL (2014) Bright Kids Who Can't Keep Up. Guilford Press, New York

2.

Ball K, Edwards JD, Ross LA (2007) The impact of speed of processing training on cognitive and everyday functions. J Gerontol B Psychol Sci Soc Sci 62(1):19–31

3.

Owsley C et al (2002) Timed instrumental activities of daily living tasks: relationship to cognitive function and everyday performance assessments in older adults. Gerontology 48(4):254–265

4.

Fry AF, Hale S (2000) Relationships among processing speed, working memory, and fluid intelligence in children. Biol Psychol 54(1–3):1–34

5.

Kail R, Salthouse TA (1994) Processing speed as a mental capacity. Acta Psychol 86(2–3):199–225

6.

Geary DC (2011) Cognitive predictors of achievement growth in mathematics: a 5-year longitudinal study. Dev Psychol 47(6):1539–1552

7.

Rohde TE, Thompson LA (2007) Predicting academic achievement with cognitive ability. Intelligence 35:83–92

8.

Shanahan MA et al (2006) Processing speed deficits in attention deficit/hyperactivity disorder and reading disability. J Abnorm Child Psychol 34(5):585–602

9.

Cook NE, Braaten EB, Surman CBH (2018) Clinical and functional correlates of processing speed in pediatric attention-deficit/hyperactivity disorder: a systematic review and meta-analysis. Child Neuropsychol 24(5):598–616

10.

Doobay AF et al (2014) Cognitive, adaptive, and psychosocial differences between high ability youth with and without autism spectrum disorder. J Autism Dev Disord 44(8):2026–2040

11.

Oliveras-Rentas RE et al (2012) WISC-IV profile in high-functioning autism spectrum disorders: impaired processing speed is associated with increased autism communication symptoms and decreased adaptive communication abilities. J Autism Dev Disord 42(5):655–664

12.

Sheffield JM, Karcher NR, Barch DM (2018) Cognitive deficits in psychotic disorders: a lifespan perspective. Neuropsychol Rev 28(4):509–533

13.

Bolt LK et al (2018) Neurocognition as a predictor of transition to psychotic disorder and functional outcomes in ultra-high risk participants: findings from the NEURAPRO randomized clinical trial. Schizophr Res 206:67–74

14.

Kelleher I et al (2013) Neurocognitive performance of a community-based sample of young people at putative ultra high risk for psychosis: support for the processing speed hypothesis. Cogn Neuropsychiatry 18(1–2):9–25

15.

Baune BT et al (2014) Neuropsychological functioning in adolescents and young adults with major depressive disorder—a review. Psychiatry Res 218(3):261–271

16.

Willcutt EG et al (2008) Recent developments in neuropsychological models of childhood psychiatric disorders. In: Banaschewski T, Rohde L (eds) Biological child psychiatry: recent trends and developments. Karger, Basel, pp 195–226

17.

Doyle AE et al (2018) Cross-disorder cognitive impairments in youth referred for neuropsychiatric evaluation. J Int Neuropsychol Soc 24(1):91–103

18.

Calhoun SL, Mayes SD (2005) Processing speed in children with clinical disorders. Psychol Sch 42(4):333–343

19.

Mayes SD, Calhoun SL (2007) Learning, attention, writing, and processing speed in typical children and children with ADHD, autism, anxiety, depression, and oppositional-defiant disorder. Child Neuropsychol 13(6):469–493

20.

Cuthbert BN (2014) The RDoC framework: facilitating transition from ICD/DSM to dimensional approaches that integrate neuroscience and psychopathology. World Psychiatry 13(1):28–35

21.

Miller AC et al (2013) Reading comprehension in children with ADHD: cognitive underpinnings of the centrality deficit. J Abnorm Child Psychol 41(3):473–483

22.

Kibby MY, Vadnais SA, Jagger-Rickels AC (2018) Which components of processing speed are affected in ADHD subtypes? Child Neuropsychol 25:964–979

23.

Pgc CDG (2013) Identification of risk loci with shared effects on five major psychiatric disorders: a genome-wide analysis. Lancet 381(9875):1371–1379

24.

Roth B et al (2015) Intelligence and school grades: a meta-analysis. Intelligence 53:118–137

25.

Gathercole SE, Pickering SJ (2000) Working memory deficits in children with low achievements in the national curriculum at 7 years of age. Br J Educ Psychol 70(Pt 2):177–194

26.

Alloway TP, Alloway RG (2010) Investigating the predictive roles of working memory and IQ in academic attainment. J Exp Child Psychol 106(1):20–29

27.

Cassidy AR et al (2016) Processing speed, executive function, and academic achievement in children with dextro-transposition of the great arteries: testing a longitudinal developmental cascade model. Neuropsychology 30(7):874–885

28.

Rose SA, Feldman JF, Jankowski JJ (2011) Modeling a cascade of effects: the role of speed and executive functioning in preterm/full-term differences in academic achievement. Dev Sci 14(5):1161–1175

29.

Landis JR, Koch GG (1977) The measurement of observer agreement for categorical variables. Biometrics 33:159–174

30.

Gadow KD, Sprafkin JN (2002) Child symptom inventory—fourth edition: screening and norms manual. Checkmate Plus, NY

31.

Achenbach TM, Rescorla LA (2001) Manual for the ASEBA school-age forms & profiles. University of Vermont, Research Center for Children, Youth, & Families, VT

32.

Constantino JN, Gruber CP (2005) Social responsiveness scale. WPS, Los Angeles

33.

Robinson EB et al (2011) Stability of autistic traits in the general population: further evidence for a continuum of impairment. J Am Acad Child Adolesc Psychiatry 50(4):376–384

34.

Pavuluri MN et al (2006) Child mania rating scale: development, reliability, and validity. J Am Acad Child Adolesc Psychiatry 45(5):550–560

35.

Wechsler D (2004) The Wechsler intelligence scale for children—fourth edition. Pearson, San Antonio Texas

36.

Wechsler D (2008) Wechsler adult intelligence scales—fourth edition. Pearson, San Antonio Texas

37.

Prifitera A, Weiss LG, Saklofske DH (1998) The WISC-III in context. In: Prifitera A, Saklofske DH (eds) W1SC-1II clinical use and interpretation: scientist-practitioner perspective. Academic Press, CA, pp 1–38

38.

Tulsky DS et al (2001) Development of a general ability index for the Wechsler adult intelligence scale—third edition. Psychol Assess 13(4):566–571

39.

Wechsler D (2009) Wechsler individual achievement test—third edition. Pearson, San Antonio Texas

40.

Agler R, De Boeck P (2017) On the interpretation and use of mediation: multiple perspectives on mediation analysis. Front Psychol 8:1984

41.

Sokolova E et al (2017) A causal and mediation analysis of the comorbidity between attention deficit hyperactivity disorder (ADHD) and autism spectrum disorder (ASD). J Autism Dev Disord 47(6):1595–1604

42.

Levy E et al (2015) Psychotic disorders comorbid with attention-deficit hyperactivity disorder: an important knowledge gap. Can J Psychiatry 60(3 Suppl 2):S48–52

43.

Elia J et al (2010) Rare structural variants found in attention-deficit hyperactivity disorder are preferentially associated with neurodevelopmental genes. Mol Psychiatry 15(6):637–646

44.

Chiaravalloti ND et al (2018) A pilot study examining speed of processing training (SPT) to improve processing speed in persons with multiple sclerosis. Front Neurol 9:685

45.

Masten AS, Cicchetti D (2010) Developmental cascades: part 1. Dev Psychopathol 22(3):491–495

46.

Spencer-Smith M, Klingberg T (2015) Benefits of a working memory training program for inattention in daily life: a systematic review and meta-analysis. PLoS ONE 10(3):e0119522
Acknowledgements
This research was supported by funding from the David Judah Foundation to Alysa Doyle and Ellen Braaten and from the Stanley Center for Psychiatric Research and NIMH (R01 MH116037) to Alysa Doyle.
Ethics declarations
Conflict of interest
On behalf of all authors, the corresponding author states that there is no conflict of interest. The authors report no conflicts of interest. Drs. Doyle, Vuijk, Forchelli, Ward, Cook and O'Keefe and Ms. Lee, Ms. Lind, Ms. Samkavitz, and Mr. McGuinness have no additional affiliations to disclose. Dr. Braaten serves on the boards of Magination Press. She receives royalties from books published by Guilford Press Bright Kids Who Can't Keep Up and The Child Clinician's Report Writing Handbook and by Sage The Sage Encyclopedia of Intellectual and Developmental Disorders.
Electronic supplementary material
Below is the link to the electronic supplementary material.
About this article
Cite this article
Braaten, E.B., Ward, A.K., Forchelli, G. et al. Characteristics of child psychiatric outpatients with slow processing speed and potential mechanisms of academic impact. Eur Child Adolesc Psychiatry (2020). https://doi.org/10.1007/s00787-019-01455-w
Received:

Accepted:

Published:
Keywords
Processing speed

Cross-disorder

Child psychiatry

Outpatients

Academic achievement

Working memory