Maternal psychological distress in primary care and association with child behavioural outcomes at age three
Open Access
Original Contribution
Abstract
Observational studies indicate children whose mothers have poor mental health are at increased risk of socio-emotional behavioural difficulties, but it is unknown whether these outcomes vary by the mothers' mental health recognition and treatment status. To examine this question, we analysed linked longitudinal primary care and research data from 1078 women enrolled in the Born in Bradford cohort. A latent class analysis of treatment status and self-reported distress broadly categorised women as (a) not having a common mental disorder (CMD) that persisted through pregnancy and the first 2 years after delivery (N = 756, 70.1 %), (b) treated for CMD (N = 67, 6.2 %), or (c) untreated (N = 255, 23.7 %). Compared to children of mothers without CMD, 3-year-old children with mothers classified as having untreated CMD had higher standardised factor scores on the Strengths and Difficulties Questionnaire (d = 0.32), as did children with mothers classified as having treated CMD (d = 0.27). Results were only slightly attenuated in adjusted analyses. Children of mothers with CMD may be at risk for socio-emotional and behavioural difficulties. The development of effective treatments for CMD needs to be balanced by greater attempts to identify and treat women.
Keywords
Health inequality 
Maternal mental health 
Anxiety 
Depression 
Strengths and Difficulties Questionnaire 
Latent class methods 
Background
Research evidence points to an association between poor parental mental health and increased socio-emotional and behavioural disturbance in their children [1, 2, 3, 4, 5, 6, 7]. Much of this evidence base comes from observational research studies which classify mothers' and sometimes fathers' mental health problems using scores derived from screening measures or diagnostic interviews by professionals. These studies quantify the scale of the problem and the nature of the association but their contribution is limited because they only rarely account for impact of treatment received by the parent from health services. In clinical practice, up to half of women with common mental health disorders (CMD, anxiety and depression) remain undiagnosed, i.e. are not identified and, therefore, are unlikely to be offered psychiatric treatment for their disorder or receive parenting or attachment support to mitigate potentially harmful outcomes for their child [8, 9, 10].
A small evidence base indicates that maternal psychotherapy treatment may improve outcomes in mothers and children [11], and to date few differences in child outcomes have been noted by the type of treatment during pregnancy [12, 13, 14]. The evidence base, however, has only limited characterisation of outcomes in families where a women's distress remains unidentified to the health service. Consequently, we not know whether or not children of women with unidentified, and therefore untreated, CMD have an elevated risk of problems and thus the health and social problems stemming from unidentified CMD cannot be quantified.
In a previous analysis, we used linked primary care and research data from a city-based birth cohort (Born in Bradford, BiB) to estimate that up to 50 % of women with CMD during pregnancy were potentially unidentified (not detected) in primary care [10]. Here, we extend that work through analysis of linked data from a sub-set of women in BiB who were asked to complete further self-reported psychological distress measures in the postnatal period and also rated their child's socio-emotional behavioural problems at age three. Our aim is to describe variation in socio-emotional behavioural problems in 3-year-old offspring of women who had persistent untreated CMD in the maternal period, compared to offspring of women without CMD and those who were treated in primary care for CMD.
Methods
Sample
The data for this analysis come from women recruited to the Born in Bradford (BiB) cohort, a longitudinal community study aiming to examine environmental, psychological and genetic factors and their impact on maternal and child health [15, 16]. Bradford is a city in the North of England with high levels of socio-economic deprivation and ethnic diversity. Women were consecutively approached for recruitment while waiting for their glucose tolerance test, a routine procedure offered to all pregnant women registered at the Bradford Royal Infirmary, at 26–28 weeks gestation. More than 80 % of women consented to take part and the cohort recruited 12,450 women antenatally between 2007 and 2010, resulting in 13,857 live births. We analysed a sub-set of the full BiB cohort (BiB1000) as only these women contributed longitudinal self-reported data. Women in BiB1000 were consecutive enrollees between the dates August 2008 and March 2009 who completed the recruitment questionnaire and consented to repeat visits at 6, 12, 18, 24 and 36 months after delivery [17]. Out of 1917 eligible pregnancies, 1735 mothers agreed to take part in the BiB1000 study. Ethical approval for the data collection was granted on April 1, 2008 by Bradford Research Ethics Committee (Ref 07/H1302/112).
Exclusions
We excluded 657 of these 1735 women (37.9 %) from our analysis, leaving an analytic sample of N = 1078. Exclusions could be for more than one reason. To minimise potential unknown missing data bias caused by some women having an incomplete GP record because they moved to a practice not using the computer system that provided primary care data, we used NHS tracing files to exclude women who relocated from Bradford between recruitment and up to 2 years after the delivery (N = 238). We excluded women whose research data could not be linked with the GP record (N = 127), those with codes or prescriptions indicating the possibility of severe mental illness (N = 113) and those without a questionnaire (SDQ) when the child was aged three (N = 533). We only analysed data on the first-born of the 25 sets of twins.
Outcome measure: Strengths and Difficulties Questionnaire
At the 36th month interview the children's mothers were administered the 25-item Strengths and Difficulties Questionnaire (SDQ) [18]. In non-clinical samples the SDQ may be expected to assess early manifestations of two theorised dimensions of children's problem behaviour (usually applied to older children and adolescents); internalising and externalising, which are combined into a Total Difficulties score, and a positive, pro-social scale. Each item is rated on a scale from 0 (best) to 2 (worst) with five positively worded problem items having reversed scales. A psychometric analysis of the SDQ in this sample revealed less support for the underlying theorised structure of internalising and externalising dimensions [19]. Factor analyses in other pre-school samples have also found it hard to confirm the theorised structures [20, 21]. The latent structure variation we found may have been a consequence of the very young age of the children, or related to heterogeneity in this multi-ethnic sample. We found, as have others [22, 23], that a bifactor model, which isolates a general factor or dominant dimension of variation from the internalising, externalising and positively worded questions, fitted the data from this sample well. In this analysis we used standardised scores from this factor, generated after fitting the bifactor model to the whole sample. These scores are estimates for the loading on the Total Difficulties factor after partitioning out the error variance. This procedure computed a single score on the major dimension (latent bifactor) for each child from the 20 problem behaviour items indicating a child's position relative to others in the sample. The correlation between the standardised factor scores generated this way and the Total Difficulties scores computed in the standard way using a simple sum score was high at 0.90.
As a sensitivity analysis for the factor score method of assessing child behavioural problems we also used the single-item 'Perceived Difficulties' question in the impact supplement of the SDQ which asks; "Overall, do you think that your child has difficulties in one or more of the following areas: emotions, concentration, behaviour or being able to get on with other people?". The response scale is 'severe', 'serious', 'minor' and 'none'. The distribution of responses in our sample was 2 % rated as having 'severe' or 'serious' difficulties, 10 % with minor difficulties, and 88 % no difficulties. The proportion of children with difficulties appears low compared to other community samples of older children (mean age ~10). Around 5 % of parents in UK and German studies reported that their child had serious or severe difficulties and ~30 % of children were rated as having only minor problems in the UK study [24, 25]. As it was unclear whether this was an age effect, we classified the children as having difficulties if their mother rated them as having either minor, serious or severe difficulties (12 %).
Predictor: maternal mental health
The maternal mental health predictor was derived in three stages: dichotomised self-reported data; treatment status derived from the medical record; latent class analysis using both stages one and two.
Classification of psychological distress from self-reported measures
Data from self-reported psychological distress measures (expected to capture variation in non-psychotic psychiatric risk) were collected at various points by the research team; the GHQ-28 during pregnancy, at 6 and 18 months after the baby's birth, and the Kessler-6 at 12 and 24 months postnatally [26, 27]. For the GHQ-28 we performed a simple imputation of zero for questionnaires with fewer than four items missing, which numbered only a handful of cases in each assessment period. We considered the questionnaire missing if the GHQ-28 was missing between 5 and 28 items or if the Kessler-6 was missing any items. The ethnic diversity of women in BiB presents a challenge for comparing scores from standardised measures, as questions cannot be assumed to have equal relationships to psychopathology across cultures [28, 29]. To minimise any effect we used non-parametric determinations, considering women with scores at and over the 75th centile of their within-ethno-language group to be psychologically distressed [30]. The four groups we used to classify scores were (1) White British with administration of the recruitment questionnaire in English (N = 396), (2) Pakistani with administration in English (N = 329), (3) all other administrations in English (N = 123), and (4) administrations in a language other than English (nearly all of these were Pakistani women using Urdu, N = 230). Where language was missing we assumed English (N = 6), where the woman's ethnic group was missing we assumed 'Other ethnicity' (N = 2). We selected the 75th centile as a non-conservative threshold for CMD, as best estimates of point prevalence of depression are around 10 % during pregnancy and 7–13 % during the first year postpartum, with a period prevalence of up to 20 % during the first 3 months postpartum [31].
We grouped the five self-reported binary measures to approximate the three time periods classified in the medical record (Table 
1
).
Table 1
Classification of risk by self-reported measures
Classification

Self-report at risk pre-birth

Self-report at risk year 1

Self-report at risk year 2

Self-reported measure

GHQ-28

GHQ-28

Kessler-6

GHQ-28

Kessler-6

Timing

Pregnancy

6 months

12 months

18 months

24 months

Considered 'at risk' if

Score is ≥75th centilea

At least one score is ≥75th centilea

At least one score is ≥75th centilea

Missing if

Score is missing

Both scores are missing

Both scores are missing
Classification of 'treated CMD' from GP records
Bradford's primary care practices use SystmOne clinical software (©TPP) in which clinical and administrative terms are classified by Read codes, and prescriptions listed by the British National Formulary. SystmOne electronic primary care records ('GP records') were matched to BiB research records by a third party data provider using NHS number up to February 2013. We compiled lists of Read codes [32] relevant to the treatment, or referral for treatment, of CMD. We searched the GP records of participants for these Read codes, and for drugs used to treat CMD, during the study period. We had no access to free-text notes and referral letters. A list of Read codes and medications are in supplementary appendix table S1.
We coded for the presence or absence of a pharmacologic or non-pharmacologic treatment for CMD in the GP record over three periods; (1) the 6-month preconception period and pregnancy 'pre-birth', (2) the first postnatal year, and (3) the second postnatal year.
Latent class analysis
We undertook latent class analysis (LCA) modelling to identify groups of women with similar patterns of mental health/mental distress and treatment status across the study period. We modelled six binary variables, three relating to treatment from the medical record and three derived from self-reported measures. We used MPlus version 7.2 to estimate latent class models using full information maximum likelihood (FIML) to account for missing data, assuming that mental health screening measures were missing completely at random (MCAR). Missing screening measure data ranged from 0.4 % (N = 4) in pregnancy to 3.6 % (N = 39) in the first postnatal year (both 6 and 12 months data missing). Missingness was not predicted by correlations between the mental health variables and the SDQ (all correlations for missing data <0.075). The optimal number of latent classes was derived by assessing; (1) the model with the lowest values of two information criteria—Akaike's information criterion (AIC) and Bayesian information criterion (BIC), (2) the results of the Vuong–Lo–Mendell–Rubin-adjusted likelihood ratio test, and (3) considerations of parsimony with no trivial classifications (i.e. very small or unusual groupings). A Pearson test statistic >30 for any bivariate pair was considered as an indication that there was a likely violation of the assumption that variables used in the model were independent of one another [33], conditional on the latent class model.
Covariates
The following variables were used as covariates in regression analyses. We entered the mother's ethnicity as categorised above, the baby's sex as noted in the electronic maternity system and, as a marker of socio-economic deprivation, the mother's responses to the 12-item Family Resources Survey (FRS) Adult Deprivation Questions [34] when recruited. The score was derived from a count of the number of items which the mother indicated they could not afford (I/we would like this but cannot afford it at this moment). All responses in the category 'I/we do not want/need this at this moment' together with responses of 'Do not know' were classified with responses indicating the items could be afforded. If mothers did not provide a response to all the material deprivation questions her response was set to missing. We used the FRS rather than other markers of socio-economic status such as income or area-based deprivation because a substantial number of mothers in BiB did not know or report their income and there is little variation in the small area-based deprivation score between different areas of Bradford, with over 85 % of mothers in this sample living in the 40 % most deprived areas nationally.
Statistics
We calculated means, effect sizes (Cohen's d and point-biserial r) and 95 % CI of standardised SDQ factor scores by latent classification of CMD status. We modelled the effect of latent classification of CMD on standardised SDQ factor scores in three sequential steps. In the first, we adjusted for child sex only, in the second model we also adjusted for mother's ethnic group to observe the effect of any ethnicity-related variation in scoring children's behaviour. To establish whether differences were grossly attributable to variation in socio-economic status we also adjusted for the number of items lacked on the FRS in the third model. We used linear regression with robust standard errors; reporting beta coefficients and 95 % CI. We used Poisson regression to estimate similar models for the Perceived Difficulties question, reporting relative risk ratios (RRR) and their 95 % CI. Stata 13 [35] was used for all analyses except the latent classification, where we used Mplus 7.2 [36].
Results
Participation
We analysed data on 1078 women. Of these, the numbers participating in each sweep were pregnancy N = 1078 (100 %), 6 months postnatal N = 918 (85.2 %), 12 months N = 946 (87.8 %), 18 months N = 983 (91.2 %), 24 months N = 991 (91.9 %), and 36 months N = 1078 (100 %). Sixty-seven percent (N = 726) participated at every sweep.
Participants
Women included in the analysis were less likely to be White British, more likely to have used English for the baseline questionnaire, be on average a year older and married than women excluded (Table 
2
). There was little evidence of differences in the socio-economic status, self-reported psychological distress, CMD treatment in GP notes, or perceived difficulties on the SDQ between the included and excluded sample. No marked differences in the characteristics of the women excluded for different reasons were evident (Supplementary online appendix Table S2).
Table 2
Descriptive characteristics of the included and excluded sample
 

Analysed

Excluded

Analysed vs. excluded χ 2 (df), P

N

1078

657

 

Ethnic group (language), N (%)

 White British

396 (36.7)

264 (40.1)

15.1 (3), 0.002

 Pakistani (English)

329 (30.5)

184 (28.0)

 Other (English)

123 (11.4)

105 (16.0)

 Any (not English)

230 (21.3)

104 (15.8)

Migration history

 Born in the UK

664 (61.6)

419 (63.8)

1.1 (2), 0.57

 Migrated to UK before age 16

81 (7.5)

43 (6.5)

 Migrated to UK on or after age 16

327 (30.3)

190 (28.9)

 Missing

6 (0.6)

5 (0.8)

 

Age at enrolment, mean (SD)

27.6 (5.7)

26.5 (5.6)

b t = 3.9, P < 0.001

Relationship status at recruitment N (%)

 Married and living together

760 (70.5)

415 (63.2)

14.1 (2), 0.001

 Cohabiting

181 (16.8)

120 (18.3)

 Not living with a partner

133 (12.3)

121 (18.4)

 Missing

4 (0.4)

1 (0.2)

 

IMD national rank quintile

 Most deprived

718 (66.6)

456 (69.4)

3.4 (4), 0.49

 2

206 (19.1)

109 (16.6)

 3

112 (10.4)

70 (10.7)

 4

27 (2.5)

11 (1.7)

 Least deprived

15 (1.4)

11 (1.7)

Number of items lacked on the Family Resources Survey at recruitment

 None

461 (42.8)

280 (42.6)

1.3 (3), 0.74

 1–2

298 (27.6)

170 (25.9)

 3–4

165 (15.3)

98 (14.9)

 5+

145 (13.5)

99 (15.1)

 Missing

9 (0.8)

10 (1.5)

 

≥75th centile of self-reported distress measure, N (%)a,c

 GHQ-28 during pregnancy

302 (28.1)

174 (26.8)

0.35 (1), 0.56

 Missing

4 (0.4)

8 (1.2)

 

 GHQ-28 at 6 months

257 (28.7)

120 (30.8)

0.57 (1), 0.45

 Missing

182 (16.9)

267 (40.6)

 

 Kessler-6 at 12 months

258 (27.4)

113 (32.5)

3.2 (1), 0.07

 Missing

136 (12.6)

309 (47.0)

 

 GHQ-28 at 18 months

251 (25.8)

89 (30.4)

2.3 (1), 0.13

 Missing

107 (9.9)

364 (55.4)

 

 Kessler-6 at 24 months

248 (25.2)

70 (31.3)

3.4 (1), 0.06

 Missing

94 (8.7)

433 (65.9)

 

Has CMD treatment Read codes/prescriptions, N (%)

N

1078

322

 

 Pre-birth

79 (7.3)

31 (9.7)

1.8 (1), 0.18

 In first postnatal year

118 (11.0)

40 (12.5)

0.54 (1), 0.46

 In second postnatal year

139 (12.9)

47 (14.6)

0.62 (1), 0.43

SDQ Perceived Difficulties question, N (%)a

N

1078

335

 

 Severe, serious or minor

137 (12.7)

20 (16.8)

1.5 (1), 0.22

 Missing

0

216 (64.5)

 
CMD treatment and psychological distress
Just over 7 % of women had a pre-birth marker of CMD treatment in their record; 11 and 13 % in each subsequent postnatal year (Table 
3
).
Table 3
CMD treatment and psychological distress
 

Pre-birth

Year 1 postnatal

Year 2 postnatal

N

%

95 % CI

N

%

95 % CI

N

%

95 % CI

Treated for CMD

79

7.3

5.9, 9.0

118

11.0

9.2, 13.0

139

12.9

11.0, 15.0

'At risk' on SR screening measure(s)

297

27.7

25.0, 30.4

436a

42.0

39.0, 45.0

435a

41.2

38.2, 44.2

Missing

4

0.4

 

39b

3.6

 

21b

2.0

 
Latent class analysis of maternal mental health
The bootstrapped LR test returned a non-significant result when comparing the five-class solution to the four-class solution, (Supplementary online appendix Table S3); however, we chose the more parsimonious three-class solution as our preferred model. In the four-class solution there was a small group (4 %) of potentially untreated women with varying probabilities of high SR scores over time. We chose not to separate this small group from the larger three classes. In addition, the BIC took its lowest value for the three-class solution. All bivariate Pearson test statistics were <0.6, indicating the model did not violate the assumption of local independence.
The LCA classification groups were characterised as follows: (a) women unlikely to have CMD (low probability of treatment and low probability of high self-reported scores) comprising 70.1 % of the sample; (b) 'Treated' CMD by the GP (high probability of treatment and high probability of high self-reported scores) comprising 6.2 % of the sample; and (c) potentially 'untreated' persistent CMD (low probability of treatment and high probability of high self-reported scores) (23.7 %) (Fig. 
1
).

Child behaviour difficulties
One hundred and thirty-seven children (12.7, 95 % CI; 10.8, 14.8) were classed as having 'severe', 'serious' or 'minor' difficulties on the Perceived Difficulties question of the SDQ.
Associations between latent classification of maternal mental health and SDQ outcomes
The standardised SDQ factor scores for each latent classification with estimates of effect size are presented in Fig. 
2
. Compared to children of mothers unlikely to have CMD, children with mothers classified as having untreated CMD had higher SDQ factor scores (
d
 = 0.32), as did children with mothers classified as having treated CMD (
d
 = 0.27). There was little variation in SDQ factor scores between children of mothers with treated and untreated CMD.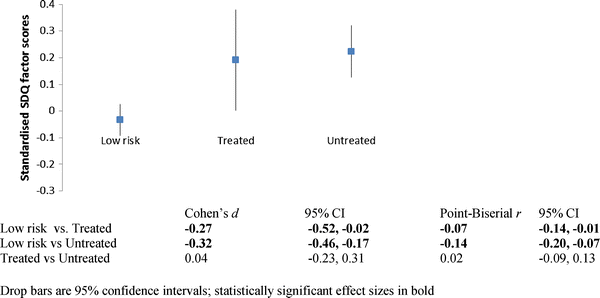 The findings were largely unchanged when, adjusting for the sex of the child and ethnic group, the SDQ factor scores for children of women in the treated and untreated groups were contrasted against those whose mothers did not have CMD, and when analysing responses to the single question about perceived behavioural difficulties (Table 
4
). Further adjusting for a marker of socio-economic difficulties (the number of items lacked on the FRS) resulted in attenuated estimates, but the association between increased child difficulties in offspring of mothers with untreated CMD, compared to mothers unlikely to have CMD, was still visible.
Table 4
Linear and poisson multivariate regression of SDQ on latent maternal mental health classification
 

N (%)

Standardised SDQ factor scorea

Perceived behavioural difficulties ratingb

Model 1

Model 2

Model 3

Model 1

Model 2

Model 3

Coeff (95 % CI)

Coeff (95 % CI)

Coeff (95 % CI)

RRR (95 % CI)

RRR (95 % CI)

RRR (95 % CI)

Maternal mental health classification

 Low risk

756 (70.1)

0

0

0

1

1

 

 Untreated CMD

255 (23.7)

0.25 (0.14, 0.37)

0.25 (0.14, 0.37)

0.21 (0.09, 0.32)

1.59 (1.13, 2.23)

1.59 (1.13, 2.23)

1.58 (1.13, 2.23)

 Treated CMD

67 (6.2)

0.21 (0.02, 0.40)

0.21 (0.02, 0.41)

0.17 (−0.02, 0.37)

1.59 (0.93, 2.74)

1.54 (0.90, 2.66)

1.56 (0.90, 2.68)

Child sex

 Boy

514 (47.7)

0

0

0

0

0

0

 Girl

564 (52.3)

−0.16 (−0.26, −0.07)

−0.16 (−0.26, −0.06)

− 0.17 ( − 0.27 , − 0.07 )

0.62 (0.45, 0.86)

0.62 (0.45, 0.85)

0.62 (0.45, 0.85)

Mothers ethnic group

 White British

396 (36.7)

–

0

0

–

0

0

 Not White British

682 (63.3)

–

0.02 (−0.06, 0.09)

0.01 (−0.06, 0.09)

–

0.93 (0.74, 1.16)

0.93 (0.74, 1.16)

 Materially deprived

617 (56.9)c

–

–

0.10 (0.05, 0.15)

–

–

1.03 (0.89, 1.20)
Discussion
Using latent class analysis in a cohort linking GP records and research data we identified a substantial group of mothers with a high likelihood of potentially persistent CMD with no record of treatment in primary care. Compared to children of women who were unlikely to have CMD, the 3-year-old children of women with untreated CMD were more likely to be rated as having socio-emotional and behavioural difficulties. Little difference was observed between these difficulties in children whose mothers were treated and those whose mothers were not.
Conclusions
In this multi-ethnic city-based birth cohort the 3-year-old offspring of women who potentially have untreated anxiety and depression are at higher risk for socio-emotional and behavioural problems than the children of unaffected women, and have an equally elevated risk compared to children of mothers treated for their disorder. The development of effective treatments for CMD needs to be balanced by greater attempts to identify and treat women.
Notes
Acknowledgments
BiB has been possible only because of the enthusiasm and commitment of the children and parents who participated. The authors are grateful to all the participants, health professionals and researchers who made BiB happen. We are grateful to TPP for providing the primary care data.
Compliance with ethical standards
Funding
This article presents independent research funded by the Medical Research Council, award reference MR/J013501/1, and the National Institute for Health Research Collaboration for Leadership in Applied Health Research and Care Yorkshire and Humber (NIHR CLAHRC YH). The views and opinions expressed are those of the authors, and not necessarily those of the Medical Research Council or the NIHR or the Department of Health. The funding body had no role in the study design; in the collection, analysis, and interpretation of data; in the writing of the report; and in the decision to submit the article for publication. All authors are independent of the funding body.
Conflict of interest
On behalf of all authors, the corresponding author states that there is no conflict of interest.
Copyright information
© The Author(s) 2015
Open AccessThis article is distributed under the terms of the Creative Commons Attribution 4.0 International License (http://creativecommons.org/licenses/by/4.0/), which permits unrestricted use, distribution, and reproduction in any medium, provided you give appropriate credit to the original author(s) and the source, provide a link to the Creative Commons license, and indicate if changes were made.