Abstract
The objective of this study is to examine the occurrence and characteristic features of obsessive–compulsive behaviours in children and adolescents with Asperger syndrome (AS), with respect to a matched obsessive compulsive disorder group (OCD) and a typically developing control group (CG). For this purpose, 60 subjects (20 OCD; 18 AS; 22 CG), aged 8–15 years, matched for age, gender and IQ were compared. AS and OCD patients were diagnosed according to the DSM-IV-TR criteria. The Autism Diagnostic Interview-Revised and the Autism Diagnostic Observation Schedule were used to assist in the AS diagnosis; the WISC-R was administered to assess IQ. Obsessive and compulsive symptoms were evaluated by using the Children's Yale-Brown Obsessive-Compulsive Scale (CY-BOCS). None of the AS children received a formal diagnosis of OCD. The AS group presented significantly higher frequencies of Hoarding obsessions and Repeating, Ordering and Hoarding compulsions compared to CG. The OCD group, in turn, reported significantly higher frequencies of Contamination and Aggressive obsessions and Checking compulsions compared to both the AS group and CG. As expected, the OCD group displayed a higher severity of symptoms (Moderate level of severity) than did the AS group (Mild level of severity). Finally, in our sample, neither the OCD group nor the AS group demonstrated a completely full awareness of the intrusive, unreasonable and distressing nature of symptoms, and the level of insight did not differ between the OCD group and CG, although an absence of insight was observed in the AS group. Children with AS showed higher frequencies of obsessive and compulsive symptoms than did typically developing children, and these features seem to cluster around Hoarding behaviours. Additionally, different patterns of symptoms emerged between the OCD and AS groups. Finally, in our sample, the level of insight was poor in both the OCD and the AS children. Further research should be conducted to better understand the characteristics of repetitive thoughts and behaviours in autism spectrum disorders, and to clarify the underlying neurobiological basis of these symptoms.
This is a preview of subscription content, log in to check access.
Access options
Buy single article
Instant access to the full article PDF.
US$ 39.95
Price includes VAT for USA
Subscribe to journal
Immediate online access to all issues from 2019. Subscription will auto renew annually.
US$ 199
This is the net price. Taxes to be calculated in checkout.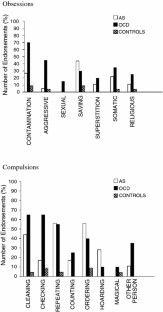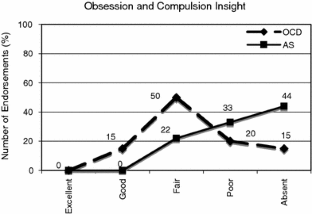 References
1.

Abramson RK, Ravan SA, Wright HH, Wieduwilt K, Wolpert CM, Donnelly SA, Pericak-Vance MA, Cuccaro ML (2005) The relationship between restrictive and repetitive behaviors in individuals with autism and obsessive compulsive symptoms in parents. Child Psychiatry Hum Dev 36(2):155–165

2.

American Psychiatric Association (2000) Diagnostic and Statistical Manual of Mental Disorders, 4th edn, Text Revision (DSM-IV-TR). American Psychiatric Association, Washington, DC

3.

Baron-Cohen S (1989) Do autistic children have obsessions and compulsions? Br J Clin Psychol 28(Pt 3):193–200 Review

4.

Bartz JA, Hollander E (2006) Is obsessive-compulsive disorder an anxiety disorder? Prog Neuropsychopharmacol Biol Psychiatry 30(3):338–352

5.

Bejerot S (2007) An autistic dimension: a proposed subtype of obsessive-compulsive disorder. Autism 11(2):101–110

6.

Bejerot S, Nylander L, Lindström E (2001) Autistic traits in obsessive-compulsive disorder. Nord J Psychiatry 55(3):169–176

7.

Bodfish JW, Symons FJ, Parker DE, Lewis MH (2000) Varieties of repetitive behavior in autism: comparisons to mental retardation. J Autism Dev Disord 30(3):237–243

8.

Carcani-Rathwell I, Rabe-Hasketh S, Santosh PJ (2006) Repetitive and stereotyped behaviours in pervasive developmental disorders. J Child Psychol Psychiatry 47(6):573–581

9.

Cath DC, Ran N, Smit JH, van Balkom AJ, Comijs HC (2008) Symptom overlap between autism spectrum disorder, generalized social anxiety disorder and obsessive-compulsive disorder in adults: a preliminary case-controlled study. Psychopathology 41(2):101–110

10.

Frith U (1989) Autism: explaining the enigma. Blackwell, Oxford

11.

Frost RO, Steketee G (1998) Hoarding: clinical aspects and treatment strategies. In: Jenike MA, Baer L, Minichiello WE (eds) Obsessive compulsive disorder: practical management, 3rd edn. Mosby, St. Louis, pp 533–554

12.

Geller DA (2006) Obsessive-compulsive and spectrum disorders in children and adolescents. Psychiatr Clin North Am 29(2):353–370 Review

13.

Gillberg C, Gillberg C, Rastam M, Wentz E (2001) The Asperger Syndrome (and high-functioning autism) Diagnostic Interview (ASDI): a preliminary study of a new structured clinical interview. Autism 5(1):57–66

14.

Hollander E, King A, Delaney K, Smith CJ, Silverman JM (2003) Obsessive-compulsive behaviors in parents of multiplex autism families. Psychiatry Res 117(1):11–16

15.

Hollander E, Phillips A, Chaplin W, Zagursky K, Novotny S, Wasserman S, Iyengar R (2005) A placebo controlled crossover trial of liquid fluoxetine on repetitive behaviors in childhood and adolescent autism. Neuropsychopharmacology 30(3):582–589

16.

Ivarsson T, Melin K (2008) Autism spectrum traits in children and adolescents with obsessive-compulsive disorder (OCD). J Anxiety Disord 22(6):969–978. doi:10.1016/j.janxdis.2007.10.003

17.

Kanner L (1943) Autistic disturbances of affective contact. Nervous Child 2:217–250 [Reprinted in Childhood psychosis: Initial studies and new insights, ed. Leo Kanner (Washington, DC: V. H. Winston, 1973). Also reprinted in Classic readings in autism, ed. Anne M. Donnellan (New York: Teacher's College Press, 1985)

18.

Kaufman J, Birmaher B, Brent D, Rao U, Flynn C, Moreci P, Williamson D, Ryan N (1997) Schedule for Affective Disorders and Schizophrenia for School-Age Children-Present and Lifetime Version (K-SADS-PL): initial reliability and validity data. J Am Acad Child Adolesc Psychiatry 36(7):980–988

19.

Lehmkuhl HD, Storch EA, Bodfish JW, Geffken GR (2007) Brief report: exposure and response prevention for obsessive compulsive disorder in a 12-year-old with autism. J Autism Dev Disord 38(5):977–981. doi:10.1007/s10803-007-0457-2

20.

Lord C, Rutter M, Goode S, Heemsbergen J, Jordan H, Mawhood L, Schopler E (1989) Autism diagnostic observation schedule: a standardized observation of communicative and social behaviour. J Autism Dev Disord 19(2):185–212

21.

Lord C, Rutter M, Le Couteur A (1994) Autism Diagnostic Interview—Revised: a revised version of a diagnostic interview for caregivers of individuals with possible pervasive developmental disorders. J Autism Dev Disord 24:659–685

22.

Marazziti D, Dell'Osso L, Di Nasso E, Pfanner C, Presta S, Mungai F, Cassano GB (2002) Insight in obsessive-compulsive disorder: a study of an Italian sample. Eur Psychiatry 17(7):407–410

23.

McDougle CJ, Kresch LE, Goodman WK, Naylor ST, Volkmar FR, Cohen DJ, Price LH (1995) A case-controlled study of repetitive thoughts and behaviour in adults with autistic disorder and obsessive-compulsive disorder. Am J Psychiatry 152(5):772–777

24.

McDougle CJ, Naylor ST, Cohen DJ, Volkmar FR, Heninger GR, Price LH (1996) A double-blind, placebo-controlled study of fluvoxamine in adults with autistic disorder. Arch Gen Psychiatry 53(11):1001–1008

25.

McDougle CJ, Kresch LE, Posey DJ (2000) Repetitive thoughts and behaviour in pervasive developmental disorders: treatment with serotonin reuptake inhibitors. J Autism Dev Disord 30(5):427–435

26.

Militerni R, Bravaccio C, Falco C, Fico C, Palermo MT (2002) Repetitive behaviours in autistic disorder. Eur Child Adolesc Psychiatry 11(5):210–218

27.

Piacentini J, Bergman RL, Keller M, McCracken J (2003) Functional impairment in children and adolescents with obsessive-compulsive disorder. J Child Adolesc Psychopharmacol 13(Suppl 1):S61–S69

28.

Rapoport JL, Swedo SE, Leonard HL (1992) Childhood obsessive-compulsive disorder. J Clin Psychiatry 53:11–16

29.

Russell AJ, Mataix-Cols D, Anson M, Murphy DG (2005) Obsessions and compulsions in Asperger syndrome and high-functioning autism. Br J Psychiatry 186:525–528

30.

Scahill L, Riddle MA, McSwiggin-Hardin M, Ort SI, King RA, Goodman WK, Cicchetti D, Leckman JF (1997) Children's Yale-Brown Obsessive Compulsive Scale: reliability and validity. J Am Acad Child Adolesc Psychiatry 36(6):844–852

31.

South M, Ozonoff S, McMahon WM (2005) Repetitive behaviour profiles in Asperger syndrome and high-functioning autism. J Autism Dev Disord 35(2):145–158

32.

Storch EA, Milsom VA, Merlo LJ, Larson M, Geffken GR, Jacob ML, Murphy TK, Goodman WK (2008) Insight in pediatric obsessive-compulsive disorder: associations with clinical presentation. Psychiatry Res 160(2):212–220

33.

Turner M (1999) Annotation: repetitive behaviour in autism: a review of psychological research. J Child Psychol Psychiatry 40(6):839–849 Review

34.

Wechsler D (1974) Manual for the Wechsler Intelligence Scale for Children-Revised. The Psychological Corporation, San Antonio

35.

World Health Organization (1992) The ICD-10 classification of mental and behavioural disorders. WHO, Geneva

36.

Zandt F, Prior M, Kyrios M (2007) Repetitive behaviour in children with high functioning autism and obsessive compulsive disorder. J Autism Dev Disord 37(2):251–259
Acknowledgments
The authors thank the children and the families who participated in the study. We are also deeply grateful to Erin Ingudomnukul (Autism Research Centre, Department of Psychiatry, University of Cambridge, Cambridge, UK) and Benjamin C. Gunter (Division of Child & Adolescent Psychiatry, Columbia University & New York State Psychiatric Institute, New York, NY, USA) for providing valued comments and editing help. We have no interests to declare.
About this article
Cite this article
Ruta, L., Mugno, D., D'Arrigo, V.G. et al. Obsessive–compulsive traits in children and adolescents with Asperger syndrome. Eur Child Adolesc Psychiatry 19, 17 (2010). https://doi.org/10.1007/s00787-009-0035-6
Received:

Accepted:

Published:
Keywords
Asperger syndrome

Autism

Obsessive–compulsive disorder

Repetitive behaviours

Insight