Abstract
Background
Although considered clinically effective, there is little systematic research confirming the use of Individual Psychodynamic Psychotherapy or Family Therapy as treatments for depression in children and young adolescents.
Aims
A clinical trial assessed the effectiveness of these two forms of psychotherapy in treating moderate and severe depression in this age group.
Methods
A randomised control trial was conducted with 72 patients aged 9–15 years allocated to one of two treatment groups.
Results
Significant reductions in disorder rates were seen for both Individual Therapy and Family Therapy. A total of 74.3% of cases were no longer clinically depressed following Individual Therapy and 75.7% of cases were no longer clinically depressed following Family Therapy. This included cases of Dysthymia and "Double Depression" (co-existing Major Depressive Disorder and Dysthymia). There was also an overall reduction in co-morbid conditions across the study. The changes in both treatment groups were persistent and there was ongoing improvement. At follow up six months after treatment had ended, 100% of cases in the Individual Therapy group, and 81% of cases in the Family Therapy group were no longer clinically depressed.
Conclusions
This study provides evidence supporting the use of focused forms of both Individual Psychodynamic Therapy and Family Therapy for moderate to severe depression in children and young adolescents.
This is a preview of subscription content, log in to check access.
Access options
Buy single article
Instant access to the full article PDF.
US$ 39.95
Price includes VAT for USA
Subscribe to journal
Immediate online access to all issues from 2019. Subscription will auto renew annually.
US$ 199
This is the net price. Taxes to be calculated in checkout.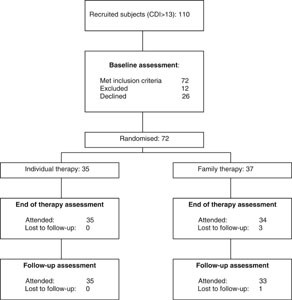 References
1.

Angold A, Costello EJ, Pickles A, et al. (1987) The development of a questionnaire for use in epidemiological studies of depression in children and adolescents. Institute of Psychiatry, London University, London

2.

Asarnow JR, Tompson M, Hamilton EB, et al. (1994) Family-expressed emotion, childhood-onset depression, and childhood-onset schizophrenia spectrum disorders: is expressed emotion a non-specific correlate of child psychopathology or a specific risk factor for depression? J Abnorm Child Psychol 22:129–146

3.

Begg C, Cho M, Eastwood S, et al. (1996) Improving the quality of reporting of Randomised Controlled Trials. The CONSORT statement. JAMA 276:637–639

4.

Birmaher B, Brent D, Kolko D, et al. (2000) Clinical outcome after short-term psychotherapy for adolescents with major depressive disorder. Arch Gen Psychiatry 57(1):29–36

5.

Brent DA, Holder D, Kolko D, et al. (1997) A clinical psychotherapy trial for adolescent depression comparing cognitive, family, and supportive therapy. Arch Gen Psychiatry 54:877–885

6.

Byng-Hall J (1995) Re-writing family scripts: improvisation and systems change. Guilford Press, New York & London

7.

Byng-Hall J, Campbell DC (1981) Resolving conflicts in distance regulation: an integrative approach. J Marital Fam Ther 7:321–330

8.

Committee on Safety of Medicines (CSM) (2003) Selective Serotonin Re-uptake Inhibitors (SSRIs): overview of regulatory status and CSM advice relating to major depressive disorder (MDD) in children and adolescents including a summary of available safety and efficacy data: http://medicines.mhra.gov.uk/ourwork/monitorsafequalmed/safetymessages/ssrioverview_101203.htm

9.

Chambers W, Puig-Antich J, Hirsch M, et al. (1985) The assessment of affective disorders in children and adolescents by semi-structured interview: test–retest reliability of the Schedule for Affective Disorders and Schizophrenia for school-age children, present episode version. Arch Gen Psychiatry 42:696–702

10.

Davenloo H (1978) Basic principles and techniques in short term dynamic psychotherapy. Spectrum Publications, New York

11.

Diamond G, Serrano A, Dickey M, et al. (1995) Current status of family-based outcome and process research. J Am Acad Child Adolesc Psychiatry 35(1):6–16

12.

Elkin I, Shea MT, Watkins JT, et al. (1989) National Institute of Mental Health treatment of depression collaborative research program, general effectiveness of treatment. Arch Gen Psychiatry 46:971–983

13.

Emslie GJ, Rush AJ, Weinberg WA, et al. (1997) A double-blind, randomised placebo-controlled trial of fluoxetine in children and adolescents with depression. Arch Gen Psychiatry 54:1031–1037

14.

Emslie GJ, Heiligenstein JH, Hoog S, et al. (2000) Fluoxetine for acute treatment of depression in children and adolescents: a placebo controlled, randomised clinical trial. Paper presented at 39th Annual Meeting of the American College of Neuropsychopharmacology, December 10–14, 2000, San Juan, Puerto Rico

15.

Garvin V, Leber D, Kalter N (1991) Children of divorce: predictors of change following preventive intervention. Am J Orthopsychiatry 61(3):438–447

16.

Goodyer IM, Herbert J, Secher SM, et al. (1997) Short-term outcome of major depression: I. Comorbidity and severity at presentation as predictors of persistent disorder. J Am Acad Child Adolesc Psychiatry 36:179–187

17.

Harrington R, Dubicka B (2002) Adolescent depression: an evidence-based approach to intervention. Curr Opin Psychiatry 15:369–375

18.

Harrington R, Whittaker J, Shoebridge P (1998a) Psychological treatment of depression in children and adolescents. A review of treatment research. Br J Psychiatry 173(10):291–298

19.

Harrington R, Whittaker J, Shoebridge P, et al. (1998b) Systematic review of efficacy of cognitive behaviour therapies in childhood and adolescent depressive disorder. Br Med J 316:1559–1563

20.

Harter S (1990) Causes, correlates and the functional role of global self-worth: a life-span perspective. In: Sternberg RJ, Kolligian J (eds) Competence considered. Yale University Press, New Haven, pp 67–97

21.

Kazdin AE (1986) Comparative outcome studies of psychotherapy: methodological issues and strategies. J Consult Clin Psychol 54:95–105

22.

Kolvin I, Garside RE, Nicol AR, et al. (1981/5) Help starts here: the maladjusted child in the ordinary school Tavistock Publications, London

23.

Kolvin I, MacMillan A, Nicol AR, et al. (1988) Psychotherapy is effective. J R Soc Med 261–266

24.

Kolvin I, Barrett L, Bhate SR, et al. (1991) The Newcastle child depression project: diagnosis and classification of depression. Br J Psychiatry 159(11):9–21

25.

Kolvin I, Trowell J, Tsiantis J et al (1999) Psychotherapy for childhood depression. In: Maj M, Sartorius N (eds) Evidence and experience in psychiatry, WPA Series, vol 1. John Wiley & sons Ltd

26.

Kovacs M (1981) Rating scales to assess depression in school aged children. Acta Paedopsychiatr 46:305–315

27.

Kovacs M, Bastiaens LJ (1995) The psychotherapeutic management of major depressive and dysthymic disorders in childhood and adolescence, issues and prospects. In: Goodyer IM (ed) The depressed child and adolescent. Cambridge University Press, Cambridge

28.

Malan DH, Osimo F (1992) Psychodynamics, training and outcome in brief psychotherapy. Butterworth, London

29.

March J, Silva S, Petrycki JC, et al. (2004) Fluoxetine, Cognitive-Behavioural Therapy, and their combination for adolescents with depression. Treatment for Adolescents with Depression Study (TADS) Randomised Controlled Trial. J Am Med Assoc 292(7):807–820

30.

Muratori F, Picchi L, Bruni G, et al. (2003) A two-year follow-up of psychodynamic psychotherapy for internalising disorders in children. J Am Acad Child Adolesc Psychiatry 42(3): 331–339

31.

Parloff MB (1986) Placebo controls in psychotherapy research: a sine qua non or a placebo for research problems. J Consult Clin Psychol 54:79–87

32.

Shaffer D, Gould MS, Brasic J (1993) A children's global assessment scale (C GAS). Arch Gen Psychiatry 40:1228–1231

33.

Tsiantis J, Kolvin I, Anastasopoulos D, et al. (2005) Psychotherapy for early adolescent depression (PEAD): a comparison of two psychotherapeutic interventions in three European countries. In: Hibbs ED, Jensen P (eds) Psychosocial treatments for child and adolescent disorders: empirically based strategies for clinical practice. American Psychological Association, Washington, DC, pp 267–293

34.

Will D, Wrate RM (1985) Integrated Family Therapy. Tavistock Publications, London

35.

Wood A, Harrington R, Moore A (1996) Controlled trial of brief cognitive behavioural intervention in adolescent patients with depressive disorders. J Clin Psychol Psychiatry 37:737–746
Acknowledgements
Members of the London project team: Anne Alvarez, Sarah Barratt, Vicky Bianco, Susan Bliss, David Campbell, Jane Cassidy, Lois Colling, Carol Desousa (statistician), Emilia Dowling, Elspeth Earle, Anna Fitzgerald, Henia Goldberg, Inge Gregorious, Agathe Gretton, Judith Loose, Ryan Lowe, Sue McNab, Gillian Miles, Renos Papadopoulos, David Pentacost, Maria Rhode, Margaret Rustin.
Members of the Athens project team: Alexandra Alexopoulou, Evi Athanassiadou, Maria Belivanaki, Vaso Chantzara, Stelios Christogiorgos, Kostas Francis, Dimitris Georgiadis, Georgios Gritzelas, Terpsi Korpa, Olga Lanara, Effie Lignos, Dimitris Magriplis, Maria Marangidi, Olga Maratos, Vasso Moula, Valeria Pomini, Eleni Stavrou, Marianna Tassi, Irene Tsanira, L. Tsarouhi.
Members of the Helsinki project team: Christina Bostrom, Taru Forst, Reija Graeffe, Susanne Friman, Kaarina Hastbacka, Liisa Hisinger, Eija Korpinen, Anna Kuikka, Sakari Lehtonen, Helena Lounavaara-Rintala, Kaija Mankinen, Pirkko Pingoud, Liisa Pirhonen, Marja Schulman, Esko Varilo, Leena Varilo, Maija von Fieandt, Pirjo Vuornos, Jan-Christer Wahlbeck, Hanna Westerinen.
We would also like to thank the young people and their families for their contribution to the study.
This study was partly funded by the European Community: Concerted action contract No. BMH4-CT98-3231 DG12-SSMI. Central co-ordination of the project took place at the Tavistock Clinic, London. Prof Kolvin was funded whilst developing the project by the Leverhulme Foundation.
Additional information
Original lead researcher: Prof Issy Kolvin (deceased).
About this article
Cite this article
Trowell, J., Joffe, I., Campbell, J. et al. Childhood depression: a place for psychotherapy. Eur Child Adolesc Psychiatry 16, 157–167 (2007). https://doi.org/10.1007/s00787-006-0584-x
Accepted:

Published:

Issue Date:
Keywords
treatment

childhood depression

individual psychotherapy

family therapy