Abstract
Objectives
Calcium glycerophosphate (CaGP) was added to fluoride varnishes to analyze their preventive effect on initial enamel erosion and fluoride uptake: potassium hydroxide (KOH)-soluble and KOH-insoluble fluoride bound to enamel.
Materials and methods
This study was carried out in two parts. Part 1: 108 enamel samples were randomly distributed into six varnish groups: base varnish (no active ingredients); Duraphat® (2.26 %NaF); Duofluorid® (5.63 %NaF/CaF2); experimental varnish 1 (1 %CaGP/5.63 %NaF/CaF2); experimental varnish 2 (5 %CaGP/5.63 %NaF/CaF2); and no varnish. Cyclic demineralization (90 s; citric acid, pH = 3.6) and remineralization (4 h) was made once a day, for 3 days. Change in surface microhardness (SMH) was measured. Part 2: 60 enamel samples were cut in half and received no varnish (control) or a layer of varnish: Duraphat®, Duofluorid®, experimental varnishes 1 and 2. Then, KOH-soluble and KOH-insoluble fluoride were analyzed using an electrode.
Results
After cyclic demineralization, SMH decreased in all samples, but Duraphat® caused less hardness loss. No difference was observed between varnishes containing CaGP and the other varnishes. Similar amounts of KOH-soluble and insoluble fluoride was found in experimental varnish 1 and Duofluorid®, while lower values were found for experimental varnish 2 and Duraphat®.
Conclusion
The addition of CaGP to fluoride varnishes did not increase fluoride bound to enamel and did not enhance their protection against initial enamel erosion.
Clinical relevance
We observe that the fluoride varnishes containing CaGP do not promote greater amounts of fluoride bound to enamel and that fluoride bound to enamel may not be closely related to erosion prevention.
This is a preview of subscription content, log in to check access.
Access options
Buy single article
Instant access to the full article PDF.
US$ 39.95
Price includes VAT for USA
Subscribe to journal
Immediate online access to all issues from 2019. Subscription will auto renew annually.
US$ 99
This is the net price. Taxes to be calculated in checkout.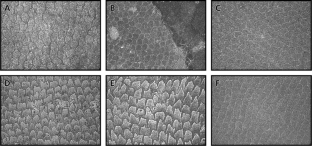 References
1.

Lussi A, Megert B, Eggenberger D, Jaeggi T (2008) Impact of different toothpastes on the prevention of erosion. Caries Res 42(1):62–67

2.

Ganss C, Lussi A, Grunau O, Klimek J, Schlueter N (2011) Conventional and anti-erosion fluoride toothpastes: effect on enamel erosion and erosion-abrasion. Caries Res 45(6):581–589. doi:10.1159/000334318

3.

Sales-Peres S, Pessan J, Buzalaf M (2007) Effect of an iron mouthrinse on enamel and dentine erosion subjected or not to abrasion: an in situ/ex vivo study. Arch Oral Biol 52(2):128–132. doi:10.1016/j.archoralbio.2006.08.010

4.

Ganss C, Klimek J, Brune V, Schürmann A (2004) Effects of two fluoridation measures on erosion progression in human enamel and dentine in situ. Caries Res 38(6):561–566. doi:10.1159/000080587

5.

Murakami C, Bönecker M, Corrêa M, Mendes F, Rodrigues C (2009) Effect of fluoride varnish and gel on dental erosion in primary and permanent teeth. Arch Oral Biol 54(11):997–1001. doi:10.1016/j.archoralbio.2009.08.003

6.

Petersson L (1975) On topical application of fluorides and its inhibiting effect on caries. Odontol Revy Suppl 34:1–36

7.

Ogaard B, Rölla G, Helgeland K (1984) Fluoride retention in sound and demineralized enamel in vivo after treatment with a fluoride varnish (Duraphat). Scand J Dent Res 92(3):190–197

8.

Saxegaard E, Rölla G (1988) Fluoride acquisition on and in human enamel during topical application in vitro. Scand J Dent Res 96(6):523–535

9.

Hughes J, West N, Addy M (2004) The protective effect of fluoride treatments against enamel erosion in vitro. J Oral Rehabil 31(4):357–363. doi:10.1046/j.1365-2842.2003.01240.x

10.

Ganss C, Schlueter N, Klimek J (2007) Retention of KOH-soluble fluoride on enamel and dentine under erosive conditions–a comparison of in vitro and in situ results. Arch Oral Biol 52(1):9–14. doi:10.1016/j.archoralbio.2006.07.004

11.

Grenby T (1973) Trials of 3 organic phosphorus-containing compounds as protective agents against dental caries in rats. J Dent Res 52(3):454–461

12.

Pianotti R, Ambrozaitis J, McNamara T (1976) Cariostatic activity of calcium glycerophosphate in hamsters: topical vs dietary administration. J Dent Res 55(6):1092–1096

13.

Mainwaring P, Naylor M (1983) A four-year clinical study to determine the caries-inhibiting effect of calcium glycerophosphate and sodium fluoride in calcium carbonate base dentifrices containing sodium monofluorophosphate. Caries Res 17(3):267–276

14.

Grenby TH, Bull JM (1980) Use of high-performance liquid chromatography techniques to study the protection of hydroxylapatite by fluoride and glycerophosphate against demineralization in vitro. Caries Res 14(4):221–232

15.

Grenby TH, Bull JM (1980) Chemical studies of the protective action of phosphate compounds against the demineralization of human dental enamel in vitro. Caries Res 14(4):210–220

16.

Carvalho TS, Peters BG, Rios D, Magalhães AC, Sampaio FC, Buzalaf MAR, Bönecker M Fluoride varnishes with calcium glycerophosphate: Fluoride release and effect on in vitro enamel demineralization. Submitted to brazilian oral research

17.

Buck R, Rondinini S, Covington A, Baucke F, Brett C, Camões M, Milton M, Mussini T, Naumann R, Pratt K, Spitzer P, Wilson G (2002) Measurement of pH. Definition, standards, and procedures. IUPAC recommendations 2002. Pure Appl Chem 74(11):2169–2200

18.

Newby C, Creeth J, Rees G, Schemehorn B (2006) Surface microhardness changes, enamel fluoride uptake, and fluoride availability from commercial toothpastes. J Clin Dent 17(4):94–99

19.

Brunner E, Domhof S, Langer F (2002) Nonparametric analysis of longitudinal data in factorial experiments, 1st edn. Wiley, New York

20.

Caslavska V, Moreno E, Brudevold F (1975) Determination of the calcium fluoride formed from in vitro exposure of human enamel to fluoride solutions. Arch Oral Biol 20(5–6):333–339

21.

Altenburger M, Schirrmeister J, Lussi A, Klasser M, Hellwig E (2009) In situ fluoride retention and remineralization of incipient carious lesions after the application of different concentrations of fluoride. Eur J Oral Sci 117(1):58–63

22.

Cury J, do Amaral R, Tenuta L, Del Bel Cury A, Tabchoury C (2010) Low-fluoride toothpaste and deciduous enamel demineralization under biofilm accumulation and sucrose exposure. Eur J Oral Sci 118(4):370–375. doi:10.1111/j.1600-0722.2010.00745.x

23.

Magalhães A, Kato M, Rios D, Wiegand A, Attin T, Buzalaf M (2008) The effect of an experimental 4 % Tif4 varnish compared to NaF varnishes and 4 % TiF4 solution on dental erosion in vitro. Caries Res 42(4):269–274. doi:10.1159/000135672

24.

Vieira A, Jager D, Ruben J, Huysmans M (2007) Inhibition of erosive wear by fluoride varnish. Caries Res 41(1):61–67

25.

Voronets J, Lussi A (2010) Thickness of softened human enamel removed by toothbrush abrasion: an in vitro study. Clin Oral Investig 14(3):251–256. doi:10.1007/s00784-009-0288-y

26.

Magalhães AC, Wiegand A, Rios D, Buzalaf MA, Lussi A (2011) Fluoride in dental erosion. Monogr Oral Sci 22:158–170. doi:10.1159/000325167

27.

Ganss C, Klimek J, Schäffer U, Spall T (2001) Effectiveness of two fluoridation measures on erosion progression in human enamel and dentine in vitro. Caries Res 35(5):325–330

28.

Attin T, Grieme R, Paqué F, Hannig C, Buchalla W, Attin R (2005) Enamel fluoride uptake of a novel water-based fluoride varnish. Arch Oral Biol 50(3):317–322

29.

Hellwig E, Klimek J, Schmidt HF, Egerer R (1985) Fluoride uptake in plaque-covered enamel after treatment with the fluoride lacquer Duraphat. J Dent Res 64(8):1080–1083

30.

Weatherell JA, Robinson C, Hallsworth AS (1974) Variations in the chemical composition of human enamel. J Dent Res 53(2):180–192
Acknowledgments
The authors are very grateful for Barbara Beyeler's persistence and determined efforts during the laboratory procedures. We thank Dr. S. Hayoz and Prof. J. Hüsler, Institute of Mathematical Statistics and Actuarial Science, University of Bern, for performing the statistical analyses. We greatly appreciate the valuable comments from the participants of the Post-Graduation in Pediatric Dentistry (FOUSP). Finally, we thank FGM, Brazil, for their support in manufacturing the varnishes and the financial support from Conselho Nacional de Desenvolvimento Científico e Tecnológico (CNPq, www.cnpq.br; grant number 201901/2009-9).
Conflict of interest
The authors declare that they have no conflict of interest.
About this article
Cite this article
Carvalho, T.S., Bönecker, M., Altenburger, M.J. et al. Fluoride varnishes containing calcium glycerophosphate: fluoride uptake and the effect on in vitro enamel erosion. Clin Oral Invest 19, 1429–1436 (2015). https://doi.org/10.1007/s00784-014-1363-6
Received:

Accepted:

Published:

Issue Date:
Keywords
Topical fluorides

Calcium glycerophosphate

Enamel

Dental erosion

Fluoride varnish

Tooth demineralization