Abstract
Objectives
Caries excavation is still a demanding procedure today. In the past years, methods using light-induced fluorescence have proven their ability to detect bacteria remaining in the tooth's hard tissues. However, methods to control the complete removal of infected dentine have not yet been validated. The aim of the present study was to evaluate the degree of dentine removal during caries excavation using a camera- and software-based device as a guide for fluorescence-aided caries excavation (FACE) in comparison to visual-tactile inspection and a dye-staining method.
Materials and methods
One hundred teeth with carious lesions (C3) were randomly allocated to four groups and excavated with the respective method as primary excavation control method. When the first method indicated complete caries excavation, a second method was used to affirm this. Subsequently, dentine samples were taken to determine residual contamination using PCR. After embedding and sectioning the teeth dentine, microhardness was measured perpendicular to the cavity floor.
Results
By using the camera- and software-based device, 94 % of the cavities tested were free of bacterial contamination. All cavities excavated with the dye-staining or visual-tactile control method were free of bacterial contamination but resulted in a significantly higher dentine removal.
Conclusion
The camera- and software-assisted caries excavation seems to be an adequate method to remove contaminated dentine without removing affected dentine.
Clinical relevance
Beside its original application to monitor carious, the device is safe, effective, and easy to use for guided caries excavation and is of worth for both everyday practice and undergraduate education.
This is a preview of subscription content, log in to check access.
Access options
Buy single article
Instant access to the full article PDF.
US$ 39.95
Price includes VAT for USA
Subscribe to journal
Immediate online access to all issues from 2019. Subscription will auto renew annually.
US$ 99
This is the net price. Taxes to be calculated in checkout.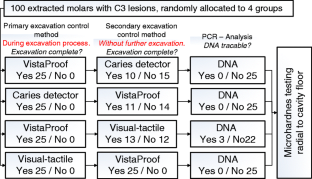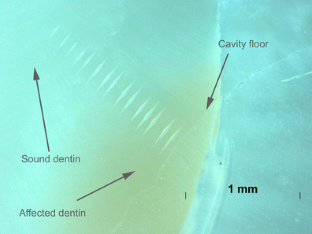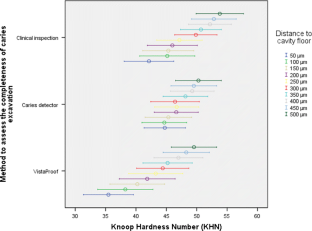 References
1.

Kidd EA, Bjoerndal L, Beighton D, Fejerskov O (2008) Caries removal and the pulpo-dentinal complex. In: Fejerskov O, Kidd E (eds) Dental caries—the disease and its clinical management, 2nd edn. Blackwell Publishing, Oxford, p 374

2.

Kidd EA, Ricketts DN, Beighton D (1996) Criteria for caries removal at the enamel–dentine junction: a clinical and microbiological study. Br Dent J 180:287–291

3.

Banerjee A, Kidd EA, Watson TF (2000) In vitro evaluation of five alternative methods of carious dentine excavation. Caries Res 34:144–150

4.

Banerjee A, Watson TF, Kidd EA (2000) Dentine caries: take it or leave it? Dent Update 27:272–276

5.

Kidd EA, Joyston-Bechal S, Beighton D (1993) Microbiological validation of assessments of caries activity during cavity preparation. Caries Res 27:402–408

6.

Fusayama T, Terachima S (1972) Differentiation of two layers of carious dentin by staining. J Dent Res 51:866

7.

Roth KKM, Müller M, Ahrens G (1989) Staining of carious dentin with Kariesdetektor. Dtsch Zahnarztl Z 44:460–461

8.

Kuboki Y, Liu CF, Fusayama T (1983) Mechanism of differential staining in carious dentin. J Dent Res 62:713–714

9.

Kidd EA, Joyston-Bechal S, Smith MM, Allan R, Howe L, Smith SR (1989) The use of a caries detector dye in cavity preparation. Br Dent J 167:132–134

10.

McComb D (2000) Caries-detector dyes—how accurate and useful are they? J Can Dent Assoc 66:195–198

11.

Anderson MH, Loesche WJ, Charbeneau GT (1985) Bacteriologic study of a basic fuchsin caries-disclosing dye. J Prosthet Dent 54:51–55

12.

Zacharia MA, Munshi AK (1995) Microbiological assessment of dentin stained with a caries detector dye. J Clin Pediatr Dent 19:111–115

13.

Boston DW, Graver HT (1994) Histobacteriological analysis of acid red dye-stainable dentin found beneath intact amalgam restorations. Oper Dent 19:65–69

14.

Boston DW, Graver HT (1989) Histological study of an acid red caries-disclosing dye. Oper Dent 14:186–192

15.

Alfano RR, Yao SS (1981) Human teeth with and without dental caries studied by visible luminescent spectroscopy. J Dent Res 60:120–122

16.

Angmar-Månsson BtB JJ (2001) Quantitative light-induced fluorescence (QLF): a method for assessment of incipient caries lesions. Dentomaxillofac Radiol 30:298–307

17.

Bader JD, Shugars DA (2004) A systematic review of the performance of a laser fluorescence device for detecting caries. J Am Dent Assoc 135:1413–1426

18.

Huth KC, Neuhaus KW, Gygax M, Bucher K, Crispin A, Paschos E, Hickel R, Lussi A (2008) Clinical performance of a new laser fluorescence device for detection of occlusal caries lesions in permanent molars. J Dent 36:1033–1040

19.

Neves AA, Coutinho E, De Munck J, Lambrechts P, Van Meerbeek B (2011) Does DIAGNOdent provide a reliable caries-removal endpoint? J Dent 39:351–360

20.

Konig K, Flemming G, Hibst R (1998) Laser-induced autofluorescence spectroscopy of dental caries. Cell Mol Biol (Noisy-le-Grand) 44:1293–1300

21.

De Benedetto MS, Morais CC, Novaes TF, de Almeida Rodrigues J, Braga MM, Mendes FM (2010) Comparing the reliability of a new fluorescence camera with conventional laser fluorescence devices in detecting caries lesions in occlusal and smooth surfaces of primary teeth. Lasers Med Sci 26:157–162

22.

Jablonski-Momeni A, Rosen SM, Schipper HM, Stoll R, Roggendorf MJ, Heinzel-Gutenbrunner M, Stachniss V, Pieper K (2012) Impact of measuring multiple or single occlusal lesions on estimates of diagnostic accuracy using fluorescence methods. Lasers Med Sci 27(2):343–352

23.

Jablonski-Momeni A, Schipper HM, Rosen SM, Heinzel-Gutenbrunner M, Roggendorf MJ, Stoll R, Stachniss V, Pieper K (2011) Performance of a fluorescence camera for detection of occlusal caries in vitro. Odontology 99:55–61

24.

Banerjee A, Cook R, Kellow S, Shah K, Festy F, Sherriff M, Watson T (2010) A confocal micro-endoscopic investigation of the relationship between the microhardness of carious dentine and its autofluorescence. Eur J Oral Sci 118:75–79

25.

Almahdy A, Downey FC, Sauro S, Cook RJ, Sherriff M, Richards D, Watson TF, Banerjee A, Festy F (2012) Microbiochemical analysis of carious dentine using Raman and fluorescence spectroscopy. Caries Res 46:432–440

26.

Lennon AM, Buchalla W, Switalski L, Stookey GK (2002) Residual caries detection using visible fluorescence. Caries Res 36:315–319

27.

Lennon AM (2003) Fluorescence-aided caries excavation (FACE) compared to conventional method. Oper Dent 28:341–345

28.

Lennon AM, Buchalla W, Rassner B, Becker K, Attin T (2006) Efficiency of four caries excavation methods compared. Oper Dent 31:551–555

29.

Lennon AM, Attin T, Buchalla W (2007) Quantity of remaining bacteria and cavity size after excavation with FACE, caries detector dye and conventional excavation in vitro. Oper Dent 32:236–241

30.

Oho T, Yamashita Y, Shimazaki Y, Kushiyama M, Koga T (2000) Simple and rapid detection of Streptococcus mutans and Streptococcus sobrinus in human saliva by polymerase chain reaction. Oral Microbiol Immunol 15:258–262

31.

Al-Ahmad A, Auschill TM, Braun G, Hellwig E, Arweiler NB (2006) Overestimation of Streptococcus mutans prevalence by nested PCR detection of the 16S rRNA gene. J Med Microbiol 55:109–113

32.

Sato T, Sato M, Matsuyama J, Hoshino E (1997) PCR-restriction fragment length polymorphism analysis of genes coding for 16S rRNA in Veillonella spp. Int J Syst Bacteriol 47:1268–1270

33.

Kato K, Sato T, Takahashi N, Fukui K, Yamamoto K, Nakagaki H (2004) A method for mapping the distribution pattern of cariogenic streptococci within dental plaque in vivo. Caries Res 38:448–453

34.

Iwami Y, Yamamoto H, Hayashi M, Ebisu S (2011) Relationship between laser fluorescence and bacterial invasion in arrested dentinal carious lesions. Lasers Med Sci 26(44):439–444

35.

Sixou M (2003) Diagnostic testing as a supportive measure of treatment strategy. Oral Dis 9(Suppl 1):54–62

36.

Schirrmeister JF, Liebenow AL, Braun G, Wittmer A, Hellwig E, Al-Ahmad A (2007) Detection and eradication of microorganisms in root-filled teeth associated with periradicular lesions: an in vivo study. J Endod 33:536–540

37.

Fejerskov O, Kidd EAM, Nyvad B (2003) Clinical and histological manifestation of dental caries. In: Fejerskov O, Kidd EAM (eds) Dental caries. Blackwell Munksgaard, Oxford, p 77

38.

Fusayama T, Okuse K, Hosoda H (1966) Relationship between hardness, discoloration, and microbial invasion in carious dentin. J Dent Res 45:1033–1046

39.

Sigma-Aldrich (2011) 210633 Acid Red 1. 2011:

40.

Alencar CJ, Braga MM, de Oliveira E, Nicolau J, Mendes FM (2009) Dye-enhanced laser fluorescence detection of caries lesions around brackets. Lasers Med Sci 24:865–870

41.

Murdoch-Kinch CA, McLean ME (2003) Minimally invasive dentistry. J Am Dent Assoc 134:87–95

42.

Thompson V, Craig RG, Curro FA, Green WS, Ship JA (2008) Treatment of deep carious lesions by complete excavation or partial removal: a critical review. J Am Dent Assoc 139:705–712

43.

Kreulen CM, de Soet JJ, Weerheijm KL, van Amerongen WE (1997) In vivo cariostatic effect of resin modified glass ionomer cement and amalgam on dentine. Caries Res 31:384–389

44.

Maltz M, Oliveira EF, Fontanella V, Carminatti G (2007) Deep caries lesions after incomplete dentine caries removal: 40-month follow-up study. Caries Res 41:493–496

45.

Leksell E, Ridell K, Cvek M, Mejare I (1996) Pulp exposure after stepwise versus direct complete excavation of deep carious lesions in young posterior permanent teeth. Endod Dent Traumatol 12:192–196

46.

Neves Ade A, Coutinho E, Cardoso MV, de Munck J, Van Meerbeek B (2011) Micro-tensile bond strength and interfacial characterization of an adhesive bonded to dentin prepared by contemporary caries-excavation techniques. Dent Mater 27:552–562
Conflict of interests
The present work has been financially supported by DÜRR DENTAL AG, Bietigheim-Bissingen, Germany
About this article
Cite this article
Ganter, P., Al-Ahmad, A., Wrbas, K. et al. The use of computer-assisted FACE for minimal-invasive caries excavation. Clin Oral Invest 18, 745–751 (2014). https://doi.org/10.1007/s00784-013-1022-3
Received:

Accepted:

Published:

Issue Date:
Keywords
Caries excavation

FACE

Dye staining

PCR

Microhardness