Anticancer activity of structurally related ruthenium(II) cyclopentadienyl complexes
Abstract
A set of structurally related Ru(η5-C5H5) complexes with bidentate N,N′-heteroaromatic ligands have been evaluated as prospective metallodrugs, with focus on exploring the uptake and cell death mechanisms and potential cellular targets. We have extended these studies to examine the potential of these complexes to target cancer cell metabolism, the energetic-related phenotype of cancer cells. The observations that these complexes can enter cells, probably facilitated by binding to plasma transferrin, and can be retained preferentially at the membranes prompted us to explore possible membrane targets involved in cancer cell metabolism. Most malignant tumors present the Warburg effect, which consists in increasing glycolytic rates with production of lactate, even in the presence of oxygen. The reliance of glycolytic cancer cells on trans-plasma-membrane electron transport (TPMET) systems for their continued survival raises the question of their appropriateness as a target for anticancer drug development strategies. Considering the interesting findings that some anticancer drugs in clinical use are cytotoxic even without entering cells and can inhibit TPMET activity, we investigated whether redox enzyme modulation could be a potential mechanism of action of antitumor ruthenium complexes. The results from this study indicated that ruthenium complexes can inhibit lactate production and TPMET activity in a way dependent on the cancer cell aggressiveness and the concentration of the complex. Combination approaches that target cell metabolism (glycolytic inhibitors) as well as proliferation are needed to successfully cure cancer. This study supports the potential use of some of these ruthenium complexes as adjuvants of glycolytic inhibitors in the treatment of aggressive cancers.
Graphical abstract
A simplified hypothetical model showing the possible relationship between the trans-plasma-membrane electron transport (
tPMET
) system (ferricyanide reductase), the transferrin receptor, and the Na
+
/H
+
antiporter. This tPMET might be involved in iron uptake and in regulating the NADH-to-NAD
+
ratio. As a consequence of tPMET activity, the antiport is probably activated by proton release. (Adapted from Crane et al., 1991; Herst and Berridge,
Curr. Mol. Med.
6:895–904,
2006
).
MET
 mitochondrial electron transport,
TCA
tricarboxylic acid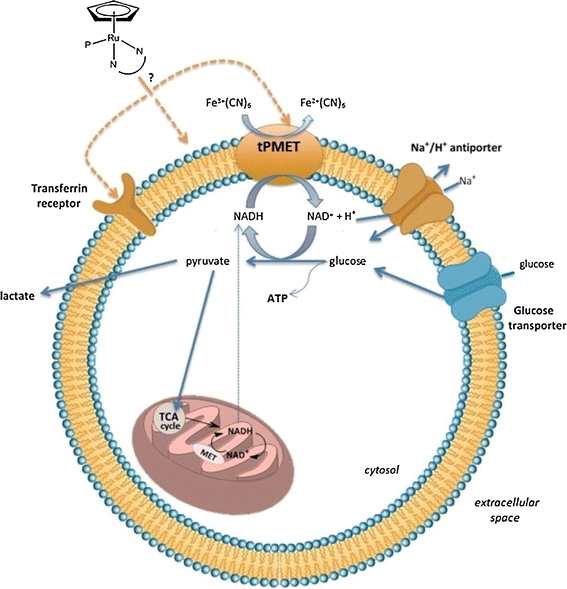 Keywords
Glycolysis 
Drug targets 
Redox enzymes 
Cancer therapy 
Ruthenium drugs 
Abbreviations
AcP

Acid phosphatase

2,2′-Bipy

2,2′-Bipyridine

3BrP

3-Bromopyruvate

DCA

Dichloroacetate

2DG

2-Deoxyglucose

DTNB

Dithionitrobenzoic acid

FBS

Fetal bovine serum

IC50

Half-maximal inhibitory concentration

ICP-MS

Inductively coupled plasma mass spectrometry

Me2bipy

4,4′-Dimethyl-2,2′-bipyridine

mTPPMS

m-Diphenylphosphane benzene-3-sulfonate

MTT

3-(4,5-Dimethyl-2-thiazolyl)-2,5-diphenyltetrazolium bromide

NR

Neutral red

PAO

Phenylarsine oxide

PBS

Phosphate-buffered saline

pCMBS

p-Chloromercuribenzene sulfonate

pNPP

p-Nitrophenyl phosphate

PPh3

Triphenylphosphane

TM34

[Ru(η5-C5H5)(PPh3)(2,2′-bipy)][CF3SO3]

TM85

[Ru(η5-C5H5)(mTPPMSNa)(2,2′-bipy)][CF3SO3]

TM102

[Ru(η5-C5H5)(PPh3)(Me2bpy)[CF3SO3]

TPMET

Trans-plasma-membrane electron transport

Tris

Tris(hydroxymethyl)aminomethane
Notes
Acknowledgments
This work was financed by national funds through FCT, the Portuguese Foundation for Science and Technology, within the scope of projects PTDC/QUI-QUI/101187/2008, PTDC/QUI-QUI/118077/2010, PEst-OE/QUI/UI0100/2011, and PEst-OE/QUI/UI0536/2011, as well as the Ciência2007 initiative. T.S.M. thanks FCT for her PhD grant (SFRH/BD/45871/2008), and A.V. thanks FCT for her postdoctoral grant (SFRH/BPD/80459/2011).