Zusammenfassung
Hintergrund und Fragestellung
Als nicht invasive, nebenwirkungsfreie und kostengünstige Methode ist die Sonographie für die Diagnostik der Nierenarterienstenose die Methode der Wahl. Insgesamt vier verschiedene Methoden, zwei direkte (peak systolic velocity = PSV, renal aortic ratio = RAR) und zwei indirekte Kriterien (resistance index = RI, Akzelerationszeit) zur Messung relevanter Nierenarterienstenosen werden beschrieben, jeweils mit sehr unterschiedlichen Treffsicherheiten in verschiedenen Studien. Weiterhin wird kontrovers diskutiert, ab welchem Grad die Stenose therapierelevant ist und welche sonographische Grenzgeschwindigkeit (PSV) in der Graduierung diagnostisch relevant ist.
Methode
Kritisches Review basierend auf einer selektiven Literaturrecherche zu Messmethodik und Validität der Sonographie bei Nierenarterienstenose. Kritische Methodenevaluation und Darstellung von Messprinzipien zur möglichst exakten Messung verglichen mit dem Goldstandard Angiographie sowie Bewertung des Stellenwerts von CT-Angiographie und MR-Angiograpie.
Ergebnisse und Schlussfolgerungen
Die PSV bietet als direkte Messmethode in der Stenosedetektion und Graduierung die höchste Sensitivität und Spezifität. Die meisten Studien ermitteln in ROC-Kurven bei einer PSV > 180–200 cm/s Sensitivitäten und Spezifitäten von 85–90 % für > 50 %igen Stenosen. Andere Methoden wie der Quotient aus PSV in Aorta und Nierenarterie (RAR) oder indirekte Kriterien wie der Widerstandsindex im Seitenvergleich (dRI) oder die Akzelerationszeit können ergänzend zu Verbesserung der Treffsicherheit herangezogen werden. Die Kontrastmittelsonographie (CEUS) verbessert durch die Echokontrastverstärkung die Treffsicherheit.
Früher wurden erst höhergradige Stenosen als therapierelevant angesehen, andererseits wird inzwischen schon der Druckabfall von > 20 mmHg bei > 50 %igen Stenosen (PSV 180 cm/s) als relevant für einen Reninanstieg bewertet. Stenosen bei fibromuskulären Dysplasien können sonographisch nach dem Kontinuitätsgesetz zuverlässig graduiert werden. Die Studienlage in der Graduierung von In-Stent-Rezidivstenosen ist kontrovers, tendenziell höhere Cut-off-Werte für PSV und RAR sind jedoch anzunehmen. MRA und CTA zeigen zwar Treffsicherheiten von > 90 %, jedoch mit möglichen Nebenwirkungen für Patienten, insbesondere bei vorbestehendem Nierenparenchymschaden.
Abstract
Background and objectives
Sonography is a non-invasive and economic method with no side effects and is the method of choice for the diagnostics of renal artery stenosis. A total of four different methods, including two direct criteria, i.e. peak systolic velocity (PSV) and renal aortic ratio (RAR) and two indirect criteria, i.e. resistance index (RI) and acceleration time for measurement of relevant renal artery stenoses are described, each with very different accuracies in various studies. Furthermore, it is controversially discussed what grade of stenosis is therapy relevant and which sonographic PSV is diagnostically relevant in grading.
Methods
This article presents a critical review based on a selective literature search of measurement methods and validity of sonography for renal artery stenosis. A critical evaluation of the methods and presentation of the measurement principles for an exact as possible measurement compared to the gold standard of angiography is followed by an assessment of the importance of computed tomography angiography (CTA) and magnetic resonance angiography (MRA).
Results and conclusion
As a direct measurement method PSV provides the highest sensitivity and specificity in the detection and grading of stenoses. Most studies reported a sensitivity and specificity of 85–90 % for > 50 % stenoses in receiver operating characteristic (ROC) curves with a PSV > 180–200 cm/s. Other methods, such as the ratio of PSV in RAR or indirect criteria, such as RI in a side to side comparison (dRI) and acceleration time can be used as additional methods to improve the accuracy. Contrast-enhanced ultrasound (CEUS) improves the accuracy due to echo contrast enhancement. Previously, only higher grade stenoses were considered to be therapy relevant but now even a drop in pressure of > 20 mmHg for > 50 % stenoses (PSV 180 cm/s) is considered to be relevant for an increase in renin. Stenoses in fibromuscular dysplasia can be reliably graded sonographically according to the law of continuity. The study situation in grading of recurrent in-stent stenoses is controversial; however, tendentially higher cut-off values for PSV and RAR are assumed. Both MRA and CTA have an accuracy > 90 % but with possible side effects for patients especially with pre-existing renal parenchymal damage.
This is a preview of subscription content, log in to check access.
Access options
Buy single article
Instant unlimited access to the full article PDF.
US$ 39.95
Price includes VAT for USA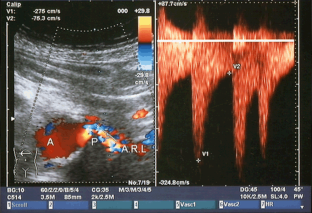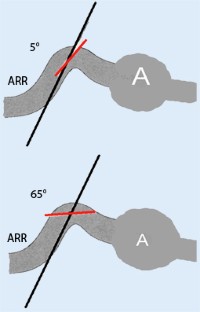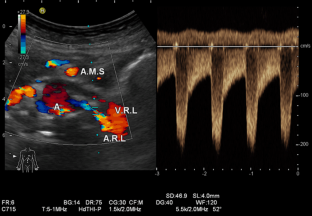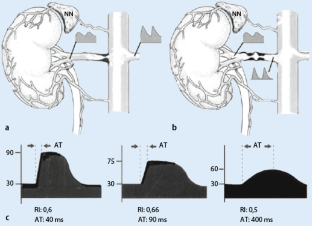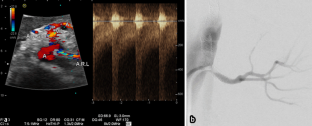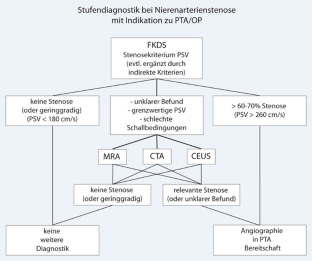 Literatur
1

Abu Rahma AF, Srivastava M, Mousa AY (2012) Critical analysis of renal duplex ultrasound parameters in detecting significant renal artery stenosis. J Vasc Surg 56:1052–1060

2

Avasthi PS, Voyles WF, Greene ER (1984) Noninvasive diagnosis of renal artery stenosis by echo-Doppler velocimetry. Kidney Int 25:824–829

3

Bakker J, Beek FJ, Beutler JJ (1998) Renal artery stenosis and accessory renal arteries: accuracy of detection and visualization with gadolinium-enhanced breath-hold MR angiography. Radiology 207:497–504

4

Beregi JP, Louvegny S, Ceugnart L (1997) Helical x-ray computed tomography of renal arteries. Apropos of 300 patients. J Radiol 78:549–556

5

Chi YW, White CJ, Thornton S, Milani RV (2009) Ultrasound velocity criteria for renal in-stent restenosis. J Vasc Surg 50:119–123

6

Ciccone MM, Cortese F, Fiorella A, Scicchitano P, Cito F, Quistelli G, Pertosa G, D'Agostino R, Guida P, Favale S (2011) The clinical role of contrast-enhanced ultrasound in the evaluation of renal artery stenosis and diagnostic superiority as compared to traditional echo-color-Doppler flow imaging. Int Angiol 30:135–139

7

Claudon M, Plouin PF, Baxter GM, Rohban T, Devos DM (2002) Renal arteries in patients at risk of renal arterial stenosis: multicenter evaluation of the echo-enhancer SH U 508A at color and spectral Doppler US. Levovist Renal Artery Stenosis Study Group. Radiology 214:739–746

8

Conkbayir I, Yucesoy C, Edguer T (2003) Doppler sonography in renal artery stenosis. An evaluation of intrarenal and extrarenal imaging parameters. Clin Imaging 27:256–260

9

De Bruyne B, Manoharan G, Pijls NH (2006) Assessment of renal stenosis severity by pressure gradient measurements. J Am CollCardiol 48:1851–1855

10

Derkx FH, Schalekamp MA (1994) Renal arterystenosisandhypertension. Lancet 344:237–239

11

Fleming SH, Ross PD, Timothy EC (2010) Accuracy of duplex sonography scans after renal artery stenting. J Vasc Surg 52:953–958

12

Garovic VD, Textor SC (2005) Renovascular hypertension and ischemic nephropathy. Circulation 112:1362–1374

13

Glifeather M, Yoon HC, Siegelman ES (1999) Renal artery stenosis: evaluation with conventional angiography versus gadolinium-enhanced MR angiography. Radiology 210:367–372

14

Guo Z, Fenster A (1996) Three-dimensional power Doppler imaging: a phantom study to quantify vessel stenosis. Ultrasound Med Biol 22:1059–1069

15

Hansen KJ, Tribble RW, Reavis SW (1990) Renal duplex sonography: evaluation of clinical utility. J VascSurg 12:227–236

16

Hawkins PG, McKnoulty LM, Gordon RD (1989) Noninvasive renal artery duplex ultrasound and computerized nuclear renography to screen for and follow progress in renal artery stenosis. J Hypertens Suppl 7:184–185

17

Hirsch AT, Haskal ZJ, Hertzer NR (2006) ACC/AHA 2005 partice guidelines for the management of patients with peripheral arterial disease (lower extremity, renal, mesenteric, and abdominal aortic): a collaborative report from the American Association for Vascular Surgery/Society for Vascular Surgery. Society for Cardiovascular Angiography and Interventions, Society for Vascular Medicine and Biology, Society of Interventional Radiology, and the ACC/AHA Task Force on Practice Guidelines (Writing Committee to Develop Guidelines for the Management of Patients With Peripheral Arterial Disease). Circulation 113:e463–e654

18

Karasch T, Strauss AL, Grün B, Worringer M, Neuerburg-Heusler D, Roth FJ, Rieger H (1993) Farbkodierte Duplexsonographie in der Diagnostik von Nierenarterienstenosen. Dtsch Med Wochschr 118:1429–1436

19

Kim TS, Chung JW, Park JH (1998) Renal artery evaluation: comparison of spiral CT angiographyto intra-arterial DSA. J VascInterv Radiol 9:553–559

20

Kohler TR, Zierler RE, Martin RL (1986) Noninvasive diagnosis of renal artery stenosis by ultrasonic duplex scanning. J Vasc Surg 4:450–456

21

Krinsky G, Rofsky N, Giangola G (1996) Gadolinium-enhanced three-dimensional MR angiography of acquired arch vessel disease. AJR Am J Roentgenol 167:981–987

22

Krumme B, Blum U, Schwertfeger E (1996) Diagnosis of renovascular disease by intra- and extrarenal Doppler scanning. Kidney Int 50:1288–1292

23

Leiner T, de Haan MW, Nelemans PJ (2005) Contemporary imaging techniques for the diagnosis of renal artery stenosis. Eur Radiol 15:2219–2229

24

May AG, Deweese JA, ROB CG (1963) Hemodynamic effects of arterial stenosis. Surgery 53:513–524

25

Missouris CG, Allen CM, Balen FG, Buckham T, Lees WR, MacGregor GA (1996) Non-invasiv screening for renal artery stenosis with ultrasound contrast enhancement. J Hypertense 14:519–524

26

Motew SJ, Cherr GS, Craven TE (2000) Renal duplex sonography: main renal artery versus hilaranaylsis. J Vasc Surg 32:462–471

27

Muster BR, Williams DM, Prince MR (1998) In vitro model of arterial stenosis: correlation of MR signal dephasing and trans-stenotic pressure gradients. Magn Reson Imaging 16:301–310

28

Napoli V, Pinto S, Bargellini I, Vignali C, cioni R, Petruzzi P (2002) Duplex ultrasonographic study of the renal arteries before and after renal artery stenting. Eur Radiol 12:796–803

29

Nolan BW, Schermerhorn ML, Powell RJ, Rowell E (2005) Restenosis in gold-coated renal artery stents. J Vasc Surg 42:40–46

30

Olin JW (2002) Atherosclerotic renal artery disease. Cardiol Clin 20:547–562

31

Olin JW, Piedmonte MR, Young JR (1995) The utility of duplex ultrasound scanning of renal arteries for diagnosing significant renal artery stenosis. Ann Intern Med 122:833–838

32

Radermacher J, Chavan A, Schäffer J (2000) Detection of significant renal artery stenosis with color Doppler sonography: combining extrarenal and intrarenal approaches to minimize technical failure. Clin Nephrol 53:333–343

33

Ripolles T, Aliaga R, Morote V (2001) Utility of intrarenal Doppler ultrasound in the diagnosis of renal artery stenosis. Eur J Radiol 40:54–63

34

Rocha-Singh K, Jaff MR, Lynne Kelly E (2008) RENAISSANCE Trial Investigators. renal artery stenting with noninvasive duplex ultrasound follow-up: 3-year results from the RENAISSANCE renal stent trial. Catheter Cardiovasc Interv 72:853–862

35

Rountas C, Vlychou M, Vassiou K (2007) Imaging modalities for renal artery stenosis in suspected renovascular hypertension: prospective intraindividual comparison of color Doppler US, CT angiography, GD-enhanced MR angiography and digital subtraction angiography. Ren Fall 29:295–302

36

Safian RD, Textor SC (2001) Renal-artery Stenosis. N Engl J Med 344:431–442

37

Schäberle W (2009) Ultraschall in der Gefäßdiagnostik, 3. Aufl. Springer, Heidelberg, S 338, 402–409, 450–455

38

Schäberle W, Strauss A, Neuerburg-Heusler D, Roth FJ (1992) Wertigkeit der Duplexsonographie in der Diagnostik der Nierenarterienstenose und ihre Eignung in der Verlaufskontrolle nach Angioplastie (PTA). Ultraschall Med 13:271–276

39

Shetty AN, Bis KG, Kirsch M (2000) Contrast-enhanced breath-hold three-dimensional magnetic resonance angiography in the evaluation of renal arteries: optimization of technique and pitfalls. J Magn Reson Imaging 12:912–923

40

Solar M, Zizka J, Krajina A, Michl A, Raupach J, Kizo L, Ryska P, Ceral J (2011) Comparison of duplex ultrasonography and magnetic resonance imaging in the detection of significant renal artery stenosis. Acta Medica 54(1):9–12

41

Souza de Oliveira IR Widmann A Molnar LJ (2000) Colour Doppler ultrasound: a new indes improves the diagnosis of renal artery stenosis. Ultrasound Med Biol 26:41–47

42

Staub D, Canevascini R, Huegli RW, Aschwanden M, Thalhammer C, Imfeld S, Singer E, Jacob AL, Jaeger KA (2007) Best duplex-sonographic criteria for the assessment of renal artery stenosis – correlation with intra-arterial pressure gradient. Ultraschall Med 28:45–51

43

Steffens JC, Link J, Graessnerr J (1997) Contrast-enhanced, K-space-centered, breath-hold MR angiography of renal arteries and the abdominal aorta. J MagnReson Imaging 7:617–622

44

Steinweder C, Schutzenberger W, Fellner F (2009) 64-Detector CT angiography in renal artery stent evaluation: prospective comparison with selective catheter angiography. Radiology 252:299–305

45

Strauss AL, Roth FJ, Rieger H (1993). Noninvasive assessment of pressure gradients across iliac artery stenosis: Duplex and catheter correlative study. J Ultrasound Med 12:17–22

46

Stock KF (2009) Ultraschalldiagnostik der Nierengefäße und der Transplantatniere. Radiologe 49:1040–1047

47

Textor SC (1994) Renovascular Hypertension. Endocrinol Metabol Clin North Am 23:235–253

48

Van Jaarsveld BC, Pieterman H, van Dijk LC, van Seijen AJ, Derkx FH, Man in't Veld AJ, Schalekamp MA (1999) Inter-observer variability in the angiographic assessment of renal artery stenosis. DRASTIC study group. Dutch Renal Artery Stenosis Intervention Cooperative. J Hypertense 17(12 Pt 1):1731–1736

49

Vasbinder GB, Nelemans PJ, Kessels AG (2001) Diagnostic tests for renal artery stenosis in patients suspected of having renovascular hypertension: a meta-analysis. Ann Intern Med 135:401–411

50

Vasbinder GB, Nelemans PJ, Kessels AG (2004) Renal Artery Diagnostic Imaging Study in Hypertension (RADISH) Study Group. Accuracy of computed tomographic angiography and magnetic resonance angiography for diagnosing renal artery stenosis. Ann Intern Med 141:674–682

51

Willoteaux S, Faivre-Pierret M, Moranne O (2006) Fibromuscular dysplasia of the main renal arteries: comparison of contrast-enhanced MR angiography with digital subtraction angiography. Radiology 241:922–929

52

Wittenberg G, Kenn W, Tschammler A (1999) Spiral CT angiography. Eur Radiol 9:546–551

53

Zeller T, Frank U, Späth M (2001) Farbduplexsonographische Darstellbarkeit von Nierenarterien und Erkennung hämodynamisch relevanter Nierenarterienstenosen. Ultraschall Med 22:116–121

54

Zierler RE (2001) Is duplex scanning the best screening test for renal artery stenosis? Semin Vasc Surg 14:177–185

55

Taylor DC Kettler MD, Monetta GL et al (1988) Duplex ultrasound in the diagnosis of renal artery: a prospective evaluation. J Vasc Surg 7: 363–769

56

Ferretti G, Salomone A, Castagno PL (1988) Renovascular hypertension: a non-invasiv duplex scanning screening. Int. Angiol. 7:219–223

57

Kawarada O, Yokoi Y, Yakemoto K et al (2006) The performance of renal ultrasonography for the detection of hemodynamically significant renal artery stenosis. Catheter Cardiovasc Interv 68:311–318
Ethics declarations
Interessenkonflik
W. Schäberle, L. Leyerer, W. Schierling und K. Pfister geben an, dass kein Interessenkonflikt besteht.
Dieser Beitrag beinhaltet keine Studien an Menschen oder Tieren.
Appendices
Detaillierte Beschreibung der Videos
Videoclip 1
Stenose von 50–60 % im mittleren Drittel der linken Nierenarterie durch eine fibromuskuläre Dysplasie. Stenosegraduierung nach dem Kontinuitätsgesetz: PSV-Ratio mit PSV intrastenotisch/PSV prästenotisch (Nierenarterie am Abgang) = 220 cm/s/80 cm/s = 2,7.
Der Videoclip zeigt die Ableitung der intrastenotischen PSV (im mittleren Drittel der Nierenarterie) und der prästenotischen PSV (proximales Drittel der Nierenarterie). Atemverschieblichkeit der Arterie erschwert die Messung.
Videoclip 2
Hochgradige Nierenarterienrezidivstenose nach PTA und Stent mit PSV > 5 m/s. Sowohl in konventioneller Duplexsonographie (im B-Bild bessere Visualisierung des Stentverlaufs) als auch farbduplexsonographisch ist der Untersuchungsablauf dargestellt, mit dem Versuch den Stenosejet optimal zu treffen, um die maximale PSV abzuleiten und somit die Rezidivstenose adäquat zu graduieren. Die Atemverschieblichkeit der Arterie erschwert die Messung (das "sample volume" wird atemabhängig aus dem Gefäßlumen/Stent herausbewegt). Der Stent (echoreich, Maschendrahtmuster) ragt etwas in das Aortenlumen.
Zusatzmaterial online
About this article
Cite this article
Schäberle, W., Leyerer, L., Schierling, W. et al. Ultraschalldiagnostik von Nierenarterienstenosen. Gefässchirurgie 20, 102–111 (2015) doi:10.1007/s00772-015-0013-x
Schlüsselwörter
Farbduplexsonographie

Nierenarterienstenose

Stenosekriterien

In-Stent-Rezidivstenose

Ceus
Keywords
Color duplex sonography

Renal artery stenosis

Stenosis criteria

Recurrent in-stent stenosis

Contrast enhanced ultrasonography