Impact of Eurachem 25 years of activity
Introduction
The aim of Eurachem was to provide a focus for analytical chemistry and quality-related issues in Europe. The main objectives are establishing a system for the international traceability of chemical measurement results and the promotion of good quality practices.
Measurement quality is about fulfilling analytical requirements, which should be based on the intended use of the results. The quality objectives of any analysis can be illustrated by the measurement cycle (Fig.
1
). One could state that we have good quality when the client can take a correct decision on the basis of the analytical result,
x
±
U
.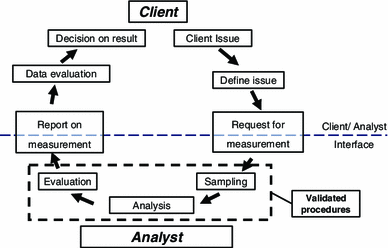 Keywords
Accreditation Body 
Breakout Session 
International Laboratory Accreditation Cooperation 
Free Text Search 
National Member 
These keywords were added by machine and not by the authors. This process is experimental and the keywords may be updated as the learning algorithm improves.
Notes
Acknowledgments
We wish to thank all those who in many different ways have contributed to the development of the Eurachem network, for their time and efforts and for sharing both their knowledge and their doubts with a wider community, thus making it possible for it to progress.
Copyright information
© Springer-Verlag Berlin Heidelberg 2014