Zusammenfassung
Hintergrund
In den letzten Jahren wurden im Bereich der molekularen Bildgebung große Fortschritte gemacht. Die molekulare Bildgebung, also die In-vivo-Diagnostik und Erforschung von Erkrankungen und physiologischen Prozessen unter Zuhilfenahme spezifischer Moleküle bzw. Atome, die entweder selbst radioaktiv und damit direkt messbar oder an signalgebende radioaktive Nuklide gebunden sind, wird vermehrt in der klinischen Routine eingesetzt. Zunächst waren die Anwendungen diagnostisch, zunehmend nun auch zur Therapie oder in direkter Kombination miteinander.
Fragestellung
Dieser Artikel thematisiert die nuklearmedizinischen Möglichkeiten in Diagnostik und Therapie onkologischer Erkrankungen mit besonderem Fokus auf der Theranostik.
Methode
Es wird ein Überblick über die physikalischen Hintergründe, die verschiedenen technischen Modalitäten, die verwendeten Radiopharmaka und die in Anwendung befindlichen Therapien gegeben.
Ergebnisse
In der Behandlung des differenzierten Schilddrüsenkarzinoms ist die Theranostik schon lange etabliert. Die großen Erfolge in der Behandlung der seltenen neuroendokrinen Tumoren ermöglichen neue Perspektiven einer modernen Theranostik. Mit der Behandlung des häufigen Prostatakarzinoms kommt nun eine breitere Masse in Kontakt mit der therapeutischen Nuklearmedizin.
Schlussfolgerung
Besonders in Form der Hybridbildgebung gewinnt die molekulare Bildgebung zunehmend an Bedeutung.
Abstract
Background
In recent years, great progress has been made in the field of molecular imaging. Molecular imaging, i.e., in vivo diagnostics and research into diseases and physiological processes with the aid of specific molecules or atoms which are either themselves radioactive and thus directly measurable or bound to signaling radioactive nuclides, is being used increasingly in clinical routine. Initially, these applications were diagnostic, but they are now being used increasingly for treatment or in direct combination with each other.
Objective
This article deals with the possibilities of nuclear medicine in diagnostics and treatment of oncological diseases, with a special focus on theranostics.
Methods
This article provides an overview of the physical background, the various technical modalities, the radiopharmaceuticals used, and the sensitive treatment applied.
Results
Theranostics has long been established in the treatment of differentiated thyroid carcinoma. The great successes in the treatment of rare neuroendocrine tumors open up new perspectives for modern theranostics. With the treatment of the frequent prostate cancer, a broader population now comes into contact with therapeutic nuclear medicine.
Conclusion
Especially in the form of hybrid imaging, molecular imaging is becoming increasingly important.
This is a preview of subscription content, log in to check access.
Access options
Buy single article
Instant unlimited access to the full article PDF.
US$ 39.95
Price includes VAT for USA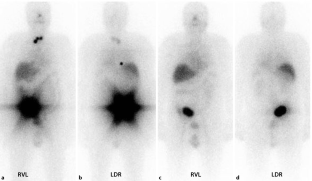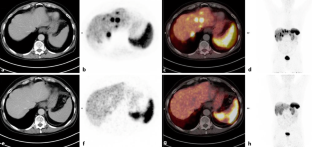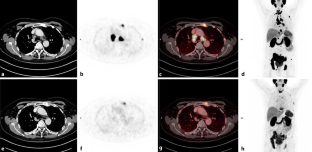 Literatur
1.

Agrawal A, Rangarajan V, Shah S et al (2018) MIBG (metaiodobenzylguanidine) theranostics in pediatric and adult malignancies. Br J Radiol 91:20180103

2.

Barrio M, Czernin J, Fanti S et al (2017) The impact of somatostatin receptor-directed PET/CT on the management of patients with neuroendocrine tumor: a systematic review and meta-analysis. J Nucl Med 58:756–761

3.

Bertagna F, Bertoli M, Bosio G et al (2014) Diagnostic role of radiolabelled choline PET or PET/CT in hepatocellular carcinoma: a systematic review and meta-analysis. Hepatol Int 8:493–500

4.

Chondrogiannis S, Marzola MC, Al-Nahhas A et al (2013) Normal biodistribution pattern and physiologic variants of 18F-DOPA PET imaging. Nucl Med Commun 34:1141–1149

5.

Dunet V, Rossier C, Buck A et al (2012) Performance of 18F-fluoro-ethyl-tyrosine (18F-FET) PET for the differential diagnosis of primary brain tumor: a systematic review and metaanalysis. J Nucl Med 53:207–214

6.

Eiber M, Fendler WP, Rowe SP et al (2017) Prostate-specific membrane antigen ligands for imaging and therapy. J Nucl Med 58:67S–76S

7.

Erbas B, Tuncel M (2016) Renal function assessment during peptide receptor radionuclide therapy. Semin Nucl Med 46:462–478

8.

Fahey FH, Grant FD, Thrall JH (2017) Saul Hertz, MD, and the birth of radionuclide therapy. EJNMMI Phys 4:15

9.

Fendler WP, Kratochwil C, Ahmadzadehfar H et al (2016) 177Lu-PSMA-617 therapy, dosimetry and follow-up in patients with metastatic castration-resistant prostate cancer. Nuklearmedizin 55:123–128

10.

James ML, Gambhir SS (2012) A molecular imaging primer: modalities, imaging agents, and applications. Physiol Rev 92:897–965

11.

Jones T, Townsend D (2017) History and future technical innovation in positron emission tomography. J Med Imaging 4:11013

12.

Krenning EP, Bakker WH, Breeman WA et al (1989) Localisation of endocrine-related tumours with radioiodinated analogue of somatostatin. Lancet 1:242–244

13.

Levine R, Krenning EP (2017) Clinical history of the theranostic radionuclide approach to neuroendocrine tumors and other types of cancer: historical review based on an interview of Eric P. Krenning by Rachel Levine. J Nucl Med 58:3S–9S

14.

Muller SP, Ezziddin S, Antoch G et al (2017) Selective intraarterial radiotherapy (SIRT) of malignant liver tumors. Nuklearmedizin 56:162–170

15.

Nose H, Otsuka H, Otomi Y et al (2014) The physiological uptake pattern of (18)F-FDG in the left ventricular myocardium of patients without heart disease. J Med Invest 61:53–58

16.

Ozguven MA, Karacalioglu AO, Ince S et al (2014) Altered biodistribution of FDG in patients with type‑2 diabetes mellitus. Ann Nucl Med 28:505–511

17.

Rahbar K, Bodei L, Morris MJ (2019) Is the "VISION" of radioligand therapy for prostate cancer becoming reality? An overview of the phase III trial and the importance for the future of theranostics. J Nucl Med. https://doi.org/10.2967/jnumed.119.234054

18.

Salyga A, Guzikowska-Ruszkowska I, Czepczynski R et al (2016) PET/MR—a rapidly growing technique of imaging in oncology and neurology. Nucl Med Rev Cent East Eur 19:37–41

19.

Schmidbauer B, Menhart K, Hellwig D et al (2017) Differentiated thyroid cancer-treatment: state of the art. Int J Mol Sci 18(6):E1292

20.

Seidlin SM, Marinelli LD, Oshry E (1946) Radioactive iodine therapy; effect on functioning metastases of adenocarcinoma of the thyroid. J Am Med Assoc 132:838–847

21.

Strosberg J, El-Haddad G, Wolin E et al (2017) Phase 3 trial of (177)Lu-Dotatate for midgut neuroendocrine tumors. N Engl J Med 376:125–135

22.

Strosberg J, Wolin E, Chasen B et al (2018) Health-related quality of life in patients with progressive midgut neuroendocrine tumors treated with (177)lu-dotatate in the phase III NETTER‑1 trial. J Clin Oncol 36:2578–2584

23.

Viszeralchirurgie DGFa‑U (2012) Operative Therapie maligner Schilddrüsenerkrankungen. https://www.dgav.de/fileadmin/media/texte_pdf/caek/Leitlinie_Maligne_Schilddruesenerkrankungen_Operative_Therapie_2012-11.pdf

24.

Von Eyben FE, Kairemo K (2014) Meta-analysis of (11)C-choline and (18)F-choline PET/CT for management of patients with prostate cancer. Nucl Med Commun 35:221–230

25.

Webb RL, Landau E, Klein D et al (2015) Effects of varying serum glucose levels on 18F-FDG biodistribution. Nucl Med Commun 36:717–721

26.

Weber M, Binse I, Nagarajah J et al (2019) The role of 124I PET/CT lesion dosimetry in differentiated thyroid cancer. Q J Nucl Med Mol Imaging. https://doi.org/10.23736/S1824-4785.19.03201-1
Ethics declarations
Interessenkonflikt
K. Herrmann hat Referentenhonorare von Bayer, Adacap/Novartis und BTG erhalten. Er hat als Consultant Honorare für vorgenannte Firmen sowie für Curium, Endocyte, IPSEN und Amgen erhalten. Weitere Referentenhonorare erhielt er von Sirtex, Siemens Healthineers und GE Healthcare. K. Herrmann hält Anteile von Sofie Biosciences (<1%). Er ist Klinikleiter an der Klinik für Nuklearmedizin am Universitätsklinikum Essen und Mitglied bei folgenden Gesellschaften: DGN, DGE, EANM, ESMI, EORTC, ESMO, SNMMI. Er ist Geschäftsführer von Nuklearmedizin Interaktiv (NMI) GmbH und hat einen Chair bei der EANM Oncology and Theranostics Committee. P. Sandach hat ein Referentenhonorar von Sanofi erhalten. Ausserdem wurden von Sanofi und IPSEN Teilnahmegebühren für Veranstaltungen übernommen. Er ist Assistenzarzt und Wissenschaftlicher Mitarbeiter an der Klinik für Nuklearmedizin am Universitätsklinikum Essen. C. Rischpler gibt an, dass kein Interessenkonflikt besteht.
Für diesen Beitrag wurden von den Autoren keine Studien an Menschen oder Tieren durchgeführt. Für die aufgeführten Studien gelten die jeweils dort angegebenen ethischen Richtlinien.
About this article
Cite this article
Sandach, P., Rischpler, C. & Herrmann, K. Molekulare Bildgebung und Theranostik. Onkologe (2020) doi:10.1007/s00761-019-00697-2
Schlüsselwörter
Nuklearmedizin

Pentetreotid

Theranostik

Radiojodtherapie

Peptidrezeptor
Keywords
Nuclear medicine

Pentetreotide

Theranostics

Radioiodine therapy

Peptide receptor