Zusammenfassung
Hintergrund
Mit dem Krebsfrüherkennungs- und Krebsregistergesetz wird in Deutschland eine neue Ära der Krebsregistrierung eingeläutet. In vielen Bundesländern bedarf es eines grundlegenden Neuaufbaus von Strukturen, bei dem eine Entscheidung für überwiegend elektronische oder papierbasierte Datenübermittlungswege getroffen werden muss.
Ziel
Ziel des Beitrag ist die Darstellung der Vorteile und Chancen, allerdings auch der Probleme und Nachteile elektronischer Meldewege im Kontext klinischer und epidemiologischer Krebsregistrierung.
Grundlage
Basierend auf den Erfahrungen des Epidemiologischen Krebsregisters Nordrhein-Westfalen werden Vor- und Nachteile elektronischer Meldewege beleuchtet.
Ergebnisse
Mit dem Einsatz elektronischer Meldewege wird die medienbruchfreie Datenverarbeitung und Datenübermittlung ermöglicht. Dies führt zur Optimierung der Qualität und Vollzähligkeit onkologischer Daten sowie zur Schonung finanzieller und personeller Ressourcen. Für die Realisierung dieser positiven Effekte bedarf es jedoch erheblicher Anstrengungen in der Entwicklung gemeinsamer Standards sowie einer spezifischen Informations- und Kommunikationsstruktur.
Schlussfolgerung
Angesichts der aktuellen technischen Entwicklungen und Möglichkeiten wird sich zukünftig der elektronische Meldeweg als Standard etablieren, denn die Zukunft ist auch im Gesundheitswesen papierlos.
Abstract
Context
The recently adopted Cancer Screening and Registry Act introduced a new era of cancer registration in Germany. For many states this means a major reorganisation of structures and a basic decision whether to favor electronic or paper-based transmission of cancer notifications.
Objective
This article presents the advantages and opportunities, as well as disadvantages and problems of electronic transmission pathways in the context of clinical and epidemiological cancer registration.
Background
The various aspects of electronic transmission are highlighted based on the practical experience of the Epidemiological Cancer Registry of North Rhine-Westphalia.
Results
The implementation of electronic transmission pathways allows data to be processed and transmitted free from format discontinuities. This results in improvements in data quality and data completeness as well as protection of financial and human resources. However, achieving these positive effects requires considerable efforts to develop common standards and a specific information and communication infrastructure.
Conclusions
In light of ongoing technological trends and capabilities, the electronic transmission pathway will become the established standard in cancer registration, as the future in health care is also paperless.
This is a preview of subscription content, log in to check access.
Access options
Buy single article
Instant access to the full article PDF.
US$ 39.95
Price includes VAT for USA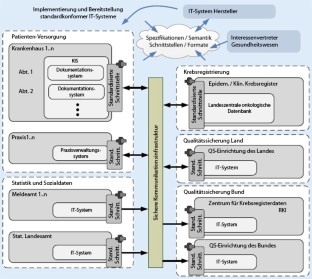 Literatur
1.

Hübner U, Liebe J-D, Egbert N, Frey A (2012) IT-Report Gesundheitswesen, Schwerpunkt IT im Krankenhaus. Schriftenreihe des Niedersächsischen Ministeriums für Wirtschaft, Arbeit und Verkehr. Hannover. ISBN 978-3-98 12490-2-6

2.

Batzler WU, Bertram H, Heidinger O et al (2012) Epidemiologisches Krebsregister Nordrhein-Westfalen Report 2012. Epidemiologisches Krebsregister NRW gGmbH, Münster

3.

eHealth-Infrastrukturen: Sichere Serviceorientierte Architekturen im Gesundheitswesen. Fraunhofer-Institut für Offene Kommunikationssysteme FOKUS; FOKUSBasis 05/2008. Fraunhofer FOKUS, Berlin 2008

4.

Krüger-Brand HE (2013) Gesundheitstelematik – Mit mehr Tempo in die Fläche. Dtsch Ärztebl 110(29–30):C1218–C1219

5.

El Fadly AN, Rance B, Lucas N et al (2011) Integrating clinical research with the Healthcare Enterprise: from the RE-USE project to the EHR4CR platform. J Biomed Inform 44:94–104

6.

Prokosch H-U, Ries M, Beyer A et al (2011) IT infrastructure components to support clinical care and translational research projects in a comprehensive cancer center. In: Moen A et al (Hrsg) User centred networked care. IOS Press, S 892–896. doi:10.3233/978-1-60750-806-9-892

7.

Dugas M (2013) Gesundheitstelematik für Wissenschaft und Forschung. In: Goetz C, Grode A (Hrsg) Thesenpapier zur Gesundheitstelematik. TeleTrusT – Bundesverband IT-Sicherheit e. V., Berlin, S 68–73

8.

Ries M (2013) Konzeption und Aufbau eines Single-Source Tumordokumentationsablaufs am Comprehensive Cancer Center Erlangen-Nürnberg. Inaugural-Dissertation, Medizinische Fakultät der Friedrich-Alexander-Universität Erlangen-Nürnberg

9.

Prokosch HU, Ganslandt T (2009) Perspectives for medical informatics – reusing the electronic medical record for clinical research. Methods Inf Med 48:38–44. doi:10.3414/ME9132

10.

Breil B, Semjonow A, Müller-Tidow C et al (2011) HIS-based Kaplan-Meier plots – a single source approach for documenting and reusing routine survival information. BMC Med Inform Decis Mak 11:11. doi:10.1186/1472-6947-11-11

11.

Newgard CD, Zive D, Jui J et al (2012) Electronic versus manual data processing: evaluating the use of electronic health records in out-of-hospital clinical research. Acad Emerg Med 19:217–227. doi:10.1111/j.1553-2712.2011.01275.x
Interessenkonflikt
O. Heidinger ist Geschäftsführer, V. Mattauch und S. Bartholomäus sind Angestellte des Epidemiologischen Krebsregisters NRW gGmbH. Das Epidemiologische Krebsregister NRW erhält Drittmittel vom Bundesamt für Strahlenschutz (BfS) für ein Forschungsprojekt zur Brustkrebsfrüherkennung. O. Heidinger war als Referent der UKM Akademie GmbH in Fortbildungsveranstaltungen zur Qualifikation, Aufrechterhaltung und Weiterentwicklung der im Rahmen des Mammographie-Screening-Progaramms tätigen Ärzte sowie radilogischen Fachkräfte tätig und wurde für die beauftragte Leistung honoriert.
About this article
Cite this article
Heidinger, O., Bartholomäus, S. & Mattauch, V. Elektronische Meldewege im Kontext klinischer und epidemiologischer Krebsregistrierung. Onkologe 19, 1047–1057 (2013). https://doi.org/10.1007/s00761-013-2518-9
Schlüsselwörter
Krebsregister

Elektronische Meldung

Datenübermittlung

Kommunikationsinfrastruktur

Datenqualität
Keywords
Cancer registry

Electronic notification

Data transmission

Communication infrastructure

Data quality