Abstract
Despite the fact that menstrual psychosis has been described since the eighteenth century, there are only about 80 cases reported in the literature. The knowledge and awareness about the disorder remain poor, leading to inaccurate diagnoses and suboptimal treatment. This is the case of a 25-year-old woman with recurrent hospitalizations for mental status changes including psychotic phenomena and catatonia that appeared to follow a cyclical pattern that correlated with her menstrual periods, with complete symptom resolution and return to her usual level of functioning between episodes despite continued treatment with antipsychotic medications. This pattern remitted only after hormonal therapy was initiated. Through this case report, the authors review the literature on the menstrual psychoses, exemplified by this case, and discuss treatment options and prognosis. Menstrual psychosis is an underrecognized condition where psychotic symptoms recur cyclically with menses. Given the poor response that this entity shows to antipsychotic treatment, hormonal therapies have a prominent role.
This is a preview of subscription content, log in to check access.
Access options
Buy single article
Instant unlimited access to the full article PDF.
US$ 39.95
Price includes VAT for USA
Subscribe to journal
Immediate online access to all issues from 2019. Subscription will auto renew annually.
US$ 99
This is the net price. Taxes to be calculated in checkout.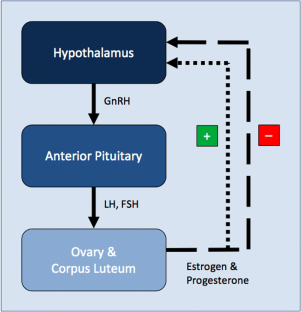 References
Andreou C, Syngelakis M, Karavatos A (2008) Metformine for psychosis associated with the menstrual cycle in a patient with polycystic ovary syndrome. Arch Womens Ment Health 11(5–6):387–388

Bergemann N, Parzer P, Nagl I, Salbach B, Runnebaum B, Mundt C, Resch F (2002) Acute psychiatric admission and menstrual cycle phase in women with schizophrenia. Arch Womens Ment Health 5(3):119–126

Brock R, Rowse G, Slade P (2016) Relationships between paranoid thinking, self-esteem and the menstrual cycle. Arch Womens Ment Health 19(2):271–279

Brockington I (2005) Menstrual psychosis. World Psychiatry 4(1):9–17

Brockington I (2017a) Citation analysis of puerperal and menstrual psychosis. Arch Womens Ment Health 20(1):49–53

Brockington I (2017b) The psychoses of menstruation and childbearing. England, Cambridge University Press, Cambridge

Brockington IF (2009a) Menstrual psychosis with onset after childbirth. Arch Womens Ment Health 12(4):265–266

Brockington IF (2009b) Monthly psychosis during amenorrhoea. Arch Womens Ment Health 12(3):187–188

Brockington IF (2009c) Monthly psychosis starting before the menarche. Arch Womens Ment Health 12(2):121–122

Brockington IF (2011) Menstrual psychosis: a bipolar disorder with a link to the hypothalamus. Curr Psychiatry Rep 13(3):193–197

Brockington IF, Perris C, Meltzer HY (1982) Cycloid psychoses: diagnosis and heuristic value. J Nerv Ment Dis 170(11):651–656

Chandra PS (2002) Post-ovariectomy and oestrogen therapy related recurrence of oestrogen withdrawal associated psychosis. Acta Psychiatr Scand 106(1):76 author reply 76-77

Che KI (2016) Recurrent psychotic episodes with a near-monthly cycle. East Asian Arch Psychiatr 26(4):137–140

Clifford J, Rowland J (2011) The potential role of oestrogens in relapse of recurrent affective psychosis. JRSM Short Rep 2(10):82

Davis KL, Kahn RS, Ko G, Davidson M (1991) Dopamine in schizophrenia: a review and reconceptualization. Am J Psychiatry 148(11):1474–1486

Desmilleville (1759) Observation addressée à M. Vandermonde, sur une fille que l'on croyoit possédée. J Med Chir Prat 10:408–415

Deuchar N, Brockington I (1998) Puerperal and menstrual psychoses: the proposal of a unitary etiological hypothesis. J Psychosom Obstet Gynaecol 19(2):104–110

Fatica JP, Jiwani S, Salman R, Majeed S (2018) Premenstrual psychosis in an adolescent: a case report. Clin Schizophr Relat Psychoses. https://doi.org/10.3371/CSRP.FAJI.061518

Felthous AR, Robinson DB, Conroy RW (1980) Prevention of recurrent menstrual psychosis by an oral contraceptive. Am J Psychiatry 137(2):245–246

Fernando MD, Grizzaffi J, Crapanzano KA, Jones GN (2014) Catamenial psychosis in an adolescent girl. BMJ Case Rep. https://doi.org/10.1136/bcr-2014-206589

Grunewald BD, Korte A, Schulte-Korne G (2012) Psychotic episodes during menstruation in a 12-year-old girl: a case of menstrual psychosis. Eur Child Adolesc Psychiatry 21(3):173–175

Hatotani N, Nomura J, Yamaguchi T et al (1986) Clinico-endocrinological studies of recurrent types of atypical psychosis. In: Shagass C (ed) Biological psychiatry. Elsevier, Amsterdam, pp 1039–1041

Hegar A (1884) Oophorectomy as a remedy against mental and nervous sufferings. Brit Med J 2

Holzbauer M, Youdim MB (1973) The oestrous cycle and monoamine oxidase activity. Br J Pharmacol 48(4):600–608

Hsiao MC, Liu CY (2007) Unusual manifestations of premenstrual syndrome. Psychiatry Clin Neurosci 61(1):120–123

Jalnapurkar I, Findley JC (2018) A case of repeated mixed mood episodes with psychotic symptoms associated with the premenstrual period in a patient with polycystic ovarian syndrome. Gynecol Endocrinol 34(6):467–469

Kane FJ Jr (1968) Psychiatric reactions to oral contraceptives. Am J Obstet Gynecol 102(7):1053–1063

Krafft-Ebing R (1902) Psychosis menstrualis. Eine klinisch-forensische Studie. Enke, Stuttgart

Kranidiotis LS, Rajendran JP (2006) Goserelin for menstrual psychosis. J Obstet Gynaecol 26(2):183

Lee YT, Chou YH (2012) Lack of efficacy of antipsychotics on premenstrual psychosis: a case report. Psychopharmacol Bull 45(1):31–34

López Arteaga T, Loro López M (2013) Cyclic psychosis and menstruation: presentation of a case. Rev Psiquiatr Salud Ment 6(1):52–53

Mahe V, Dumaine A (2001) Oestrogen withdrawal associated psychoses. Acta Psychiatr Scand 104(5):323–331

Mortimer AM (2007) Relationship between estrogen and schizophrenia. Expert Rev Neurother 7(1):45–55

Otsuka K, Sakai A, Okudera T, Shibata E, Matoh K, Kawamura S (2007) Oral contraceptive administration prevents relapse of periodic psychosis with hyperprolactinemia. Psychiatry Clin Neurosci 61(1):127–128

Raffi ER, Freeman MP (2017) Premenstrual dysphoric disorder: 5 interwoven pieces. Curr Psychiatr Ther 16(9):20–28

Rodrigues JD, Lapa MG, Brockington IF (2014) Psychotic episode secondary to gonadotrophins. Gen Hosp Psychiatry 36(5):549 e547–549 e548

Santos-Cubina J, Castaing-Lespier PA, Sabate N, Torres-Martin A, Quinones-Fernandini VM (2013) Menstrual psychosis: presenting symptom of bipolar disorder not otherwise specified in a 13-years-old Hispanic female. Bol Asoc Med P R 105(3):53–55

Sbisa A, van den Buuse M, Gogos A (2018) The effect of estrogenic compounds on psychosis-like behaviour in female rats. PLoS One 13(3):e0193853

Shah AB, Vahia VN, Yadav R, Sonavane SS (2003) Menstrual psychosis : a case report. Indian J Psychiatry 45(2):61–62

Sheinfeld H, Gal M, Bunzel ME, Vishne T (2007) The etiology of some menstrual disorders: a gynecological and psychiatric issue. Health Care Women Int 28(9):817–827

Stein D, Blumensohn R, Witztum E (2003) Perimenstrual psychosis among female adolescents: two case reports and an update of the literature. Int J Psychiatry Med 33(2):169–179

Susser LC, Hermann AD (2017) Protection against hormone-mediated mood symptoms. Arch Womens Ment Health 20(2):355–356

Thippaiah SM, Nagaraja S, Birur B, Cohen AW (2018) An interesting presentation about cyclical menstrual psychosis with an updated review of literature. Psychopharmacol Bull 48(3):16–21

Vengadavaradan A, Sathyanarayanan G, Kuppili PP, Bharadwaj B (2018) Is menstrual psychosis a forgotten entity? Indian J Psychol Med 40(6):574–576
Ethics declarations
The patient provided verbal consent for this case report.
Conflict of interest
The authors have no conflicts of interest to disclose.
Additional information
Publisher's note
Springer Nature remains neutral with regard to jurisdictional claims in published maps and institutional affiliations.
About this article
Cite this article
Ward, H.B., Greenberg, J.A. & Almeida, M. Perimenstrual psychiatric hospitalization: case report and literature review. Arch Womens Ment Health (2019). https://doi.org/10.1007/s00737-019-00967-3
Received:

Accepted:

Published:
Keywords
Menstrual psychosis

Psychotic disorders

Hormonal therapy