Neural pathways of maternal responding: systematic review and meta-analysis
Abstract
Functional magnetic resonance imaging (fMRI) has increasingly been employed to establish whether there is a specific brain neural network dedicated to maternal responsiveness. We undertook systematic review and meta-analysis of all studies in which healthy new mothers were exposed to visual stimuli of own versus other infants to determine the quality of evidence for a dedicated maternal neural network. Systematic literature review revealed a pattern of specific neural responses commonly induced by visual infant paradigms. Brain areas consistently reported as activated in mothers in response to own versus unknown infant included the left thalamus, bilateral pre-central gyrus, left limbic lobe, uncus, amygdala and left caudate. These regions are implicated in reward, attention, emotion processing and other core social cognitive skills. Meta-analysis, however, revealed a more limited subset of brain areas activated in mothers specifically in response to their own versus unknown infant and suggested considerable inter-study variability. Further work is needed if functional imaging is to become an objective tool for the assessment of neural pathways associated with distinct patterns of maternal care behaviour. Such a tool would be invaluable in developing biomarkers of neural activity associated with healthy maternal care and for monitoring treatment/intervention effects of costly parenting interventions.
Keywords
Maternal sensitivity 
Oxytocin 
Mother-infant 
fMRI 
Introduction
Since the first functional magnetic resonance imaging (fMRI) study of seven new mothers listening to sounds of infants crying nearly two decades ago (Lorberbaum et al. 1999), this powerful technique has been increasingly employed in an attempt to identify a specific brain circuitry for maternal care behaviour (Swain et al. 2014). Using the blood oxygenation level-dependent (BOLD) effect, fMRI can indicate which brain areas are being used in response to different conditions—this works on the principle that areas which are more active in response to a particular stimuli will require greater perfusion to meet the demand for oxygen. Squire and Stein (2003) argued that use of fMRI (with a spatial resolution ~ 3–4 mm; Glover 2011) could strengthen our understanding of maternal care behaviour in order to provide much needed insights into its neural basis.
'Maternal sensitivity' as a construct that involves ability for perception, accurate interpretation and appropriate responsiveness to infant's signal (Ainsworth et al. 1978) is believed to foster secure attachment and promote child's development. Literature has suggested that variation in maternal sensitivity (i.e. sensitive and less sensitive mothers) is an outcome of interaction between behavioural, social factors that charts a discrete profile of the maternal brain that is mediated by stress- and reward-related neural systems.
In imaging terms, 'maternal responsiveness' refers to neural brain activation patterns associated with a mother's response to own infant stimuli. Within clinical settings, observations of maternal-infant interactions by professionals provide useful 'snapshots' that may be helpful in highlighting specific issues requiring extra support. However, due to their very nature, these judgements are quite informal and subjective. There are standardised and validated observer-rated scales of maternal or caregiver interaction available (e.g. CARE-index, Crittenden 1979–2004). Such scales, however, are time-consuming and costly requiring trained raters and so are only used in research settings. fMRI offers the opportunity to develop newer more accurate observer-rated scales of maternal interaction that can be used in clinical settings or to evaluate innovative parenting interventions.
It is likely that a number of different pathways or mechanisms could result in a mother exhibiting suboptimal maternal care. Studies that focus on the neurobiological correlates of maternal sensitivity in a distinct group of mothers representing natural variations in maternal sensitivity were few, including one of our own (Elmadih et al. 2016). Preliminary evidence from these studies showed that maternal sensitivity appears to be accompanied by a discrete neural correlate and that modulation of maternal brain responses by oxytocin (OT) is possible (i.e. as evidenced by the significant correlation between plasma OT and BOLD activation). Yet, further studies are needed before fMRI could be used as a biomarker for maternal sensitivity. Other analysis parameters, such as connectivity, are being explored to see if more subtle changes are present. In the future, such parameters could be used in conjunction with reported and observational measures to help identify mothers at risk of suboptimal responsiveness at an earlier stage and help to evaluate the efficacy of interventions designed to enhance sensitive parental caregiving.
Previous fMRI studies have used either auditory (infant cries) or visual (images/videos of infants) stimuli to compare maternal brain responses to infant versus non-infant control stimuli; or to own versus unknown infant control stimuli. Such studies have used a range of sample sizes from small to large numbers of participants (N = 4–30).
Studies reveal a diverse pattern of responses to infant stimuli, including activation in dopamine-associated reward processing areas, cortico-limbic modules, emotional processing pathways and the mirror neuron system. Swain (
2010
) proposed a model for the brain circuitry underlying parental responsiveness involving subcortical and cortical regions (see Fig. 
1
). This model has been updated (Swain et al.
2014
) with a breakdown of activate areas commonly reported by parental imaging studies in response to infant stimuli.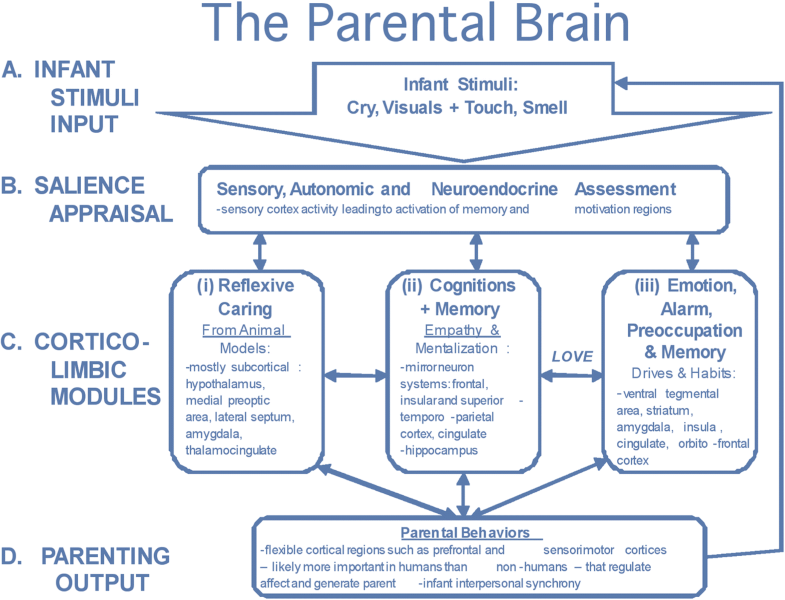 Following salience appraisal involving sensory, autonomic and neuroendocrine pathways which activate the sensory cortex, three potential responses were identified:
1.

'Reflexive caring', located in the subcortical brain, including the hypothalamus, medial preoptic area, lateral septum, amygdala and thalamocingulate regions;

 

2.

'Empathic and related cognitive emotional responses associated with mentalization', including mirror neuron systems in the frontal, insular and superior temporoparietal cortices, cingulate and regions associated with memory such as the hippocampus;

 

3.

'Drives and habits related to emotions, alarm and preoccupations', including the ventral tegmental area, striatum, amygdala, insula, cingulate and orbitofrontal cortex.

 
This model is based on a review of neuroimaging studies to date. Our meta-analysis seeks to refine this parental brain model using quantitative techniques. Given the diversity of findings, spatial meta-analysis (Turkeltaub et al. 2002) may be the most appropriate way more robustly to establish whether (and which) specific brain areas are most likely to represent a dedicated neural network for maternal responsiveness. Lieberman and Cunningham (2009) recommended greater focus on drawing conclusions from meta-analysis rather than from a single fMRI study. This has the potential to provide more reliable results by reducing type I errors (i.e. false positives) and, where appropriate, allowing for more lenient thresholding to avoid type II errors (i.e. missing true effects).
The primary aim of this study, therefore, was to determine whether there is indeed evidence for a dedicated maternal neural network associated with brain responses to visual cues from own versus control infants (up to the age of 2 years). First, we undertook a systematic review to summarise reported maternal brain activation. Second, we examined quantitatively evidence for distinct activation patterns in maternal responding to own infant, focusing on studies using visual stimuli. Auditory stimuli used in studies of maternal response typically comprise emotionally laden baby laughter or cry sounds. By contrast, studies using visual stimuli include neutral as well as emotional faces, allowing responses to infants per se to be disambiguated from responses specifically to infants expressing emotion. It is important to note that whilst visual and auditory cues are most commonly used within fMRI imaging studies due to the constraints of the technique, in a naturalistic setting, other infant stimuli such as tactile and olfactory are likely to influence maternal brain responsiveness.
We hypothesised that (1) maternal brain responsiveness to infant versus control stimuli in healthy new mothers is associated with a distributed neural network; (2) this network is consistent with current models of maternal neural responses (Swain et al. 2014); (3) differences in activation to own versus control infant will be particularly significant for neural regions associated with hedonic responses (reward from the experience of maternal love) and emotional salience. More specifically, we predict that there will be differences in activation in the thalamus, hypothalamus, and septal regions, orbitofrontal cortex, amygdala, insula and basal ganglia (in relation to the hedonic response and emotional salience of infant stimuli).
Methods
Systematic review: inclusion criteria for studies
Only original fMRI studies were included, in which healthy mothers were exposed to visual stimuli of own as well as control infants (up to 24 months in age), and a comparison of maternal brain activation in response to these stimuli was undertaken. To reduce bias in spatial meta-analyses, it is important that only data from independent studies is included. Therefore, study data were excluded if it contributed to another study, in which case the study with the largest group size was included. Studies including infants older than 24 months were eliminated to avoid excess heterogeneity between infant stimuli that may minimise the areas of brain activation identified through meta-analysis.
Identification of studies
Papers were identified by typing the word combination ['parent' or 'mother' or 'maternal'] and ['fMRI' or 'imaging'] into the search engines 'PubMed', 'Web of Knowledge' and 'Google Scholar'. The words 'fMRI'/'imaging' and 'parent'/'mother'/'maternal' had to appear in the title or abstract in order for the papers to be identified. Works that incorporated one of these words, such as 'mothering,' were also valid. Relevant research and review papers were searched for mention of additional studies. Researchers identified as leading the field were contacted to enquire whether they had carried out additional research. The methodology was in line with the principles of systematic reviews as outlined by the Cochrane Handbook for Systematic Reviews of Interventions (2011).
Method of meta-analysis
Estimates of association were meta-analysed using the software GingerALE (Eickhoff et al. 2009), which is suitable for studies with comparable experimental paradigms even if the number of studies is small. Studies using photographs or videos of infants were combined in the analysis. Confirmation was obtained from studies' authors that data did not overlap between studies to ensure data points were not included more than once. All reported findings satisfy criteria of p ≤ 0.001 for fixed effects (whole brain uncorrected) or p ≤ 0.05 FWE corrected/p ≤ 0.001 whole brain uncorrected for random effects analysis. The field strength of the scanners used in each included study was also recorded (see supplementary Tables 1–3). Potentially, studies using lower field strength scanners may impact the spatial resolution but not localisation.
Discussion
To our knowledge, this is the first time formal meta-analysis methodologies have been used to integrate evidence for a distributed maternal brain circuitry. The main finding was that significant activation occurred in far fewer areas than suggested by conventional systematic literature review. Meta-analysis identified increased activation in response to own versus unknown infant visual stimuli in left thalamic ventral lateral nucleus; bilateral precentral gyrus (BA 4), left uncus (BA 34) and amygdala in the limbic lobe, and left caudate body.
Our findings differ from models previously proposed by Swain (2008), Swain et al. (2014) primarily because we highlight fewer areas robustly activated by visual contrasts of own versus unknown infants.
Although the diversity of brain areas robustly activated in response to infant visual stimuli concords with the complexity of maternal behaviour, it is also likely to reflect differences in the stimuli and fMRI paradigm across studies, as well as the variety of neural responses which depend on the particular 'affective cognitive' style of individual mothers. The interface between affective and cognitive processing, termed 'affective cognition', includes the ability to attend to, recognise and interpret different emotional stimuli (e.g. emotive sounds, words, facial expressions, body language), as well as how such information is categorised, encoded and subsequently recalled from memory to guide current behaviour (Elliott et al. 2011). Thus, a mothers' individual affective cognitive style is likely to be another factor influencing the neural responses identified by fMRI. We consider, therefore, evidence from fMRI studies of affect, emotion and cognitive processing that should (in relation to the each of the brain areas) be activated robustly following meta-analysis.
Conclusions
Functional imaging is increasingly employed to study the neurobiology underpinning human parental response. Regional brain activation may serve as a benchmark of healthy responsiveness. Research is beginning to detail ways in which brain responses to infants may be modulated in new parents. Such approaches are likely to be of increasing interest in the development of novel parenting interventions; for example, those involving the administration of intranasal oxytocin alone or in combination with behavioural approaches. However, its utility can only be exploited to improve clinical outcomes if studies produce consistent results and many studies have been too small and varied to do so. Meta-analysis provides a powerful technique whereby fMRI data can be integrated to identify robust changes. This study highlights the importance of using meta-analysis, as well as common experimental designs, to allow larger sample sizes.
Notes
Acknowledgements
The authors wish to thank the authors who provided data for the meta-analysis and Dr. James Swain for his useful discussions and comments on the manuscript.
Funding information
The authors would like to acknowledge funding from the University of Manchester Medical Research Imaging fund award. This funding source did not have involvement in the study design, data collection or analysis and report writing or submission process.
Compliance with ethical standards
Conflicts of interest
The authors declare that they have no competing interests.
Copyright information
© The Author(s) 2018
Open Access This article is distributed under the terms of the Creative Commons Attribution 4.0 International License (http://creativecommons.org/licenses/by/4.0/), which permits unrestricted use, distribution, and reproduction in any medium, provided you give appropriate credit to the original author(s) and the source, provide a link to the Creative Commons license, and indicate if changes were made.