Abstract
This randomised controlled trial examined the feasibility of enhancing relationship functioning in couples during the transition to parenthood through the development and delivery of a low-intensity antenatal intervention. The 2-h psycho-educational programme marks the first of its kind to be trialled in the UK and was delivered as an adjunct to existing antenatal classes provided through the National Health Service. A cluster randomised design was used as antenatal classes rather than participants were randomly allocated to either treatment condition. Feasibility was assessed on the basis of pragmatic delivery and acceptability of the intervention. Data from 47 participants who received the intervention and 36 participants who did not was then compared to provide a preliminary indication of its effectiveness. Outcomes were assessed in terms of relationship satisfaction, couple communication and psychological distress. The intervention appeared feasible in terms of pragmatic delivery, rates of uptake and attendance at sessions. Participant evaluation forms also indicated that people were reasonably satisfied with the intervention and would recommend it to friends. Three significant phases × condition interactions were indicated using mixed-methods analyses of variance (ANOVAs); women in the intervention condition reported significantly less deterioration in relationship satisfaction (F(1, 44) = 3.11; p = 0.021; eta2 = 0.07), while men in the intervention condition reported significantly less deterioration in couple communication (F(1, 35) = 2.59; p = 0.029; eta2 = 0.08) and significant improvement in their experience of psychological distress (adjusted z = 1.99; p = 0.023; Cohen's d = 0.47). These positive preliminary indicators lend support to future large-scale investigation.
This is a preview of subscription content, log in to check access.
Access options
Buy single article
Instant access to the full article PDF.
US$ 39.95
Price includes VAT for USA
Subscribe to journal
Immediate online access to all issues from 2019. Subscription will auto renew annually.
US$ 99
This is the net price. Taxes to be calculated in checkout.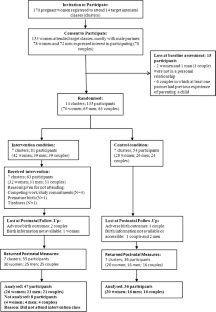 References
Adamsons K (2013) Predictors of relationship quality during the transition to parenthood. J Reprod Infant Psychol. doi:10.1080/02646838.2013.791919

Bland M (2004) Cluster randomised trials in the medical literature-Two bibliometric surveys. BMC Med Res Methodol 4:21

Bomstein PH, Rychtarik RG (1983) Consumer satisfaction in adult behaviour therapy. Behav Ther. doi:10.1016/S0005-7894(83)80110-5

Brouwers EPM, van Baar AL, Pop VJ (2001) Does the Edinburgh Postnatal Depression Scale measure anxiety? J Psychosom Res. doi:10.1016/S0022-3999(01)00245-8

Bunevicius A, Dusminskas L, Pop VJ, Pedersen CA, Bunevicius R (2009) Screening for antenatal depression with the Edinburgh Postnatal Depression Scale. J Psychosom Obstet Genecol. doi:10.3109/0167482090323070

Campbell MK, Grimshaw JM, Steen N (2000a) Sample size calculations for cluster randomised trials. J Health Serv Res Policy 5:12–16

Campbell MK, Mollison J, Steen N, Grimshaw JM, Eccles M (2000b) Analysis of cluster randomized trials in primary care: a practical approach. BMC Fam Pract. doi:10.1093/fampra/17.2.192

Campbell MK, Elbourne DR, Altman DG (2004) CONSORT statement—extension to cluster randomised trials. BMJ. doi:10.1136/bmj.328.7441.702

Cowan C, Cowan PA (1995) Interventions to ease the transition to parenthood: why they are needed and what they can do. Fam Relat 44:412–423

Cox JL, Holden JM, Sagovsky R (1987) Detection of postnatal depression: development of the 10-item Edinburgh Postnatal Depression. Br J Psych. doi:10.1192/bjp.150.6.782

Deave T, Johnson D, Ingram J (2008) Transition to parenthood: the needs of parents in pregnancy and early parenthood. BMC Pregnancy Childbirth. doi:10.1186/1471-2393-8-30

Department of Health (2007) Maternity Matters: Choice, access and continuity of care in a safe service. www.dh.gov.uk. Accessed 15 July 2011

Doss BD, Rhoades GK, Stanley SM, Markman HJ (2009) The effect of the transition to parenthood on relationship quality: an 8-year prospective study. J Pers Soc Psychol. doi:10.1037/a0013969

Gottman JM, Notarius CI, Gonso J, Markman HJ (1976) A couple's guide to communication. Research Press, Illinois

Gurman AS (2008) Clinical handbook of couple therapy, 4th edn. Guilford Press, New York

Halford WK, Petch J, Creedy DK (2010) Promoting a positive transition to parenthood: a randomized clinical trial of couple relationship education. Prev Sci. doi:10.1007/s11121-009-0152-y

Harwood K, McLean N, Durkin K (2007) First-time mothers' expectations of parenthood: what happens when optimistic expectations are not matched by later experiences? Dev Psychol. doi:10.1037/0012-1649.43.1.1

Hawkins AJ, Fawcett EB, Carroll JS, Gilliland TT (2006) The Marriage Moments program for couples transitioning to parenthood: divergent conclusions from formative and outcome evaluation data. J Fam Psychol. doi:10.1037/0893-3200.20.4.561

Houts RM, Barnett-Walker KC, Paley B, Cox MJ (2008) Patterns of couple interaction during the transition to parenthood. Pers Relatsh. doi:10.1111/j.1475-6811.2007.00187.x

Kerig PK, Swanson JA (2010) Ties that bind: Triangulation, boundary dissolution, and the effects of interparental conflict on child development. In: Schulz MS, Kline Pruett M, Kerig PK, Parke RD (eds) Strengthening couple relationships for optimal child development. American Psychological Association, Washington DC, pp 59–76

Lawrence E, Nylen K, Cobb RJ (2007) Prenatal expectations and marital satisfaction over the transition to parenthood. J Fam Psychol. doi:10.1037/0893-3200.21.2.155

Lawrence E, Rothman AD, Cobb RJ, Bradbury TN (2010) Marital satisfaction across the transition to parenthood: three eras of research. In: Schulz MS, Kline Pruett M, Kerig PK, Parke RD (eds) Strengthening couple relationships for optimal child development. American Psychological Association, Washington DC, pp 97–114

Matthey S, Barnett B, Kavanagh DJ, Howie P (2001) Validation of the Edinburgh Postnatal Depression Scale for men and comparison of item endorsement with their partners. J Affect Disord 64:175–184

Midmer D, Wilson L, Cummings S (1995) A randomised controlled trial of the influence of prenatal parenting education on postpartum anxiety and marital adjustment. ISRN Family Med 27:200–205

Mitnick DM, Heyman RE, Smith Slep AM (2009) Changes in relationship satisfaction across the transition to parenthood. J Fam Psychol 23:648–652

Office for National Statistics (2010) Statistical bulletin: live births in England and Wales by characteristics of mother, 2009. http://www.ons.gov.uk. Accessed 15 July,2011

Office for National Statistics (2010) Standard Occupational Classification 2010 (SOC2010). http://www.ons.gov.uk/ons/guide-method/classifications/current-standard-classifications/soc2010/index.html. Accessed 15 July 2011

Olson DH, Larson PJ (2008) PREPARE/ENRICH: customized version. Life Innovations, Minneapolis

Olson DH, Fournier DG, Druckman JM (1983) PREPARE/ENRICH Counselor's Manual. PREPARE/ENRICH, Inc

Olson DH, McCubbin HI, Barnes HL, Larsen AS, Muxen MJ, Wilson MA (1989) Families: what makes them work. Sage Publications, California

Olson DH, Olson-Sigg A, Larson P (2008) The couple checkup: find your relationship strengths. Thomas Nelson, Nashville

Petch J, Halford KW (2008) Psycho-education to enhance couples' transition to parenthood. Clin Psychol Rev 28:1125–1137

Petch J, Halford WK, Creedy DK, Gamble J (2012a) Couple relationship education at the transition to parenthood: a window of opportunity to reach high-risk couples. Fam Process. doi:10.1111/.1545-5300.2012.01420.x

Petch J, Halford WK, Creedy DK, Gamble J (2012b) A randomized controlled trial of a couple relationship and coparenting program (Couple CARE for Parents) for high- and low-risk new parents. J Consult Clin Psychol 80:662–673

Powell TJ (2000) The mental health handbook. Publishing, Speedmark

Rogers CR (1957) The necessary and sufficient conditions of therapeutic personality change. J Consult Psychol 21:95–103

Rogers M, Murphy M, Herbert R (2011) Report on antenatal class provision 2010. Sheffield Teaching Hospitals NHS Foundation Trust, Sheffield

Schulz MS, Cowan CP, Cowan PA (2006) A randomized control trial of a preventive intervention to preserve marital quality during the transition to parenthood. J Consult Clin Psychol 74:20–31

Shapiro AF, Gottman JM (2005) Effects on marriage of a psycho-education intervention with couples undergoing the transition to parenthood: evaluation at 1-year post-intervention. J Fam Commun 5:1–24

Shapiro AF, Gottman JM, Carrere S (2000) The baby and the marriage: identifying factors that buffer against decline in marital satisfaction after the first baby arrives. J Fam Psychol. doi:10.1037/0893-3200.14.1.59

Stuart RB (1980) Helping couples change: a social learning approach to marital therapy. Guilford Press, New York

Trillingsgaard T, Baucom KJW, Heyman RE, Elklit A (2012) Relationship interventions during the transition to parenthood: issues of timing and efficacy. Fam Relat. doi:10.1111/j.1741-3729.2012.00730.x
About this article
Cite this article
Daley-McCoy, C., Rogers, M. & Slade, P. Enhancing relationship functioning during the transition to parenthood: a cluster-randomised controlled trial. Arch Womens Ment Health 18, 681–692 (2015). https://doi.org/10.1007/s00737-015-0510-7
Received:

Accepted:

Published:

Issue Date:
Keywords
Transition to parenthood,Relationship functioning,Antenatal intervention

Cluster RCT