Zusammenfassung
Ziel der Arbeit
Bereits mehrere Studien haben wissenschaftlich belegt, dass sich Einstellungen, Haltungen und Meinungen von Pflegefachkräften auf ihr berufliches Tun und Handeln auswirken. Ziel dieser empirischen Arbeit ist es , die Einstellung von Studierenden der Gesundheits- und Krankenpflege an einer österreichischen Fachhochschule in Bezug auf den Advanced Nursing Process (ANP) zu erheben.
Problemstellung
Im Allgemeinen ist die Einstellung von Pflegepersonen in der Pr axis gegenüber dem Advanced Nursing Process (ANP) positiv, jedoch lässt sich diese leicht durch die Haltung, Wahrnehmung oder soziale Zwänge und Erwartungen von Kollegen beeinflussen. Im deutschsprachigen Raum gibt es keine vergleichbare Forschungsarbeit zu dieser Thematik.
Methode
Es wurde eine quasi-experimentelle Interventionsstudie mittels Pre-Post-Test-Design durchgeführt. Bei den 34 Studierenden wurde die Einstellung zum ANP vor und nach einer Bildungsintervent ion anhand des Messinstruments Positions on Nursing Diagnosis erhoben. Die statistische Analyse erfolgte mittels des Wilcoxon-Tests.
Resultate
Der Gesamtwert erzielte im Median einen Wert von 97 Punkten bei der ersten Messung und steigerte sich durch die Durchführung eines fallbezogenen klinischen Unterrichts auf 112 Punkte. Es zeigte sich eine Verbesserung des Gesamtwertes um 15 Punkte. (Z-Wert 3,217, p < 0,001)
Schlussfolgerung
Da bereits mehrere wissenschaftliche Publikationen die Auswirkungen der Einstellungen von Pflegefachkräften aufgezeigt haben, ist ein fallbezogener klinischer Unterricht im Rahmen der Ausbildung zur Gesundheits- und Krankenpflege auf Bachelorniveau zu empfehlen. Der positive Effekt des fallbezogenen klinischen Unterrichts wurde allerdings nur direkt nach der Lehrveranstaltung festgestellt. Ob dieser positive Effekt auch über einen längeren Zeitraum bestehen bleibt, wird durch die vorliegende Studie nicht beantwortet.
Abstract
Aim of the work
Several studies have academically proven that nurses' attitudes affect professional activities and behaviour. The aim of this empiric study is to raise nursing students' att itude at an Austrian University of Applied Sciences concer ning the Advanced Nursing process.
Problem
In general, the attitude of nurses to the ANP is positive, but this can easily be influenced by the attitude, perception, social constraints and expectations of colleagues. There is no comparable research on this topic in the German-speaking countries.
Method
A quasi-experimental intervention study was carried out in for m of a Pre-Post-Test-Design. 34 nursing students estimated their attitude towards the Advanced Nursing process with the help of the measuring instrument Positions on Nursing Diagnosis. Data was collected before and after students attended an educational intervention program. The statistical analysis was carried out by a Wilcoxon-test.
Result
The median achieved value measured 97 points at the first evaluation and increased through the educational intervention to a value of 112 points at the second evaluation. In general, the attitude towards the Advanced Nursing Process improved by a total of 15 points. (Z-value 3,217, p < 0,001)
Conclusion
Several scientific publications already present the effects of nurses' attitudes on their working behaviour. Due to the study results and other scientific research the educational programme is recommendable. The limitation of this work is constituted through the fact, that there was no follow-up and thus the positive effect was not checked over a longer period of time.
This is a preview of subscription content, log in to check access.
Access options
Buy single article
Instant access to the full article PDF.
US$ 39.95
Price includes VAT for USA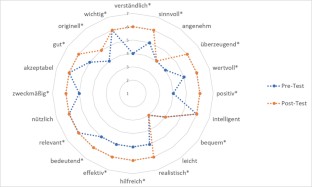 Literatur
Das Literaturverzeichnis ist auf Anfrage bei den Autoren erhältlich.
About this article
Cite this article
Beer, D., Meinhart, C. Einstellung von Studierenden der Gesundheits- und Krankenpflege an einer österreichischen Fachhochschule gegenüber dem Advanced Nursing Process. ProCare 25, 42–45 (2020). https://doi.org/10.1007/s00735-020-1156-x
Schlüsselwörter
Advanced Nursing Process

Positions on Nursing Diagnosis

Einstellung

Studenten

Ausbildung
Keywords
Advanced Nursing Process

Positions on Nursing Diagnosis

attitude

students

education