Abstract
Weight loss in patients with cancer is caused by cancer cachexia and chemotherapy-induced nausea and vomiting. Recent developments in antiemetic drugs have substantially improved nausea and vomiting, but this intervention did not reduce weight loss and other more severe side effects of chemotherapy, like anorexia, weakness, cough, dyspnea, hemoptysis, and pain. This study aimed to investigate the effects of nutrition intervention with a food supplement, during chemotherapy in patients with advanced nonsquamous non-small cell lung cancer (NSCLC). Patients received individualized nutrition counseling by a registered dietitian and were provided with oral supplements of Texidrofolico® for 90 days. Bodyweight and the mentioned other side effects were evaluated at baseline and after 90 days of intervention. To assess the effects of this dietary supplement, a total of 30 patients were retrospectively enrolled as controls, and the bodyweight and change in side effects of chemotherapy were compared with those observed in 30 Texidrofolico®-treated patients. After 90-day intervention, by oral supplement of Texidrofolico®, the patients, during the course of cytotoxic chemotherapy, showed an improved quality of life and not significant weight and BMI loss respect the control group. Furthermore, the number of patients, treated with Texidrofolico® who maintained or increased their body weight, after 90 days of treatment was significantly higher than in the control group. The effects of treatment with the food supplement have also been studied from a metabolic point of view. It was possible to find that one of the known markers of tumor growth, plasma polyamines, was reduced after the treatment. A possible relationship between these biogenic amines and the folate cycle is discussed. In conclusion, early intensive nutrition intervention with oral supplements of Texidrofolico® during chemotherapy of NSCLC patients prevents weight loss and it is beneficial for their quality of life.
This is a preview of subscription content, log in to check access.
Access options
Buy single article
Instant access to the full article PDF.
US$ 39.95
Price includes VAT for USA
Subscribe to journal
Immediate online access to all issues from 2019. Subscription will auto renew annually.
US$ 199
This is the net price. Taxes to be calculated in checkout.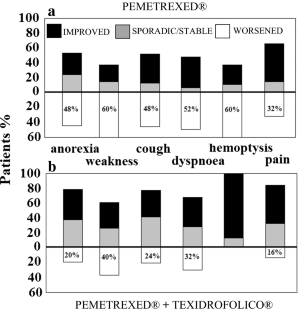 References
Antonelli F, Ferorelli, De Martino A et al (2019) Effect of a novel dietary supplement on cancer cells metabolism. Int J Tumor Ther 8(1):10–15

Bistulfi G, Diegelman P, Foster BA et al (2009) Polyamine biosynthesis impacts cellular folate requirements necessary to maintain S-adenosylmethionine and nucleotide pools. FASEB J 23(9):2888–2897

Bradford MM (1976) A rapid and sensitive method for the quantitation of microgram quantities of protein utilizing the principle of protein-dye binding. Anal Biochem 72:248–254

Caltagirone S, Rossi C, Poggi A et al (2000) Flavonoids apigenin and quercetin inhibit melanoma growth and metastatic potential. Int J Cancer 87(4):595–600

Cohen EEW, Licitra LF, Burtness B et al (2017) Biomarkers predict enhanced clinical outcomes with afatinib versus methotrexate in patients with second-line recurrent and/or metastatic head and neck cancer. Ann Oncol 28(10):2526–2532

Cooper KD, Shukla JB, Rennert OM (1978) Polyamine compartmentalization in various human disease states. Clin Chim Acta 82(1–2):1–7

Curtin NJ, Harris AL, Aherne GW (1991) Mechanism of cell death following thymidylate synthase inhibition: 2'-deoxyuridine-5'-triphosphate accumulation, DNA damage, and growth inhibition following exposure to CB3717 and dipyridamole. Cancer Res 51(9):2346–2352

Damiani E, Wallace HM (2018) Polyamines and cancer. Methods Mol Biol 1694:469–488

David EA, Clark JM, Cooke DT et al (2017) The role of thoracic surgery in the therapeutic management of metastatic non-small cell lung cancer. J Thorac Oncol 12(11):1636–1645

de Giffoni de Carvalho JT, da Silva Baldivia D, Leite DF (2019) Medicinal plants from Brazilian Cerrado: antioxidant and anticancer potential and protection against chemotherapy toxicity. Oxid Med Cell Longev. 3685264. https://doi.org/10.1155/2019/3685264

Fahrmann JF, Grapov DD, Wanichthanarak K et al (2017) Integrated metabolomics and proteomics highlight altered nicotinamide- and polyamine pathways in lung adenocarcinoma. Carcinogenesis 38(3):271–280

Farber S, Diamond LK (1948) Temporary remissions in acute leukemia in children produced by folic acid antagonist, 4-aminopteroyl-glutamic acid. N Engl J Med 238(23):787–793

Gewehr C, da Silva MA, dos Santos GT et al (2011) Contribution of peripheral vanilloid receptor to the nociception induced by injection of spermine in mice. Pharmacol Biochem Behav 99(4):775–781

Greim H, Bury D, Klimisch HJ et al (1998) Toxicity of aliphatic amines: Structure-activity relationship. Chemosphere 36(2)271–295

Hollen PJ, Gralla RJ, Kris MG, Cox C (1994) Quality of life during clinical trials: conceptual model for the Lung Cancer Symptom Scale (LCSS). Support Care Cancer 2(4):213–222

Ireton-Jones C, Jones JD (2002) Improved equations for predicting energy expenditure in patients: the Ireton-Jones Equations. Nutr Clin Pract 17(1):29–31

Kang EJ, Min KH, Hur GY et al (2016) Comparison of the efficacy between pemetrexed plus platinum and non-pemetrexed plus platinum as first-line treatment in patients with wild-type epidermal growth factor receptor nonsquamous non-small cell lung cancer: a retrospective analysis. Chemotherapy 61(1):41–50

Kergzien S, Bansard JY, Delcros JG et al (1996) Polyamine deprivation provokes an antalgic effect. Life Sci 58:2209–2215

Lin Z, Lv WZ, Wang SY et al (2017) Efficacy and safety of pemetrexed and nedaplatin followed by pemetrexed maintenance therapy in advanced lung adenocarcinoma. Cancer Manag Res 9:671–677

Linsalata M, Russo F (2008) Nutritional factors and polyamine metabolism in colorectal cancer. Nutrition 24:382–389

Liu R, Li P, Wenchuan Bi C et al (2017) Plasma N-acetylputrescine, cadaverine and 1,3-diaminopropane: potential biomarkers of lung cancer used to evaluate the efficacy of anticancer drugs. Oncotarget 8(51):88575–88585

Liu C, Xu B, Li Q et al (2019) Smoking history influences the prognostic value of peripheral naïve CD4+ T cells in advanced non-small cell lung cancer. Cancer Cell Int 19:176–183

Loftis JM, Janowsky A (2003) The N-methyl-D-aspartate receptor subunit NR2B: Localization, functional properties, regulation, and clinical implications. Pharmacol and Therap 97(1):55–85

Miyahara T, Sueoka-Aragane N, Iwanaga K et al (2017) Severity and predictive factors of adverse events in pemetrexed-containing chemotherapy for non-small cell lung cancer. Med Oncol 34(12):195–207

Pegg AE (2016) Functions of polyamines in mammals. J Biol Chem 291(29):14904–14912

Provenzano B, Lentini A, Tatti R et al (2019) Evaluation of polyamines as marker of melanoma cell proliferation and differentiation by an improved High Performance Liquid Chromatographic method. Amino Acids 51(10–12):1623–1631

Sadava D, Whitlock E, Kane SE (2007) The green tea polyphenol, epigallocatechin-3-gallate inhibits telomerase and induces apoptosis in drug-resistant lung cancer cells. Biochem Biophys Res Commun 360(1):233–237

Scagliotti G, Novello S (2003) Adjuvant chemotherapy after complete resection for early stage NSCLC. Lung Cancer 42(Suppl 1):S47–51

Sun D, Wollin A, Stephen AM (2002) Moderate folate deficiency influences polyamine synthesis in rats. J Nutr 132:2632–2637

Thomas HD, Saravanan K, Wang LZ et al (2009) Preclinical evaluation of a novel pyrimidopyrimidine for the prevention of nucleoside and nucleobase reversal of antifolate cytotoxicity. Mol Cancer Ther 8(7):1828–1837

Torricelli P, Antonelli F, Ferorelli P et al (2018) Correlations between administration of food supplements with marked antioxidant properties and clinical parameters in patients with prostate carcinoma. Int J Clin Oncol Cancer Res 3(2):14–19

Wang Z, Yang JJ, Tu HY, Yan HH, Wu YL (2019) Retrospective study on bevacizumab in the treatment of non-small cell lung cancer with brain metastases. Int J Clin Oncol. https://doi.org/10.1007/s10147-019-01552-5

Yang TY, Chang GC, Hsu SL et al. (2013) Effect of folic acid and vitamin B12 on pemetrexed antifolate chemotherapy in nutrient lung cancer cells. Biomed Res Int 389046
Ethics declarations
Conflict of interest
There is no conflict of interest.
Ethical standards
The reported observational study is not intended as a clinical trial. All procedures performed involved human participants were in accordance with the ethical standards and with the 1964 Helsinki Declaration and its later amendments.
Informed consent
The authors state that all patients gave their informed consent prior to their inclusion in the study.
Additional information
Publisher's Note
Springer Nature remains neutral with regard to jurisdictional claims in published maps and institutional affiliations.
Handling Editor: G. J. Peters.
About this article
Cite this article
Torricelli, P., Antonelli, F., Ferorelli, P. et al. Oral nutritional supplement prevents weight loss and reduces side effects in patients in advanced lung cancer chemotherapy. Amino Acids (2020). https://doi.org/10.1007/s00726-020-02822-7
Received:

Accepted:

Published:
Keywords
NSCLC

Chemotherapy

Polyamines

Nutritional supplement

Quality of life