Abstract
Glycine supplementation has been reported to enhance white-fat loss and improve sensitivity to insulin in animals with obesity or type 2 diabetes. However, the underlying mechanisms responsible for the beneficial effects of glycine remain largely unknown. The purpose of this study was to test the hypothesis that glycine regulates adipocyte differentiation, adipogenesis, and lipolysis, therefore, contributing to white-fat reduction. 3T3-L1 pre-adipocytes were induced to differentiate into adipocytes in the presence of glycine (0, 0.25, 1.0, and 2.0 mmol/L) or resveratrol (50 or 100 μmol/L, served as a positive control) during the differentiation process. Hela and HepG2 cells cultured with oleic acid to induce lipid accumulation in the presence of glycine (0, 1.0, and 2.0 mmol/L) or 10 μmol/L isoproterenol (served as a positive control) for 24 h. Intracellular lipid accumulation, intracellular triglycerides, lipid droplets' diameters of mature adipocytes, mRNA, and protein levels of genes involved in the adipogenesis and lipolysis were analyzed. Isobutylxanthine–dexamethasone–insulin (MDI)-induced adipogenesis in 3T3-L1 cells were blocked by resveratrol, but not by glycine, as shown by decreased lipid contents, reduced diameters of lipid droplets, decreased protein abundances for peroxisome proliferator-activated receptor γ (PPARγ), CCAAT-enhancer-binding protein α (C/EBPα), as well as increased protein abundance of peroxisome proliferator-activated receptor coactivator-1α (PGC-1α), critical transcriptional factors that regulates adipogenesis. However, the mRNA levels of adiponectin and interleukin-10 (IL-10), two adipose-derived adipocytokines with anti-inflammatory effects, were greatly enhanced (P < 0.05) by 2 mmol/L glycine. Compared with non-treated controls, 10 μmol/L isoproterenol significantly decreased (P < 0.05) the intracellular lipid and triglyceride contents induced by oleic acid in Hela and HepG2 cells. mRNA level of fatty acid synthase (FASN), a gene involved in fatty acid synthesis, was significantly reduced (P < 0.05), while that for ATGL (adipose triglyceride lipase) and HSL (hormone-sensitive lipase), genes involved in lipolysis were significantly enhanced (P < 0.05) by isoproterenol. However, oleic acid induced the accumulation of intracellular triglyceride and lipid contents were not affected by glycine. In conclusion, glycine exposure enhanced the mRNA levels of adipose-derived adiponectin and IL-10 without affecting adipogenesis and lipolysis in 3T3-L1 adipocytes. These findings provide a possible explanation for the anti-obesity and anti-diabetic effects of glycine that were previously reported in animal models. More studies are needed to uncover the underlying mechanisms responsible for this regulatory effect of glycine on anti-inflammatory adipocytokines expression in both in vitro and in vivo models.
This is a preview of subscription content, log in to check access.
Access options
Buy single article
Instant access to the full article PDF.
US$ 39.95
Price includes VAT for USA
Subscribe to journal
Immediate online access to all issues from 2019. Subscription will auto renew annually.
US$ 199
This is the net price. Taxes to be calculated in checkout.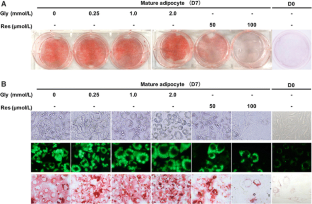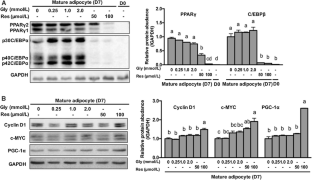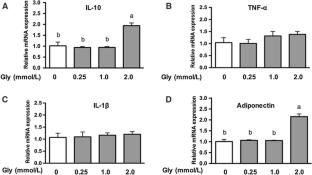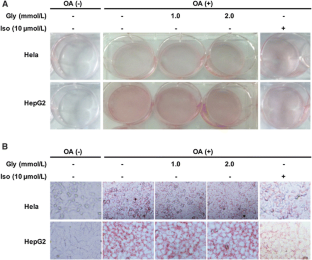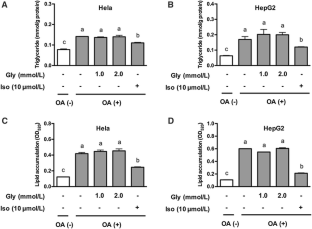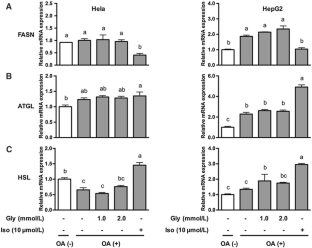 Abbreviations
FASN :

Fatty acid synthase

HSL :

Hormone-sensitive lipase

ATGL :

Adipose triglyceride lipase

PPARγ:

Peroxisome proliferator-activated receptor γ

PGC-1α:

Peroxisome proliferator-activated receptor coactivator-1α

C/EBPα:

CCAAT-enhancer-binding protein α

GAPDH :

Glyceraldehyde-3-phosphate dehydrogenase

IL-10 :

Interleukin-10

IL-1β :

Interleukin-1β
References
Abranches MV, Oliveira FC, Conceicao LL, Peluzio MD (2015) Obesity and diabetes: the link between adipose tissue dysfunction and glucose homeostasis. Nutr Res Rev 28(2):121–132. https://doi.org/10.1017/S0954422415000098

Achari AE, Jain SK (2017) Adiponectin, a therapeutic target for obesity, diabetes, and endothelial dysfunction. Int J Mol Sci. https://doi.org/10.3390/ijms18061321

Alarcon-Aguilar FJ, Almanza-Perez J, Blancas G, Angeles S, Garcia-Macedo R, Roman R, Cruz M (2008) Glycine regulates the production of pro-inflammatory cytokines in lean and monosodium glutamate-obese mice. Eur J Pharmacol 599(1–3):152–158. https://doi.org/10.1016/j.ejphar.2008.09.047

Bahmani F, Bathaie SZ, Aldavood SJ, Ghahghaei A (2012) Glycine therapy inhibits the progression of cataract in streptozotocin-induced diabetic rats. Molecular Vision 18(45–47):439–448

Blancas-Flores G, Alarcon-Aguilar FJ, Garcia-Macedo R, Almanza-Perez JC, Flores-Saenz JL, Roman-Ramos R, Ventura-Gallegos JL, Kumate J, Zentella-Dehesa A, Cruz M (2012) Glycine suppresses TNF-alpha-induced activation of NF-kappaB in differentiated 3T3-L1 adipocytes. Eur J Pharmacol 689(1–3):270–277. https://doi.org/10.1016/j.ejphar.2012.06.025

Carlotti F, Bazuine M, Kekarainen T, Seppen J, Pognonec P, Maassen JA, Hoeben RC (2004) Lentiviral vectors efficiently transduce quiescent mature 3T3-L1 adipocytes. Mol Ther 9(2):209–217. https://doi.org/10.1016/j.ymthe.2003.11.021

Cavalera M, Wang J, Frangogiannis NG (2014) Obesity, metabolic dysfunction, and cardiac fibrosis: pathophysiological pathways, molecular mechanisms, and therapeutic opportunities. Transl Res 164(4):323–335. https://doi.org/10.1016/j.trsl.2014.05.001

Chaves VE, Frasson D, Kawashita NH (2011) Several agents and pathways regulate lipolysis in adipocytes. Biochimie 93(10):1631–1640

Cohen P, Levy JD, Zhang Y, Frontini A, Kolodin DP, Svensson KJ, Lo JC, Zeng X, Ye L, Khandekar MJ, Wu J, Gunawardana SC, Banks AS, Camporez JP, Jurczak MJ, Kajimura S, Piston DW, Mathis D, Cinti S, Shulman GI, Seale P, Spiegelman BM (2014) Ablation of PRDM16 and beige adipose causes metabolic dysfunction and a subcutaneous to visceral fat switch. Cell 156(1–2):304–316. https://doi.org/10.1016/j.cell.2013.12.021

Cristancho AG, Lazar MA (2011) Forming functional fat: a growing understanding of adipocyte differentiation. Nat Rev Mol Cell Biol 12(11):722–734. https://doi.org/10.1038/nrm3198

Cruz M, Maldonado-Bernal C, Mondragon-Gonzalez R, Sanchez-Barrera R, Wacher NH, Carvajal-Sandoval G, Kumate J (2008) Glycine treatment decreases proinflammatory cytokines and increases interferon-gamma in patients with type 2 diabetes. J Endocrinol Invest 31(8):694–699

Duncan RE, Ahmadian M, Jaworski K, Sarkadi-Nagy E, Sul HS (2007) Regulation of lipolysis in adipocytes. Annu Rev Nutr 27:79–101. https://doi.org/10.1146/annurev.nutr.27.061406.093734

El Hafidi M, Perez I, Zamora J, Soto V, Carvajal-Sandoval G, Banos G (2004) Glycine intake decreases plasma free fatty acids, adipose cell size, and blood pressure in sucrose-fed rats. Am J Physiol Regul Integr Comp Physiol 287(6):R1387–R1393. https://doi.org/10.1152/ajpregu.00159.2004

Engin A (2017) Adiponectin-resistance in obesity. Adv Exp Med Biol 960:415–441. https://doi.org/10.1007/978-3-319-48382-5_18

Farmer SR (2006) Transcriptional control of adipocyte formation. Cell Metab 4(4):263–273. https://doi.org/10.1016/j.cmet.2006.07.001

Felig P, Marliss E, Cahill GF Jr (1969) Plasma amino acid levels and insulin secretion in obesity. N Engl J Med 281(15):811–816. https://doi.org/10.1056/NEJM196910092811503

Flegal KM, Carroll MD, Kit BK, Ogden CL (2012) Prevalence of obesity and trends in the distribution of body mass index among US Adults, 1999–2010. Jama J Am Med Assoc 307(5):491–497. https://doi.org/10.1001/jama.2012.39

Forsythe LK, Wallace JM, Livingstone MB (2008) Obesity and inflammation: the effects of weight loss. Nutr Res Rev 21(2):117–133. https://doi.org/10.1017/S0954422408138732

Fruhbeck G, Gomez-Ambrosi J, Muruzabal FJ, Burrell MA (2001) The adipocyte: a model for integration of endocrine and metabolic signaling in energy metabolism regulation. Am J Physiol Endocrinol Metab 280(6):E827–E847

Garcia-Macedo R, Sanchez-Munoz F, Almanza-Perez JC, Duran-Reyes G, Alarcon-Aguilar F, Cruz M (2008) Glycine increases mRNA adiponectin and diminishes pro-inflammatory adipokines expression in 3T3-L1 cells. Eur J Pharmacol 587(1–3):317–321. https://doi.org/10.1016/j.ejphar.2008.03.051

Gomez-Zorita S, Treguer K, Mercader J, Carpene C (2013) Resveratrol directly affects in vitro lipolysis and glucose transport in human fat cells. J Physiol Biochem 69(3):585–593. https://doi.org/10.1007/s13105-012-0229-0

Gonzalez-Ortiz M, Medina-Santillan R, Martinez-Abundis E, von Drateln CR (2001) Effect of glycine on insulin secretion and action in healthy first-degree relatives of type 2 diabetes mellitus patients. Horm Metab Res 33(6):358–360. https://doi.org/10.1055/s-2001-15421

Gotoh K, Fujiwara K, Anai M, Okamoto M, Masaki T, Kakuma T, Shibata H (2017) Role of spleen-derived IL-10 in prevention of systemic low-grade inflammation by obesity (Review). Endocr J 64(4):375–378. https://doi.org/10.1507/endocrj.EJ17-0060

Hajer GR, van Haeften TW, Visseren FL (2008) Adipose tissue dysfunction in obesity, diabetes, and vascular diseases. Eur Heart J 29(24):2959–2971. https://doi.org/10.1093/eurheartj/ehn387

Hill JO, Wyatt HR, Peters JC (2012) Energy balance and obesity. Circulation 126(1):126–132. https://doi.org/10.1161/CIRCULATIONAHA.111.087213

Hofbauer KG (2002) Molecular pathways to obesity. Int J Obes Relat Metab Disord 26(Suppl 2):S18–S27. https://doi.org/10.1038/sj.ijo.0802124

Hotta K, Funahashi T, Bodkin NL, Ortmeyer HK, Arita Y, Hansen BC, Matsuzawa Y (2001) Circulating concentrations of the adipocyte protein adiponectin are decreased in parallel with reduced insulin sensitivity during the progression to type 2 diabetes in rhesus monkeys. Diabetes 50(5):1126–1133. https://doi.org/10.2337/diabetes.50.5.1126

Kelly T, Yang W, Chen CS, Reynolds K, He J (2008) Global burden of obesity in 2005 and projections to 2030. Int J Obes (Lond) 32(9):1431–1437. https://doi.org/10.1038/ijo.2008.102

Kopelman PG (2000) Obesity as a medical problem. Nature 404(6778):635–643

Lasa A, Schweiger M, Kotzbeck P, Churruca I, Simon E, Zechner R, Portillo MP (2012) Resveratrol regulates lipolysis via adipose triglyceride lipase. J Nutr Biochem 23(4):379–384. https://doi.org/10.1016/j.jnutbio.2010.12.014

Lee JE, Ge K (2014) Transcriptional and epigenetic regulation of PPARgamma expression during adipogenesis. Cell Biosci 4:29. https://doi.org/10.1186/2045-3701-4-29

Lee BC, Lee J (2014) Cellular and molecular players in adipose tissue inflammation in the development of obesity-induced insulin resistance. Biochim Biophys Acta 1842(3):446–462. https://doi.org/10.1016/j.bbadis.2013.05.017

Linhart HG, Ishimura-Oka K, DeMayo F, Kibe T, Repka D, Poindexter B, Bick RJ, Darlington GJ (2001) C/EBPalpha is required for differentiation of white, but not brown, adipose tissue. Proc Natl Acad Sci USA 98(22):12532–12537. https://doi.org/10.1073/pnas.211416898

Lira FS, Rosa JC, Pimentel GD, Seelaender M, Damaso AR, Oyama LM, do Nascimento CO (2012) Both adiponectin and interleukin-10 inhibit LPS-induced activation of the NF-kappaB pathway in 3T3-L1 adipocytes. Cytokine 57(1):98–106. https://doi.org/10.1016/j.cyto.2011.10.001

Lopez YR, Perez-Torres I, Zuniga-Munoz A, Lans VG, Diaz-Diaz E, Castro ES, Espejel RV (2016) Effect of glycine on adipocyte hypertrophy in a metabolic syndrome rat model. Curr Drug Deliv 13(1):158–169

Nakata M, Yamamoto S, Okada T, Yada T (2017) AAV-mediated IL-10 gene transfer counteracts inflammation in the hypothalamic arcuate nucleus and obesity induced by high-fat diet. Neuropeptides 62:87–92. https://doi.org/10.1016/j.npep.2016.11.009

Nakaya Y, Minami A, Harada N, Sakamoto S, Niwa Y, Ohnaka M (2000) Taurine improves insulin sensitivity in the otsuka long-evans tokushima fatty rat, a model of spontaneous type 2 diabetes. Am J Clin Nutr 71(1):54–58

Newgard CB (2017) Metabolomics and metabolic diseases: where do we stand? Cell Metab 25(1):43–56. https://doi.org/10.1016/j.cmet.2016.09.018

Newgard CB, An J, Bain JR, Muehlbauer MJ, Stevens RD, Lien LF, Haqq AM, Shah SH, Arlotto M, Slentz CA, Rochon J, Gallup D, Ilkayeva O, Wenner BR, Yancy WS, Eisenson H, Musante G, Surwit R, Millington DS, Butler MD, Svetkey LP (2009) A branched-chain amino acid-related metabolic signature that differentiates obese and lean humans and contributes to insulin resistance (vol 9, pg 311. Cell Metab 9(6):565–566. https://doi.org/10.1016/j.cmet.2009.05.001

Ntambi JM, Young-Cheul K (2000) Adipocyte differentiation and gene expression. J Nutr 130(12):3122S–3126S

Rosse RB, Theut SK, Banayschwartz M, Leighton M, Scarcella E, Cohen CG, Deutsch SI (1989) Glycine adjuvant therapy to conventional neuroleptic treatment in schizophrenia—an open-label. Pilot-Study. Clinical Neuropharmacology 12(5):416–424. https://doi.org/10.1097/00002826-198910000-00006

Sandoval GC, Santillan RM, Juarez E, Martinez GR, Juarez MEC (1999) Effect of glycine on hemoglobin glycation in diabetic patients. Proc Forty Second Annu Meet West Pharmacol Soc 42:31–32

Shan T, Xiong Y, Zhang P, Li Z, Jiang Q, Bi P, Yue F, Yang G, Wang Y, Liu X, Kuang S (2016) Lkb1 controls brown adipose tissue growth and thermogenesis by regulating the intracellular localization of CRTC3. Nat Commun 7:12205. https://doi.org/10.1038/ncomms12205

Sharma AM, Staels B (2007) Review: peroxisome proliferator-activated receptor gamma and adipose tissue–understanding obesity-related changes in regulation of lipid and glucose metabolism. J Clin Endocrinol Metab 92(2):386–395. https://doi.org/10.1210/jc.2006-1268

Spittler A, Reissner CM, Oehler R, Gornikiewicz A, Gruenberger T, Manhart N, Brodowicz T, Mittlboeck M, Boltz-Nitulescu G, Roth E (1999) Immunomodulatory effects of glycine on LPS-treated monocytes: reduced TNF-alpha production and accelerated IL-10 expression. FASEB J 13(3):563–571

Stoffels B, Turler A, Schmidt J, Nazir A, Tsukamoto T, Moore BA, Schnurr C, Kalff JC, Bauer AJ (2011) Anti-inflammatory role of glycine in reducing rodent postoperative inflammatory ileus. Neurogastroenterol Motil 23(1):76–87. https://doi.org/10.1111/j.1365-2982.2010.01603.x (e78)

Takashina C, Tsujino I, Watanabe T, Sakaue S, Ikeda D, Yamada A, Sato T, Ohira H, Otsuka Y, Oyama-Manabe N, Ito YM, Nishimura M (2016) Associations among the plasma amino acid profile, obesity, and glucose metabolism in Japanese adults with normal glucose tolerance. Nutr Metab 13:5. https://doi.org/10.1186/s12986-015-0059-5

Wang S, Soni KG, Semache M, Casavant S, Fortier M, Pan L, Mitchell GA (2008) Lipolysis and the integrated physiology of lipid energy metabolism. Mol Genet Metab 95(3):117–126. https://doi.org/10.1016/j.ymgme.2008.06.012

Wang WW, Wu ZL, Dai ZL, Yang Y, Wang JJ, Wu GY (2013) Glycine metabolism in animals and humans: implications for nutrition and health. Amino Acids 45(3):463–477. https://doi.org/10.1007/s00726-013-1493-1

Wang W, Wu Z, Lin G, Hu S, Wang B, Dai Z, Wu G (2014) Glycine stimulates protein synthesis and inhibits oxidative stress in pig small intestinal epithelial cells. J Nutr 144(10):1540–1548. https://doi.org/10.3945/jn.114.194001

Weisberg SP, McCann D, Desai M, Rosenbaum M, Leibel RL, Ferrante AW (2003) Obesity is associated with macrophage accumulation in adipose tissue. J Clin Investig 112(12):1796–1808. https://doi.org/10.1172/Jci200319246

Weyer C, Funahashi T, Tanaka S, Hotta K, Matsuzawa Y, Pratley RE, Tataranni PA (2001) Hypoadiponectinemia in obesity and type 2 diabetes: close association with insulin resistance and hyperinsulinemia. J Clin Endocrinol Metab 86(5):1930–1935. https://doi.org/10.1210/jcem.86.5.7463

Wheeler MD, Ikejema K, Enomoto N, Stacklewitz RF, Seabra V, Zhong Z, Yin M, Schemmer P, Rose ML, Rusyn I, Bradford B, Thurman RG (1999) Glycine: a new anti-inflammatory immunonutrient. Cell Mol Life Sci 56(9–10):843–856

Wijekoon EP, Skinner C, Brosnan ME, Brosnan JT (2004) Amino acid metabolism in the zucker diabetic fatty rat: effects of insulin resistance and of type 2 diabetes. Can J Physiol Pharmacol 82(7):506–514. https://doi.org/10.1139/y04-067

Wu G (2009) Amino acids: metabolism, functions, and nutrition. Amino Acids 37:1–17

Wu G (2010) Functional amino acids in growth, reproduction and health. Adv Nutr 1:31–37

Wu G (2013) Amino acids: biochemistry and nutrition. CRC Press, Boca Raton, Florida

Yan-Do R, MacDonald PE (2017) Impaired "glycine"-mia in type 2 diabetes and potential mechanisms contributing to glucose homeostasis. Endocrinology. https://doi.org/10.1210/en.2017-00148

Yang X, Lu X, Lombes M, Rha GB, Chi YI, Guerin TM, Smart EJ, Liu J (2010) The G(0)/G(1) switch gene 2 regulates adipose lipolysis through association with adipose triglyceride lipase. Cell Metab 11(3):194–205. https://doi.org/10.1016/j.cmet.2010.02.003

Yue JT, Mighiu PI, Naples M, Adeli K, Lam TK (2012) Glycine normalizes hepatic triglyceride-rich VLDL secretion by triggering the CNS in high-fat fed rats. Circ Res 110(10):1345–1354. https://doi.org/10.1161/CIRCRESAHA.112.268276

Yun JW (2010) Possible anti-obesity therapeutics from nature—a review. Phytochemistry 71(14–15):1625–1641. https://doi.org/10.1016/j.phytochem.2010.07.011

Zechner R, Zimmermann R, Eichmann TO, Kohlwein SD, Haemmerle G, Lass A, Madeo F (2012) FAT SIGNALS–lipases and lipolysis in lipid metabolism and signaling. Cell Metab 15(3):279–291. https://doi.org/10.1016/j.cmet.2011.12.018

Zhong Z, Wheeler MD, Li X, Froh M, Schemmer P, Yin M, Bunzendaul H, Bradford B, Lemasters JJ (2003) l-Glycine: a novel antiinflammatory, immunomodulatory, and cytoprotective agent. Curr Opin Clin Nutr Metab Care 6(2):229–240. https://doi.org/10.1097/01.mco.0000058609.19236.a4

Zhou X, Han D, Xu R, Wu H, Qu C, Wang F, Wang X, Zhao Y (2016a) Glycine protects against high sucrose and high fat-induced non-alcoholic steatohepatitis in rats. Oncotarget 7(49):80223–80237. https://doi.org/10.18632/oncotarget.12831

Zhou X, He L, Wan D, Yang H, Yao K, Wu G, Wu X, Yin Y (2016b) Methionine restriction on lipid metabolism and its possible mechanisms. Amino Acids 48(7):1533–1540. https://doi.org/10.1007/s00726-016-2247-7
Acknowledgements
This work was supported by the Grants from National Basic Research Program of China (No. 2013CB127302), the National Natural Science Foundation of China (No. 31572410, 31272451, 31272450), Chinese University Scientific Fund (2015DK001), the 111 Project (B16044), the Program for New Century Excellent Talents in University (NCET-12-0522), the Agriculture and Food Research Initiative Competitive Grant from the USDA National Institute of Food and Agriculture (No. 2014-67015-21770), and Texas A&M AgriLife Research (H-8200).
Ethics declarations
Conflict of interest
The authors declare that there are no conflicts of interest associated with the manuscript.
Ethical approval
This article does not contain any studies with human participants or animals performed by any other authors.
Additional information
A list of all authors' last names for PubMed indexing: Chen, Ma, Yang, Dai, Wu and Wu.
About this article
Cite this article
Chen, J., Ma, X., Yang, Y. et al. Glycine enhances expression of adiponectin and IL-10 in 3T3-L1 adipocytes without affecting adipogenesis and lipolysis. Amino Acids 50, 629–640 (2018). https://doi.org/10.1007/s00726-018-2537-3
Received:

Accepted:

Published:

Issue Date:
Keywords
Glycine

Differentiation

Adipogenesis

Lipolysis

3T3-L1

Adipocytokine