Summary
Background
Femtosecond laser-assisted cataract surgery is a new technique that offers the possibility to have some steps of the surgery done by an extremely precise machine with very high accuracy. Despite the high influence on the surgery steps of a nonsubjective machine, there are still some possible potential errors especially during the learning curve of the surgeon who is still crucial in both, the management and also the proceeding of the cataract surgery.
Material and methods
We are reporting the case of a 61-year-old man, which was referred to our retinal department because of luxation of multiple lens fragments following femtosecond laser cataract surgery in his right eye, performed 1 day before. The anterior segment examination revealed residual lens cortex in the anterior chamber, an eccentric and intact anterior capsulorhexis, and a large posterior capsule rupture. During removal of the lens fragments from the posterior segment, a giant retinal tear was discovered in the infero-temporal periphery of the right eye, approximately 130 ° in circumferential extension, associated with a large subretinal lens fragment. Removal of the dropped lens fragments from both the vitreous and the subretinal space, as well as the management of the giant retinal tear are described.
Results and conclusions
This case describes a rare intraoperative complication of a femtosecond laser-assisted cataract surgery, and we are trying to discuss different scenarios, which could have caused the capsular break and the retinal tear, thus offering possible pathways to prevent this kind of situations.
Zusammenfassung
Hintergrund
Die Femtosekundenlaser-assistierte Kataraktchirurgie ist eine neue Technik, die die Möglichkeit, einige Schritte der Operation durch eine extrem präzise Maschine mit sehr hoher Genauigkeit durchzuführen, bietet. Trotz des hohen Einflusses einer nicht-subjektiven Maschine auf einige Schritte der Operation, sind, vor allem in der Lernkurve des Chirurgen, der immer noch entscheidend für das Management und die Durchführung der Katarakt-Chirurgie ist, doch noch einige potenzielle Fehler möglich.
Material und Methode
Wir berichten über den Fall eines 61-jährigen Mannes, der an unsere Netzhaut-Abteilung, wegen Luxation mehrerer Linsenfragmente, überwiesen wurde; beim Patienten wurde, einen Tag davor, am rechten Auge, eine Femtosekundenlaser Kataraktoperation durchgeführt. Die Untersuchung des vorderen Augensegments ergab Linsenkortex-Reste in der Vorderkammer, einen exzentrischen und intakten vorderen Kapsulorhexis und einen großen hinteren Kapselriss. Während der Entfernung der Linsenfragmente aus dem hinteren Augensegment wurde ein gigantischer Netzhautriss im infero-temporalen Sektor des rechten Auges entdeckt, ca.130 Grad der Funduszirkumferenz, assoziiert mit einem großen subretinalen Linsenfragment. Die Entfernung der Linsenfragmente aus dem Glaskörper und dem subretinalen Raum, sowie das Management des riesigen Netzhautrisses werden beschrieben.
Ergebnisse und Schlussfolgerungen
Dieser Fall beschreibt eine seltene intraoperative Komplikation einer Femtosekundenlaser-assistierte Kataraktoperation, und wir versuchen verschiedene Szenarien, die den Kapselbruch und den Netzhautriss verursacht haben könnten, zu diskutieren, und bieten somit mögliche Wege um diese Art von Situationen zu verhindern.
This is a preview of subscription content, log in to check access.
Access options
Buy single article
Instant unlimited access to the full article PDF.
US$ 39.95
Price includes VAT for USA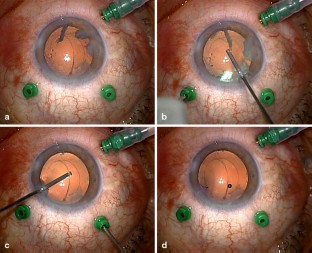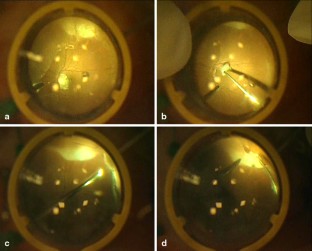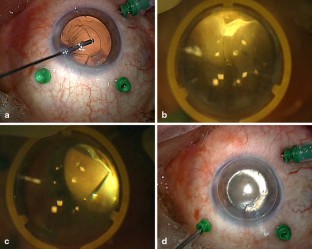 References
1.

Roberts TV, Lawless M, Bali SJ, et al. Surgical outcomes and safety of femtosecond laser cataract surgery: a prospective study of 1500 consecutive cases. Ophthalmology. 2013;120:227–33.

2.

Chylack LT Jr., Wolfe JK, Singer DM, et al. The lens opacities classification system III. The longitudinal study of Cataract Study Group. Arch Ophthalmol. 1993;111:831–6.

3.

Friedman NJ, Palanker DV, Schuele G, et al. Femtosecond laser capsulotomy. J Cataract Refract Surg. 2011;37:1189–98.

4.

Masket S, Sarayba M, Ignacio T, et al. Femtosecond laser-assisted cataract incisions. Architectural stability and reproducibility. J Cataract Refract Surg. 2010;36:1048–9.

5.

Nagy ZZ, Kranitz K, Takacs AI, et al. Comparison of intraocular lens decentration parameters after femtosecond and manual capsulotomies. J Refract Surg. 2011;27:1–6.

6.

Bali SJ, Hodge C, Lawless M, et al. Early experience with the femtosecond laser for cataract surgery. Ophthalmology. 2012;119:891–9.

7.

Roberts TV, Sutton G, Lawless MA, et al. Capsular block syndrome associated with femtosecond laser-assisted cataract surgery. J Cataract Refract Surg. 2011;37:2068–70.
Video legend
First, three 23G valved trocars were placed, one at 7 o'clock for infusion, one at 10 o'clock, and one at 2 o'clock for the vitrectomy probe, microinstruments, and the fiber optic handpiece, respectively. After that, anterior vitrectomy and removal of the residual lens cortex from the anterior chamber were performed, using the 23G vitreous cutter, through the previous femtolaser-created corneal incisions and the 2 o'clock trocar. The intact, eccentric anterior capsulorhexis and the large posterior capsule rupture are shown. After completing the anterior segment surgery and hydration of the clear corneal incisions with balanced salt solution, we started the vitreoretinal procedure. The dislocated lens fragment was observed to be on the optic disc, and removal of the fragment was performed using the 23G vitreous cutter. During these maneuvers, a whitish mass located behind the retina, in the infero-temporal quadrant, was noticed, on the equator level. Inspection and peripheral vitrectomy revealed a giant, sharp-edged retinal tear in the infero-temporal extreme periphery of the right eye, approximately 130 ° in circumferential extent. Behind the cut retina, a large subretinal lens fragment was discovered, which was removed using the same 23G vitreous cutter. For better visualization of the retinal tear, the posterior capsule was removed, revealing the inferior retinal detachment, where the subretinal lens fragment was lodged. Shaving of the vitreous base along the retinal tear was performed, followed by reattachment of the retina using perfluorocarbon, endolaser, and silicone oil. Surgery was completed without complication, an air bubble being introduced in the anterior chamber at the end of surgery. The eye was left aphakic.
Electronic supplementary material
About this article
Cite this article
Rosca, C., Munteanu, M., Fankhauser, F. et al. Giant retinal tear complicated with subretinal lens fragment following femtosecond laser cataract surgery. Spektrum Augenheilkd. 28, 215–219 (2014). https://doi.org/10.1007/s00717-014-0230-9
Received:

Accepted:

Published:

Issue Date:
Keywords
Cataract surgery

Femtosecond laser

Dropped lens

Retinal tear

Subretinal lens fragment
Schlüsselwörter
Kataraktchirurgie

Femtosekundenlaser

Linsenluxation

Netzhautriss

Subretinale Linsenfragmente