Abstract
In this study, a cheap, rapid, simple, and modification-free electroanalytical methodology based on the disposable pencil graphite electrode is described for the quantification of higenamine (isoquinoline-type alkaloid having three phenolic OHs). At first, the electrochemical oxidation of higenamine was investigated in aqueous solutions by cyclic voltammetry. The electrode process is pH-dependent and controlled by a mixture of diffusion and adsorption processes. Higenamine yielded two well-separated oxidation steps in acidic, neutral, and alkaline media by using square-wave voltammetry. By using the first oxidation peak due to its higher sensitivity, there was an excellent correlation between oxidation peak current at + 0.44 V and higenamine concentration (as hydrochloride salt) in the range of 0.05 to 2.0 μg cm−3 (1.63 × 10−7–6.5 × 10−6 mol dm−3), with a detection limit of 0.014 μg cm−3 (4.55 × 10−8 mol dm−3) in Britton–Robinson buffer at pH 4.0. As an example, the developed approach can be used for the quantification of higenamine in the commercial dietary supplement formulations.
Graphic abstract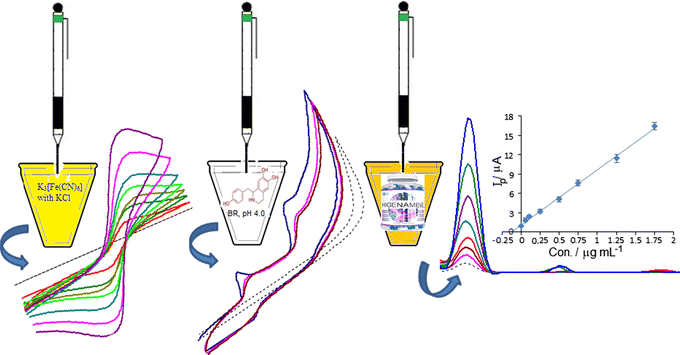 This is a preview of subscription content, log in to check access.
Access options
Buy single article
Instant access to the full article PDF.
US$ 39.95
Price includes VAT for USA
Subscribe to journal
Immediate online access to all issues from 2019. Subscription will auto renew annually.
US$ 199
This is the net price. Taxes to be calculated in checkout.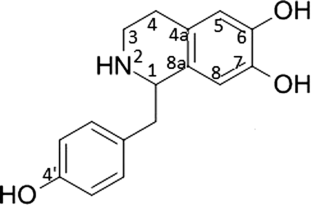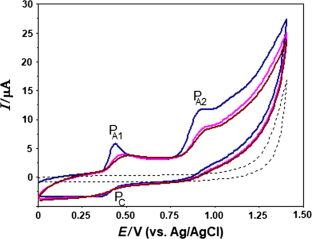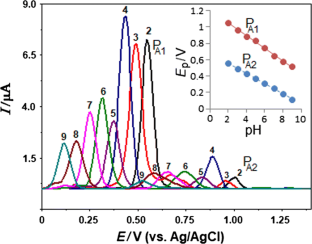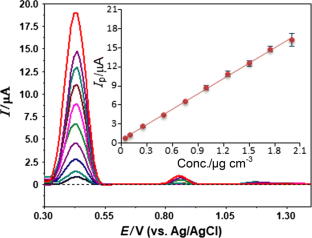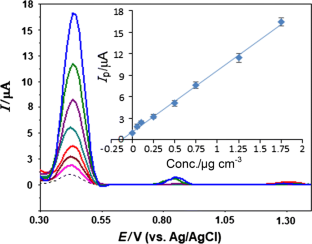 References
1.

Ilag LL (2018) Med Res Innov 2:1

2.

Ahn K (2017) BMB Rep 50:111

3.

Ngo LT, Okogun JI, Folk WR (2013) Nat Prod Rep 30:584

4.

Calvert R, Vohra S, Ferguson M, Wiesenfeld P (2015) Food Chem Toxicol 78:207

5.

Lee SR, Schriefer JM, Gunnels TA, Harvey IC, Bloomer RJ (2013) Lipids Health Dis 12:148

6.

Sato S, Shirato K, Kizaki T, Ohno H, Tachiyashiki K, Imaizumi K (2012) J Phys Fit Sport Med 1:139

7.

Zhang N, Lian Z, Peng X, Li Z, Zhu H (2017) J Ethnopharmacol 196:242

8.

Cohen PA, Travis JC, Keizers PHJ, Boyer FE, Venhuis BJ (2019) Clin Toxicol 57:125

9.

Stajić A, Anđelković M, Dikić N, Rašić J, Vukašinović-Vesić M, Ivanović D, Jančić-Stojanović B (2017) J Pharm Biomed Anal 146:48

10.

Ryu JC, Song YS, Kim M, Cho JH, Yun-Choi HS (1993) Arch Pharm Res 16:213

11.

Okano M, Sato M, Kageyama S (2017) Drug Test Anal 9:1788

12.

Lo CF, Chen CM (1994) J Chromatogr B Biomed Sci Appl 655:33

13.

Grucza K, Kwiatkowska D, Kowalczyk K, Wicka M, Szutowski M, Cholbinski P (2018) Drug Test Anal 10:1017

14.

Hong H, Lee YI, Jin D (2010) Microchem J 96:374

15.

Feng S, Jiang J (2011) J Chromatogr B Biomed Sci Appl 879:763

16.

Jae-Chun R, Yun-Seo S, Myungsoo K, Jung-Hyuck C, Hye Sook YC (1993) Arch Pharm Res (Seoul) 16:213

17.

Allahverdiyeva S, Talay Pınar P, Keskin E, Yunusoğlu O, Yardım Y, Şentürk Z (2020) Sens Actuators B 303:127174

18.

Sajid M, Baig N, Alhooshani K (2019) TrAC Trends Anal Chem 118:368

19.

Svítková J, Ignat T, Švorc Ľ, Labuda J, Barek J (2016) Crit Rev Anal Chem 46:248

20.

David IG, Popa D-E, Buleandra M (2017) J Anal Meth Chem. https://doi.org/10.1155/2017/1905968

21.

Kawde A-N, Baig N, Sajid M (2016) RSC Adv 6:91325

22.

Akanda MR, Sohail M, Aziz MA, Kawde A-N (2016) Electroanalysis 28:408

23.

Torrinha Á, Amorim CG, Montenegro MC, Araújo AN (2018) Talanta 190:235

24.

Rana A, Baig N, Saleh TA (2019) J Electroanal Chem 833:313

25.

Skrzypczynska K, Kusmierek K, Swiatkowski A, Dabek L (2018) Int J Electrochem Sci 13:88

26.

Levent A, Yardım Y, Şentürk Z (2009) Electrochim Acta 55:190

27.

Yardım Y, Keskin E, Levent A, Özsöz M, Şentürk Z (2010) Talanta 80:1347

28.

Keskin E, Yardım Y, Şentürk Z (2010) Electroanalysis 22:1191

29.

Levent A, Keskin E, Yardım Y, Şentürk Z (2011) Rev Anal Chem 30:45

30.

Yardım Y, Şentürk Z (2011) Turk J Chem 35:413

31.

Yardım Y (2011) Rev Anal Chem 30:37

32.

Pınar PT (2020) Acta Chim Slov. https://doi.org/10.17344/acsi.2019.5367

33.

Öztürk F, Tasdemir IH, Altunöz Erdogan D, Erk N, Kılıc E (2011) Acta Chim Slov 58:830

34.

Rahayu RS, Noviandri I, Buchari B, Abdullah M, Hinoue T (2012) Int J Electrochem Sci 7:8255

35.

Fotouhi L, Hashkavayi AB, Heravi MM (2013) J Exp Nanosci 8:947

36.

Shankar SS, Kumara Swamy BE, Mahanthesha KR, Sathisha TV, Vishwanath CC (2013) Anal Bioanal Electrochem 5:9

37.

Silva LP, Vicentini FC, Lourencao BC, Oliveira GG, Lanza MRV, Fatibello-Filho O (2016) J Solid State Electrochem 20:2395

38.

Alipour E, Majidi MR, Saadatirad A, Golabi SM, Alizadeh AM (2013) Electrochim Acta 91:36

39.

Bard AJ, Faulkner LR (2000) Electrochemical methods: fundamentals and applications, 2nd edn. Wiley, NewYork
Additional information
Publisher's Note
Springer Nature remains neutral with regard to jurisdictional claims in published maps and institutional affiliations.
About this article
Cite this article
Pınar, P.T., Yardım, Y. & Şentürk, Z. Simple and sensitive electrochemical determination of higenamine in dietary supplements using a disposable pencil graphite electrode. Monatsh Chem (2020). https://doi.org/10.1007/s00706-020-02556-y
Received:

Accepted:

Published:
Keywords
Higenamine

Pencil graphite electrode

Square-wave voltammetry

Dietary supplements