Rechargeable lithium-ion system based on lithium-vanadium(III) phosphate and lithium titanate and the peculiarity of it functioning
Abstract
We propose a new electrochemical system based on a negative electrode based on lithium pentatitanate, a positive electrode based on the lithium-vanadium(III) phosphate, 0.67 mol dm−3 lithium chlorate(VII) solution in a mixture of propylene carbonate and 1,2-dimethoxyethane as an electrolyte and consider the peculiarities of its functioning. The paper cites the arguments and experimental data disclosing the influence of the products of the secondary oxidation of 1,2-dimethoxyethane at the Li3V2(PO4)3-electrode on the functional behavior of the Li4Ti5O12-electrode as the main reason for the observed decrease in the characteristics of the battery prototypes and suggests the ways to solve this problem.
Graphical abstract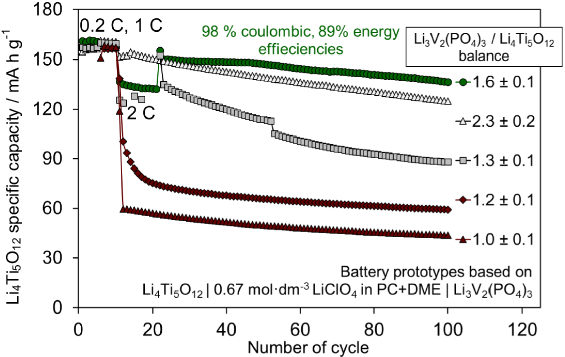 Keywords
Electrochemical system 
Lithium-ion battery 
Insertion compounds 
Mass spectroscopy 
Oxidations 
Monoglyme 
Notes
Acknowledgements
We are grateful to Ph.D. O.N. Yurasov for analysis by chromatography-mass spectrometry, to the Russian Science Foundation (Project no. 15-13-10006) and to the Russian Foundation for Basic Research (Project no. 18-53-45004) for financial support.
Copyright information
© Springer-Verlag GmbH Austria, part of Springer Nature 2019