Abstract
A ligand-free copper-catalyzed C–P cross-coupling reaction of arylmethyl quaternary ammonium salts and diarylphosphine oxides in air is developed. Arylmethyl quaternary ammonium salts with various functional groups and a variety of dialkyl- and diarylphosphine oxides afford C–P cross-coupling products with good yields. This protocol requires no inert atmosphere, no ligand, and simple operation steps.
Graphic abstract

This is a preview of subscription content, log in to check access.
Access options
Buy single article
Instant unlimited access to the full article PDF.
US$ 39.95
Price includes VAT for USA
Subscribe to journal
Immediate online access to all issues from 2019. Subscription will auto renew annually.
US$ 199
This is the net price. Taxes to be calculated in checkout.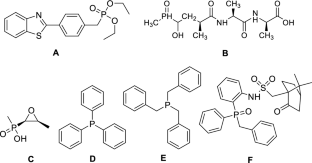 References
1.

Schwan AL (2004) Chem Soc Rev 33:218

2.

Martin R, Buchwald SL (2008) Acc Chem Res 41:1461

3.

Demmer CS, Krogsgaard-Larsen N, Bunch L (2011) Chem Rev 111:7981

4.

Baumgartner T, Réau R (2006) Chem Rev 106:4681

5.

Thomas EW, Bopp BA (1984) J Pharm Sci 73:1400

6.

Khurmi NS, Bowles MJ, Martin J, Hara O, Lahiri A, Raftery EB (1985) Int J Cardiol 9:289

7.

Clercq ED (2010) Med Res Rev 30:667

8.

Fernández-Pérez H, Etayo P, Panossian A, Vidal-Ferran A (2011) Chem Rev 111:2119

9.

Gwon D, Lee D, Kim J, Park S, Chang S (2014) Chem Eur J 20:12421

10.

Blanksby SJ, Ellison GB (2003) Acc Chem Res 36:255

11.

Ouyang K, Hao W, Zhang W-X, Xi Z (2015) Chem Rev 115:12045

12.

Wang Q, Su Y, Li L, Huang H (2016) Chem Soc Rev 45:1257

13.

Li G, Chen Y, Xia J (2018) Chin J Org Chem 38:1949

14.

Tappe FMJ, Trepohl VT, Oestreich M (2010) Synthesis 18:3037

15.

Wang F, Yao K, Peng A, Wang C (2017) Chemistry 80:524

16.

Andaloussi M, Lindl J, Sävmarker J, Sjöberg PJR, Larhed M (2009) Chem Eur J 15:13069

17.

Zhuang R, Xu J, Cai Z, Tang G, Fang M, Zhao Y (2011) Org Lett 13:2110

18.

Hu G, Chen W, Fu T, Peng Z, Qiao H, Gao Y, Zhao Y (2013) Org Lett 15:5362

19.

Yang B, Wang Z-X (2019) J Org Chem 84:1500

20.

Allen SE, Walvoord R, Padilla-Salinas R, Kozlowski MC (2013) Chem Rev 113:6234

21.

Evano G, Blanchard N, Toumi M (2008) Chem Rev 108:3054

22.

Zeng Q-L, Zhang L, Zhou Y (2018) Chem Rec 18:1278

23.

Jiang W-L, Huang Y-M, Zhou L-H, Zeng Q-L (2019) Sci China Chem 62:1213

24.

Wang Y, Tu X, Lv X, Zhou L-H, Zeng Q-L (2013) Tetrahedron Lett 54:6045

25.

Li Z, Wen Q, Zhou L, Deng X, Zeng Q-L (2015) Synthesis 47:3751

26.

Yang L, Feng J, Qiao M, Zeng Q-L (2018) Org Chem Front 5:24

27.

Jiang W-L, Li N-T, Zhou L-H, Zeng Q-L (2018) ACS Catal 8:9899

28.

Mao J, Hua Q, Xie G, Guo J, Yao Z, Shi D, Jia S (2009) Adv Synth Catal 351:635

29.

Ley SV, Thomas AW (2003) Angew Chem Int Ed 42:5400

30.

Scheuermann CJ (2010) Chem Asian J 5:436

31.

Maity P, Shacklady-McAtee DM, Yap GPA, Sirianni ER, Watson MP (2013) J Am Chem Soc 135:280

32.

Yuan Y, Thomé I, Kim SH, Chen D, Beyer A, Bonnamour J, Zuidema E, Chang S, Bolm C (2010) Adv Synth Catal 352:2892

33.

Bradamante S, Pagani GA (1986) J Chem Soc Perkin Trans 2:1035

34.

Ma Y, Chen F, Bao J, Wei H, Shi M, Wang F (2016) Tetrahedron Lett 57:2465

35.

Palomo C, Oiarbide M, Landa A, Esnal A, Linden A (2001) J Org Chem 66:4180

36.

Shutt JR, Trippett S (1969) J Iran Chem Soc 15:2038

37.

Zhao N, Neckers DC (2000) J Org Chem 65:2145

38.

Mesyats SP, Tsvetkov EN, Petrov S, Shelganova NN, Shcherbina TM, Shatenshtein AI, Kabachnik MI (1974) Acad Sci USSR Div Chem Sci 23:2406

39.

Jugelt W, Lam W, Pragst F (1972) J Prakt Chem 314:193

40.

Montel S, Jia T, Walsh PJ (2013) Org Lett 16:130
Acknowledgements
This work was supported by the State Key Laboratory of Geohazard Prevention and Geoenvironment Protection (No. SKLGP2018Z002).
Additional information
Publisher's Note
Springer Nature remains neutral with regard to jurisdictional claims in published maps and institutional affiliations.
Electronic supplementary material
Below is the link to the electronic supplementary material.
About this article
Cite this article
Li, N., Chen, F., Wang, G. et al. Copper-catalyzed C–P cross-coupling of arylmethyl quaternary ammonium salts via C–N bond cleavage. Monatsh Chem 151, 99–106 (2020) doi:10.1007/s00706-019-02535-y
Received:

Accepted:

Published:

Issue Date:
Keywords
Copper

Cross-coupling

C–N cleavage

Arylmethyl quaternary ammonium salts

Dialkylphosphine oxides