Abstract
The zwitterionic intermediates, generated in situ from Ph3P and dialkyl acetylenedicarboxylates, are trapped by N–H acidic 2-(alkylamino)-2-(1,3-dioxo-1H-inden-2(3H)-ylidene)acetonitriles in refluxing toluene to afford dialkyl 2-alkyl-1-cyano-9-oxo-3,9-dihydro-2H-indeno[2,1-c]pyridine-3,4-dicarboxylates in good yields. The structure of a typical product was confirmed by X-ray crystallography.
Graphic abstract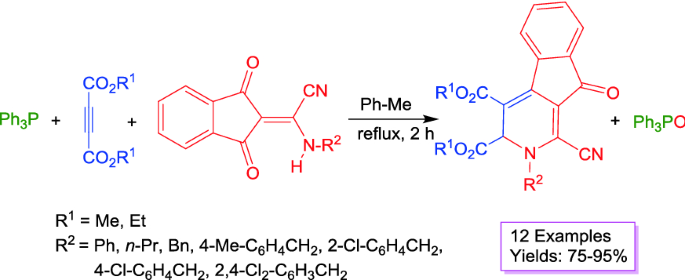 This is a preview of subscription content, log in to check access.
Access options
Buy single article
Instant unlimited access to the full article PDF.
US$ 39.95
Price includes VAT for USA
Subscribe to journal
Immediate online access to all issues from 2019. Subscription will auto renew annually.
US$ 199
This is the net price. Taxes to be calculated in checkout.
References
1.

Sharma VK, Singh SK (2017) RSC Adv 7:2682

2.

Martin RM, Bergman RG, Ellman JA (2013) Org Lett 15:444

3.

Berti F, Bussolo VD, Pineschi M (2013) J Org Chem 78:7324

4.

Hantzsch A (1882) Liebigs Ann Chem 215:1

5.

Stout DM, Meyers AI (1982) Chem Rev 82:223

6.

Wan J-P, Liu Y (2012) RSC Adv 2:9763

7.

Silva EMP, Varandas PAMM, Silva AMS (2013) Synthesis 2013:3053

8.

Bull JA, Mousseau JJ, Pelletier G, Charette AB (2012) Chem Rev 112:2642

9.

Tanaka K, Mori H, Yamamoto M, Katsumura S (2011) J Org Chem 66:3099

10.

Sklenicka HM, Hsung RP, Wei L-L, McLaughlin MJ, Gerasyuto AL, Degen SJ (2000) Org Lett 2:1161

11.

Cao S, Xin L, Liu Y, Wan J-P, Wen C (2015) RSC Adv 5:27372

12.

Yavari I, Bayat MJ, Sirouspour M, Souri S (2010) Tetrahedron 66:7995

13.

Resende DISP, Guieu S, Oliva CG, Silva AMS (2014) Tetrahedron Lett 55:585

14.

Hoshimoto Y, Ohata T, Ohashi M, Ogoshi S (2014) Chem Eur J 20:4105

15.

Zou G-F, Hu Z-P, Zhang S-Q, Liao W-W (2015) Tetrahedron Lett 56:937

16.

Trost BM, Biannic B (2015) Org Lett 17:1433

17.

Guo H, Fan YC, Sun Z, Wu Y, Kwon O (2018) Chem Rev 118:10049

18.

Amatore M, Lebœuf D, Malacria M, Gandon V, Aubert A (2013) J Am Chem Soc 135:4576

19.

Zhang J, Zhang Q, Ji X, Meng L-G (2019) Synlett 30:1095

20.

Wang L, Sun M, Ding M-W (2017) Eur J Org Chem 2017:2568

21.

Grigg R, Mongkolaussavaratana T (1988) J Chem Soc Perkin Trans 1(1988):541
Acknowledgements
We thank the Research Council of Tarbiat Modares University for supporting this work.
Additional information
Publisher's Note
Springer Nature remains neutral with regard to jurisdictional claims in published maps and institutional affiliations.
Electronic supplementary material
Below is the link to the electronic supplementary material.
About this article
Cite this article
Yavari, I., Safaei, M. & Abbasi, A. Ph3P-mediated synthesis of fused 1,2-dihydropyridines. Monatsh Chem 151, 107–112 (2020) doi:10.1007/s00706-019-02530-3
Received:

Accepted:

Published:

Issue Date:
Keywords
1,2-Dihydropyridines

Acetylenic esters

Intramolecular Wittig reaction

Alkylamines

Ninhydrin