Abstract
Binding interaction of Ni(II) complex of Schiff base of glycine and chiral auxiliary (S)-2-[N-(N′-benzylprolyl)amino]benzophenone (Ni(II)-(S)-BPB-Gly) with bovine serum albumin (BSA) at different temperatures (293, 298, and 308 K) has been studied using UV/Vis and fluorescence spectroscopy methods. A gradual decrease in the Stern–Volmer constant with the increase in temperature showed the static mechanism of BSA fluorescence quenching in the presence of Ni(II)-(S)-BPB-Gly initiated by the formation of ground-state complex. Analysis of the binding constants, number of binding sites, and thermodynamic parameters (∆H0, ∆S0, ∆G0) suggested that Ni(II)-(S)-BPB-Gly spontaneously and exothermically binds to BSA mainly driven by hydrogen bonding and van der Waals forces. The binding distances between Ni(II)-(S)-BPB-Gly and BSA in the temperature range 293–308 K determined using Forster's resonance energy transfer theory (found to be 2.413, 2.445, and 2.459 nm) showed that the binding properties decrease with the temperature rising.
Graphic abstract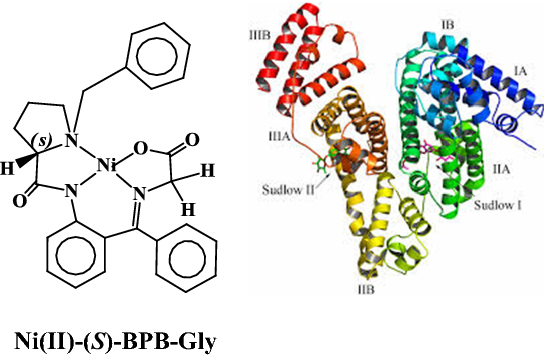 This is a preview of subscription content, log in to check access.
Access options
Buy single article
Instant unlimited access to the full article PDF.
US$ 39.95
Price includes VAT for USA
Subscribe to journal
Immediate online access to all issues from 2019. Subscription will auto renew annually.
US$ 199
This is the net price. Taxes to be calculated in checkout.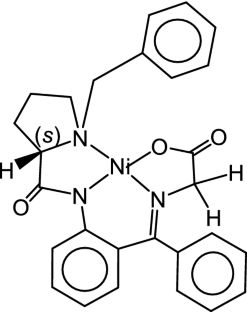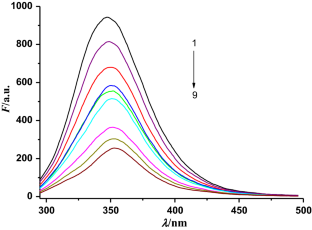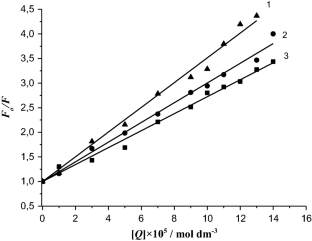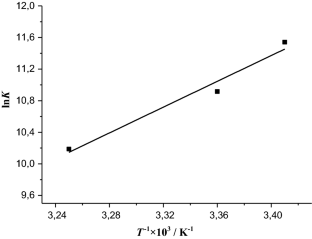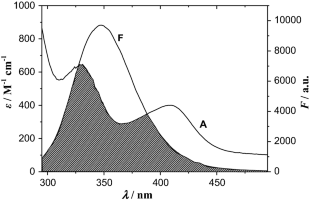 References
1.

Yan-Jun H, Li-Xia Z, Ru-Ming Z, Song-Sheng Q (2005) J Mol Struct 750:174

2.

Bertucci C, Domenici E (2002) Cur Med Chem 9:1463

3.

Lu Y, Feng QQ, Cui FL, Xing WW, Zhang GS, Yao XJ (2010) Bioorg Med Chem Lett 20:6899

4.

Mote US, Bhattar SL, Patil SR, Kolekar GB (2010) Luminescence 25:1

5.

Anbazhagan V, Renganathan R (2008) J Lumin 128:1454

6.

Moriyama Y, Ohta D, Hadiya K, Mitsui Y, Takeda K (1996) J Protein Chem 15:265

7.

Turk B (2006) Nat Rev Drug Discov 5:785

8.

Carlos LO, Judith S (2008) J Biol Chem 283:30433

9.

Saghyan AS, Mkrtchyan AF, Simonyan HM, Hovhannisyan NA, Hovhannisyan AM, Langer P, Belokon YN (2016) Chem J Arm 69:81

10.

Parpart S, Mardiyan ZZ, Ehlers P, Petrosyan A, Mkrtchyan AF, Saghyan AS, Langer P (2018) Synlett 29:793

11.

Nanda RK, Sarkar N, Banerjee R (2007) J Photochem Photobiol 192:152

12.

Lakowicz J (2006) Principles of Fluorescence Spectroscopy. Springer, New York

13.

Sargsyan LS, Grigoryan KR, Markarian SA, Burkholz T, Jacob C (2014) Chem J Arm 67:181

14.

Chaterverdi SK, Ahmad E, Khan JM, Alam P, Ishtikhar M, Khan RH (2015) Mol Biosyst 11:307

15.

Galstyan AS, Martiryan AI, Grigoryan KR, Ghazaryan AG, Samvelyan MA, Ghochikyan TV, Nenajdenko VG (2019) Molecules 23:2991

16.

Ross D, Subramanian S (1981) Biochemistry 20:3096

17.

Kandagal PB, Ashoka S, Seethramappa K, Shaikh SMT, Jadegoud Y, Ijare OB (2006) J Farm Biomed 4:393

18.

Kragh-Hansen U, Chuang VT, Otagiri M (2002) Biol Pharm Bull 25:695

19.

Hui X, Quanwen L, Ying Z, Yan B, Shuli G (2009) J Sol Chem 38:15

20.

Belokon YN, Tararov VI, Maleev VI (1998) Tetrahedron Asymmetry 9:4249
Acknowledgements
This work was supported by the Republic of Armenia MES SCS, in the frame of protection financing of Basic Laboratory of the Chair of Physical and Colloids Chemistry of Yerevan State University.
Additional information
Publisher's Note
Springer Nature remains neutral with regard to jurisdictional claims in published maps and institutional affiliations.
About this article
Cite this article
Shilajyan, H.A., Grigoryan, K.R. UV/Vis and fluorescence study on the interaction of Ni(II) complex of Schiff base of glycine and chiral auxiliary (S)-2-[N-(N′-benzylprolyl)amino]benzophenone with bovine serum albumin. Monatsh Chem 151, 135–139 (2020). https://doi.org/10.1007/s00706-019-02527-y
Received:

Accepted:

Published:

Issue Date:
Keywords
Absorption spectra

Fluorescence spectroscopy

Ni(II)-(S)-BPB-Gly

Protein

Resonance energy transfer