Abstract
Adsorption properties of letrozole onto pure, Ge- and Si-doped C60 fullerene in different states were calculated using density functional theory calculations using the B3PW91 method and 6-311G(d, p) standard basis set in gas and solution phase. Our results indicated physisorption interaction in letrozole/C60. To achieve better results, letrozole was adsorbed onto Ge- and Si-doped C60 in four different states. However, sensitivity can be increased in the presence of Ge and Si doping, but Si doping indicated strong adsorption. Calculation in the solution phase (water as solvent) revealed a significant increase in the adsorption energy. It is predicted that letrozole incorporating Si-doped C60 can be extended as a drug delivery system.
Graphic abstract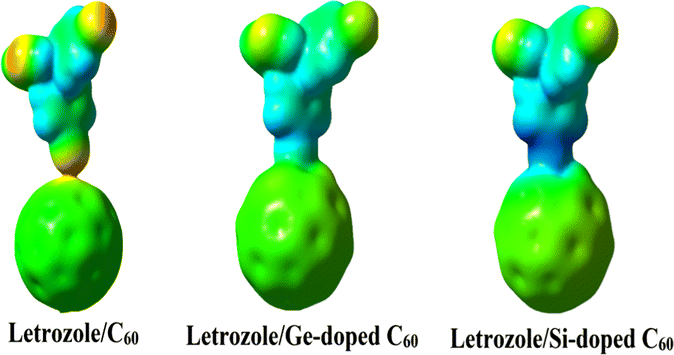 This is a preview of subscription content, log in to check access.
Access options
Buy single article
Instant unlimited access to the full article PDF.
US$ 39.95
Price includes VAT for USA
Subscribe to journal
Immediate online access to all issues from 2019. Subscription will auto renew annually.
US$ 199
This is the net price. Taxes to be calculated in checkout.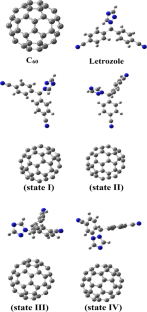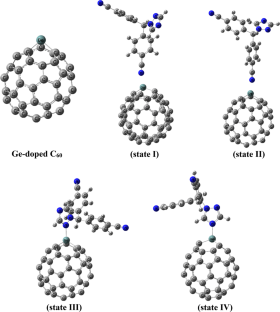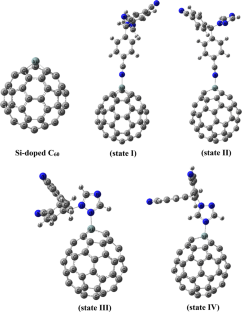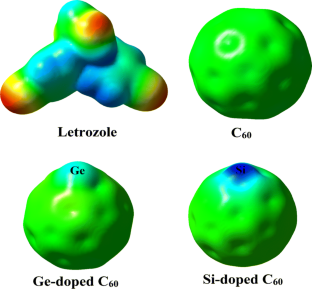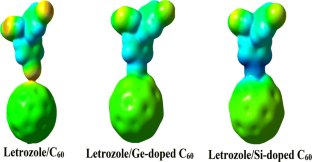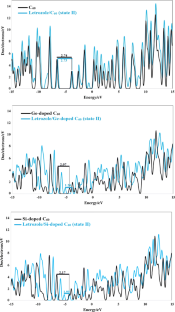 References
1.

Lamb HM, Adkins JC (1998) Drugs 56:1125

2.

Meresman GF, Bilotas M, Abello V, Buquet R, Tesone M, Sueldo C (2005) Fertil Steril 84:459

3.

Amsterdam LL, Gentry W, Jobanputra S, Wolf M, Rubin SD, Bulun SE (2005) Fertil Steril 84:300

4.

Fatemi HM, Al-Turki H, Papanikolaou E, Kosmas L, De Sutter P, Devroey P (2005) Reprod Biomed Online 11:455

5.

Saboktakin MR, Tabatabaie RM, Maharramov A, Ramazanov MA (2011) Int J Biol Macromol 48:747

6.

Mondal N, Pal T, Ghosal S (2008) Pharmazie 63:361

7.

Friedman SH, DeCamp DL, Sijbesma RP, Srdanov G, Wudl F, Kenyon GL (1993) J Am Chem Soc 115:6506

8.

Guldi DM, Prato M (2000) Acc Chem Res 33:695

9.

DeRosa MC, Crutchley RJ (2002) Coord Chem Rev 233:351

10.

Cagle DW, Kennel SJ, Mirzadeh S, Alford JM, Wilson LJ (1999) Proc Natl Acad Sci USA 96:5182

11.

Kroto HW, Heath JR, O'Brien SC, Curl RF, Smalley RE (1985) Nature 318:162

12.

De Jong WH, Borm PJ (2008) Int J Nanomed 3:133

13.

Conti M, Tazzari V, Baccini C, Pertici G, Serino LP, De Giorgi U (2006) Vivo 20:697

14.

Singh R, Lillard JW Jr (2009) Exp Mol Pathol 86:215

15.

Bakry R, Vallant RM, Najam-ul-Haq M, Rainer M, Szabo Z, Huck CW, Bonn GK (2007) Int J Nanomed 2:639

16.

Shi J, Zhang H, Wang L, Li L, Wang H, Wang Z, Li Z, Chen C, Hou L, Zhang C (2013) Biomaterials 34:251

17.

Fan J, Fang G, Zeng F, Wang X, Wu S (2013) Small 9:613

18.

Youle RJ, Karbowski M (2005) Nat Rev Mol Cell Biol 6:657

19.

Hirsch A, Lamparth I, Grösser T, Karfunkel HR (1994) J Am Chem Soc 116:9385

20.

Hazrati MK, Hadipour NL (2016) Phys Lett A 380:937

21.

Hoseininezhad-Namin MS, Pargolghasemi P, Alimohammadi S, Rad AS, Taqavi L (2017) Physica E Low Dimens Syst Nanostruct 90:204

22.

Chigo-Anota E, Escobedo-Morales A, Hernández-Cocoletzi HY, López JL (2015) Physica E Low Dimens Syst Nanostruct 74:538

23.

Parlak C, Alver Ö (2017) Chem Phys Lett 678:85

24.

Shariatinia Z, Shahidi S (2014) J Mol Graph Model 52:71

25.

Billas I, Tast F, Branz W, Malinowski N, Heinebrodt M, Martin T, Boero M, Massobrio C, Parrinello M (1999) Eur Phys J D 9:337

26.

Rad AS, Aghaei SM, Aali E, Peyravi M (2017) Diam Relat Mater 77:116

27.

Rad AS, Aghaei SM, Aali E, Peyravi M, Jahanshahi M (2018) Appl Organomet Chem 32:1

28.

Rad AS, Ayub K (2018) Mater Res Bull 97:399

29.

Rad AS, Ayub K (2017) Comput Theor Chem 1121:68

30.

Chen H, Wang B, Gao D, Guan M, Zheng L, Ouyang H, Chai Z, Zhao Y, Feng W (2013) Small 9:2735

31.

Ciofani G, Raffa V, Yu J, Chen Y, Obata Y, Takeoka S, Menciassi A, Cuschieri A (2009) Curr Nanosci 5:33

32.

Ciofani G (2010) Expert Opin Drug Deliv 7:889

33.

Attia AK, Abo-Talib NF, Tammam MH (2017) Adv Pharm Bull 7:151

34.

Mirmotahari M, Sani E, Rad AS, Khalilzadeh MA (2019) J Biomol Struct Dyn 37:4267

35.

Moradi M, Nouraliei M, Moradi R (2017) Physica E Low Dimens Syst Nanostruct 87:186

36.

Kia M, Golzar M, Mahjoub K, Soltani A (2013) Superlattices Microstruct 62:251

37.

Hazrati MK, Hadipour NL (2016) Comput Theor Chem 1098:63

38.

Hedberg K, Hedberg L, Bethune DS, Brown C, Dorn H, Johnson RD, De Vries M (1991) Science 254:410

39.

Soltani A, Javan MB, Hoseininezhad-Namin MS, Tajabor N, Lemeski ET, Pourarian F (2017) Synth Met 234:1

40.

Ghasemi AS, Mashhadban F, Ravari F (2018) Adsorption 24:471

41.

Ergürhan O, Parlak C, Alver Ö, Şenyel M (2018) J Mol Struct 1167:227

42.

Campos-Delgado J, Maciel IO, Cullen DA, Smith DJ, Jorio A, Pimenta MA, Terrones H, Terrones M (2010) ACS Nano 4:1696

43.

Aihara J-I (1999) J Phys Chem A 103:7487

44.

Soltani A, Sousaraei A, Javan MB, Eskandari M, Balakheyli H (2016) New J Chem 40:7018

45.

Singla P, Riyaz M, Singhal S, Goel N (2016) Phys Chem Chem Phys 18:5597

46.

Frisch MJ, Trucks GW, Schlegel HB, Scuseria GE, Robb MA, Cheeseman JR, Montgomery JA Jr, Vreven T, Kudin KN, Burant JC, Millam JM, Iyengar SS, Tomasi J, Barone V, Mennucci B, Cossi M, Scalmani G, Rega N, Petersson GA, Nakatsuji H, Hada M, Ehara M, Toyota K, Fukuda R, Hasegawa J, Ishida M, Nakajima T, Honda Y, Kitao O, Nakai H, Klene M, Li X, Knox JE, Hratchian HP, Cross JB, Adamo C, Jaramillo J, Gomperts R, Stratmann RE, Yazyev O, Austin AJ, Cammi R, Pomelli C, Ochterski JW, Ayala PY, Morokuma K, Voth GA, Salvador P, Dannenberg JJ, Zakrzewski VG, Dapprich S, Daniels AD, Strain MC, Farkas O, Malick DK, Rabuck AD, Raghavachari K, Foresman JB, Ortiz JV, Cui Q, Baboul AG, Clifford S, Cioslowski J, Stefanov BB, Liu G, Liashenko A, Piskorz P, Komaromi I, Martin RL, Fox DJ, Keith T, Al-Laham MA, Peng CY, Nanayakkara A, Challacombe M, Gill PMW, Johnson B, Chen W, Wong MW, Gonzalez C, Pople JA (2003) Gaussian 03, revision B.01. Gaussian, Pittsburgh

47.

Perdew JP, Wang Y (1992) Phys Rev B Condens Matter Mater Phys 45:13244

48.

Becke AD (1993) J Chem Phys 98:5648

49.

Kazemi M, Rad AS (2017) Superlattice Microst 106:122

50.

Deng W-Q, Xu X, Goddard WA (2004) Phys Rev Lett 92:166103

51.

Rad AS, Kashani OR (2015) Appl Surf Sci 355:233

52.

Cammi R, Mennucci B, Tomasi J (1998) J Am Chem Soc 120:8834

53.

Cammi R, Mennucci B, Tomasi J (1998) J Phys Chem A 102:870

54.

Mennucci B, Martínez JM, Tomasi J (2001) J Phys Chem A 105:7287

55.

Cammi R, Mennucci B, Tomasi J (2000) J Phys Chem A 104:4690

56.

Mennucci B, Tomasi J, Cammi R, Cheeseman JR, Frisch MJ, Devlin FJ, Gabriel S, Stephens PJ (2002) J Phys Chem A 106:6102

57.

Amovilli C, Barone V, Cammi R, Cancès E, Cossi M, Mennucci B, Pomelli CS, Tomasi J (1998) Adv Quant Chem 32:227
Additional information
Publisher's Note
Springer Nature remains neutral with regard to jurisdictional claims in published maps and institutional affiliations.
About this article
Cite this article
Behmanesh, A., Salimi, F. & Ebrahimzadeh Rajaei, G. Adsorption behavior of letrozole on pure, Ge- and Si-doped C60 fullerenes: a comparative DFT study. Monatsh Chem 151, 25–32 (2020). https://doi.org/10.1007/s00706-019-02524-1
Received:

Accepted:

Published:

Issue Date:
Keywords
Letrozole

Fullerene

DFT

Adsorption

Doping