Abstract
The family Picornaviridae includes important human and animal pathogens that are associated with a wide range of diseases and, in some cases, have zoonotic potential. During epidemiological surveillance of bats, we identified, by next-generation sequencing (NGS) techniques, the presence of picornavirus RNA in a common pipistrelle bat (Pipistrellus pipistrellus). By coupling NGS, primer-walking strategies, and sequence-independent protocols to obtain the sequences of the 5′ and 3′ termini, we reconstructed the genome sequence of picornavirus strain ITA/2017/189/18-155. The genome of the bat picornavirus is 8.2 kb in length and encodes a polyprotein of 2462 amino acids. A comparison of polyprotein sequences revealed that this virus is distantly related (65.1% and 70.9% sequence identity at the nucleotide and amino acid level, respectively) to a bat aichivirus identified in 2010. Phylogenetic analysis showed that this picornavirus clustered closely with members of the genus Kobuvirus, which also includes human and animal aichiviruses. The identification of aichiviruses in several animal hosts is providing hints that will lead to an understanding of their origin and evolutionary patterns.
This is a preview of subscription content, log in to check access.
Access options
Buy single article
Instant access to the full article PDF.
US$ 39.95
Price includes VAT for USA
Subscribe to journal
Immediate online access to all issues from 2019. Subscription will auto renew annually.
US$ 199
This is the net price. Taxes to be calculated in checkout.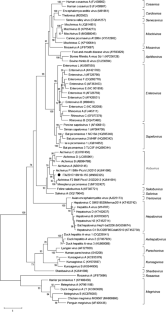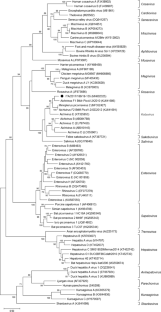 Funding
This work was supported by the Slovenian Research Agency, Program Group Animal Health, Environment and Food Safety (P4-0092).
Ethics declarations
Conflict of interest
The Authors declare that they do not have conflict of interest.
Ethical approval
The research did not involve human partecipants and/or experiments/procedures on live animals.
Accession number
The sequence reported here was deposited in the GenBank database under the accession number MN602325.
Additional information
Publisher's Note
Springer Nature remains neutral with regard to jurisdictional claims in published maps and institutional affiliations.
Handling Editor: Ana Cristina Bratanich.
Electronic supplementary material
Below is the link to the electronic supplementary material.
About this article
Cite this article
Diakoudi, G., Jamnikar-Ciglenečki, U., Lanave, G. et al. Genome sequence of an aichivirus detected in a common pipistrelle bat (Pipistrellus pipistrellus). Arch Virol (2020). https://doi.org/10.1007/s00705-020-04548-z
Received:

Accepted:

Published: