Abstract
Here, we present the results of a study in which 639 samples obtained between October 2018 and April 2019 from patients with symptoms of acute gastroenteritis were tested for the presence of a rotavirus infection. The antigen of group A rotavirus was detected in 160 samples (25% of those tested). To study the genetic diversity of group A rotavirus, RNA was isolated from the samples, and polymerase chain reaction combined with reverse transcription (RT-PCR) with primers specific for the VP4, VP6, and VP7 genes of group A rotaviruses was performed. At least one fragment of the group A rotavirus genome was found in 101 samples (15.8%). These fragments were sequenced, and their G and P genotypes—as well as their combinations—were determined. The predominant G genotypes were G9 (35.8% of all genotyped samples) and G4 (28.4%), but the rare G12 genotype was also found (3.0%). The dominant P genotype was P[8]. The spectrum of certain G/P combinations of genotypes included seven variants. The most common variants were G9P[8] (37.2%) and G4P[8] (30.2%).
This is a preview of subscription content, log in to check access.
Access options
Buy single article
Instant access to the full article PDF.
US$ 39.95
Price includes VAT for USA
Subscribe to journal
Immediate online access to all issues from 2019. Subscription will auto renew annually.
US$ 199
This is the net price. Taxes to be calculated in checkout.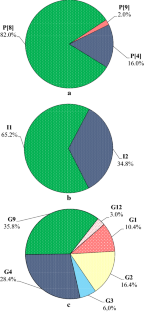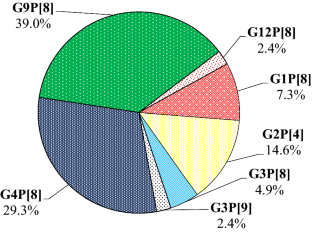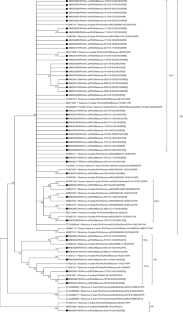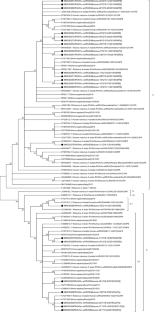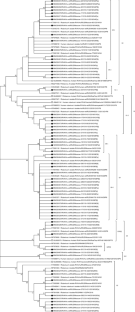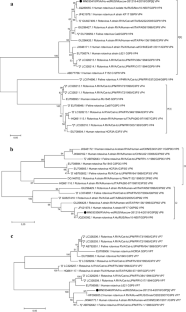 References
1.

Report of the Federal Service for Supervision of Consumer Rights Protection and Human Welfare "Information on infectious and parasitic diseases for January-December 2018". Retrieved 29 January 2020, from https://www.rospotrebnadzor.ru/activities/statistical-materials/statictic_details.php?ELEMENT_ID=%2011277(in Russian)

2.

Cherepanova ЕA, Chernyavskaya OP, Morozova NS, Yasinsky AA (2012) Peculiarities of the epidemiology of rotavirus infection in the Russian Federation in 2000–2010. Epidemiol Vaccine Prev 2(63):38–41 (eLIBRARY ID: 17677507 (in Russian))

3.

Grechukha TA, Novikova DA, Tkachenko NE, Namazova-Baranova LS (2014) The prevention of rotavirus infection: the modern view of the possibility. Child Infect 13(4):30–32. https://doi.org/10.22627/2072-8107-2014-13-4-30-34(eLIBRARY ID: 22748230 (in Russian))

4.

Fauquet CM, Mayo MA, Maniloff J, Desselberger U, Ball LA (2005) Virus taxonomy. Classification and nomenclature of viruses. Elsevier Academic Press, Oxford, pp 447–496 (ISBN 978-0-12-249951-7)

5.

Retrieved 29 January 2020 from https://talk.ictvonline.org/taxonomy/

6.

Crawford SE, Ramani S, Tate JE, Parashar UD, Svensson L, Hagbom M, Franco MA, Greenberg HB, O'Ryan M, Kang G, Desselberger U, Estes MK (2017) Rotavirus infection. Nat Rev Dis Prim 9(3):17083. https://doi.org/10.1038/nrdp.2017.83

7.

Wilhelmi I, Roman E, Sanchez-Fauqier A (2003) Viruses causing gastroenteritis. Clin Microbiol Infect 9(4):247–262

8.

Santos N, Hoshino Y (2005) Global distribution of rotavirus serotypes/genotypes and its implication for the development and implementation of an effective rotavirus vaccine. Rev Med Virol 15(1):29–56. https://doi.org/10.1002/rmv.448

9.

Estes MK, Greenberg HB (2013) Rotaviruses. In: Knipe DM, Howley PM (eds) Fields virology, 6th edn. Lippincott Williams & Wilkins, Philadelphia, p 2456 (ISBN 978-1451105636)

10.

Matthijnssens J, Ciarlet M, Heiman E, Arijs I, Delbeke T, McDonald SM, Palombo EA, Iturriza-Gomara M, Maes P, Patton JT, Rahman M, Van Ranst M (2008) Full genome-based classification of rotaviruses reveals a common origin between human Wa-Like and porcine rotavirus strains and human DS-1-likeand bovine rotavirus strains. J Virol 82(7):3204–3219. https://doi.org/10.1128/JVI.02257-07

11.

Estes MK, Kapikian AZ (2007) Rotaviruses. In: Knipe DM, Howley PM, Griffin DE, Lamb RA, Martin MA, Roizman B, Straus SE (eds) Fields virology, 5th edn. Lippincott Williams & Wilkins, Philadelphia, pp 1917–1974 (ISBN 9780781760607 0781760607)

12.

Retrieved 29 January 2020 from https://rega.kuleuven.be/cev/viralmetagenomics/virus-classification/newgenotypes

13.

Matthijnssens J, Ciarlet M, Rahman M, Attoui H, Bányai K, Estes MK, Gentsch JR, Iturriza-Gómara M, Kirkwood CD, Martella V, Mertens PP, Nakagomi O, Patton JT, Ruggeri FM, Saif LJ, Santos N, Steyer A, Taniguchi K, Desselberger U, Van Ranst M (2008) Recommendations for the classification of a group of rotaviruses using all 11 genomic RNA segments. Arch Virol 153(8):1621–1629. https://doi.org/10.1007/s00705-008-0155-1

14.

Matthijnssens J, Bilcke J, Ciarlet M, Martella V, Banyai K, Rahman M, Zeller M, Beutels P, Van Damme P, Van Ranst M (2009) Rotavirus disease and vaccination: impact on genotype diversity. Future Microbiol 4(10):1303–1316. https://doi.org/10.2217/fmb.09.96

15.

Patton JT (2012) Rotavirus diversity and evolution in the post-vaccine world. Discov Med 13(68):85–97

16.

Ramig RF (2007) Systemic rotavirus infection. Expert Rev Anti Infect Ther 5(4):591–612. https://doi.org/10.1586/14787210.5.4.591

17.

Banyai K, Laszlo B, Duque J, Steele AD, Nelson EA, Gentsch JR, Parashar UD (2012) Systematic review of regional and temporal trends in global rotavirus strain diversity in the pre rotavirus vaccine era: insights for understanding the impact of rotavirus vaccination programs. Vaccine 30(Suppl. 1):A122–A130. https://doi.org/10.1016/j.vaccine.2011.09.111

18.

Zaitseva EV, Olneva TA, Kuleshov KV, Kondratieva LM, Shikhina TM, Milikhina AV, Kalashnikova NA, Sidorova VF, Chernyshova OA, Vasilyeva NI, Yakunina OYu, Varenikova VV, Mnozhnina EG, Ivanova SA, Kaspirova LS, Fomina NS, Shaeva EI, Malokisher NS, Rud LA, Osipova SN, Chernysheva OS, Prisyazhnyuk EN, Lebedeva LA, Isaeva NV, Karavyanskaya TN, Tsarnenko OS, Podkolzin AT, Shipulin GA (2016) Results of monitoring of antigenic types of rotavirus type A on the territory of the Russian Federation in the period 2011-2015. Clin Lab Diagn 61(7):445–448. https://doi.org/10.18821/0869-2084-2016-61-7-445-448(eLIBRARY ID: 27162081 (in Russian))

19.

Soares-Weiser K, Bergman H, Henschke N, Pitan F, Cunliffe N (2019) Vaccines for preventing rotavirus diarrhoea: vaccines in use. Cochrane Database Syst Rev 3:CD008521. https://doi.org/10.1002/14651858.CD008521.pub4

20.

Retrieved 29 January 2020 from http://rotacouncil.org/vaccine-introduction/global-introduction-status/

21.

Order of the Ministry of Health of Russia No. 125н dated 03/21/2014 (Appendix 2) Retrieved 29 January 2020 from http://base.garant.ru/70647158/f7ee959fd36b5699076b35abf4f52c5c/#block_2000(in Russian)

22.

Retrieved 29 January 2020 from http://24.rospotrebnadzor.ru/press/release/101613/(in Russian)

23.

Retrieved 29 January 2020 from https://mosgorzdrav.ru/ru-RU/news/default/card/2060.html(in Russian)

24.

Zhirakovskaia EV, Ignatiev GM, Indikova IN, Tikunova NV (2009) Evaluating the new ELISA Kits "Rotavirus-Antigen-ELISA-BEST". BIOprepar Prev Diagn Treat 3–4:23–28 (eLIBRARY ID: 21452631 (in Russian))

25.

Babji S, Arumugam R, Sarvanabhavan A, Gentsch JR, Kang G (2014) Approach to molecular characterization of partially and completely untyped samples in an Indian rotavirus surveillance program. Vaccine 32Suppl 1:84–88. https://doi.org/10.1016/j.vaccine.2014.04.024

26.

Maes P, Matthijnssens J, Rahman M, Van Ranst M (2009) RotaC: a web-based tool for the complete genome classification of group A rotaviruses. BMC Microbiol 9:238. https://doi.org/10.1186/1471-2180-9-238

27.

Dennehy PH (2011) Viral gastroenteritis in children. Pediatr Infect Dis J 30(1):63–64. https://doi.org/10.1097/INF.0b013e3182059102

28.

Payne DC, Staat MA, Edwards KM, Szilagyi PG, Gentsch JR, Stockman LJ, Curns AT, Griffin M, Weinberg GA, Hall CB, Fairbrother G, Alexander J, Parashar UD (2008) Active, population-based surveillance for severely rotavirus gastroenteritis in children in the United States. Pediatrics 122(6):1235–1243. https://doi.org/10.1542/peds.2007-3378

29.

Raúl Velázquez F, Calva JJ, Lourdes Guerrero M, Mass D, Glass RI, Pickering LK, Ruiz-Palacios GM (1993) Cohort study of rotavirus serotype patterns in symptomatic and asymptomatic infections in Mexican children. Pediatr Infect Dis J 12(1):54–61

30.

Gorbunova MG, Zhirakovskaya EV, Tikunova NV, Stasenko VL, Vaitovich MA, Tikunov AYu, Milenina VM, Loginovsky NV (2008) The characteristic of epidemiological process of rotavirus infection in the territory in Omsk region in 1993–2007 years. Siber Med J 7(82):113–116 (eLIBRARY ID: 11684204 (in Russian))

31.

Ray PG, Kelkar SD, Walimbe AM, Biniwale V, Mehendale S (2007) Rotavirus immunoglobulin levels among Indian mothers of two socio-economic groups and occurrence of rotavirus infections among their infants up to six months. J Med Virol 79(3):341–349. https://doi.org/10.1002/jmv.20804

32.

Bishop RF, Barnes GL, Cipriani E, Lund JS (1983) Clinical immunity after neonatal infection. A prospective longitudinal study in young children. N Engl J Med 309(2):72–76. https://doi.org/10.1056/NEJM198307143090203

33.

Kilgore PE, Unicomb LE, Gentsch JR, Albert MJ, McElroy CA, Glass RI (1996) Neonatal rotavirus infection in Bangladesh: strain characterization and risk factors for nosocomial infection. Pediatr Infect Dis J 15(8):672–677

34.

Landis JR, Koch GG (1977) The measurement of observer agreement for categorical data. Biometrics 33(1):159–174. https://doi.org/10.2307/2529310

35.

Soltan MA, Tsai Y-L, Lee P-YuA, Tsai C-Fu, Chang H-FG, Wang H-TT, Wilkes RP (2016) Comparison of electron microscopy, ELISA, real time RT-PCR and insulated isothermal RT-PCR for the detection of Rotavirus group A (RVA) in feces of different animal species. J Virol Methods 235:99–104. https://doi.org/10.1016/j.jviromet.2016.05.006

36.

Retrieved 29 January 2020 from http://www.epid-oki.ru/otchety.html

37.

Clark HF, Hoshino Y, Bell LM, Groff J, Hess G, Bachman P, Offit PA (1987) Rotavirus isolate WI61 representing a presumptive new human serotype. J Clin Microbiol 25(9):1757–1762

38.

Rahman M, Matthijnssens J, Goegebuer T, De Leener K, Vanderwegen L, Van der Donck I, Van Hoovels L, De Vos S, Azim T, Van Ranst M (2005) Predominance of rotavirus G9 genotype in children hospitalized for rotavirus gastroenteritis in Belgium during 1999–2003. J Clin Virol 33(1):1–6. https://doi.org/10.1016/j.jcv.2004.09.020

39.

Muller H, Johne R (2007) Rotaviruses: diversity and zoonotic potential—a brief review. Berl Munch Tierarztl Wochenschr 120(3–4):108–112

40.

Bakhtoyarov GN, Kiselev IS, Zverev VV, Faizuloev EB (2014) Evaluation of real-time multiplex PCR for group A rotavirus genotyping. J Microbiol Epidemiol Immunobiol 4:43–49 (eLIBRARY ID: 23929486 (in Russian))

41.

Phan TG, Okitsu S, Maneekarn N, Ushijima H (2007) Genetic heterogeneity, evolution and recombination in emerging G9 rotaviruses. Infect Genet Evol 7(5):656–663. https://doi.org/10.1016/j.meegid.2007.05.001

42.

Sashina TA, Morozova OV, Epifanova NV, Novikova NA (2017) Predominance of new G9P[8] rotaviruses closely related to Turkish strains in Nizhny Novgorod (Russia). Arch Virol 162(8):2387–2392. https://doi.org/10.1007/s00705-017-3364-7

43.

Heiman EM, McDonald SM, Barro M, Taraporewala ZF, Bar-Magen T, Patton JT (2008) Group A human rotavirus genomics: evidence that gene constellations are influenced by viral protein interactions. J Virol 82(22):11106–11116. https://doi.org/10.1128/JVI.01402-08

44.

McDonald SM, Matthijnssens J, McAllen JK, Hine E, Overton L, Wang S, Lemey P, Zeller M, Van Ranst M, Spiro DJ, Patton JT (2009) Evolutionary dynamics of human rotaviruses: balancing reassortment with preferred genome constellations. PloS Pathog 5(10):e1000634. https://doi.org/10.1371/journal.ppat.1000634

45.

Matthijnssens J, Van Ranst M (2012) Genotype constellation and evolution of group A rotaviruses infecting humans. Curr Opin Virol 2(4):426–433. https://doi.org/10.1016/j.coviro.2012.04.007

46.

Martella V, Potgieter AC, Lorusso E, De Grazia S, Giammanco GM, Matthijnssens J, Bányai K, Ciarlet M, Lavazza A, Decaro N, Buonavoglia C (2011) A feline rotavirus G3P[9] carries traces of multiple reassortment events and resembles rare human G3P[9] rotaviruses. J Gen Virol 92(Pt5):1214–1221. https://doi.org/10.1099/vir.0.027425-0

47.

Theamboonlers A, Maiklang O, Thongmee T, Chieochansin T, Vuthitanachot V, Poovorawan Y (2013) Complete genome analysis of a rare human G3P[9] rotavirus posing as an AU-1 like strain. Springerplus 26(2):569. https://doi.org/10.1186/2193-1801-2-569

48.

Nguyen TH, Than VT, Thanh HD, Kim W (2016) Evidence of multiple reassortment events of feline-to-human rotaviruses based on a rare human G3P[9] rotavirus isolated from a patient with acute gastroenteritis. Comp Immunol Microbiol Infect Dis 46:53–59. https://doi.org/10.1016/j.cimid.2016.04.003

49.

Denisyuk NB (2017) Genetic characteristics of rotaviruses group A circulating in the Orenburg region in season 2016–2017. Child Infect 16(4):42–45. https://doi.org/10.22627/2072-8107-2017-16-4-42-45(eLIBRARY ID: 30635500 (in Russian))
Additional information
Publisher's Note
Springer Nature remains neutral with regard to jurisdictional claims in published maps and institutional affiliations.
Handling Editor: Reimar Johne.
Electronic supplementary material
Below is the link to the electronic supplementary material.
About this article
Cite this article
Ivashechkin, A.A., Yuzhakov, A.G., Grebennikova, T.V. et al. Genetic diversity of group A rotaviruses in Moscow in 2018-2019. Arch Virol 165, 691–702 (2020). https://doi.org/10.1007/s00705-020-04534-5
Received:

Accepted:

Published:

Issue Date: