Abstract
The novel bacterial virus Mimir87, infecting the salt-tolerant bacterium Virgibacillus halotolerans, was isolated from worker honey bees. Mimir87 has an elongated head and a long non-contractile tail consistent with members of the Siphoviridae phage family. The phage genome comprises 48,016 base pairs and encodes 68 predicted proteins, to 34 of which a function could be assigned from homology analysis. The phage encodes two metabolism-related transporter proteins previously not observed in bacteriophage genomes. Mimir87 displays some relatedness to several Bacillus and Paenibacillus viruses; however, the overall sequence dissimilarity suggests Mimir87 to be a representative of a new phage genus.
This is a preview of subscription content, log in to check access.
Access options
Buy single article
Instant access to the full article PDF.
US$ 39.95
Price includes VAT for USA
Subscribe to journal
Immediate online access to all issues from 2019. Subscription will auto renew annually.
US$ 199
This is the net price. Taxes to be calculated in checkout.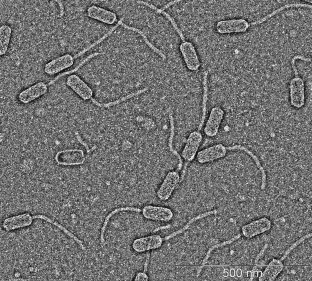 References
1.

Hatfull GF (2015) Dark matter of the biosphere: the amazing world of bacteriophage diversity. J Virol 89:8107–8110

2.

Hayes S, Mahony J, Nauta A, van Sinderen D (2017) Metagenomic approaches to assess bacteriophages in various environmental niches. Viruses 9:E127

3.

Salmond GP, Fineran PC (2015) A century of the phage: past, present and future. Nat Rev Microbiol 13:777–786

4.

Abedon ST, García P, Mullany P, Aminov R (2017) Editorial: phage therapy: past, present and future. Front Microbiol 8:981

5.

Bradley DE (1967) Ultrastructure of bacteriophage and bacteriocins. Bacteriol Rev 31:230–314

6.

Green MR, Sambrook J (2017) Isolation of high-molecular-weight DNA using organic solvents. Cold Spring Harb Protoc 2017:pdb.prot093450

7.

Andrews S (2017) FastQC: a quality control tool for high throughput sequence data. 2010

8.

Bolger AM, Lohse M, Usadel B (2014) Trimmomatic: a flexible trimmer for Illumina sequence data. Bioinformatics 30:2114–2120

9.

Chevreux B, Wetter T, Suhai S (1999) Genome sequence assembly using trace signals and additional sequence information. Comput Sci Biol Proc Ger Conf Bioinform 99:45–56

10.

Robinson JT, Thorvaldsdóttir H, Winckler W, Guttman M, Lander ES, Getz G, Mesirov JP (2011) Integrative genomics viewer. Nat Biotechnol 29:24–26

11.

Casjens SR, Gilcrease EB (2009) Determining DNA packaging strategy by analysis of the termini of the chromosomes in tailed-bacteriophage virions. Methods Mol Biol 502:91–111

12.

Delcher AL, Bratke KA, Powers EC, Salzberg SL (2007) Identifying bacterial genes and endosymbiont DNA with Glimmer. Bioinformatics 23:673–679

13.

Besemer J, Borodovsky M (2005) GeneMark: web software for gene finding in prokaryotes, eukaryotes and viruses. Nucleic Acids Res 33:W451–W454

14.

Hyatt D, Chen GL, Locascio PF, Land ML, Larimer FW, Hauser LJ (2010) Prodigal: prokaryotic gene recognition and translation initiation site identification. BMC Bioinform 11:119

15.

Johnson M, Zaretskaya I, Raytselis Y, Merezhuk Y, McGinnis S, Madden TL (2008) NCBI BLAST: a better web interface. Nucleic Acids Res 36:W5–W9

16.

Söding J, Biegert A, Lupas AN (2005) The HHpred interactive server for protein homology detection and structure prediction. Nucleic Acids Res 33:W244–W248

17.

Laslett D, Canback B (2004) ARAGORN, a program to detect tRNA genes and tmRNA genes in nucleotide sequences. Nucleic Acids Res 32:11–16

18.

Lowe TM, Eddy SR (1997) tRNAscan-SE: a program for improved detection of transfer RNA genes in genomic sequence. Nucleic Acids Res 25:955–964

19.

Yang Y, Zhan L, Chen J, Zhang Y, Sun Y, Yang Z, Jiang L, Zhu H, Zhang Y, Lu Y, Mei L (2016) Genome sequence of Bacillus cereus phage vB_BceS-MY192. Genome Announc 4:e01557–15

20.

Geng P, Tian S, Yuan Z, Hu X (2017) Identification and genomic comparison of temperate bacteriophages derived from emetic Bacillus cereus. PLoS One 12:e0184572

21.

Sullivan MJ, Petty NK, Beatson SA (2011) Easyfig: a genome comparison visualizer. Bioinformatics 27:1009–1010

22.

Weisburg WG, Barns SM, Pelletier DA, Lane DJ (1991) 16S ribosomal DNA amplification for phylogenetic study. J Bacteriol 173:697–703

23.

Janda JM, Abbott SL (2007) 16S rRNA gene sequencing for bacterial identification in the diagnostic laboratory: pluses, perils, and pitfalls. J Clin Microbiol 45:2761–2764

24.

Yoon SH, Ha SM, Kwon S, Lim J, Kim Y, Seo H, Chun J (2017) Introducing EzBioCloud: a taxonomically united database of 16S rRNA gene sequences and whole-genome assemblies. Int J Syst Evol Microbiol 67:1613–1617

25.

Cole JR, Wang Q, Fish JA, Chai B, McGarrell DM, Sun Y, Brown CT, Porras-Alfaro A, Kuske CR, Tiedje JM (2014) Ribosomal Database Project: data and tools for high throughput rRNA analysis. Nucleic Acids Res 42:D633–D642

26.

Sánchez-Porro C, de la Haba RR, Ventosa A (2014) The Genus Virgibacillus. In: Rosenberg E, DeLong EF, Lory S, Stackebrandt E, Thompson F (eds) The prokaryotes. Springer, Berlin, pp 455–465

27.

Heyrman J, De Vos P, Logan N (2015) Virgibacillus. In: Whitman WB, Rainey F, Kämpfer P, Trujillo M, Chun J, De Vos P, Hedlund B, Dedysh S (eds) Bergey's manual of systematics of archaea and bacteria. Hoboken, New Jersey. https://doi.org/10.1002/9781118960608.gbm00545

28.

Na JS, Kim TH, Kim HS, Park SH, Song HS, Cha SW, Yoon HJ (2009) Liver abscess and sepsis with Bacillus pantothenticus in an immunocompetent patient: a first case report. World J Gastroenterol 15:5360–5363

29.

Ümit EG, Ümit HC, Kuloğlu F, Demir AM (2014) Multiple liver and muscle abscesses and sepsis with Bacillus pantothenticus in a leukemia patient. Turk J Haematol 31:321–322

30.

Seiler H, Wenning M (2013) Virgibacillus halotolerans sp. nov., isolated from a dairy product. Int J Syst Evol Microbiol 63:3358–3363

31.

Wang CX, Li X (2018) JMT-1: a novel, spherical lytic halotolerant phage isolated from Yuncheng saline lake. Braz J Microbiol 49:262–268
Acknowledgements
We would like to express our gratitude for the valuable feedback and advice given on the draft version of the manuscript to Professor Rob Lavigne (Katholieke Universiteit Leuven). We also sincerely thank Dr. Janis Rumnieks (Latvian Biomedical Research and Study Centre) for his critical review of the final version of the manuscript.
Ethics declarations
Conflict of interest
The authors declare that they have no conflict of interest.
Ethical approval
This article does not contain any studies with human participants or animals performed by any of the authors.
Additional information
Publisher's Note
Springer Nature remains neutral with regard to jurisdictional claims in published maps and institutional affiliations.
Handling Editor: Johannes Wittmann.
Electronic supplementary material
Below is the link to the electronic supplementary material.
About this article
Cite this article
Zrelovs, N., Cernooka, E., Dislers, A. et al. Isolation and characterization of the novel Virgibacillus-infecting bacteriophage Mimir87. Arch Virol 165, 737–741 (2020). https://doi.org/10.1007/s00705-019-04516-2
Received:

Accepted:

Published:

Issue Date: