Abstract
Here, we report a circular double-stranded DNA virus from red pitaya (Hylocereus polyrhizus). The complete genome sequence is 7,837 nt in length and shares 98.7% nucleotide sequence identity with epiphyllum mottle-associated virus (EpMoaV) and 40.4–54.6% with other members of the genus Badnavirus. It has four open reading frames (ORFs), encoding putative proteins of 19.9, 14.8, 225.7 and 14.2 kDa, respectively. The reverse transcriptase (RT)-ribonuclease H (RNase H) region exhibits less than 70.5% nucleotide sequence identity to RT-RNase H of other badnaviruses, and 99.7% to that of EpMoaV. Phylogenetic analysis revealed that the virus from this study and EpMoaV form a single group. Consequently, we propose this virus as a new member of the genus Badnavirus in the family Caulimoviridae and have named it "pitaya badnavirus 1" (PiBV1). PiBV1 and EpMoaV should be considered two isolates of a badnavirus that infects members of the family Cactaceae.
This is a preview of subscription content, log in to check access.
Access options
Buy single article
Instant access to the full article PDF.
US$ 39.95
Price includes VAT for USA
Subscribe to journal
Immediate online access to all issues from 2019. Subscription will auto renew annually.
US$ 199
This is the net price. Taxes to be calculated in checkout.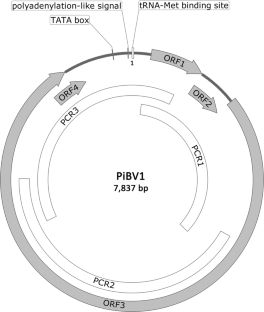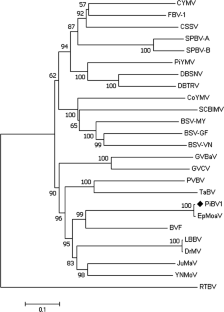 References
1.

Hua QZ, Chen CB, Tel-Zur N, Wang HC, Wu JY, Chen JY, Zhang ZK, Zhao JT, Hu GB, Qin YH (2018) Metabolomic characterization of pitaya fruit from three red-skinned cultivars with different pulp colors. Plant Physiol Biochem 126:117–125

2.

Wu YW, Xu J, He YZ, Shi MY, Han XM, Li WY, Zhang XW, Wen XP (2019) Metabolic profiling of Pitaya (Hylocereus polyrhizus) during fruit development and maturation. Molecules 24:1114

3.

Liou MR, Hung CL, Liou RF (2001) First report of Cactus virus X on Hylocereus undatus (Cactaceae) in Taiwan. Plant Dis 85(2):229

4.

Liou MR, Chen YR, Liou RF (2004) Complete nucleotide sequence and genome organization of a Cactus virus X strain from Hylocereus undatus. Arch Virol 149(5):1037–1043

5.

Peng C, Yu NT, Liu ZX (2016) Molecular identification of Cactus virus X infecting Hylocereus polyrhizus (Cactaceae) in Hainan island, China. Plant Dis 100(9):1956

6.

Zheng QM, Wang Z, Cai YQ (2017) High-throughput sequencing analysis of viruses in pitaya from Guizhou Province, China. Acta Phytopathologica Sinica 47(3):364–369

7.

Duarte L, Alexandre M, Galleti S (2008) Potexvirus diversity in Cactaceae from Sao Paulo state in Brazil. J. Plant Pathol 90(3):545–551

8.

Kim JS, Park CY, Lee SH (2016) First report of Cactus virus X infecting Hylocereus undatus in Korea. Plant Dis 100(12):2544

9.

Gazis R, Poude B, Dey K, Zhang S, Palmateer AJ, Capoverde V, Baker C, Adkins S (2018) First report of cactus virus X in Hylocereus undatus (dragon fruit) in Florida. Plant Dis 100(12):2544

10.

Grabherr MG, Haas BJ, Regev A (2011) Full-length transcriptome assembly from RNA-Seq data without a reference genome. Nat Biotech 29(7):644–652

11.

Lan PX, Tian TY, Pu LL, Rao WL, Li F, Li RH (2019) Characterization and detection of a new badnavirus infecting Epiphyllum spp. Arch. Virol 164(7):1837–1841

12.

Du KT, Liu SJ, Chen ZR, Fan ZF, Wang H, Tian GH, Zhou T (2017) Full genome sequence of jujube mosaic-associated virus, a new member of the family Caulimoviridae. Arch Virol 162(10):3221–3224

13.

Huang Q, Hartung JS (2001) Cloning and sequence analysis of an infectious clone of Citrus yellow mosaic virus that can infect sweet orange via Agrobacterium-mediated inoculation. J Gen Virol 82:2549–2558

14.

Laney AG, Hassan M, Tzanetakis IE (2012) An integrated badnavirus is prevalent in Fig germplasm. Phytopathology 102:1182–1189

15.

Lee YJ, Kwak HR, Lee YK, Kim MK, Choi HS, Seo JK (2015) Complete genome sequence of yacon necrotic mottle virus, a novel putative member of the genus Badnavirus. Arch Virol 160(4):1139–1142

16.

Lim S, Park JM, Kwon SK, Cho HS, Kim HS, Lee SH, Moon JS (2019) Complete genome sequence of a tentative new member of the genus Badnavirus identified in Codonopsis lanceolate. Arch Virol 164(6):1733–1737

17.

Chingandu N, Zia-ur-rehman M, Sreenivasan TN, Surujdeo-Maharaj S, Umaharan P, Gutierrez OA, Brown JK (2017) Molecular characterization of previously elusive badnaviruses associated with symptomatic cacao in the New World. Arch Virol 162(5):1363–1371

18.

Kazmi SA, Yang Z, Hong N, Wang G, Wang Y (2015) Characterization by small RNA sequencing of Taro Bacilliform CH Virus (TaBCHV), a novel badnavirus. PLoS One 10:e0134147

19.

Li YQ, Deng CL, Qiao Y, Zhao XL, Zhou Q (2017) Characterization of a new badnavirus from Wisteria sinensis. Arch Virol 162(7):2125–2129

20.

Iskra-Caruana ML, Duroy PO, Chabannes M, Muller E (2014) The common evolutionary history of badnaviruses and banana. Infect Genet Evol 21:83–89

21.

Kumar S, Stecher G, Tamura K (2016) Molecular evolutionary genetics analysis version 7.0 for bigger datasets. Mol Biol Evol 33(7):1870

22.

King AMQ, Adams MJ, Carstens EB, Lefkowitz EJ (2012) Badnavirus. In: Virus taxonomy. Ninth report of the international committee on taxonomy of viruses. Elsevier Academic Press, London
Acknowledgements
This research was financially supported by the Youth Fund Program of Guizhou Academy of Agricultural Sciences ([2017]11), the National Natural Science Foundation of China (31560547), and the Guizhou Science and Technology Fund Plan of Guizhou Provincial Department of Science and Technology ([2016]1146).
Ethics declarations
Conflict of interest
All authors declare that they have no conflict of interest.
Ethical approval
This study does not contain any research with human participants or animals performed by any of the authors.
Additional information
Publisher's Note
Springer Nature remains neutral with regard to jurisdictional claims in published maps and institutional affiliations.
Handling Editor: T. K. Frey.
Electronic supplementary material
Below is the link to the electronic supplementary material.
About this article
Cite this article
Zheng, Q., Wang, X., Zhou, J. et al. Complete genome sequence of a new member of the genus Badnavirus from red pitaya (Hylocereus polyrhizus). Arch Virol 165, 749–752 (2020). https://doi.org/10.1007/s00705-019-04503-7
Received:

Accepted:

Published:

Issue Date: