Abstract
The genomic sequences of five Japanese isolates of citrus vein enation virus (CVEV) isolates that induce vein enation were determined and compared with that of the Spanish isolate VE-1. The nucleotide sequences of all Japanese isolates were 5,983 nt in length. The genomic RNA of Japanese isolates had five potential open reading frames (ORF 0, ORF 1, ORF 2, ORF 3, and ORF 5) in the positive-sense strand. The nucleotide sequence identity among the Japanese isolates and Spanish isolate VE-1 ranged from 98.0% to 99.8%. Comparison of the partial amino acid sequences of ten Japanese isolates and three Spanish isolates suggested that four amino acid residues, at positions of 83, 104, and 113 in ORF 2 and position 41 in ORF 5, might be unique to some Japanese isolates.
This is a preview of subscription content, log in to check access.
Access options
Buy single article
Instant access to the full article PDF.
US$ 39.95
Price includes VAT for USA
Subscribe to journal
Immediate online access to all issues from 2019. Subscription will auto renew annually.
US$ 199
This is the net price. Taxes to be calculated in checkout.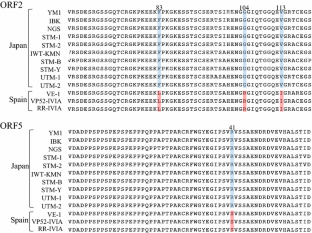 References
1.

Demler SA, deZoeten GA (1991) The nucleotide sequence and luteovirus-like nature of RNA 1 of an aphid non-transmissible strain of pea enation mosaic virus. J Gen Virol 72:1819–1834

2.

Fraser LR (1959) Woody gall, a suspected virus disease of rough lemon and other citrus varieties. Proc Linn Soc NSW 84:332–336

3.

Giedroc DP, Cornish PV (2009) Frameshifting RNA pseudoknots: Structure and mechanism. Virus Res 139:193–208

4.

Iwanami T, Kano T, Koizumi M (1992) Spherical virus-like particles associated with vein enation on Yuzu (Citrus junos Sieb. Ex Tanaka). Bull Fruit Tree Res Stn 23:137–143

5.

Mäkinen K, Tamm T, Næss V, Truve E, Puurand Ü, Munthe T, Saarma M (1995) Characterization of cocksfoot mottle sobemovirus genomic RNA and sequence comparison with related viruses. J Gen Virol 76:2817–2825

6.

Mayo MA, Ziegler-Graff V (1996) Molecular biology of luteovises. Adv Virus Res 56:413–460

7.

Miller WA, Brown CM, Wang S (1997) New punctuation for the genetic code: Luteovirus gene expression. Semin Virol 8:3–13

8.

Nakazono-Nagaoka E, Fujikawa T, Uechi N, Iwanami T (2015) Vein enation symptom in Yuzu is caused by Citrus vein enation virus [in Japanese]. Jpn J Phytopathol 81:341–345

9.

Stevens M, Freeman B, Liu HY, Herrbach E, Lemaire O (2005) Beet poleroviruses: close friends or distant relatives? Mol Plant Pathol 6:1–9

10.

Tanaka S, Yamada S (1961) Citrus virus diseases in Japan Proc 2nd Conf IOCV Univ Florida Press Gainesville 247–252

11.

Vives MC, Velázquez K, Pina JA, Moreno P, Guerri J, Navarro L (2013) Identification of a new Enamovirus associated with citrus vein enation disease by deep sequencing of small RNAs. Phytopathology 103:1077–1086
Electronic supplementary material
Below is the link to the electronic supplementary material.
About this article
Cite this article
Nakazono-Nagaoka, E., Fujikawa, T. & Iwanami, T. Nucleotide sequences of Japanese isolates of citrus vein enation virus. Arch Virol 162, 879–883 (2017). https://doi.org/10.1007/s00705-016-3139-6
Received:

Accepted:

Published:

Issue Date:
Keywords
Citrus Tristeza Virus

Japanese Isolate

Citrus Cultivar

Serine Proteinase Domain

Spanish Isolate