Abstract
In this study, a novel parvovirus (strain swine/Zsana3/2013/HUN, KT965075) was detected in domestic pigs and genetically characterized by viral metagenomics and PCR methods. The novel parvovirus was distantly related to the human bufaviruses and was detected in 19 (90.5 %) of the 21 and five (33.3 %) of the 15 faecal samples collected from animals with and without cases of posterior paraplegia of unknown etiology from five affected farms and one control farm in Hungary, respectively. Swine/Zsana3/2013/HUN is highly prevalent in domestic pigs and potentially represents a novel parvovirus species in the subfamily Parvovirinae.
This is a preview of subscription content, log in to check access.
Access options
Buy single article
Instant unlimited access to the full article PDF.
US$ 39.95
Price includes VAT for USA
Subscribe to journal
Immediate online access to all issues from 2019. Subscription will auto renew annually.
US$ 199
This is the net price. Taxes to be calculated in checkout.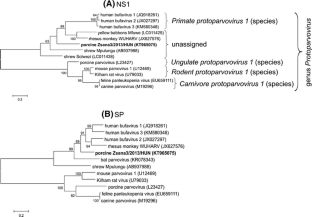 References
1.

Altay A, Yahiro T, Bozdayi G, Matschumoto T, Sahin F, Ozkan S, Nishizono A, Söderlund-Venermo M, Ahmed K (2015) Bufavirus genotype 3 in Turkish children with severe diarrhoea. Clin Microbiol Infect 21(10):965.e1–965.e4

2.

Boros A, Pankovics P, Simmonds P, Reuter G (2011) Novel positive-sense, single-stranded RNA (+ssRNA) virus with di-cistronic genome from intestinal content of freshwater carp (Cyprinus carpio). PLoS One 6:e29145

3.

Chieochansin T, Vutithanachot V, Theamboonlers A, Poovorawan Y (2015) Bufavirus in fecal specimens of patients with and without diarrhea in Thailand. Arch Virol 160:1781–1784

4.

Cotmore SF, Tattersall P (2013) Parvovirus diversity and DNA damage response. Cold Spring Harb Perspect Biol 5(2):a012989

5.

Cotmore SF, Agbandje-McKenna M, Chiorini JA, Mukha DV, Pintel DJ, Qiu J, Söderlund-Venermo M, Tattersall P, Tijssen P, Gatherer D, Davison AJ (2014) The family Parvoviridae. Arch Virol 159:1239–1247

6.

Handley SA, Thackray LB, Zhao G, Presti R, Miller AD, Droit L, Abbink P, Maxfield LF, Kambal A, Duan E, Stanley K, Kramer J, Macri SC, Permar SR, Schmitz JE, Mansfield K, Brenchley JM, Veazey RS, Stappenbeck TS, Wang D, Barouch DH, Virgin HW (2012) Pathogenic simian immunodeficiency virus infection is associated with expansion of the enteric virome. Cell 151(2):253–266

7.

Huang DD, Wang W, Lu QB, Zhao J, Guo CT, Wang HY, Zhang XA, Tong YG, Liu W, Cao WC (2015) Identification of bufavirus-1 and bufavirus-3 in feces of patients with acute diarrhea, China. Sci Rep 19:13272

8.

Kemenesi G, Dallos B, Görföl T, Estók P, Boldogh S, Kurucz K, Oldal M, Marton S, Bányai K, Jakab F (2015) Genetic diversity and recombination within bufaviruses: detection of a novel strain in Hungarian bats. Infect Genet Evol 33:288–292

9.

Phan TG, Vo NP, Bonkoungou IJ, Kapoor A, Barro N, O'Ryan M, Kapusinszky B, Wang C, Delwart E (2012) Acute diarrhea in West African children: diverse enteric viruses and novel parvovirus genus. J Virol 86:11024–11030

10.

Phan TG, Vo NP, Boros Á, Pankovics P, Reuter G, Li OTW, Wang C, Deng X, Poon LLM, Delwart E (2013) The viruses of wild pigeon droppings. PLoS One 8(9):e72787

11.

Reynolds KJ, Sheridan M, Preugschas K (2013) Posterior paresis and paralysis associated with spinal cord vacuolation in late finisher pigs. Poster 40; American Association of Swine Veterinarians (AASV) 2013 annual meeting, San Diego. Program book page 339

12.

Sasaki M, Orba Y, Anindita PD, Ishii A, Ueno K, Hang'ombe BM, Mweene AS, Ito K, Sawa H (2015) Distinct lineages of bufavirus in wild shrews and nonhuman primates. Emerg Infect Dis 21:1230–1233

13.

Smith SL, Schapendonk CM, van Beek J, Vennema H, Schürch AC, Schipper D, Bodewes R, Haagmans BL, Osterhaus AD, Koopmans MP (2014) New viruses in idiopathic human diarrhea cases, the Netherlands. Emerg Infect Dis 20:1218–1222

14.

Tamura K, Stecher G, Peterson D, Filipski A, Kumar S (2013) MEGA6: molecular evolutionary genetics analysis version 6.0. Mol Biol Evol 30:2725–2729

15.

Tijssen P, Agbandje-McKenna M, Almendral JM, Bergoin M, Flegel TW, Hedman K, Kleinschmidt J, Li Y, Pintel DJ, Tattersall P (2011) The family Parvoviridae. In: King AMQ, Adams MJ, Carstens EB, Lefkowitz EJ (eds) Virus taxonomy—ninth report of the International Committee on Taxonomy of Viruses. Elsevier/Academic Press, London, pp 405–425

16.

Väisänen E, Kuisma I, Phan TG, Delwart E, Lappalainen M, Tarkka E, Hedman K, Söderlund-Venermo M (2014) Bufavirus in feces of patients with gastroenteritis, Finland. Emerg Infect Dis 20:1077–1080

17.

Victoria JG, Kapoor A, Li L, Blinkova O, Slikas B, Wang C, Naeem A, Zaidi S, Delwart E (2009) Metagenomic analysis of viruses in stool samples from children with acute flaccid paralysis. J Virol 83:4642–4651

18.

Yahiro T, Wangchuk S, Tshering K, Bandhari P, Zangmo S, Dorji T, Tshering K, Matsumoto T, Nishizono A, Söderlund-Venermo M, Ahmed K (2014) Novel human bufavirus genotype 3 in children with severe diarrhea, Bhutan. Emerg Infect Dis 20:1037–1039
Acknowledgments
This work was supported by a grant from the Hungarian Scientific Research Fund (OTKA/NKFIH K111615) and by NHLBI R01-HL105770.
Ethics declarations
Conflict of interest
The authors declare that they have no conflict of interest.
About this article
Cite this article
Hargitai, R., Pankovics, P., Kertész, A.M. et al. Detection and genetic characterization of a novel parvovirus distantly related to human bufavirus in domestic pigs. Arch Virol 161, 1033–1037 (2016). https://doi.org/10.1007/s00705-015-2732-4
Received:

Accepted:

Published:

Issue Date:
Keywords
Faecal Sample

Amino Acid Sequence Identity

Amino Acid Sequence Difference

Commercial Swine Herd

Viral Protein Code