Abstract
Bufavirus (BuV) was initially discovered in fecal samples from children with acute diarrhea. In this study, we determined the prevalence, distribution, and genotype(s) of BuV in Thailand. A total of 1,495 diarrheal and 741 non-diarrheal stool specimens were collected and analyzed. A portion of the NS1 gene of BuV was amplified by nested RT-PCR. Phylogenetic analysis was performed to classify the BuV strains found. We detected bufavirus (BuV) in diarrheal (4/1495; 0.27 %) but not in non-diarrheal specimens (0/726). All four strains belonged to BuV genotype 1. BuV could be detected in adults and children, but its role in causing acute diarrhea remains unclear.
This is a preview of subscription content, log in to check access.
Access options
Buy single article
Instant unlimited access to the full article PDF.
US$ 39.95
Price includes VAT for USA
Subscribe to journal
Immediate online access to all issues from 2019. Subscription will auto renew annually.
US$ 199
This is the net price. Taxes to be calculated in checkout.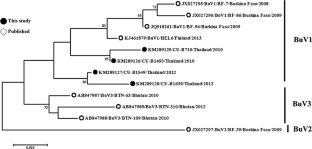 References
1.

Phan TG, Vo NP, Bonkoungou IJ, Kapoor A, Barro N, O'Ryan M, Kapusinszky B, Wang C, Delwart E (2012) Acute diarrhea in West African children: diverse enteric viruses and a novel parvovirus genus. J Virol 86:11024–11030

2.

Cotmore SF, Agbandje-McKenna M, Chiorini JA, Mukha DV, Pintel DJ, Qiu J et al (2014) The family Parvoviridae. Arch Virol 159:1239–1247

3.

Yahiro T, Wangchuk S, Tshering K, Bandhari P, Zangmo S, Dorji T et al (2014) Novel human bufavirus genotype 3 in children with severe diarrhea, Bhutan. Emerg Infect Dis 20:1037–1039

4.

Väisänen E, Kuisma I, Phan TG, Delwart E, Lappalainen M, Tarkka E et al (2014) Bufavirus in feces of patients with gastroenteritis, Finland. Emerg Infect Dis 20:1077–1080

5.

Smits SL, Schapendonk CM, van Beek J, Vennema H, Schürch AC, Schipper D, Bodewes R et al (2014) New viruses in idiopathichuman diarrhea cases, the Netherlands. Emerg Infect Dis 20:1218–1222

6.

Maiklang O, Vutithanachot V, Vutithanachot C, Hacharoen P, Chieochansin T, Poovorawan Y (2012) Prevalence of group A genotype human rotavirus among children with diarrhea in Thailand, 2009-2011. Southeast Asian J Trop Med Public Health 43:904–9016

7.

Puenpa J, Mauleekoonphairoj J, Linsuwanon P, Suwannakarn K, Chieochansin T, Korkong S, Theamboonlers A, Poovorawan Y (2014) Prevalence and characterization of enterovirus infections among pediatric patients with hand foot mouth disease, herpangina and influenza like illness in Thailand, 2012. PLoS One 9:e98888

8.

Hansman GS, Oka T, Katayama K, Takeda N (2007) Human sapoviruses: genetic diversity, recombination, and classification. Rev Med Virol 17:133–141

9.

Harvala H, Robertson I, Leitch ECM, Benschop K, Wolthers KC, Templeton K, Simmonds P (2008) Epidemiology and clinical associations of human parechovirusrespiratory infections. J Clin Microbiol 46:3446–3453

10.

Chieochansin T, Vichiwattana P, Korkong S, Theamboonlers A, Poovorawan Y (2011) Molecular epidemiology, genome characterization, and recombination event of human parechovirus. Virology 421:159–166

11.

Chieochansin T, Kapoor A, Delwart E, Poovorawan Y, Simmonds P (2009) Absence of detectable replication of the human bocavirus species 2 in the respiratory tract despite frequent detection in faecal samples. Emerg Infect Dis 15:1503–1505

12.

Sriwanna P, Chieochansin T, Vuthitanachot C, Vuthitanachot V, Theamboonlers A, Poovorawan Y (2013) Molecular characterization of human adenovirus infection in Thailand, 2009–2012. Virol J 10:193

13.

Sanchez-Villeda H, Schroeder S, Flint-Garcia S, Guill KE, Yamasaki M, McMullen MD (2008) DNAAlignEditor: DNA alignmenteditor tool. BMC Bioinformatics 9:154

14.

Posada D (2008) jModelTest: phylogenetic model averaging. Mol Biol Evol 25:1253–1256

15.

Tamura K, Peterson D, Peterson N, Stecher G, Nei M, Kumar S (2011) MEGA5: molecular evolutionary genetics analysis using maximum likelihood, evolutionary distance, and maximum parsimony methods. Mol Biol Evol 28:2731–2739
Acknowledgments
This study was supported by Ratchadaphisek Somphot Fund for postdoctoral fellowship; National Research Council of Thailand; The Higher Education Research Promotion and National Research University Project of Thailand Office of the Higher Education Commission (WCU-58-006-HR, WCU007-HR57, WCU 001-HR57); the Center of Excellence in Clinical Virology, Chulalongkorn University; Chulalongkorn University Centenary Academic Development Project (CU56-HR01); the Ratchadaphiseksomphot Endowment Fund of Chulalongkorn University (RES560530093); the Outstanding Professor of the Thailand Research Fund (DPG5480002); the Research Chair Grant from the National Science and Technology Development Agency; MK restaurant Company Limited; The Siam Cement Group PcL; and King Chulalongkorn Memorial Hospital. We would like to thank Dr. Sompong Vongpunsawad for reviewing the manuscript.
Conflict of interest
The authors have no conflicts of interest to declare.
About this article
Cite this article
Chieochansin, T., Vutithanachot, V., Theamboonlers, A. et al. Bufavirus in fecal specimens of patients with and without diarrhea in Thailand. Arch Virol 160, 1781–1784 (2015). https://doi.org/10.1007/s00705-015-2441-z
Received:

Accepted:

Published:

Issue Date:
Keywords
Bufavirus

Diarrhea

NS1 gene

Phylogenetic analysis