Abstract
Background
Skull base chordomas (SBC) are rare malignant tumors and few factors have been found to be reliable markers for clinical decision making and survival prognostication. The aim of the present work was to identify specific prognostic factors potentially useful for the management of SBC patients.
Methods
A retrospective review of all the patients diagnosed and treated for SBC at the Fondazione IRCCS Istituto Neurologico "Carlo Besta" between January 1992 and December 2017 has been performed. Survival analysis was performed and a logistic regression model was used. Statistically significant predictors were rated based on their log odds in order to preliminarily build a personalized grading scale—the Peri-Operative Chordoma Scale (POCS).
Results
Fifty-nine primary chordoma patients were included. The average follow-up from the first treatment was 82.6 months (95% CI, 65.5–99.7). POCS was built over PFS and MR contrast enhancement (intense vs mild/no, value 4), preoperative motor deficit (yes vs no, value 3), and the development of any postoperative complications (yes vs no, value 2). POCS ranges between 0 and 9, with higher scores being associated with reduced likelihood of survival and progression-free state.
Conclusions
Our results show that preoperative clinical symptoms (motor deficits), surgical features (extent of tumor resection and surgeon's experience), development of postoperative complications, and KPS decline represent significant prognostic factors. The degree of MR contrast enhancement significantly correlated to both OS and PFS. We also preliminarily developed the POCS as a prognostic grading scale which may help neurosurgeons in the personalized management of patients undergoing potential adjuvant therapies.
This is a preview of subscription content, log in to check access.
Access options
Buy single article
Instant unlimited access to the full article PDF.
US$ 39.95
Price includes VAT for USA
Subscribe to journal
Immediate online access to all issues from 2019. Subscription will auto renew annually.
US$ 199
This is the net price. Taxes to be calculated in checkout.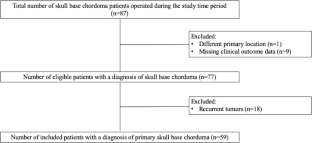 References
1.

Bennett M (2001) The LANSS Pain Scale: the Leeds assessment of neuropathic symptoms and signs. Pain 92:147–157

2.

Boari N, Gagliardi F, Cavalli A, Ferrari L, Riva P, Mortini P (2016) Skull base chordomas: clinical outcome in a consecutive series of 45 patients with long-term follow-up and evaluation of clinical and biological prognostic factors. J Neurosurg 125:450–460

3.

Casali PG, Stacchiotti S, Sangalli C, Olmi P, Gronchi A (2007) Chordoma. Curr Opin Oncol 19:367–370

4.

Chibbaro S, Cornelius JF, Froelich S, Tigan L, Kehrli P, Debry C, Romano A, Herman P, George B, Bresson D (2014) Endoscopic endonasal approach in the management of skull base chordomas--clinical experience on a large series, technique, outcome, and pitfalls. Neurosurg Rev 37:217–224

5.

Choy W, Terterov S, Kaprealian TB et al (2015) Predictors of recurrence following resection of intracranial chordomas. J Clin Neurosci 22:1792–1796

6.

Clavien PA, Barkun J, de Oliveira ML et al (2009) The Clavien-Dindo classification of surgical complications. Ann Surg 250:187–196

7.

Di Maio S, Rostomily R, Sekhar LN (2012) Current surgical outcomes for cranial base chordomas: cohort study of 95 patients. Neurosurgery 70:1355–1360

8.

Di Maio S, Kong E, Yip S, Rostomily R (2013) Converging paths to progress for skull base chordoma: review of current therapy and future molecular targets. Surg Neurol Int 4:72

9.

Fernandez-Miranda JC, Gardner PA, Snyderman CH, Devaney KO, Mendenhall WM, Suárez C, Rinaldo A, Ferlito A (2014) Clival chordomas: a pathological, surgical, and radiotherapeutic review. Head Neck 36:892–906

10.

Ferroli P, Broggi M, Schiavolin S et al (2015) Predicting functional impairment in brain tumor surgery: the Big Five and the Milan Complexity Scale. Neurosurg Focus 39:E14

11.

Forsyth PA, Cascino TL, Shaw EG, Scheithauer BW, O'Fallon JR, Dozier JC, Piepgras DG (1993) Intracranial chordomas: a clinicopathological and prognostic study of 51 cases. J Neurosurg 78:741–747

12.

Fraser JF, Nyquist GG, Moore N, Anand VK, Schwartz TH (2010) Endoscopic endonasal minimal access approach to the clivus. Oper Neurosurg 67:ons150–ons158

13.

Fraser JF, Nyquist GG, Moore N, Anand VK, Schwartz TH (2010) Endoscopic endonasal transclival resection of chordomas: operative technique, clinical outcome, and review of the literature. J Neurosurg 112:1061–1069

14.

George B, Bresson D, Bouazza S et al (2014) Chordoma. Neurochirurgie 60:63–140

15.

Hsu CC-T, Watkins TW, Kwan GNC, Haacke EM (2016) Susceptibility-weighted imaging of glioma: update on current imaging status and future directions. J Neuroimaging 26:383–390

16.

Ito E, Saito K, Okada T, Nagatani T, Nagasaka T (2010) Long-term control of clival chordoma with initial aggressive surgical resection and gamma knife radiosurgery for recurrence. Acta Neurochir 152:57–67

17.

Jahangiri A, Chin AT, Wagner JR et al (2015) Factors predicting recurrence after resection of clival chordoma using variable surgical approaches and radiation modalities. Neurosurgery 76:179–185

18.

Kikuchi K, Hiwatashi A, Togao O et al (2018) Usefulness of perfusion- and diffusion-weighted imaging to differentiate between pilocytic astrocytomas and high-grade gliomas: a multicenter study in Japan. Neuroradiology 60:391–401

19.

Kitamura Y, Sasaki H, Kimura T, Miwa T, Takahashi S, Kawase T, Yoshida K (2013) Molecular and clinical risk factors for recurrence of skull base chordomas: gain on chromosome 2p, expression of brachyury, and lack of irradiation negatively correlate with patient prognosis. J Neuropathol Exp Neurol 72:816–823

20.

Komotar RJ, Starke RM, Raper DMSS, Anand VK, Schwartz TH (2011) The endoscope-assisted ventral approach compared with open microscope-assisted surgery for clival chordomas. World Neurosurg 76:318–327

21.

La Corte E, Aldana PR (2017) Endoscopic approach to the upper cervical spine and clivus: an anatomical study of the upper limits of the transoral corridor. Acta Neurochir 159:633–639

22.

La Corte E, Aldana PR, Schiariti M, Maccari A, Ferroli P (2014) Endoscopic approaches to the craniovertebral junction. Acta Neurochir 156:293–295

23.

La Corte E, Aldana PR, Ferroli P, Greenfield JP, Härtl R, Anand VK, Schwartz TH (2015) The rhinopalatine line as a reliable predictor of the inferior extent of endonasal odontoidectomies. Neurosurg Focus 38

24.

La Corte E, Broggi M, Bosio L, Danesi G, Ferroli P (2018) Tailored surgical strategy in clival chordomas: an extraordinary selection bias that limits approach comparison. J Neurosurg Sci 62:519–521

25.

La Corte E, Dei Cas M, Raggi A et al (2019) Long and very-long-chain ceramides correlate with a more aggressive behavior in skull base chordoma patients. Int J Mol Sci 20:4480

26.

Labidi M, Watanabe K, Bouazza S, Bresson D, Bernat AL, George B, Froelich S (2016) Clivus chordomas: a systematic review and meta-analysis of contemporary surgical management. J Neurosurg Sci 60(4):476–484

27.

Lee IJ, Lee RJ, Fahim DK (2017) Prognostic factors and survival outcome in patients with chordoma in the United States: a population-based analysis. World Neurosurg 104:346–355

28.

Lin E, Scognamiglio T, Zhao Y, Schwartz TH, Phillips CD (2018) Prognostic implications of gadolinium enhancement of skull base chordomas. Am J Neuroradiol 39:1509–1514

29.

Ma JP, Tian KB, Wang L et al (2016) Proposal and validation of a basic progression scoring system for patients with skull base chordoma. World Neurosurg 91:409–418

30.

Moons KG, Harrell FE, Steyerberg EW (2002) Should scoring rules be based on odds ratios or regression coefficients? J Clin Epidemiol 55:1054–1055

31.

Pamir MN, Özduman K (2006) Analysis of radiological features relative to histopathology in 42 skull-base chordomas and chondrosarcomas. Eur J Radiol 58:461–470

32.

Santegoeds RGC, Temel Y, Beckervordersandforth JC, Van Overbeeke JJ, Hoeberigs CM (2018) State-of-the-art imaging in human chordoma of the skull base. Curr Radiol Rep 6:16

33.

Sarnthein J, Stieglitz L, Clavien P-A, Regli L (2016) A patient registry to improve patient safety: recording general neurosurgery complications. PLoS One 11:e0163154

34.

Sekhar LN, Fessler RG (2006) Atlas of neurosurgical techniques. Thieme, Brain

35.

Sen C, Triana AI, Berglind N, Godbold J, Shrivastava RK (2010) Clival chordomas: clinical management, results, and complications in 71 patients. J Neurosurg 113:1059–1071

36.

Stacchiotti S, Sommer J, Chordoma Global Consensus Group (2015) Chordoma global consensus group: building a global consensus approach to chordoma: a position paper from the medical and patient community. Lancet Oncol 16:e71–e83

37.

Stippler M, Gardner PA, Snyderman CH, Carrau RL, Prevedello DM, Kassam AB (2009) Endoscopic endonasal approach for clival chordomas. Neurosurgery 64:268–278

38.

Tian K, Wang L, Wang K et al (2016) Analysis of clinical features and outcomes of skull base chordoma in different age-groups. World Neurosurg 92:407–417

39.

Tian K, Wang L, Ma J, Wang K, Li D, Du J, Jia G, Wu Z, Zhang J (2017) MR imaging grading system for skull base chordoma. AJNR Am J Neuroradiol 38:1206–1211

40.

Tian K, Zhang H, Ma J et al (2017) Factors for overall survival in patients with skull base chordoma: a retrospective analysis of 225 patients. World Neurosurg 97:39–48

41.

Walcott BP, Nahed BV, Mohyeldin A, Coumans J-V, Kahle KT, Ferreira MJ (2012) Chordoma: current concepts, management, and future directions. Lancet Oncol 13:e69–e76

42.

Wang L, Tian K, Wang K, Ma J, Ru X, Du J, Jia G, Zhang L, Wu Z, Zhang J (2016) Factors for tumor progression in patients with skull base chordoma. Cancer Med 5:2368–2377

43.

Wu Z, Zhang J, Zhang L, Jia G, Tang J, Wang L, Wang Z (2010) Prognostic factors for long-term outcome of patients with surgical resection of skull base chordomas—106 cases review in one institution. Neurosurg Rev 33:451–456

44.

Yakkioui Y, van Overbeeke JJ, Santegoeds R, van Engeland M, Temel Y (2014) Chordoma: the entity. Biochim Biophys Acta 1846:655–669

45.

Yasuda M, Bresson D, Chibbaro S, Cornelius JF, Polivka M, Feuvret L, Takayasu M, George B (2012) Chordomas of the skull base and cervical spine: clinical outcomes associated with a multimodal surgical resection combined with proton-beam radiation in 40 patients. Neurosurg Rev 35:171–182

46.

Zhai Y, Bai J, Wang S, Du J, Wang J, Li C, Gui S, Zhang Y (2017) Differences in dural penetration of clival chordomas are associated with different prognosis and expression of platelet-derived growth factor receptor-β. World Neurosurg 98:288–295

47.

Zou MX, Lv GH, Zhang QS, Wang SF, Li J, Wang X, Bin (2018) Prognostic factors in skull base chordoma: a systematic literature review and meta-analysis. World Neurosurg 109:307–327
Ethics declarations
Conflict of interest
The authors declare that they have no conflict of interest.
Ethical approval
All procedures performed in studies involving human participants were in accordance with the ethical standards of the Fondazione IRCCS Istituto Neurologico "Carlo Besta" research committee (Ref. 2015-034) and with the 1964 Helsinki declaration and its later amendments or comparable ethical standards.
Informed consent
Informed consent was obtained from all individual participants included in the study.
Additional information
Publisher's note
Springer Nature remains neutral with regard to jurisdictional claims in published maps and institutional affiliations.
This article is part of the Topical Collection on Tumor – Other
About this article
Cite this article
La Corte, E., Broggi, M., Raggi, A. et al. Peri-operative prognostic factors for primary skull base chordomas: results from a single-center cohort.. Acta Neurochir (2020) doi:10.1007/s00701-020-04219-7
Received:

Accepted:

Published:
Keywords
Chordoma

Clivus

Skull base surgery

Skull base

Complication

Outcome

Grading system

Endoscopic endonasal approach