Abstract
Background
Expanding the ventrolateral skull base corridor from the midline of lower clivus to the petroclival fissure is a challenging endonasal surgical task. Resection of lytic lesions like chondrosarcoma can cause cranial nerve morbidities and injury of ICA, necessitating accurate knowledge of correlative endoscopic anatomy with stereotactic landmarks.
Methods
We describe an extended endoscopic endonasal approach (EEA) for a right petroclival chondrosarcoma with the demonstration of ipsilateral surgical landmarks with contralateral normal correlates, using a stepwise comparative image-guided cadaveric dissection study.
Conclusion
EEA for lytic lesions like chondrosarcomas needs to address brain shift and displacement of ICA, posing a chance for cranial nerve morbidities and ICA injury. Meticulous utilization of intraoperative stereotactic landmarks can help avoid and mitigate surgical complications.
This is a preview of subscription content, log in to check access.
Access options
Buy single article
Instant unlimited access to the full article PDF.
US$ 39.95
Price includes VAT for USA
Subscribe to journal
Immediate online access to all issues from 2019. Subscription will auto renew annually.
US$ 199
This is the net price. Taxes to be calculated in checkout.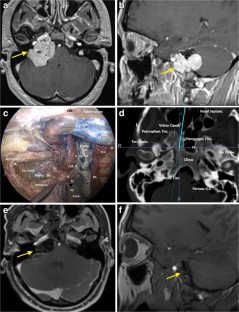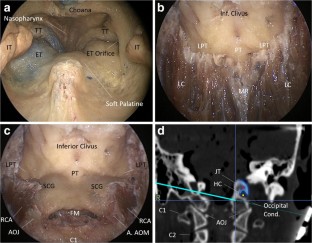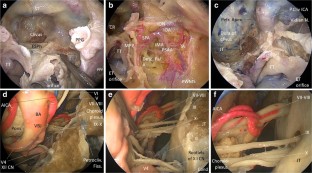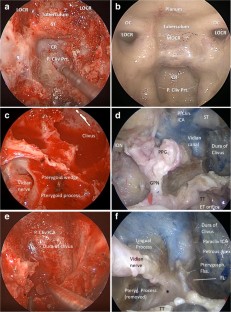 Abbreviations
EEa:

Expanded endoscopic endonasal approaches

eFMA:

Endoscopic far-medial approach

CCJ:

Craniocervical junction

SCG:

Supracondylar groove

LPT:

Lateral pharyngeal tubercle

AOJ:

Atlanto-occipital joint

AOM:

Atlanto-occipital membrane

IGS:

Image guidance system

HC:

Hypoglossal canal

e-ICG:

Endoscope-integrated indocyanine green fluorescence

ICA:

Internal carotid artery

EEA:

Expanded endonasal approach

SSEP:

Somato-sensory evoked potential

JF:

Jugular foramen
References
1.

Benet A, Prevedello DM, Carrau RL, Rincon-Torroella J, Fernandez-Miranda JC, Prats-Galino A, Kassam AB (2014) Comparative analysis of the transcranial "far lateral" and endoscopic endonasal "far medial" approaches: surgical anatomy and clinical illustration. World Neurosurg 81(2):385–396

2.

Chakravarthi S, Monroy-Sosa A, Gonen L et al (2018) Reanalyzing the "far medial" (transcondylar-transtubercular) approach based on three anatomical vectors: the ventral posterolateral corridor. J Neurosurg Sci 62(3):347–355

3.

Little RE, Taylor RJ, Miller JD, Ambrose EC, Matthew DMS, Adam GE (2014) Endoscopic endonasal transclival approaches : case series and outcomes for different clival regions

4.

Morera VA, Fernandez-Miranda JC, Prevedello DM, Madhok R, Barges-Coll J, Gardner P, Carrau R, Snyderman CH, Rhoton AL, Kassam AB (2010) "Far-medial" expanded Endonasal approach to the inferior third of the clivus. Oper Neurosurg 66(June):ons211–ons220

5.

Moussazadeh N, Kulwin C, Anand VK, Ting JY, Gamss C, Iorgulescu JB, Tsiouris AJ, Cohen-gadol AA, Schwartz TH (2015) Endoscopic endonasal resection of skull base chondrosarcomas: technique and early results. 122(April):735–742

6.

Peris-Celda M, Pinheiro-Neto CD, Funaki T, Fernandez-Miranda JC, Gardner P, Snyderman C, Rhoton AL (2013) The extended nasoseptal flap for skull base reconstruction of the clival region: an anatomical and radiological study. J Neurol Surgery, Part B Skull Base 74(6):369–385

7.

Ruiz-valdepeñas EC (2018) How I do it : endoscopic endonasal approach to the inferior third of the clivus. 741–745

8.

Vaz-Guimaraes Filho F, Wang EW, Snyderman CH, Gardner PA, Fernandez-Miranda JC (2013) Endoscopic endonasal "far-medial" transclival approach: surgical anatomy and technique. Oper Tech Otolaryngol - Head Neck Surg 24(4):222–228

9.

Vaz-Guimaraes F, Nakassa ACI, Gardner PA, Wang EW, Snyderman CH, Fernandez-Miranda JC (2017) Endoscopic endonasal approach to the ventral jugular foramen: anatomical basis, technical considerations, and clinical series. Oper Neurosurg 13(4):482–490

10.

Zwagerman NT, Wang EW, Shin SS, Chang Y-F, Fernandez-Miranda JC, Snyderman CH, Gardner PA (2018) Does lumbar drainage reduce postoperative cerebrospinal fluid leak after endoscopic endonasal skull base surgery? A prospective, randomized controlled trial. J Neurosurg:1–7
Acknowledgments
We thank Ricardo L. Carrau, MD, for his invaluable guidance and intellectual contribution during this project.
Ethics declarations
Conflict of interest
This study was performed at ALT-VISION at The Ohio State University. This laboratory receives educational support from the following companies: Carl Zeiss Microscopy, Intuitive Surgical Corp., KLS Martin Corp., Karl Storz Endoscopy, Leica Microsystems, Medtronic Corp., Stryker Corp., and Vycor Medical. Dr. Prevedello is a consultant for Stryker Corp., Medtronic Corp., and Integra; he has received an honorarium from Mizuho and royalties from KLS- Martin. N. London holds stock in Navigen Pharmaceuticals currently of no value and was a consultant for Cooltech Inc., both of which are unrelated to this manuscript.
Ethical approval
All procedures performed in studies involving human participants were in accordance with the ethical standards of the Ohio State University Wexner Medical Center institutional research committee and with the 1964 Helsinki declaration and its later amendments or comparable ethical standards.
Informed consent
Informed consent was obtained from all individual participants included in the study.
Additional information
Key points
1. Preoperative planning and neuronavigation with a contrast CT and/or MR imaging may serve as a consistent intraoperative reference [1].
2. While the parapharyngeal segment of ICA is mobile and amenable to injury, the petrous carotid segment will remain protected once instruments are used in the sublacerum corridor with stereotactic localization [1, 7](Fig. 1).
3. The ICA can be identified at its lacerum segment using IGS, e-ICG, and intraoperative Doppler study [2, 9].
4. Electromyography of the lower CN can help the preservation of displaced or involved nerves VI, VII, IX, X, XI, and XII bilaterally along with brainstem auditory evoked responses and standard SSEPs [1, 9].
5. The attachments of the rectus capitis anterior and AOM at a point approximately 10 mm rostral to the AOJ act as a landmark to locate the SCG. Identifying the SCG aids in determining the location of the HC and represents a separating line between jugular tubercle and the occipital condyle [4] (Fig. 2).
6. The attachment of the longus capitis muscle to the LPT helps locate the jugular tubercle and tubercular compartment. The jugular tubercle forms a close osseous relationship posteriorly with CN IX-XI while entering the jugular foramen; the extradural tubercle drilling avoids manipulation of the nerves or mobilization of the sigmoid sinus [2, 4](Fig. 3e).
7. The extent of the medial condylectomy is posteriorly limited by the level of the anterior cortical wall of the hypoglossal canal; condylar drilling exposes the vertebral artery at its dural entry point into the posterior fossa allowing for proximal vascular control if hemorrhage occurs [4](Fig. 3).
8. The Eustachian tube lies medial to the parapharyngeal ICA segment and serves as a landmark for transtubercular drilling in the same anteroposterior plane as the superior edge of the torus tubarius (Fig. 3c).
9. Adequate hemostatic agents and blood should be made available for use in surgery [7].
10. Multilayer reconstruction using large vascularized flaps such as the lateral nasal wall or a nasoseptal flap extending to the nasal floor may be needed for a reinforced skull base closure [6, 9].
Publisher's note
Springer Nature remains neutral with regard to jurisdictional claims in published maps and institutional affiliations.
This article is part of the Topical Collection on Neurosurgical Anatomy
Electronic supplementary material
A 27-year-old woman presented with diplopia during pregnancy. The neurological exam revealed no cranial nerve dysfunction. Preoperative and postoperative MRI is presented in Fig. 1a and b. There were no postoperative complications, and the patient improved her referred diplopia after the procedure. Postop MRI shows a gross total resection of the petroclival lesion. (Fig. 1e and f) (MP4 223092 kb)
About this article
Cite this article
Silveira-Bertazzo, G., Manjila, S., London, N.R. et al. Techniques and challenges of the expanded endoscopic endonasal access to the ventrolateral skull base during the "far-medial" and "extreme medial" approaches. Acta Neurochir (2020) doi:10.1007/s00701-019-04204-9
Received:

Accepted:

Published:
Keywords
Far-medial

Extreme medial

Expanded endonasal

Transclival approach

Lower clivus

Skull base

Sublacerum corridor

Endoscopic landmarks