Abstract
We report an unusual case of a young male patient who presented with severe pain and swelling of his left eyelid following an air compressor tip accident. He suffered extensive facial edema accompanied by deep tissue emphysema and an elevated intraocular pressure. On noncontrast CT scan, air was detected in the intraconal and extraconal orbital compartments, and intracranially within the subarachnoid spaces as well as in the suprasellar and perimesencephalic cisterns. There were no detectable fractures. We presume that by perforating the orbital septum, Tenon's capsule, and the optic nerve sheath, air had managed to penetrate the cranium through the optic nerve subarachnoid space and into the intracranial subarachnoid space.
This is a preview of subscription content, log in to check access.
Access options
Buy single article
Instant unlimited access to the full article PDF.
US$ 39.95
Price includes VAT for USA
Subscribe to journal
Immediate online access to all issues from 2019. Subscription will auto renew annually.
US$ 199
This is the net price. Taxes to be calculated in checkout.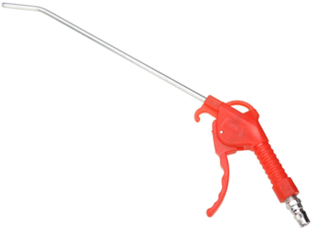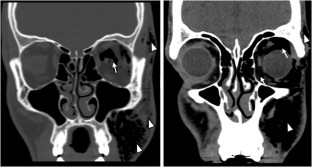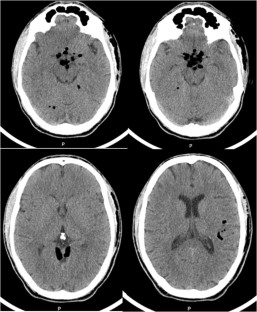 References
1.

Adler JS, Graeb DA, Nugent RA (1992) Inadvertent intracranial placement of a nasogastric tube in a patient with severe head trauma. Can Med Assoc J 147:668–669

2.

Bakay L, Glasauer FE (1980) Head injury. Little Brown, Boston

3.

Dabdoub CB, Salas G, Silveira E et al (2015) Review of the management of pneumocephalus. Surg Neurol Int 6:155

4.

Hage P, Daou B, Jabbour P (2015) Spontaneous otogenic pneumocephalus due to altitude changes: a case report and review of literature. Clin Neurol Neurosurg 138:162–164

5.

Huh J (2013) Barotrauma-induced pneumocephalus experienced by a high risk patient after commercial air travel. J Korean Neurosurg Soc 54:142–144

6.

Karavelioglu E, Eser O, Haktanir A (2014) Pneumocephalus and pneumorrhachis after spinal surgery: case report and review of the literature. Neurol Med Chir 54:405–407

7.

Lunsford LD, Maroon JC, Sheptak PE et al (1979) Subdural tension pneumocephalus. Report of two cases. J Neurosurg 50:525

8.

Mahabir RC, Szymczak A, Sutherland GR (2004) Intracerebral pneumatocele presenting after air travel. J Neurosurg 101:340–342

9.

Mattick A, Goodwin P (2005) Mount Fuji sign on CT following trauma. J Trauma 59:254

10.

Ratilal B, Costa J, Sampaio C (2006) Antibiotic prophylaxis for preventing meningitis in patients with basilar skull fractures. Cochrane Database Syst Rev. 2006;(1):CD004884. https://doi.org/10.1002/14651858.CD004884.pub2

11.

Webber-Jones JE (2005) Tension pneumocephalus. J Neurosci Nurs 37:272–276

12.

Williams TR, Frankel N (1999) Intracerebral air caused by conjunctival laceration with air hose. Arch Ophthalmol 117:1090–1091

13.

Yildiz A, Duce MN, Ozer C et al (2002) Disseminated pneumocephalus secondary to an unusual facial trauma. Eur J Radiol 42:65–68

14.

Zeba I, Barkovic I, Knezevic S, Lender DM et al (2010) Pneumocephalus after an uneventful scuba dive. Aviat Space Environ Med 81:511–513
Ethics declarations
Conflict of interest
The authors declare that they have no conflict of interest.
Patient consent
The patient has consented to the submission of the case report for publication purposes in this medical journal.
Additional information
Publisher's note
Springer Nature remains neutral with regard to jurisdictional claims in published maps and institutional affiliations.
This article is part of the Topical Collection on Brain trauma
About this article
Cite this article
Suisa, H., Sviri, G. Disseminated pneumocephalus secondary to air compressor injury. Acta Neurochir (2020) doi:10.1007/s00701-019-04184-w
Received:

Accepted:

Published:
Keywords
Pneumocephalus

Air compressor

Barotrauma

CSF leak

Blow gun

Intraocular pressure