Abstract
Background
Skull base paragangliomas are highly vascular tumors that are often embolized before surgical resection; however, the safety and efficacy of preoperative embolization using an ethylene vinyl alcohol copolymer (Onyx; Medtronic, Dublin, Republic of Ireland) in these tumors is unknown. This retrospective cohort study evaluated patient outcomes after preoperative embolization of skull base paragangliomas using Onyx.
Methods
We retrospectively analyzed data from all patients with skull base paragangliomas who underwent preoperative Onyx embolization at our institution (January 01, 2005–December 31, 2017). Patient, tumor, embolization, and outcomes data were extracted by reviewing inpatient and outpatient clinical and imaging records.
Results
Seven patients were studied (5/7 [71%] female), 6 with glomus jugulares and 1 with a glomus vagale. The median age was 52 years, and the most common presenting symptom was cranial neuropathy (6/7 [86%]). The tumor vascular supply was from the ascending pharyngeal artery in all 7 cases (100%) with additional feeders including the occipital artery in 5 (71%); internal carotid artery in 3 (43%); middle meningeal, vertebral, and internal maxillary artery each in 2 (29%); and posterior auricular artery in 1 (14%). The median postembolization tumor devascularization was 80% (range, 64–95%). The only postembolization complication was a facial palsy in 1 patient.
Conclusion
Preoperative embolization with Onyx affords excellent devascularization for the majority of skull base paragangliomas, and it may facilitate resection of these hypervascular lesions. The advantages provided by Onyx with respect to penetration of intratumoral vessels must be weighed against the risk of cranial neuropathy.
This is a preview of subscription content, log in to check access.
Access options
Buy single article
Instant unlimited access to the full article PDF.
US$ 39.95
Price includes VAT for USA
Subscribe to journal
Immediate online access to all issues from 2019. Subscription will auto renew annually.
US$ 199
This is the net price. Taxes to be calculated in checkout.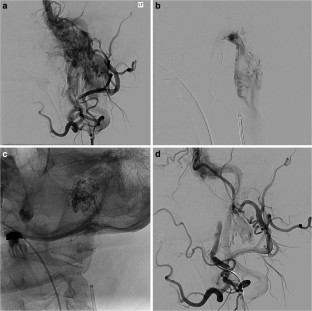 Abbreviations
EBL:

Estimated blood loss
References
1.

Al-Mefty O, Teixeira A (2002) Complex tumors of the glomus jugulare: criteria, treatment, and outcome. J Neurosurg 97:1356–1366

2.

Baharoon AH, Al-Mekhlafi MA, Jamjoom RA, Al-Khatib TA, Merdad MA, Marzouki HZ (2017) Carotid body tumor with skull base extension. Am J Case Rep 18:1153–1156

3.

Borba LA, Araujo JC, de Oliveira JG, Filho MG, Moro MS, Tirapelli LF, Colli BO (2010) Surgical management of glomus jugulare tumors: a proposal for approach selection based on tumor relationships with the facial nerve. J Neurosurg 112:88–98

4.

Deveikis JP (1996) Sequential injections of amobarbital sodium and lidocaine for provocative neurologic testing in the external carotid circulation. AJNR Am J Neuroradiol 17:1143–1147

5.

Dixon JL, Atkins MD, Bohannon WT, Buckley CJ, Lairmore TC (2016) Surgical management of carotid body tumors: a 15-year single institution experience employing an interdisciplinary approach. Proc (Baylor Univ Med Cent) 29:16–20

6.

Erickson D, Kudva YC, Ebersold MJ, Thompson GB, Grant CS, van Heerden JA, Young WF Jr (2001) Benign paragangliomas: clinical presentation and treatment outcomes in 236 patients. J Clin Endocrinol Metab 86:5210–5216

7.

Fayad JN, Keles B, Brackmann DE (2010) Jugular foramen tumors: clinical characteristics and treatment outcomes. Otol Neurotol 31:299–305

8.

Gartrell BC, Hansen MR, Gantz BJ, Gluth MB, Mowry SE, Aagaard-Kienitz BL, Baskaya MK, Gubbels SP (2012) Facial and lower cranial neuropathies after preoperative embolization of jugular foramen lesions with ethylene vinyl alcohol. Otol Neurotol 33:1270–1275

9.

Gaynor BG, Elhammady MS, Jethanamest D, Angeli SI, Aziz-Sultan MA (2014) Incidence of cranial nerve palsy after preoperative embolization of glomus jugulare tumors using Onyx. J Neurosurg 120:377–381

10.

Gemmete JJ, Chaudhary N, Pandey A, Gandhi D, Sullivan SE, Marentette LJ, Chepeha DB, Ansari SA (2010) Usefulness of percutaneously injected ethylene-vinyl alcohol copolymer in conjunction with standard endovascular embolization techniques for preoperative devascularization of hypervascular head and neck tumors: technique, initial experience, and correlation with surgical observations. AJNR Am J Neuroradiol 31:961–966

11.

Gobin YP, Murayama Y, Milanese K, Chow K, Gonzalez NR, Duckwiler GR, Vinuela F (2001) Head and neck hypervascular lesions: embolization with ethylene vinyl alcohol copolymer--laboratory evaluation in swine and clinical evaluation in humans. Radiology 221:309–317

12.

Gross BA, Albuquerque FC, Moon K, McDougall CG (2017) The road less traveled: transarterial embolization of dural arteriovenous fistulas via the ascending pharyngeal artery. J Neurointerv Surg 9:97–101

13.

Hacein-Bey L, Daniels DL, Ulmer JL, Mark LP, Smith MM, Strottmann JM, Brown D, Meyer GA, Wackym PA (2002) The ascending pharyngeal artery: branches, anastomoses, and clinical significance. AJNR Am J Neuroradiol 23:1246–1256

14.

Herman B, Bublik M, Ruiz J, Younis R (2011) Endoscopic embolization with onyx prior to resection of JNA: a new approach. Int J Pediatr Otorhinolaryngol 75:53–56

15.

Hira A, Chao K (2011) Direct endoscopic intratumoral injection of Onyx for the preoperative embolization of a recurrent juvenile nasal angiofibroma. Interv Neuroradiol 17:477–481

16.

Hishikawa T, Sugiu K, Murai S, Takahashi Y, Kidani N, Nishihiro S, Hiramatsu M, Date I, Satow T, Iihara K, Sakai N Jr, NET, groups J-Ns (2019) A comparison of the prevalence and risk factors of complications in intracranial tumor embolization between the Japanese Registry of NeuroEndovascular Therapy 2 (JR-NET2) and JR-NET3. Acta Neurochir 161:1675–1682

17.

Hu K, Persky MS (2016) Treatment of head and neck Paragangliomas. Cancer Control 23:228–241

18.

Huy PTB, Kania R, Duet M, Dessard-Diana B, Mazeron J-J, Benhamed R (2009) Evolving concepts in the Management of jugular paraganglioma: a comparison of radiotherapy and surgery in 88 cases. Skull Base 19:83–91

19.

Jansen JC, van den Berg R, Kuiper A, van der Mey AG, Zwinderman AH, Cornelisse CJ (2000) Estimation of growth rate in patients with head and neck paragangliomas influences the treatment proposal. Cancer 88:2811–2816

20.

Kadakia S, Koss S, Isseroff TF, Holliday RA, Kim AH (2015) Facial nerve paralysis after pre-operative embolization of a paraganglioma. Am J Otolaryngol 36:90–92

21.

Kansal A, Srinet P, Manes RP (2016) Direct tumor embolization of sinonasal unclassified spindle cell sarcoma with Onyx. J Neurol Surg Rep 77:e139–e143

22.

Ladner TR, He L, Davis BJ, Yang GL, Wanna GB, Mocco J (2016) Initial experience with dual-lumen balloon catheter injection for preoperative Onyx embolization of skull base paragangliomas. J Neurosurg 124:1813–1819

23.

Langerman A, Athavale SM, Rangarajan SV, Sinard RJ, Netterville JL (2012) Natural history of cervical paragangliomas: outcomes of observation of 43 patients. Arch Otolaryngol Head Neck Surg 138:341–345

24.

Larouere MJ, Zappia JJ, Wilner HI, Graham MD, Lundy LB (1994) Selective embolization of glomus jugulare tumors. Skull Base Surg 4:21–25

25.

Lasjaunias P, Moret J (1976) The ascending pharyngeal artery: normal and pathological radioanatomy. Neuroradiology 11:77–82

26.

Lee JA, Duh QY (2008) Sporadic paraganglioma. World J Surg 32:683–687

27.

Makiese O, Chibbaro S, Marsella M, Tran Ba Huy P, George B (2012) Jugular foramen paragangliomas: management, outcome and avoidance of complications in a series of 75 cases. Neurosurg Rev 35:185–194 discussion 194

28.

Michelozzi C, Januel AC, Cuvinciuc V, Tall P, Bonneville F, Fraysse B, Deguine O, Serrano E, Cognard C (2016) Arterial embolization with Onyx of head and neck paragangliomas. J Neurointerv Surg 8:626–635

29.

Miller RB, Boon MS, Atkins JP, Lowry LD (2000) Vagal paraganglioma: the Jefferson experience. Otolaryngol Head Neck Surg 122:482–487

30.

Murphy TP, Brackmann DE (1989) Effects of preoperative embolization on glomus jugulare tumors. Laryngoscope 99:1244–1247

31.

Odat H, Alawneh K, Al-Qudah M (2018) Facial nerve paralysis after Onyx embolization of a jugular paraganglioma: a case report with a long-term follow-up. J Clin Med 7

32.

Ozyer U, Harman A, Yildirim E, Aytekin C, Akay TH, Boyvat F (2010) Devascularization of head and neck paragangliomas by direct percutaneous embolization. Cardiovasc Intervent Radiol 33:967–975

33.

Papaspyrou K, Mann WJ, Amedee RG (2009) Management of head and neck paragangliomas: review of 120 patients. Head Neck 31:381–387

34.

Persky MS, Setton A, Niimi Y, Hartman J, Frank D, Berenstein A (2002) Combined endovascular and surgical treatment of head and neck paragangliomas--a team approach. Head Neck 24:423–431

35.

Power AH, Bower TC, Kasperbauer J, Link MJ, Oderich G, Cloft H, Young WF Jr, Gloviczki P (2012) Impact of preoperative embolization on outcomes of carotid body tumor resections. J Vasc Surg 56:979–989

36.

Prouse G, Mazzaccaro D, Settembrini F, Carmo M, Biglioli F, Settembrini PG (2013) Double osteotomy of mandibula in the treatment of carotid body tumors with skull base extension. J Vasc Surg 58:486–490

37.

Przybylowski CJ, Baranoski JF, See AP, Flores BC, Almefty RO, Ding D, Chapple KM, Sanai N, Ducruet AF, Albuquerque FC (2018) Preoperative embolization of skull base meningiomas: outcomes in the Onyx era. World Neurosurg 116:e371–e379

38.

Quadros RS, Gallas S, Delcourt C, Dehoux E, Scherperel B, Pierot L (2006) Preoperative embolization of a cervicodorsal paraganglioma by direct percutaneous injection of onyx and endovascular delivery of particles. AJNR Am J Neuroradiol 27:1907–1909

39.

Sugiu K, Hishikawa T, Murai S, Takahashi Y, Kidani N, Nishihiro S, Hiramatsu M, Date I, Satow T, Iihara K, Sakai N (2019) Treatment outcome of intracranial tumor embolization in Japan: Japanese Registry of NeuroEndovascular Therapy 3 (JR-NET3). Neurol Med Chir (Tokyo) 59:41–47

40.

U.S. Food and Drug Administration (2005) Premarket Approval (PMA). In: U.S. Food and Drug Administration (ed) https://www.accessdata.fda.gov/scripts/cdrh/cfdocs/cfpma/pma.cfm?id=P030004. Accessed June 2018

41.

Wang SJ, Wang MB, Barauskas TM, Calcaterra TC (2000) Surgical management of carotid body tumors. Otolaryngol Head Neck Surg 123:202–206

42.

Wanke I, Jackel MC, Goericke S, Panagiotopoulos V, Dietrich U, Forsting M (2009) Percutaneous embolization of carotid paragangliomas using solely Onyx. AJNR Am J Neuroradiol 30:1594–1597

43.

White JB, Link MJ, Cloft HJ (2008) Endovascular embolization of paragangliomas: a safe adjuvant to treatment. J Vasc Interv Neurol 1:37–41

44.

Young NM, Wiet RJ, Russell EJ, Monsell EM (1988) Superselective embolization of glomus jugulare tumors. Ann Otol Rhinol Laryngol 97:613–620
Acknowledgments
The authors thank the Neuroscience Publications staff at Barrow Neurological Institute for the help with manuscript preparation.
Ethics declarations
Conflict of interest
Dr. Ducruet is a consultant for Penumbra, Medtronic, and Cerenovus. The other authors certify that they have no affiliations with or involvement in any organization or entity with any financial interest (such as honoraria; educational grants; participation in speakers' bureaus; membership, employment, consultancies, stock ownership, or other equity interest; and expert testimony or patent-licensing arrangements) or non-financial interest (such as personal or professional relationships, affiliations, knowledge or beliefs) in the subject matter or materials discussed in this manuscript.
Ethical approval
All procedures performed in this study were in accordance with the ethical standards of the Institutional Review Board of St. Joseph's Hospital and Medical Center for Human Research (Phoenix, AZ, USA) and with the 1964 Declaration of Helsinki and its later amendments or comparable ethical standards. For this type of study, formal consent is not required.
Informed consent
Informed consent was obtained from all individual participants included in the study.
Additional information
Publisher's note
Springer Nature remains neutral with regard to jurisdictional claims in published maps and institutional affiliations.
This article is part of the Topical Collection on Tumor - Glioma
Electronic supplementary material
Literature Review. A literature review was performed to analyze the functional outcomes of patients who had skull base paragangliomas treated with Onyx (Medtronic, Dublin Republic of Ireland) embolization during adjunct therapy. PubMed was queried using the following parameters: ("paraganglioma" AND "embolization") AND ("vagal" OR "tympanic" OR "jugulotympanic" OR "glossopharyngeal" OR "skull base"). Only articles published between July 21, 2005, and June 1, 2018, were searched as Onyx was first approved by the US Food and Drug Administration in July 2005 [40]. The articles were reviewed and included if they met the following selection criteria: paragangliomas were located at the skull base, adjunctive embolization was performed with Onyx, and articles were written in English. Articles were excluded if they reported using an embolization agent other than Onyx or if they omitted the method of embolization. All carotid body tumors were excluded. (PDF 397 kb)
About this article
Cite this article
Catapano, J.S., Almefty, R.O., Ding, D. et al. Onyx embolization of skull base paragangliomas: a single-center experience. Acta Neurochir (2020) doi:10.1007/s00701-019-04127-5
Received:

Accepted:

Published:
Keywords
Embolization

Endovascular procedures

Glomus tumors

Onyx

Skull base paragangliomas