Abstract
Background
Skull base chondrosarcomas are rare tumors often invading the petrous apex and cavernous sinus, and many surgical approaches have been described. For most of them, these tumors grow slowly and their partial removal can be a first option before complementary radiotherapy. We described herein a minimally invasive approach that could be useful for soft non-calcified chondrosarcomas.
Method and results
We report a case of right parasellar chondrosarcoma, for which an extra-intradural extracavernous subtemporal approach allowed a safe effective partial removal.
Conclusion
This surgical approach is indicated in selected cases to obtain good decompression or partial removal of lesions involving the parasellar space and the petrous apex.
This is a preview of subscription content, log in to check access.
Access options
Buy single article
Instant unlimited access to the full article PDF.
US$ 39.95
Price includes VAT for USA
Subscribe to journal
Immediate online access to all issues from 2019. Subscription will auto renew annually.
US$ 199
This is the net price. Taxes to be calculated in checkout.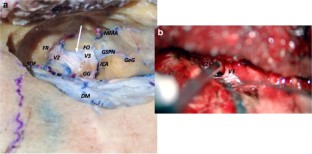 Abbreviations
GG:

Gasser ganglion

GeG:

Geniculate ganglion

FO:

Foramen ovale

FR:

Foramen rotundum

FS:

Foramen spinosum

GSPN:

Greater superficial petrosal nerves

ICA:

Internal carotid artery
References
1.

Jacquesson T, Simon E, Berhouma M, Jouanneau E (2015) Anatomic comparison of anterior petrosectomy versus the expanded endoscopic endonasal approach: interest in petroclival tumors surgery. Surg Radiol Anat 37(10):1199–1207

2.

Roche PH, Troude L, Peyriere H, Noudel R (2014) The epidural approach to the Meckel's cave: a how I do it. Acta Neurochir 156(1):217–220

3.

Sen CN, Sekhar LN, Schramm VL, Janecka IP (1989) Chordoma and chondrosarcoma of the cranial base: an 8-year experience. Neurosurgery 25(6):931–940

4.

Sindou M, Messerer M, Alvernia J, Saint-Pierre G (2012) Percutaneous biopsy through the foramen ovale for parasellar lesions: surgical anatomy, method, and indications. Adv Tech Stand Neurosurg 38:57–73

5.

Van Gompel JJ, Janus JR (2015) Chordoma and chondrosarcoma. Otolaryngol Clin N Am 48(3):501–514
Acknowledgments
We thank P. Robinson for English editing.
Ethics declarations
Patient consent
The patient has consented to the submission of this "How I Do It" for submission to the journal.
Additional information
Publisher's note
Springer Nature remains neutral with regard to jurisdictional claims in published maps and institutional affiliations.
This article is part of the Topical Collection on Tumor - Other
Electronic supplementary material
The following video shows the management of a chondrosarcoma, with preoperative imaging, surgical technique, intraoperative findings and post surgical results. (MP4 353,804 kb)
The following video shows the management of a chondrosarcoma, with preoperative imaging, surgical technique, intraoperative findings and post surgical results. (MP4 353,804 kb)
About this article
Cite this article
Chiaramonte, C., Jacquesson, T. & Jouanneau, E. Extra-intradural extracavernous subtemporal approach for chondrosarcomas: technical note and case report. Acta Neurochir 161, 2349–2352 (2019) doi:10.1007/s00701-019-03989-z
Received:

Accepted:

Published:

Issue Date:
Keywords
Skull base surgery

Cavernous sinus surgery

Chondrosarcomas

Subtemporal approach

Extradural approach

Extracavernous approach