Abstract
Background
Spheno-orbital meningiomas are complex tumours involving the sphenoid wing and orbit. Various surgical strategies are available but treatment remains challenging and patients often require more than one surgical procedure. This study evaluated whether smaller surgical approaches and newer reconstructive methods impacted the surgical and clinical outcomes of patients undergoing repeat surgery.
Methods
We retrospectively analysed the medical records of consecutive patients who underwent surgery for a spheno-orbital meningioma at a single tertiary centre between 2005 and 2016. We recorded procedural details and analysed complications, postoperative visual status and patient-reported cosmetic outcome.
Results
Thirty-four procedures were performed in 31 patients (M:F 12:22, median age 49 years) including 19 (56%) primary operations and 15 (44%) repeat procedures. Seven patients (20.5%) had a pterional craniotomy, 19 (56%) had a standard orbitozygomatic craniotomy and 8 (23.5%) underwent a modified mini-orbitozygomatic craniotomy. Calvarial reconstruction was required in 19 cases with a variety of techniques used including titanium mesh (63%), PEEK (26%) and split calvarial bone graft (5%). Total tumour resection (Simpson grade I–II) was significantly higher in patients undergoing primary surgery compared with those having repeat surgery (41% and 0%, respectively; p = 0.0036). Complications occurred in 14 cases (41%). Proptosis improved in all patients and visual acuity improved or remained stable in 93% of patients. Cosmetic outcome measures were obtained for 18 patients (1 = very poor; 5 = excellent): 1–2, 0%; 3, 33%; 4, 28%; 5, 39%. Tumour recurrence requiring further surgery occurred in four patients (12%). There was no significant difference in clinical outcomes between patients undergoing primary or repeat surgery.
Conclusion
Spheno-orbital meningiomas are highly complex tumours. Surgical approaches should be tailored to the patient but good clinical and cosmetic outcomes may be achieved with a smaller craniotomy and custom-made implants, irrespective of whether the operation is the patient's first procedure.
This is a preview of subscription content, log in to check access.
Access options
Buy single article
Instant unlimited access to the full article PDF.
US$ 39.95
Price includes VAT for USA
Subscribe to journal
Immediate online access to all issues from 2019. Subscription will auto renew annually.
US$ 199
This is the net price. Taxes to be calculated in checkout.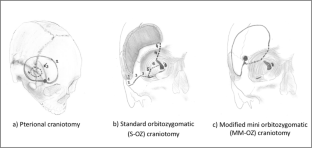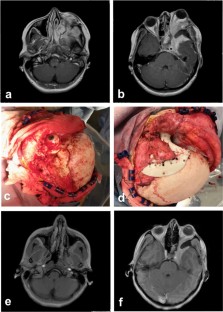 References
1.

Forster MT, Daneshvar K, Senft C, Seifert V, Marquardt G (2014) Sphenoorbital meningiomas: surgical management and outcome. Neurol Res 36(8):695–700

2.

Freeman JL, Davern MS, Oushy S, Sillau S, Ormond DR, Youssef AS, Lillehei KO (2017) Spheno-orbital meningiomas: a 16-year surgical experience. World Neurosurg 99:369–380

3.

Saeed P, van Furth WR, Tanck M et al (2011) Natural history of spheno-orbital meningiomas. Acta Neurochir 153(2):395–402

4.

Terrier LM, Bernard F, Fournier HD, Morandi X, Velut S, Henaux PL, Amelot A, Francois P (2018) Spheno-orbital Meningiomas surgery: multicenter management study for complex extensive tumors. World Neurosurg 112:e145–e156

5.

Rangel-Castilla L, Russin JJ, Spetzler RF (2016) Surgical management of skull base tumors. Rep Pr Oncol Radiother 21(4):325–335

6.

Agrawal A, Garg LN (2011) Split calvarial bone graft for the reconstruction of skull defects. J Surg Tech Case Rep 3(1):13–16

7.

Artico M, Ferrante L, Pastore FS, Ramundo EO, Cantarelli D, Scopelliti D, Iannetti G (2003) Bone autografting of the calvaria and craniofacial skeleton: historical background, surgical results in a series of 15 patients, and review of the literature. Surg Neurol 60(1):71–79

8.

Neligan PC, Boyd JB (1995) Reconstruction of the cranial base defect. Clin Plast Surg 22(1):71–77

9.

Sahoo N, Roy ID, Desai AP, Gupta V (2010) Comparative evaluation of autogenous calvarial bone graft and alloplastic materials for secondary reconstruction of cranial defects. J Craniofac Surg 21(1):79–82

10.

Yadla S, Campbell PG, Chitale R, Maltenfort MG, Jabbour P, Sharan AD (2011) Effect of early surgery, material, and method of flap preservation on cranioplasty infections: a systematic review. Neurosurgery 68(4):1124–1129 discussion 1130

11.

Seckin H, Avci E, Uluc K, Niemann D, Baskaya MK (2008) The work horse of skull base surgery: orbitozygomatic approach. Technique, modifications, and applications. Neurosurg Focus 25(6):E4

12.

Hakuba A, Liu S, Nishimura S (1986) The orbitozygomatic infratemporal approach: a new surgical technique. Surg Neurol 26(3):271–276

13.

Pellerin P, Lesoin F, Dhellemmes P, Donazzan M, Jomin M (1984) Usefulness of the orbitofrontomalar approach associated with bone reconstruction for frontotemporosphenoid meningiomas. Neurosurgery 15(5):715–718

14.

Jumah F, Adeeb N, Dossani RH (2018) Collin S. MacCarty (1915-2003): inventor of the 'MacCarty Keyhole' as the starting burr hole for orbitozygomatic craniotomy. World Neurosurg 111:269–274

15.

Tubbs RS, Loukas M, Shoja MM, Cohen-Gadol AA (2010) Refined and simplified surgical landmarks for the MacCarty keyhole and orbitozygomatic craniotomy. Neurosurgery 66(6 Suppl Operative):230–233

16.

Zabramski JM, Kiriş T, Sankhla SK, Cabiol J, Spetzler RF (1998) Orbitozygomatic craniotomy. J Neurosurg 89(2):336–341

17.

Tanriover N, Ulm AJ, Rhoton AL Jr, Kawashima M, Yoshioka N, Lewis SB (2006) One-piece versus two-piece orbitozygomatic craniotomy: quantitative and qualitative considerations. Neurosurgery 58(4 Suppl 2):ONS-229–ONS-237 discussion ONS-237

18.

Lemole GM Jr, Henn JS, Zabramski JM, Spetzler RF (2003) Modifications to the orbitozygomatic approach. Technical note J Neurosurg 99(5):924–930

19.

Shah AM, Jung H, Skirboll S (2014) Materials used in cranioplasty: a history and analysis. Neurosurg Focus 36(4):E19

20.

Zanotti B, Zingaretti N, Verlicchi A, Robiony M, Alfieri A, Parodi PC (2016) Cranioplasty: review of materials. J Craniofac Surg 27(8):2061–2072

21.

Zhang Q, Yuan Y, Li X, Sun T, Zhou Y, Yu H, Guan J (2018) A large multicenter retrospective research on embedded cranioplasty and covered cranioplasty. World Neurosurg 112:e645–e651

22.

Bikmaz K, Mrak R, Al-Mefty O (2007) Management of bone-invasive, hyperostotic sphenoid wing meningiomas. J Neurosurg 107(5):905–912

23.

Boari N, Gagliardi F, Spina A, Bailo M, Franzin A, Mortini P (2013) Management of spheno-orbital en plaque meningiomas: clinical outcome in a consecutive series of 40 patients. Br J Neurosurg 27(1):84–90

24.

Cannon PS, Rutherford SA, Richardson PL, King A, Leatherbarrow B (2009) The surgical management and outcomes for spheno-orbital meningiomas: a 7-year review of multi-disciplinary practice. Orbit 28(6):371–376

25.

Civit T, Freppel S (2010) Sphenoorbital meningiomas. Neurochirurgie 56(2–3):124–131

26.

Franquet N, Pellerin P, Dhellemmes P, Defoort-Dhellemmes S (2009) Ophthalmologic characteristics of spheno-orbital meningiomas: a series of 23 surgical cases. J Fr Ophtalmol 32(1):16–19

27.

Heufelder MJ, Sterker I, Trantakis C, Schneider JP, Meixensberger J, Hemprich A, Frerich B (2009) Reconstructive and ophthalmologic outcomes following resection of spheno-orbital meningiomas. Ophthalmic Plast Reconstr Surg 25(3):223–226

28.

Honeybul S, Neil-Dwyer G, Lang DA, Evans BT, Ellison DW (2001) Sphenoid wing meningioma en plaque: a clinical review. Acta Neurochir 143(8):749–757 discussion 758

29.

Honig S, Trantakis C, Frerich B, Sterker I, Schober R, Meixensberger J (2010) Spheno-orbital meningiomas: outcome after microsurgical treatment: a clinical review of 30 cases. Neurol Res 32(3):314–325

30.

de JO, Toledo MM (2001) Surgical management of meningioma en plaque of the sphenoid ridge. Surg Neurol 55(5):265–269

31.

Leroy HA, Leroy-Ciocanea CI, Baroncini M, Bourgeois P, Pellerin P, Labreuche J, Duhamel A, Lejeune JP (2016) Internal and external spheno-orbital meningioma varieties: different outcomes and prognoses. Acta Neurochir 158(8):1587–1596

32.

Li Y, Shi JT, An YZ, Zhang TM, Fu JD, Zhang JL, Zhao JZ (2009) Sphenoid wing meningioma en plaque: report of 37 cases. Chin Med J 122(20):2423–2427

33.

Marcus H, Schwindack C, Santarius T, Mannion R, Kirollos R (2013) Image-guided resection of spheno-orbital skull-base meningiomas with predominant intraosseous component. Acta Neurochir 155(6):981–988

34.

Mariniello G, Maiuri F, Strianese D, Donzelli R, Iuliano A, Tranfa F, de Divitiis E, Bonavolonta G (2008) Spheno-orbital meningiomas: surgical approaches and outcome according to the intraorbital tumor extent. Zentralbl Neurochir 69(4):175–181

35.

Mirone G, Chibbaro S, Schiabello L, Tola S, George B (2009) En plaque sphenoid wing meningiomas: recurrence factors and surgical strategy in a series of 71 patients. Neurosurgery 65(6 Suppl):100–109

36.

Oya S, Sade B, Lee JH (2011) Sphenoorbital meningioma: surgical technique and outcome. J Neurosurg 114(5):1241–1249

37.

Ringel F, Cedzich C, Schramm J (2007) Microsurgical technique and results of a series of 63 spheno-orbital meningiomas. Neurosurgery 60(4 Suppl 2):212–214

38.

Sandalcioglu IE, Gasser T, Mohr C, Stolke D, Wiedemayer H (2005) Spheno-orbital meningiomas: interdisciplinary surgical approach, resectability and long-term results. J Craniomaxillofac Surg 33(4):260–266

39.

Scarone P, Leclerq D, Heran F, Robert G (2009) Long-term results with exophthalmos in a surgical series of 30 sphenoorbital meningiomas. Clinical article J Neurosurg 111(5):1069–1077

40.

Schick U (2010) Sphenoorbital meningiomas: results in long-term treatment. HNO 58(1):37–43

41.

Shrivastava RK, Sen C, Costantino PD, Della Rocca R (2005) Sphenoorbital meningiomas: surgical limitations and lessons learned in their long-term management. J Neurosurg 103(3):491–497

42.

Talacchi A, De Carlo A, D'Agostino A, Nocini P (2014) Surgical management of ocular symptoms in spheno-orbital meningiomas. Is orbital reconstruction really necessary? Neurosurg Rev 37(2):301–310
Ethics declarations
Conflict of interest
The authors declare that they have no conflict of interest.
Ethical approval
All procedures performed were in accordance with the ethical standards of the institutional research committee and with the 1964 Helsinki declaration and its later amendments or comparable ethical standards.
Statement of informed consent
This study was approved by the institution's research committee without the need for informed consent.
Additional information
Publisher's note
Springer Nature remains neutral with regard to jurisdictional claims in published maps and institutional affiliations.
This article is part of the Topical Collection on Tumor - Meningioma
About this article
Cite this article
Shapey, J., Jung, J., Barkas, K. et al. A single centre's experience of managing spheno-orbital meningiomas: lessons for recurrent tumour surgery. Acta Neurochir 161, 1657–1667 (2019) doi:10.1007/s00701-019-03977-3
Received:

Accepted:

Published:

Issue Date:
Keywords
Meningioma

Spheno-orbital meningioma

Orbitozygomatic craniotomy

Visual outcome

Cosmetic outcome