Abstract
Background
Ventriculoperitoneal shunt is among the most frequent neurosurgical procedures, complicated by infection and obstruction. The first is influenced by number of skin incisions, catheter exposure and manipulation, and the latter by catheter position.
Method
Presenting our neuronavigated laparoscopic-assisted minimal exposure shunt technique performed on 40 consecutive adults. No patient presented infection or distal catheter migration (mean follow-up 12 months). Ventricular catheter malpositioning associated with electromagnetic neuronavigation inaccuracy occurred in two patients with slit ventricles.
Conclusion
This technique demonstrates low infection/malfunction rate, postoperative pain, and cosmetic advantages. Limiting factors are availability of laparoscopic surgeons and neuronavigation if not familiar with the approach.
This is a preview of subscription content, log in to check access.
We're sorry, something doesn't seem to be working properly.
Please try refreshing the page. If that doesn't work, please contact support so we can address the problem.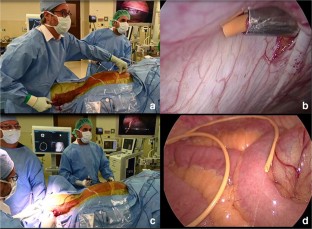 References
1.

Eymann R, Kiefer M (2010) Glue instead of stitches: a minor change of the operative technique with a serious impact on the shunt infection rate. Acta Neurochir Suppl 106:87–89

2.

Fanelli RD, Mellinger DN, Crowell RM, Gersin KS (2000) Laparoscopic ventriculoperitoneal shunt placement: a single-trocar technique. Surg Endosc 14(7):641–643

3.

Jackson CC, Chwals WJ, Frim DM (2002) A single-incision laparoscopic technique for retrieval and replacement of disconnected ventriculoperitoneal shunt tubing found in the peritoneum. Pediatr Neurosurg 36:175–177

4.

Kestle J, Drake J, Milner R et al (2000) Long-term follow-up data from the shunt design trial. Pediatr Neurosurg 33:230–236

5.

Phan S, Liao J, Jia F et al (2016) Laparotomy vs minimally invasive laparoscopic ventriculoperitoneal shunt placement for hydrocephalus: a systematic review and meta-analysis. Clin Neurol Neurosurg 140:26–32

6.

Recinos PF, Pindrik JA, Bedri MI, Ahn ES, Jallo GI, Recinos VR (2013) The periumbilical approach in ventriculoperitoneal shunt placement: technique and long-term results. J Neurosurg Pediatrics 11:558–563

7.

Sandquist MA, Selden NR (2003) A single-pass tunneling technique for CSF shunting procedures. Pediatr Neurosurg 39:254–257

8.

Stoddard T, Kavic SM (2011) Laparoscopic ventriculoperitoneal shunts: benefits to resident training and patient safety. JSLS. 15(1):38–40

9.

Wilson TJ, McCoy KE, Al-Holou WN, Molina SL, Smyth MD, Sullivan SE (2016) Comparison of the accuracy and proximal shunt failure rate of freehand placement versus intraoperative guidance in parietooccipital ventricular catheter placement. Neurosurg Focus 41(3):E10
Ethics declarations
Conflict of interest
The authors declare that they have no conflict of interest.
Ethical approval
All procedures performed in studies involving human participants were in accordance with the ethical standards of the institutional and/or national research committee (name of institute/committee) and with the 1964 Helsinki declaration and its later amendments or comparable ethical standards.
Patient consent statement
The patient next of kin has consented to the submission of this How I Do It for submission to the journal.
Additional information
Publisher's note
Springer Nature remains neutral with regard to jurisdictional claims in published maps and institutional affiliations.
This article is part of the Topical Collection on CSF Circulation
Key points
• Malfunction and infections are the most common shunt complications.
• Contact to the skin and number of incisions are associated with shunt infection.
• Single-pass tunneling decreases the infection rate.
• Catheter disconnection and/or malposition are causes of malfunction.
• Laparoscopic approach is increasingly used in shunts.
• Most laparoscopic approaches imply externalization of the distal catheter before peritoneal insertion.
• Octylcyanoacrylate, antibiotic impregnated sutures, and vancomycin powder reduce dehiscence and infection rate.
• This technique reduces the risks of infection, malpositioning, and malfunction.
• Cosmetic results, abdominal incisional pain, and length of hospital stay are improved.
• Limiting factors are availability of general surgeons and neuronavigation.
Electronic supplementary material
Parietal retroauricular incision and subgaleal pocket creation, distal catheter tunneling, abdominal laparoscopic approach, and transcutaneous peritoneal puncture under laparoscopic view. (MP4 83,526 kb)
Abdominal catheter positioning into the peritoneum, navigation-assisted ventriculostomy, system connection, verification of system functioning, overview on cranial and abdominal incisions. (MP4 31,562 kb)
Parietal retroauricular incision and subgaleal pocket creation, distal catheter tunneling, abdominal laparoscopic approach, and transcutaneous peritoneal puncture under laparoscopic view. (MP4 83,526 kb)
Abdominal catheter positioning into the peritoneum, navigation-assisted ventriculostomy, system connection, verification of system functioning, overview on cranial and abdominal incisions. (MP4 31,562 kb)
About this article
Cite this article
Rigante, L., Navarro, R. & Roser, F. Minimal exposure maximal precision ventriculoperitoneal shunt: how I do it. Acta Neurochir 161, 1619–1622 (2019). https://doi.org/10.1007/s00701-019-03968-4
Received:

Accepted:

Published:

Issue Date:
Keywords
Cerebrospinal fluid

General surgery

Hydrocephalus

Infection

Laparoscopy

Neuronavigation

Neurosurgery