Abstract
The authors present a case of a 42-year-old female admitted for disabling complex and atypical bilateral facial spasms associated with painful masticatory and motor ocular dystonic movements, difficult to fit in the definition of any known cranio-facial dyskinesias. MRI showed a left PICA loop invaginated into the brainstem, considered responsible of an hyperactive disorder of the brainstem nuclei neighboring the conflict. After microvascular decompression, the patient made a full recovery with complete disappearance of the paroxystic phenomena. Such a type of image should be searched for, in an intra-axial brainstem location, in the absence of conflict in the cistern at root entry/exit zone (REZ).
This is a preview of subscription content, log in to check access.
Access options
Buy single article
Instant unlimited access to the full article PDF.
US$ 39.95
Price includes VAT for USA
Subscribe to journal
Immediate online access to all issues from 2019. Subscription will auto renew annually.
US$ 199
This is the net price. Taxes to be calculated in checkout.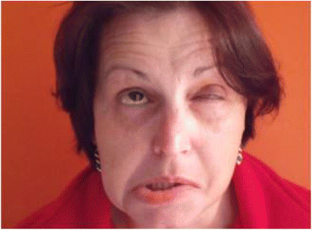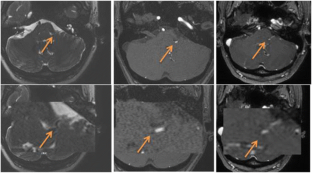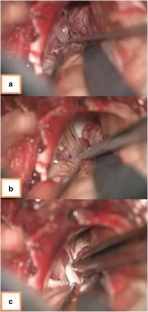 References
1.

Baizabal-Carvallo JF, Jankovic J (2017) Distinguishing features of psychogenic (functional) versus organic hemifacial spasm. J Neurol 264(2):359–363

2.

Evidente VGH, Adler CH (1998) Hemifacial spasm and other craniofacial movement disorders. Mayo Clin Proc 73(1):67–71

3.

Felício AC, de Oliveira Godeiro-Junior C, Borges V, de Azevedo Silva SM, Ferraz HB (2008) Bilateral hemifacial spasm: a series of 10 patients with literature review. Parkinsonism Relat Disord 14(2):154–156

4.

Katz BJ, Burroughs JR, Anderson RL, Bownds S, McCann JD (2007) Asynchronous blepharospasm, facial and cervical dystonia, and bilateral asynchronous hemifacial spasm. Mov Disord 22(2):231–233

5.

Leal PRL, Froment J-C, Sindou M (2010) Séquences IRM pour la détection des conflits vasculonerveux à l'origine de la névralgie trigéminale et leur valeur prédictive pour la caractérisation du conflit (en particulier le degré de la compression vasculaire). Neurochirurgie 56(1):43–49

6.

McDowell MM, Zhu X, Hughes MA, Sekula RF (2016) Facial spasms, but not hemifacial spasm: a case report and review of literature. Childs Nerv Syst 32(9):1735–1739

7.

Pawlowski M, Gess B, Evers S (2013) The Babinski-2 sign in hemifacial spasm. Mov Disord 28(9):1298–1300

8.

Sindou M (2009) Practical handbook of neurosurgery, vol 3. Springer Wien, New York, p 317–33

9.

Sindou MP, Polo G, Fischer C, Vial C (2006) Neurovascular conflict and hemifacial spasm. Suppl Clin Neurophysiol 58:274–281

10.

Stamey W, Jankovic J (2007) The other Babinski sign in hemifacial spasm. Neurology 69(4):402–404

11.

Tan EK, Jankovic J (1999) Bilateral hemifacial spasm: a report of five cases and a literature review. Mov Disord 14(2):345–349
Ethics declarations
Funding
No funding was received for this research.
Conflict of interest
All authors certify that they have no affiliations with or involvement in any organization or entity with any financial interest (such as honoraria; educational grants; participation in speakers' bureaus; membership, employment, consultancies, stock ownership, or other equity interest; and expert testimony or patent-licensing arrangements), or non-financial interest (such as personal or professional relationships, affiliations, knowledge or beliefs) in the subject matter or materials discussed in this manuscript.
Ethical approval/informed consent
All procedures performed in studies involving human participants were in accordance with the ethical standards of the institutional and/or national research committee and with the 1964 Helsinki Declaration and its later amendments or comparable ethical standards. The patient gave her informed consent for publication.
Additional information
Comments
The authors present an unusual case of a 42-year-old female with disabling complex and atypical bilateral facial spasms associated with painful masticatory and motor ocular dystonic movements. A PICA loop deeply indenting the brainstem was depicted on MR imaging. MVD led to an immediate complete resolution of the symptoms with a follow-up period of 3 years.
This is a very interesting and concise case report. When I see the photo, my first impression is a psychogenic disorder. I have seen patients with similar symptoms, but none had a vascular compression, not at the facial nerve exit zone nor in the brainstem. The spasms could be interrupted when the patient was asked to do other tasks and could not focus on her contractions. On the other hand, in our series of over 300 MVD for hemifacial spasm, I have seen several patients with even more severe brainstem compressions by PICA loops and all had only simple typical hemifacial spasm. Therefore, in my opinion, it is not very likely that this complex movement disorder is really caused by a hyperactive disorder of the brainstem nuclei neighboring the conflict site. Since the Babinski 2 sign was present, my favorite hypothesis is that a typical hemifacial spasm existed that was overshadowed by a psychogenic component. It would be nice if the authors could provide a preoperative video showing the spasms. A photo is difficult to interpret. This video would be more important than the operative video showing a regular MVD procedure.
Anyhow, the patient has been free of symptoms for 3 years. Who cures, is right. I thank the authors for presenting this unusual case.
Henry Schroeder
Greifswald, Germany
Electronic supplementary material
Part 1. Arachnoid dissection in order to obtain optimal exposure of lower cranial nerve complex and of the vestibulocochlear complex. Part 2. Dissection of the IXth and Xth cranial nerves allowing the exposure of the PICA loop. Part 3. Dissection between the rootlets of the lower cranial nerves followed be the extraction of the PICA loop deeply located into brainstem by inserting Teflon pads. (MP4 30,693 kb)
About this article
Cite this article
Idriceanu, T., Sindou, M. Painful spasms in facial, masticatory, and motor ocular muscles reversed after microvascular decompression of a neurovascular conflict at brainstem. Acta Neurochir 159, 1707–1711 (2017) doi:10.1007/s00701-017-3258-1
Received:

Accepted:

Published:

Issue Date:
Keywords
Neurovascular conflict

Cranio-facial dyskinesia

Hemi-facial spasm

Micro-vascular decompression