Abstract
Background
Thalamopeduncular tumors arise at the junction of the inferior thalamus and cerebral peduncle, and present with a common clinical syndrome of progressive spastic hemiparesis.
Method
Formal preoperative magnetic resonance imaging (MRI) and diffusion tensor imaging (DTI) were performed. Postoperative MRI was obtained to evaluate the extent of tumor resection. A prospective analysis of clinical outcomes was then conducted by the senior author.
Conclusions
Preoperative tractography is a useful adjunct to surgical planning in tumors that displace motor pathways. Gross total resection of pilocytic astrocytomas usually results in cure, and therefore should be entertained when developing treatment strategies for thalamopeduncular tumors of childhood.
This is a preview of subscription content, log in to check access.
Access options
Buy single article
Instant unlimited access to the full article PDF.
US$ 39.95
Price includes VAT for USA
Subscribe to journal
Immediate online access to all issues from 2019. Subscription will auto renew annually.
US$ 199
This is the net price. Taxes to be calculated in checkout.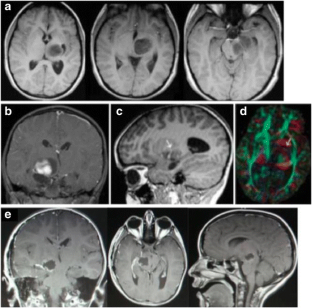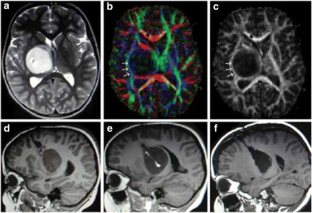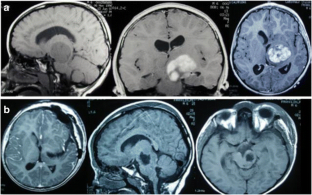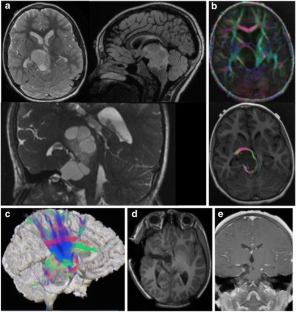 References
1.

Broadway SJ, Ogg RJ, Scoggins MA, Sanford R, Patay Z, Boop FA (2011) Surgical management of tumors producing the thalamopeduncular syndrome of childhood. J Neurosurg Pediatr 7:589–595. doi:10.3171/2011.4.PEDS119

2.

Puget S, Crimmins DW, Garnett MR, Grill J, Oliveira R, Boddaert N, Wray A, Lelouch-Tubiana A, Roujeau T, Di Rocco F, Zerah M, Sainte-Rose C (2007) Thalamic tumors in children: a reappraisal. J Neurosurg 106:354–362. doi:10.3171/ped.2007.106.5.354

3.

Tomita T, Cortes RF (2002) Astrocytomas of the cerebral peduncle in children: surgical experience in seven patients. Childs Nerv Syst 18:225–230. doi:10.1007/s00381-002-0576-1
Acknowledgements
The authors wish to thank Andrew J. Gienapp, BA (Department of Medical Education, Methodist University Hospital, Memphis, TN and Department of Neurosurgery, University of Tennessee Health Science Center, Memphis, TN) for technical and copyediting, and preparation of the manuscript and figures for publishing.
Ethics declarations
Funding
No funding was received for this research.
Conflict of interest
Dr. Boop declares that he has worked as a consultant for Medtronic. Mr. Foley declares that he has no conflict of interest to disclose.
Ethical approval
All procedures performed in studies involving human participants were in accordance with the ethical standards of the institutional and/or national research committee and with the 1964 Helsinki declaration and its later amendments or comparable ethical standards. For this type of study formal consent is not required.
Informed consent
Informed consent was obtained from all individual participants included in the study. Additional informed consent was obtained from all individual participants for whom identifying information is included in this article.
Additional information
Key points
1. These tumors are usually of benign pathology
2. They usually occur in children in the first 2 decades of life
3. The children present with progressive spastic hemiparesis, and if the tumor continues to enlarge, will develop hydrocephalus
4. Following resection, the patient's hemiparesis is usually worsened immediately, but will improve over time and with therapy
5. There is risk of damage to the optic tract and subsequent homonymous hemianopsia
6. There is risk of damage to the third cranial nerve which could prevent opening of the ipsilateral eye or cause diplopia
Electronic supplementary material
Navigated trans-temporal trans-choroidal microsurgical resection of thalamo-peduncular tumor. (MP4 341,468 kb)
Navigated trans-temporal trans-choroidal microsurgical resection of thalamo-peduncular tumor. (MP4 341,468 kb)
About this article
Cite this article
Foley, R., Boop, F. Tractography guides the approach for resection of thalamopeduncular tumors. Acta Neurochir 159, 1597–1601 (2017). https://doi.org/10.1007/s00701-017-3257-2
Received:

Accepted:

Published:

Issue Date:
Keywords
Thalamopeduncular tumor

Brain stem tumor

Pilocytic astrocytoma

Pediatric tumor

Tractography

Transchoroidal resection