Abstract
Background
Dural arteriovenous fistulas (DAVFs) of the craniocervical junction are uncommon vascular lesions, which often require surgical treatment even in the endovascular era.
Methods
Most commonly, the fistula is placed laterally, and surgical ligation is performed through a lateral suboccipital craniotomy. After dural opening, the area is inspected, and the arterialized vein is identified emerging from the dura, often adjacent to the entry point of the vertebral artery, and ligated.
Conclusions
A far lateral craniotomy is the authors' preferred surgical approach for accessing and treating dural arteriovenous fistulas of the craniocervical junction that cannot be reached endovascularly.
This is a preview of subscription content, log in to check access.
Access options
Buy single article
Instant unlimited access to the full article PDF.
US$ 39.95
Price includes VAT for USA
Subscribe to journal
Immediate online access to all issues from 2019. Subscription will auto renew annually.
US$ 199
This is the net price. Taxes to be calculated in checkout.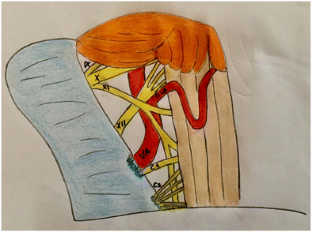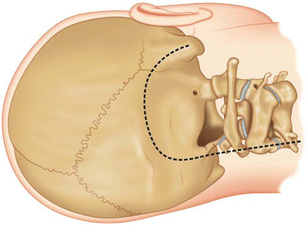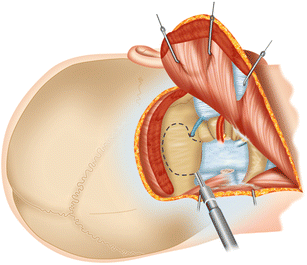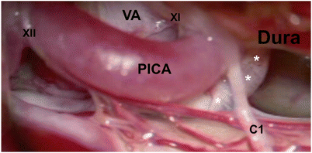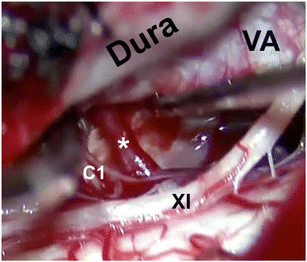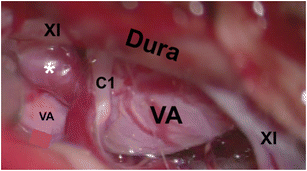 References
1.

Rhoton A Jr (2000) The far-lateral approach and its transcondylar, supracondylar, and paracondylar extensions. Neurosurgery 47(3 Suppl):S195–S209

2.

Wang J, Molenda J, Bydon A et al (2015) Natural history and treatment of craniocervical junction dural arteriovenous fistulas. J Clin Neurosci 22(11):1701–1707

3.

Zhao J, Xu F, Ren J et al (2016) Dural arteriovenous fistulas at the craniocervical junction: a systematic review. J Neurointerv Surg 8(6):648–653
Acknowledgments
No presentation at conference.
No clinical trial number.
All authors certify that they have no affiliations with or involvement in any organization or entity with any financial interest (such as honoraria; educational grants; participation in speakers' bureaus; membership, employment, consultancies, stock ownership, or other equity interest; and expert testimony or patent-licensing arrangements), or non-financial interest (such as personal or professional relationships, affiliations, knowledge or beliefs) in the subject matter or materials discussed in this manuscript.
Informed consent was obtained for the procedure illustrated. However, no IRB approval, nor patient consent is required per institutional policy for retrospective, single-cases in which no identifiable patient information is shared.
Ethics declarations
Conflict of interest
There are no conflicts of interest for our article.
Electronic supplementary material
The authors demonstrate the successful clipping of the heavily calcified, arterialized draining vein, emanating from the dura adjacent to the vertebral artery. (MP4 146,068 kb)
The authors demonstrate the successful obliteration of an AV fistula of the craniocervical junction with a permanent aneurysm clip, applied to the arterialized draining vein shortly after its emergence from the dura. (MP4 348,366 kb)
The authors demonstrate the successful clipping of the heavily calcified, arterialized draining vein, emanating from the dura adjacent to the vertebral artery. (MP4 146,068 kb)
The authors demonstrate the successful obliteration of an AV fistula of the craniocervical junction with a permanent aneurysm clip, applied to the arterialized draining vein shortly after its emergence from the dura. (MP4 348,366 kb)
About this article
Cite this article
Sorenson, T.J., La Pira, B., Hughes, J. et al. How I do it: surgical ligation of craniocervical junction dural AV fistulas. Acta Neurochir 159, 1489–1492 (2017). https://doi.org/10.1007/s00701-017-3200-6
Received:

Accepted:

Published:

Issue Date:
Keywords
Surgery

Arteriovenous fistula

Suboccipital craniotomy

Far lateral approach

Clipping