Abstract
Background
Endoscopic excision of colloid cysts is currently well established as a minimally invasive and highly effective technique that is associated with less morbidity in comparison to microsurgical resection.
Methods
Operative charts and videos of patients undergoing endoscopic colloid cyst excision were retrieved from the senior author's database of endoscopic procedures and reviewed. This revealed nine trans-foraminal and three trans-septal procedures. Description of the surgical techniques was then formulated.
Conclusions
Variation of the technique is based on the specific patho-anatomical features of the colloid cyst being resected. For the trans-foraminal approach, we think that the rotational technique is associated with a more complete removal of the cyst wall and consequently lower recurrence rate.
This is a preview of subscription content, log in to check access.
Access options
Buy single article
Instant unlimited access to the full article PDF.
US$ 39.95
Price includes VAT for USA
Subscribe to journal
Immediate online access to all issues from 2019. Subscription will auto renew annually.
US$ 199
This is the net price. Taxes to be calculated in checkout.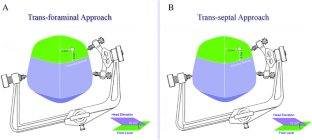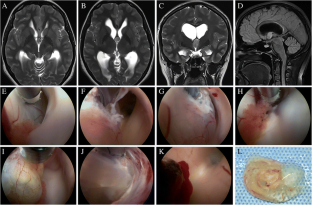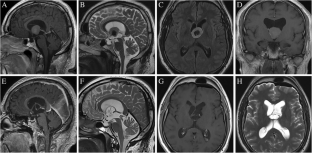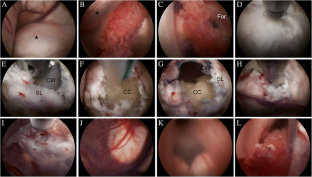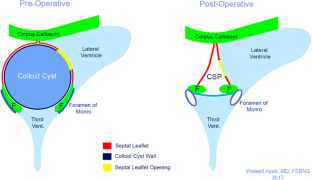 Abbreviations
ICP:

Intracranial pressure

EVD:

External ventricular drain

MRI:

Magnetic resonance imaging
References
1.

Azab WA, Salaheddin W, Alsheikh TM, Nasim K, Nasr MM (2014) Colloid cysts posterior and anterior to the foramen of Monro: anatomical features and implications for endoscopic excision. Surg Neurol Int 5:124

2.

Boogaarts H, El-Kheshin S, Grotenhuis J (2011) Endoscopic colloid cyst resection: technical note. Minim Invasive Neurosurg 54(2):95–97

3.

Greenlee JD, Teo C, Ghahreman A, Kwok B (2008) Purely endoscopic resection of colloid cysts. Neurosurgery 62(3 Suppl 1):51–56

4.

Griffiths PD, Batty R, Reeves MJ, Connolly DJ (2009) Imaging the corpus callosum, septum pellucidum and fornix in children: normal anatomy and variations of normality. Neuroradiology 51:337–345

5.

Iacoangeli M, di Somma LG, Di Rienzo A, Alvaro L, Nasi D, Scerrati M (2014) Combined endoscopic transforaminal-transchoroidal approach for the treatment of third ventricle colloid cysts. J Neurosurg 120(6):1471–1476

6.

Ibáñez-Botella G, Domínguez M, Ros B, De Miguel L, Márquez B, Arráez MA (2014) Endoscopic transchoroidal and transforaminal approaches for resection of third ventricular colloid cysts. Neurosurg Rev 37(2):227–234

7.

Margetis K, Christos PJ, Souweidane M (2014) Endoscopic resection of incidental colloid cysts. J Neurosurg 120(6):1259–1267

8.

Rhoton AL (2002) The lateral and third ventricle. Neurosurgery 51:S207–S271

9.

Souweidane MM (2005) Endoscopic surgery for intraventricular brain tumors in patients without hydrocephalus. Neurosurgery 57(4 Suppl):312–318

10.

Souweidane MM, Hoffman CE, Schwartz TH (2008) Transcavum interforniceal endoscopic surgery of the third ventricle. J Neurosurg Pediatr 2(4):231–236
Electronic supplementary material
Surgical technique of the endoscopic trans-foraminal and trans-septal approaches for colloid cyst excision. (WMV 146311 kb)
Surgical technique of the endoscopic trans-foraminal and trans-septal approaches for colloid cyst excision. (WMV 146311 kb)
About this article
Cite this article
Azab, W.A., Najibullah, M. & Yosef, W. Endoscopic colloid cyst excision: surgical techniques and nuances. Acta Neurochir 159, 1053–1058 (2017) doi:10.1007/s00701-017-3176-2
Received:

Accepted:

Published:

Issue Date:
Keywords
Colloid cyst

Endoscopic

Septum pellucidum

Third ventricle

Trans-foraminal

Trans-septal