Abstract
Background
Previous studies have demonstrated lower rates of cement extravasation when comparing balloon kyphoplasty with vertebroplasty, an effect attributed to the low-pressure injection. However, in patients with isolated endplate fractures, balloon kyphoplasty may lead to further endplate damage and increased risks of intradiscal extravasation.
Methods
The author provides a stepwise description of a new technique called cavitational kyphoplasty that allows targeted low-pressure cement injection without the necessity of balloon inflation.
Conclusions
The new technique of cavitational kyphoplasty has been shown to be specially useful in patients with isolated endplate fractures without significant loss of the vertebral body height.
This is a preview of subscription content, log in to check access.
Access options
Buy single article
Instant unlimited access to the full article PDF.
US$ 39.95
Price includes VAT for USA
Subscribe to journal
Immediate online access to all issues from 2019. Subscription will auto renew annually.
US$ 199
This is the net price. Taxes to be calculated in checkout.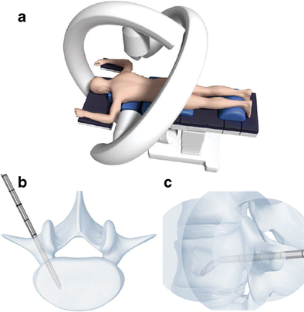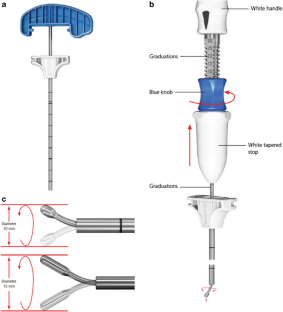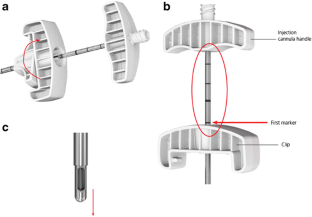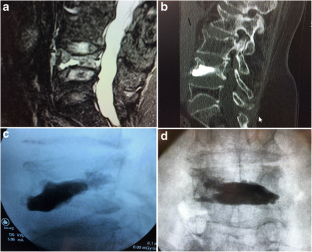 References
1.

Cheng X, Long HQ, Xu JH, Huang YL, Li FB (2016) Comparison of unilateral versus bilateral percutaneous kyphoplasty for the treatment of patients with osteoporosis vertebral compression fracture (OVCF): a systematic review and meta-analysis. Eur Spine J 25:3439–3449

2.

Clark W, Bird P, Gonski P, Diamond TH, Smerdely P, McNeil HP, Schlaphoff G, Bryant C, Barnes E, Gebski V (2016) Safety and efficacy of vertebroplasty for acute painful osteoporotic fractures (VAPOUR): a multicentre, randomised, double-blind, placebo-controlled trial. Lancet 388:1408–1416

3.

Dohm M, Black CM, Dacre A, Tillman JB, Fueredi G KAVIAR investigators(2014) A randomized trial comparing balloon kyphoplasty and vertebroplasty for vertebral compression fractures due to osteoporosis. AJNR Am J Neuroradiol 35:2227–2236

4.

Galibert P, Deramond H, Rosat P, Le Gars D (1987) Preliminary note on the treatment of vertebral angioma by percutaneous acrylic vertebroplasty. Neurochirurgie 33:166–168

5.

Greene DL, Isaac R, Neuwirth M, Bitan FD (2007) The eggshell technique for prevention of cement leakage during kyphoplasty. J Spinal Disord Tech 20:229–232

6.

Jesse MK, Petersen B, Glueck D, Kriedler S (2015) Effect of the location of endplate cement extravasation on adjacent level fracture in osteoporotic patients undergoing vertebroplasty and kyphoplasty. Pain Physician 18:E805–E814

7.

Sun H, Lu PP, Liu YJ, Yang X, Zhou PH, Shen XF, Sun SW, Yang H (2016) Can unilateral kyphoplasty replace bilateral kyphoplasty in treatment of osteoporotic vertebral compression fractures? A systematic review and meta-analysis. Pain Physician 19:551–563

8.

Vallejo R, Benyamin R, Floyd B, Casto JM, Joseph NJ, Mekhail N (2006) Percutaneous cement injection into a created cavity for the treatment of vertebral body fracture: preliminary results of a new vertebroplasty technique. Clin J Pain 22:182–189

9.

Wang CH, Ma JZ, Zhang CC, Nie L (2015) Comparison of high-viscosity cement vertebroplasty and balloon kyphoplasty for the treatment of osteoporotic vertebral compression fractures. Pain Physician 18:E187–E194

10.

Wilson DC, Connolly RJ, Zhu Q, Emery JL, Kingwell SP, Kitchel S, Cripton PA, Wilson DR (2012) An ex vivo biomechanical comparison of a novel vertebral compression fracture treatment system to kyphoplasty. Clin Biomech (Bristol, Avon) 27:346–353
Ethics declarations
Conflicts of interest
None
Electronic supplementary material
Clinical vignette of a 73-year-old male patient with a known history of osteoporosis and a history of a ground-level fall 4 weeks before the initial neurosurgical evaluation. The patient reported refractory axial mechanical pain at the thoracolumbar transition (8 out of 10 in the visual analogue scale) leading to a significant impairment of his quality of life. The MRI of the thoracic spine demonstrated a superior endplate fracture of T12 with significant bone marrow edema adjacent to the endplate as revealed by the hipointensity in the T1 and the hypertensintiy in the T2 sequence. The patient was initially prescribed 4 weeks of conservative treatment with reduction in the level of physical activities, oral analgesics and a TLSO brace. As he failed the conservative treatment, he was ultimatelly submitted to a T12 cavitational kyphoplasty performed through a left side approach. The patient presented a significant reduction in the level of the axial mechanical pain immediately after waking up from the procedure and was discharged home on the same day without the further necessity of a brace. (MP4 42,291 kb)
Clinical vignette of a 73-year-old male patient with a known history of osteoporosis and a history of a ground-level fall 4 weeks before the initial neurosurgical evaluation. The patient reported refractory axial mechanical pain at the thoracolumbar transition (8 out of 10 in the visual analogue scale) leading to a significant impairment of his quality of life. The MRI of the thoracic spine demonstrated a superior endplate fracture of T12 with significant bone marrow edema adjacent to the endplate as revealed by the hipointensity in the T1 and the hypertensintiy in the T2 sequence. The patient was initially prescribed 4 weeks of conservative treatment with reduction in the level of physical activities, oral analgesics and a TLSO brace. As he failed the conservative treatment, he was ultimatelly submitted to a T12 cavitational kyphoplasty performed through a left side approach. The patient presented a significant reduction in the level of the axial mechanical pain immediately after waking up from the procedure and was discharged home on the same day without the further necessity of a brace. (MP4 42,291 kb)
About this article
Cite this article
Mattei, T.A. Cavitational kyphoplasty: a new technique for reducing the rates of cement extravasation through targeted low-pressure cement injection. Acta Neurochir 159, 1153–1157 (2017). https://doi.org/10.1007/s00701-017-3167-3
Received:

Accepted:

Published:

Issue Date:
Keywords
Osteoporotic vertebral fractures

Vertebroplasty

Kyphoplasty

Endplate fractures

Compression fractures

Cement augmentation

Cement extravasation