Abstract
Background
Meticulous haemostasis is one of the most important factors during microneurosurgical resection of brain arteriovenous malformation (AVM). Controlling major arterial feeders and draining veins with clips and bipolar coagulation are well-established techniques, while managing with bleeding from deep tiny vessels still proves to be challenging. This technical note describes a technique used by the senior author in AVM surgery for last 20 years in dealing with the issue highlighted.
Method
"Dirty coagulation" is a technique of bipolar coagulation of small feeders carried out together with a thin layer of brain tissue that surrounds these fragile vessels. The senior author uses this technique for achieving permanent haemostasis predominantly in large and/or deep-seated AVMs. To illustrate the efficacy of this technique, we retrospectively reviewed the outcome of Spetzler-Martin (SM) grade III-V AVMs resected by the senior author over the last 5 years (2010–2015).
Results
Thirty-five cases of AVM surgeries (14 SM grade III, 15 SM grade IV and 6 SM grade V) in this 5-year period were analysed. No postoperative intracranial haemorrhage was encountered as a result of bleeding from the deep feeders. Postoperative angiograms showed complete resection of all AVMs, except in two cases (SM grade V and grade III).
Conclusions
"Dirty coagulation" provides an effective way to secure haemostasis from deep tiny feeders. This cost-effective method could be successfully used for achieving permanent haemostasis and thereby decreasing postoperative haemorrhage in AVM surgery.
This is a preview of subscription content, log in to check access.
We're sorry, something doesn't seem to be working properly.
Please try refreshing the page. If that doesn't work, please contact support so we can address the problem.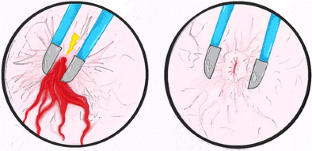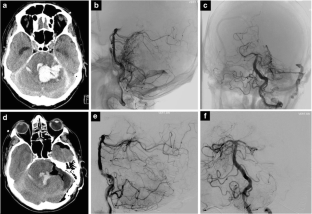 References
1.

Chen CC, Zinn PO, Kasper EM, Ogilvy CS (2010) Cranio-spinal migration of a metallic clip placed during arteriovenous malformation resection—a case report, review of the literature, and management strategies. BMC Neurol 10:109

2.

Du R, Keyoung HM, Dowd CF, Young WL, Lawton MT (2007) The effects of diffuseness and deep perforating artery supply on outcomes after microsurgical resection of brain arteriovenous malformations. Neurosurgery 60:638–646, discussion 646–638

3.

Hernesniemi J, Romani R, Lehecka M, Isarakul P, Dashti R, Celik O, Navratil O, Niemela M, Laakso A (2010) Present state of microneurosurgery of cerebral arteriovenous malformations. Acta Neurochir Suppl 107:71–76

4.

Javadpour M, Al-Mahfoudh R, Mitchell PS, Kirollos R (2016) Outcome of microsurgical excision of unruptured brain arteriovenous malformations in ARUBA-eligible patients. Br J Neurosurg 30:619–622

5.

Korja M, Bervini D, Assaad N, Morgan MK (2014) Role of surgery in the management of brain arteriovenous malformations: prospective cohort study. Stroke 45:3549–3555

6.

Kozyrev DA, Jahromi BR, Hernesniemi J (2016) Total temporary occlusion of blood flow for several hours to treat a giant deep arteriovenous malformation: a series of multiple operations to save a young life. Surg Neurol Int 7:79

7.

Morgan MK (2014) Surgical strategies for Brain AVM. In: Misra BK, Laws ER, Kaye AH (eds) Current progress in neurosurgery. Three Life Media, Mumbai, pp 212–213

8.

Potts MB, Lau D, Abla AA, Kim H, Young WL, Lawton MT, Project UBAS (2015) Current surgical results with low-grade brain arteriovenous malformations. J Neurosurg 122:912–920

9.

Sato S, Kodama N, Sasaki T, Matsumoto M, Ishikawa T (2004) Perinidal dilated capillary networks in cerebral arteriovenous malformations. Neurosurgery 54:163–168, discussion 168–170

10.

Schramm J, Schaller K, Esche J, Bostrom A (2016) Microsurgery for cerebral arteriovenous malformations: subgroup outcomes in a consecutive series of 288 cases. J Neurosurg. doi:10.3171/2016.4.JNS153017

11.

Spetzler RF, Martin NA (1986) A proposed grading system for arteriovenous malformations. J Neurosurg 65:476–483

12.

Sundt TM Jr, Kees G Jr (1986) Miniclips and microclips for surgical hemostasis. Technical note. J Neurosurg 64:824–825

13.

Teo MK, Young AM, St George EJ (2016) Comparative surgical outcome associated with the management of brain arteriovenous malformation in a regional neurosurgical centre. Br J Neurosurg 1–8

14.

Torne R, Rodriguez-Hernandez A, Lawton MT (2014) Intraoperative arteriovenous malformation rupture: causes, management techniques, outcomes, and the effect of neurosurgeon experience. Neurosurg Focus 37:E12

15.

Wong J, Slomovic A, Ibrahim G, Radovanovic I, Tymianski M (2017) Microsurgery for ARUBA Trial (a randomized trial of unruptured brain arteriovenous malformation)—eligible unruptured brain arteriovenous malformations. Stroke 48:136-144

16.

Yaşargil MG (1988) Microneurosurgery, vol IIIB. Thieme, New York
Acknowledgments
We would like to thank Yaroslava A. Kozyreva for the drawings in this article.
Ethics declarations
Funding
No funding was received for this research.
Conflict of interest
Professor Juha Hernesniemi is an Aesculap counsellor. All other authors certify that they have no affiliations with or involvement in any organisation or entity with any financial interest (such as honoraria; educational grants; participation in speakers' bureaus; membership, employment, consultancies, stock ownership, or other equity interest; and expert testimony or patent-licensing arrangements), or non-financial interest (such as personal or professional relationships, affiliations, knowledge or beliefs) in the subject matter or materials discussed in this manuscript.
For this type of study formal consent is not required.
Informed consent
Informed consent was obtained from all individual participants included in the study.
This article does not contain any studies with human participants performed by any of the authors.
Additional information
Comments
This is a technique that Dr. Hernesniemi is known to have pioneered and promoted. When introduced it defied the conventional wisdom, at the time, of fine bipolar technique applied to the vessel with no collateral damage to be inflicted on surrounding tissue. However, for AVM this technique often fails for reasons presented in this paper and this "dirty coagulation" technique is necessary. It is important for those charged with the care of AVM to be aware of this technique and who first promoted its use. I have seen Dr. Hernesniemi use this and have adopted this technique, where appropriate, for my own AVM cases.
Michael Kerin Morgan
Australia
I think this is a helpful contribution because it shows the way to a very useful, albeit counterintuitive technique for coagulating tiny vessels. I have used this technique for decades and never bothered to write about it because it is so obviously the only technique that works in the deep white matter around AVMs. I am sure that this technique has been used by many other AVM surgeons also because it is a logical development. As it has been demonstrated, the intuitive decision to use fine-tipped forceps for fine vessels is wrong for fine vessels in the white matter around AVM, just as many other spontaneous intuitive decisions made by medical doctors.
Microclips are a good alternative method, but I can confirm many of the observations the authors have made: too many microclips soon turn out to be in the way when dealing with other small feeders. These difficult feeders in deep become more common the closer one is to the ependyma of the ventricle. The microclips produce short-cuts when bipolar is used close to them and they can shear off. This reviewer also confirms that the use of broader bipolar tips is very useful, because the current flow is not so focused as in finely tipped bipolar forceps. Thus, sticking to the coagulated vessel is less frequent when using broader tipped forceps. This somehow automatically leads to the technique that these authors have named "dirty coagulation". A major part of the trick of "dirty coagulation" is to include some tissue around the vessel between the two forceps tips (as described) but also to use a not too high current and take some time with a low flow of electric current in order to allow the tissue to shrink slowly and desiccate slowly. The speed of shrinking and desiccation is an important feature, because if this happens too quickly these fragile feeders may tear 2–3 mm away from the coagulation forceps because they are torn away.
The apparently logical step of using very fine forceps and only enclosing the tiny vessel just does not work in the deep white matter around AVM. This reviewer has used blunt forceps 95% of the time during his own large AVM series [10]. The counterintuitive step of using broad-tipped forceps turns out to be more effective and better suited.
Johannes Schramm,
Bonn, Germany
Electronic supplementary material
Below is the link to the electronic supplementary material.
About this article
Cite this article
Kozyrev, D.A., Thiarawat, P., Jahromi, B.R. et al. "Dirty coagulation" technique as an alternative to microclips for control of bleeding from deep feeders during brain arteriovenous malformation surgery. Acta Neurochir 159, 855–859 (2017). https://doi.org/10.1007/s00701-017-3138-8
Received:

Accepted:

Published:

Issue Date:
Keywords
Arteriovenous malformation

Bipolar coagulation

Microneurosurgery

Neurosurgical trick