Abstract
Background
Posterior inferior cerebellar artery (PICA) aneurysms are often located in the ventral craniocervical junction. Such deep-seated aneurysms are usually treated with coil embolization. However, recurred and/or very small PICA aneurysms are hardly treated with an endovascular approach.
Method
We present a modification of the transcondylar fossa approach with intradural and extradural removal of the jugular tubercle. An adequate preaccessory surgical corridor was created with this novel technique.
Conclusion
The ventocaudal PICA aneurysm was clipped through the outside of the spinal accessory nerve without surgical manipulation of other lower cranial nerves. This approach is worthwhile to avoid dysphagia.
This is a preview of subscription content, log in to check access.
Access options
Buy single article
Instant unlimited access to the full article PDF.
US$ 39.95
Price includes VAT for USA
Subscribe to journal
Immediate online access to all issues from 2019. Subscription will auto renew annually.
US$ 199
This is the net price. Taxes to be calculated in checkout.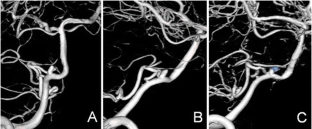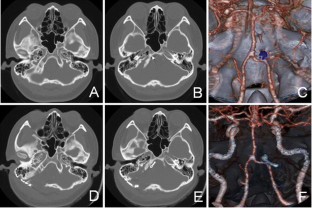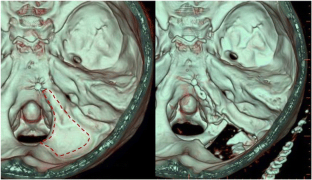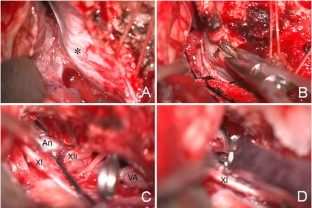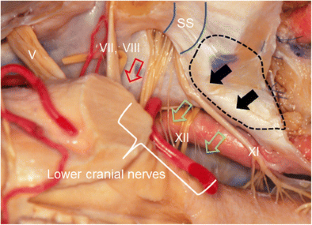 References
1.

Matsushima T, Matsukado K, Natori Y, Inamura T, Hitotsumatsu T, Fukui M (2001) Surgery on a saccular vertebral artery-posterior inferior cerebellar artery aneurysm via the transcondylar fossa (supracondylar transjugular tubercle) approach or the transcondylar approach: surgical results and indications for using two different lateral skull base approaches. J Neurosurg 95:268–274

2.

Matsushima T, Natori Y, Katsuta T, Ikezaki K, Fukui M, Rhoton AL (1998) Microsurgical anatomy for lateral approaches to the foramen magnum with special reference to transcondylar fossa (supracondylar transjugular tubercle) approach. Skull Base Surg 8:119–125

3.

Wanibuchi M, Akiyama Y, Mikami T, Komatsu K, Sugino T, Suzuki K, Kanno A, Ohtaki S, Noshiro S, Mikuni N (2016) Intraoperative mapping and monitoring for rootlets of the lower cranial nerves related to vocal cord movement. Neurosurgery 78:829–834
Ethics declarations
Conflicts of Interest
We have no potential conflict of interest.
Electronic supplementary material
Below is the link to the electronic supplementary material.
The video shows the present surgical technique of the transjugular tubercle-preaccessory route for ventrocaudally located PICA aneurysm. (MP4 184159 kb)
The video shows the present surgical technique of the transjugular tubercle-preaccessory route for ventrocaudally located PICA aneurysm. (MP4 184159 kb)
About this article
Cite this article
Horiuchi, T., Nagm, A., Hasegawa, T. et al. Transjugular tubercle-preaccessory approach for ventrocaudally located PICA aneurysm. Acta Neurochir 159, 641–644 (2017) doi:10.1007/s00701-017-3126-z
Received:

Accepted:

Published:

Issue Date:
Keywords
Aneurysm

Craniocervical junction

Jugular tubercle

Posterior inferior cerebellar artery

Surgery