Abstract
Background
Total hypophysectomy it is a classical procedure that currently has many indications especially in patients with Cushing syndrome without good endocrine control. Expanded endonasal endoscopic techniques grant us an alternative standpoint to the classic trans-sphenoidal microscopic approach and a comprehensive assessment of the process
Method
The author provides technical nuances and describe step by step the radical endoscopic hypophysectomy. The study of cadaveric specimens adds clarifying dissections.
Conclusions
Radical hypophysectomy is an easily replicable and safe procedure. The most important morbidity is the intraoperative cerebrospinal fluid (CSF) leakage, which is inherent to this technique and can be successfully prevented with a pedicled nasoseptal flap reconstruction.
This is a preview of subscription content, log in to check access.
Access options
Buy single article
Instant unlimited access to the full article PDF.
US$ 39.95
Price includes VAT for USA
Subscribe to journal
Immediate online access to all issues from 2019. Subscription will auto renew annually.
US$ 199
This is the net price. Taxes to be calculated in checkout.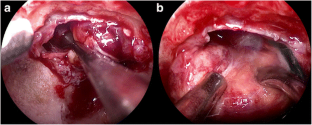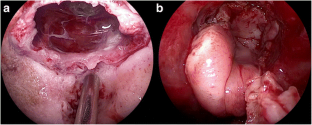 References
1.

Fernandez-Miranda JC, Gardner PA, Rastelli M, Peris-Celda M, Koutourousiou M, Peace D, Snyderman CH, Rhoton AL Jr (2014) Endoscopic endonasal transcavernous posterior clinoidectomy with interdural pituitary transposition. J Neurosurg 121(1):91–99

2.

Ghostine S, Ghostine MS, Johnson WD (2008) Radiation therapy in the treatment of pituitary tumors. Neurosurg Focus 24(5), E8

3.

Hadad G, Bassagasteguy L, Carrau RL, Mataza JC, Kassam A, Snyderman CH, Mintz A (2006) A novel reconstructive technique after endoscopic expanded endonasal approaches: vascular pedicle nasoseptal flap. Laryngoscope 116(10):1882–1886

4.

Jan M, François P, Trouillas J, Hage P (2002) Indications for total hypophysectomy in Cushing's disease. Neurochirurgie 48(2–3 Pt 2):266–270

5.

Kassam A, Prevedello DM, Thomas A, Gardner P, Mintz A, Snyderman C, Carrau R (2008) Endoscopic endonasal pituitary transposition for a transdorsum sellae approach to the interpeduncular cistern. Neurosurgery 62(3 Suppl 1):57–72, discussion 72–4

6.

Kassam A, Snyderman CH, Mintz A, Gardner P, Carrau RL (2005) Expanded endonasal approach: the rostrocaudal axis. Part II. Posterior clinoids to the foramen magnum. Neurosurg Focus 19(1), E4

7.

Labib MA, Prevedello DM, Fernandez-Miranda JC, Sivakanthan S, Benet A, Morera V, Carrau RL, Kassam A (2013) The medial opticocarotid recess: an anatomic study of an endoscopic "key landmark" for the ventral cranial base. Neurosurgery 72(1 Suppl Operative):66–76, discussion 76

8.

Patel MR, Stadler ME, Snyderman CH, Carrau RL, Kassam AB, Germanwala AV, Gardner P, Zanation AM (2010) How to choose? Endoscopic skull base reconstructive options and limitations. Skull Base 20(6):397–404

9.

Peris-Celda M, Kucukyuruk B, Monroy-Sosa A, Funaki T, Valentine R, Rhoton AL Jr (2013) The recesses of the sellar wall of the sphenoid sinus and their intracranial relationships. Neurosurgery 73(2 Suppl Operative):ons117–ons131, discussion ons131
Ethics declarations
The study with cadaveric specimens was approved by the Research Ethics board in our hospital.
Conflicts of interest
None.
Funding
No funding was received for this research.
Financial
The authors report no financial disclosures.
Additional information
Key Points
1. Thorough reconstruction planning.
2. Nasoseptal flap tailoring is usually possible. It is the best fit in most cases.
3. Wide bilateral sphenoidotomy and four-hand technique allow a better microsurgery.
4. Wide sellar prominence's anterior wall resection.
5. Open up both two dural layers on the anterior wall of the sella turcica.
6. Inferior hypophyseal capsule dissection first, followed by lateral side dissection.
7. Bleeding halting with injectable hemostatics on the CS medial wall.
8. Identification and coagulation of inferior hypophyseal arteries.
9. Arachnoid dissection and coagulation / cutting of the hypophyseal stalk.
10. Pituitary ligament remnants sectioning and neurohypophysis releasing from the dorsum sellae.
Electronic supplementary material
Below is the link to the electronic supplementary material.
A video with a complete radical hypophysectomy is attached. We show a patient with a recurrent Cushing's disease after surgery and resistant to medical treatment with multiple microadenomas. The video shows step by step the entire technique. (MP4 23590 kb)
A video with a complete radical hypophysectomy is attached. We show a patient with a recurrent Cushing's disease after surgery and resistant to medical treatment with multiple microadenomas. The video shows step by step the entire technique. (MP4 23590 kb)
About this article
Cite this article
Cárdenas Ruiz-Valdepeñas, E., Kaen, A. & Perez Prat, G. Endoscopic radical hypophysectomy: how I do it. Acta Neurochir 158, 2159–2162 (2016). https://doi.org/10.1007/s00701-016-2955-5
Received:

Accepted:

Published:

Issue Date:
Keywords
Extended endonasal endoscopic

Radical hypophysectomy

Cushing's disease

Pituitary tumour