Abstract
Discrimination of intramural hematoma from intra-aneurysmal blood flow is a critical issue for determining the necessity of treatment in vertebral artery dissection (VAD) cases. We describe modified four-dimensional computed tomographic angiography (4D-CTA) that is useful for evaluating blood flow in a dissected vertebral artery in a 41-year-old man who was diagnosed as VAD. Magnetic resonance angiography (MRA) showed a growth of intramural hematoma, which was confusingly similar to intra-aneurysmal blood flow. Modified 4D-CTA enabled us to discriminate the intramural hematoma from blood flow because of its fine time and spatial resolution. Modified 4D-CTA may be a substitute for angiography in VAD cases.
This is a preview of subscription content, log in to check access.
We're sorry, something doesn't seem to be working properly.
Please try refreshing the page. If that doesn't work, please contact support so we can address the problem.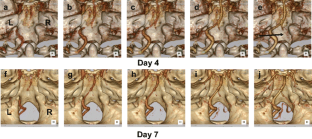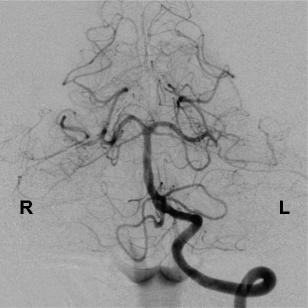 References
1.

Bachmann R, Nassenstein I, Kooijman H, Dittrich R, Stehling C, Kugel H, Niederstadt T, Kuhlenbäumer G, Ringelstein EB, Krämer S, Heindel W (2007) High-resolution magnetic resonance imaging (MRI) at 3.0 Tesla in the short-term follow-up of patients with proven cervical artery dissection. Invest Radiol 42:460–6

2.

Kawaguchi S, Sakaki T, Tsunoda S, Morimoto T, Hoshida T, Kawai S, Iwanaga H, Nikaido Y (1994) Management of dissecting aneurysms of the posterior circulation. Acta Neurochir 131:26–31

3.

Siebert E, Bohner G, Masuhr F, Deuschle K, Diekmann S, Wiener E, Bauknecht HC, Klingebiel R (2010) Neuroimaging by 320-row CT: is there a diagnostic benefit or is it just another scanner? a retrospective evaluation of 60 consecutive acute neurological patients. Neurol Sci 31:585–93

4.

Kaufman JA, McCarter D, Geller SC, Waltman AC (1998) Two-dimensional time-of-flight MR angiography of the lower extremities: artifacts and pitfalls. AJR Am J Roentgenol 171:129–35

5.

Christian AT, Jurgen G, Vianney LT, Henda R, Nicolas R, Jean YG, Xavier L (2008) Intracranial arteriovenous malformation: time-resolved contrast-enhanced MR angiography with combination of parallel imaging, keyhole acquisition, and k-space sampling techniques at 1.5 T. Radiology 246:871–79

6.

Alom J, Matias-Guiu J, Padró L, Molins M, Romero F, Codina AJ (1986) Spontaneous dissection of intracranial vertebral artery: clinical recovery with conservative treatment. Neurol Neurosurg Psychiatry 49:599–600

7.

Naito I, Iwai T, Sasaki T (2002) Management of intracranial vertebral artery dissections initially presenting without subarachnoid hemorrhage. Neurosurgery 51:930–7, Discussion 937–8

8.

Brouwer PA, Bosman T, van Walderveen MA, Krings T, Leroux AA, Willems PW (2010) Dynamic 320-section CT angiography in cranial arteriovenous shunting lesions. AJNR Am J Neuroradiol 31:767–70

9.

Kortman HG, Smit EJ, Oei MT, Manniesing R, Prokop M, Meijer FJ (2015) 4D-CTA in neurovascular disease: a review. AJNR Am J Neuroradiol 36:1026–33

10.

Yoshimoto Y, Wakai S (1997) Unruptured intracranial vertebral artery dissection. Clinical course and serial radiographic imagings. Stroke 28:370–4
Acknowledgments
We thank T. Morimoto and M. Kaneko for technical help. All data are stored at the Department of Neurosurgery, Shiga Medical Center for Adults, Moriyama, Japan. The authors declare no competing financial interests.
Ethics declarations
Informed consent
Informed consent was obtained from the patient included in this case report.
Electronic supplementary material
Below is the link to the electronic supplementary material.
Video of conventional 4D-CTA performed 4 days after admission. Vessels were observed in the following order: left VA, basilar artery, distal right VA, and posterior inferior cerebellar artery. (MPG 33480 kb)
Video of a modified 4D-CTA performed 7 days after admission. Clearer images were obtained compared with conventional 4D-CTA (MPG 24998 kb)
Video of conventional 4D-CTA performed 4 days after admission. Vessels were observed in the following order: left VA, basilar artery, distal right VA, and posterior inferior cerebellar artery. (MPG 33480 kb)
Video of a modified 4D-CTA performed 7 days after admission. Clearer images were obtained compared with conventional 4D-CTA (MPG 24998 kb)
About this article
Cite this article
Sawada, M., Munemitsu, T. & Hojo, M. Usefulness of four-dimensional computed tomographic angiography in a vertebral artery dissection case. Acta Neurochir 158, 557–560 (2016). https://doi.org/10.1007/s00701-015-2677-0
Received:

Accepted:

Published:

Issue Date:
Keywords
Vertebral artery dissection

Four-dimensional computed tomographic angiography

Intramural hematoma